Newcomers to Belize always ask where the best place to live here is, and my answer is always a definite, "it depends."
It depends on so many things… on who is asking, what they want, how much money they want to spend, how active they want to be, and what their true passions and dream life are.
Do you seek the turquoise, blue, and clear waters of the serene Caribbean Sea or the roaring vibrancy of living close to a teaming tropical jungle?
Adventure seekers coming to Belize can have two completely different images in their minds of the paradise they want to immerse themselves in.
Do you yearn for "Opulent Island Living" or a "Low-Cost Sustainable Lifestyle" inland? While Belize is an amazingly diverse place, there are two general lifestyles that you can aspire to.
Caribbean living: Lazing next to blue waters.
Tropical jungle or farm: Pioneer living on the mainland in mother nature's heartland.
Plenty has been written about the beachy spots in Belize, but hear much less often about the mainland options. Two of the most popular expat destinations on mainland Belize are Corozal and Cayo…
Corozal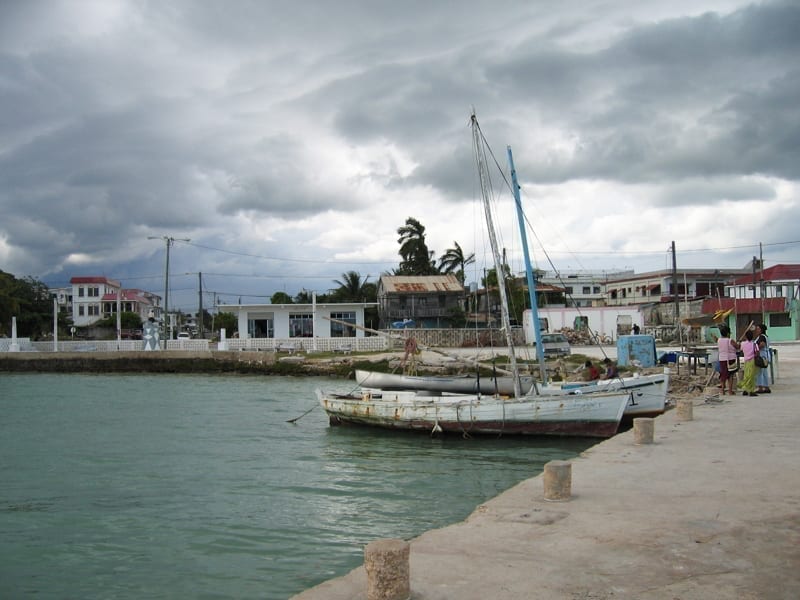 Corozal refers to both the northernmost district of Belize and its town of about 13,000 people (Corozal district's total population is about 46,000). It offers a rare chance in Belize to blend oceanfront living with the conveniences and lower cost of living on the mainland.
Featuring local supermarkets, hardware stores, bars, and restaurants on waterfront, it's a vibrant yet sleepy town, and offers most of what you could ever ask for.
Strangely, for such a small country, Belize has varied climate, and Corozal gets only about 66% of the rain that Cayo receives and only 40% of what southern Belize experiences.
Lifestyle Options
#1. Oceanfront:
With lots and land available in private developments and directly from the local market, plus long-established developments on the Chetumal Bay, you can be sure there are exclusive lot prices available overlooking the ocean in Corozal. And there are still lots of pioneer waterfront lands east of Corozal town that an adventurous person could develop themselves for lower costs than buying in a development.
#2. Riverfront:
With the Rio Hondo marking most of the border of northern Belize, there is plenty of land available (with a little searching) for your own riverfront tropical home.
#3. Lagoons:
Corozal is home to many lagoons, more than you could ever hope to fully explore, and waterfront land can still be found for reasonable prices. Much of the land around lagoons can be swampy… so do your homework before purchasing.
Access to Mexico
One of the often-lauded benefits of living in Corozal is the ability to border hop 10 miles over the Mexican border to Chetumal, in the Quintana Roo province, to buy cheaper supplies and access amenities not available in Belize, such as going to the Sam's Club, cinemas and other entertainments, and for the Mexican health care (which is superior to Belize's).
Driving over the border does mean you will be charged an exit tax when leaving Belize, and you could be subject to import duty if you are bringing in electronics or hardware from Mexico. Groceries and personal supplies are generally duty free for personal amounts, so long as the grocery items aren't on a protected list.
Many who live by the water on the Chetumal Bay choose to take their boat across to Chetumal, stamp in with the Chetumal port authorities, and boat right back home without ever bothering Belize customs stations at the border. They don't worry too much about this… Belize was founded by pirates, it's in the blood.
Access To Chetumal Bay
Living on the Chetumal Bay or on one of the connecting lagoons or rivers allows access to the reef and ocean through the break on the Ambergris peninsula at Bacalar Chico.
This means you can get to the reef without having to cruise around the entire Ambergris peninsula to get to the reef of deep blue waters.
Another quiet benefit of living in the bay is that it is protected somewhat from hurricanes by the Ambergris peninsula, lessening any effects of a storm landfall.
Lower Rent
Corozalgenerally affords lower rent than in the islands, Belize City, and Placencia. You can find low rents or land prices in the villages, but the services and social outlets will be very limited. However, if you are looking for luxury accommodation, higher levels and rents are also available.
Hangout Spots
Tony's Hotel is a Corozal institution where many expats stay when scouting for property and go to socialize. Other popular places include Jam Rock Bar & Grill, Wood House Bistro, Scotty's Crocodile Cove, Tradewinds restaurant in Orchid Bay Resort, and the Almond Tree Hotel Resort.
Inland Corozal: Farm Country
Rural Corozal is farm country with sugar cane and cattle ranching abounding.
Cayo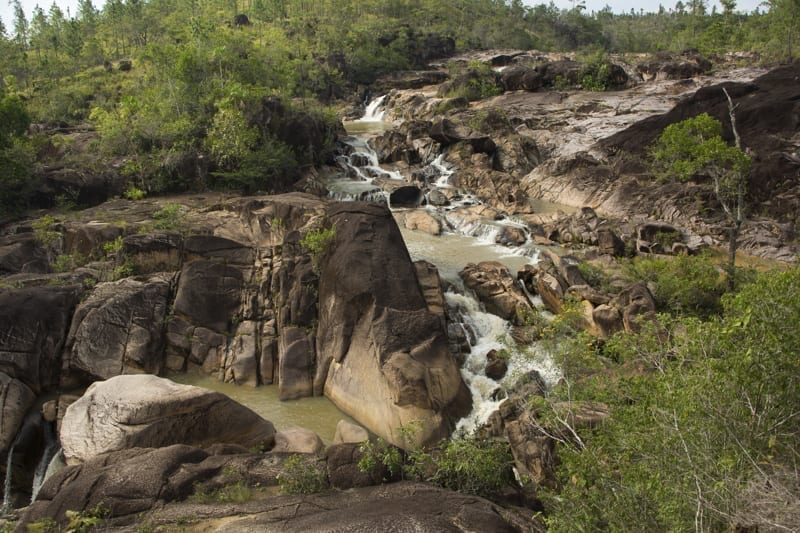 Boasting the largest expat population and the second largest population in Belize, Cayo is very different to the islands, Placencia, and Belize City—and it has always been my favorite part of Belize.
Jungle and farmlands make up Cayo, and the district has four main population centers to choose from.
San Ignacio and Santa Elena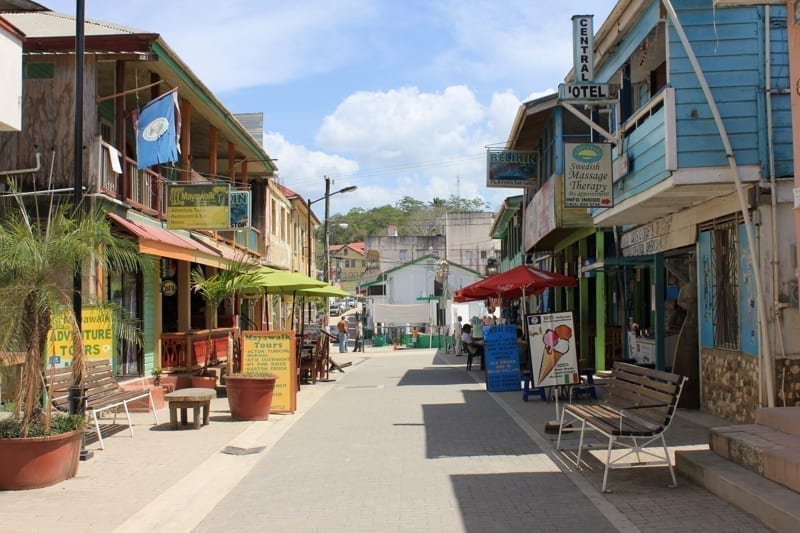 The twin towns situated right next to one another are confusingly and collectively referred to as Cayo. Collectively, they are the second largest town in the country, making them the bastion for expats to Belize, with a total population of 20,000 within the town limits (and many more a few minutes' drive away).
Belmopan
This is the smallest capital city in the world, even after doubling its population to 17,000 in the past decade.
It's usually only the first choice for expats who work for NGO's or for local or foreign diplomatic corps, and is often accused of having little action and community feeling, but this is starting to change.
Spanish Lookout
The industrial capital of Belize is 18 miles from San Ignacio and 16 miles from Belmopan.
When the Mennonites first came to Belize, their first settlement was in Spanish Lookout. And while this community is now one of the most technologically advanced in Belize, it's still the place to find the best lumber mills, road builders, steel workers, Mennonite home builders, solar suppliers, contractors, automotive repairs, and general mechanical engineering services in Belize.
Benque
This small town close to the Guatemalan border has a population of about 8,000… only 10 miles west from San Ignacio.
Other Popular Residential Areas Near Cayo
Many people choose to live outside San Ignacio but still close enough to easily get to the town if needed…
Cristo Rey: Taking the left up the road to the pine ridge as you pass the transport department entering Santa Elena, Cristo Reye offers fertile land, riverfront, and it's only five miles from San Ignacio. Check out the Bluff Bar and Restaurant for good food and company.
Bullet Tree: Very popular expat riverfront destination three miles out the Bullet Tree road. I lived here for many years and love the village lifestyle. Make sure to check out Remo's Roadhouse as you enter the village as it's the best expat meeting spot in Cayo. Attend Darts Wednesdays for a fun intro to Cayo—from noon until falling out time.
Santa Elena: Once the wrong side of the tracks in Cayo, but has seen a lot of investment in recent years and cheaper property and rents can be found on this side of the river. Do a little research, as petty theft can be quite an annoyance in some areas.
Benque Road: The road between San Ignacio and Benque has sprung up as a location for high-standard, Western-style housing.
Hummingbird Highway
Turn left at the Belmopan roundabout on the western highway going to Cayo, drive through two more roundabouts and you reach the start of the Hummingbird Highway, the most beautiful drive in Belize. Snaking through the foothills of the Maya Mountains, when you enter the valley at Pomona, the view can take your breath away.
Rivers
Macal and Mopan offer plenty of beautiful waterfront living options.
Resorts
Home to some of the most luxurious resorts in Belize, traditionally dominated by Chaa Creek Resort and Francis Ford Coppola's Blancaneaux Lodge, but now home to dozens of medium- to high-end resorts to suit all your needs.
Developments
Carmelita Gardens is an off-grid sustainable development between San Ignacio and Spanish Lookout offering home options from tiny houses to luxury custom homes.
Ruins
With the spectacular ruins at Xunantunich, six miles west of San Ignacio, Caracol, the largest and mostly unexcavated ruin in Belize, ATM Caves, and hundreds of semi and unexcavated ruins in the district… you will never run out of archaeology to inspect.
You Better Belize It!
It's nice to plan what your ideal place in Belize will be before you arrive, but the best strategy for finding your true home in Belize is to come and visit.
Explore the entire country, no matter how briefly, and spend time living in an area before purchasing property.
A little research allows you to find the perfect place for you, and can allow you to find local deals not available through realtors. Get good advice and engage a reputable lawyer or land consultant to handle the transaction.
And don't forget to enjoy the process!
Con Murphy
Belize Insider