As you explore your real estate options in Belize, you're going to have to decide what type of property is right for you…
Are you looking for undeveloped land so that you can build your dream home? Do you prefer an existing single-family home? Or would you like to be in a community where maintenance and upkeep are taken care of for you?
The tropical, salty air in Belize, specifically in the coastal areas, can make home maintenance more intensive than you may realize. Plants grow quickly and need regular trimming… corrosion affects everything (yes, even those stainless-steel items)… and the sea air makes glass cleaning and wood treatments even more regular.
This isn't meant to dissuade you from owning on or close to the coast since the appreciation factor and value is well worth it; it's intended to get you to think about the logistics.
I often hear, "I want to be in a community but don't want an HOA fee."
My response is, "Why? Is it the monthly expense that you don't want?"
Maintaining a single-family home or structure is most likely going to cost more, so why not take advantage of the economy of scale and have someone else take care of it for you?
Bear in mind resale value, too. A well-maintained property with manicured landscaping and cared-for common spaces is going to be far more attractive to a buyer than one that needs a lot of TLC.
More and more, people are realizing that they don't want to deal with regular upkeep and are being drawn to condos where the maintenance is taken care of for them.
For those who aren't planning to live in their home full-time, condos, where there are neighbors and security, make a lot of sense.
And for those who want to rent their property, many condo buildings already have approval from the Belize Tourism Board for nightly and long-term rentals.
If you think a condo is right for you, take a look at the following opportunities, and perhaps make an offer if something catches your eye. High season is right around the corner, and properties are entering the market to prepare for the influx of tourists.
Note that these resale properties are available in the market right now and can't be held. If you're interested in seeing a home prior to coming to Belize, let me know, and we can do a video walk-through.
Ambergris Caye—Belize's Top Tourism Destination
-Grand Baymen Best Western—1 bedroom, 1 bathroom; US$149,900; 47 square meters
The only resale condo in the upgraded condo building at Grand Baymen, this gardens community is in a prime location less than a half mile from the heart of downtown San Pedro.
With the recent branding to a Best Western and with amenities already in place, including a large pool, tennis courts, fitness center, and snack shack, this condo is positioned to do well in the nightly or long-term rental market.
All wood finishings are local mahogany and made custom to the condo, and there is a terrace overlooking the gardens area. Monthly HOA is US$222.75 and extremely comprehensive, including cable, internet, building insurance, and more.
Owner financing is available.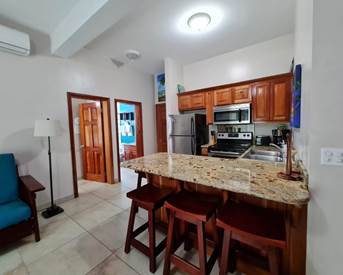 Get ​Your Free ​Belize Report Today!
Simply enter your email address below and we'll send you our ​FREE REPORT – ​​Discover Belize: Reef, Ruins, Rivers, And Rain Forest… Plus Easy Residency And Tax-Free Living
-Lina Point Overwater Cabaña—2 bedrooms, 1 bathroom; US$350,000
Although this is a standalone home and not a condo, I'm including it in the condo section because it's part of a condo community.
Located on the bayside of the island about a half mile north of the bridge, this over-the-water cabaña boasts unique features for renters and homeowners alike, including a glass-bottom floor to explore marine life, plunge pool, outdoor swings overlooking the bay, and a garage.
You'll often find fly fishermen in the water around here as it is one of the best areas to fish. The complex offers a community pool and restaurant onsite. Monthly HOA is US$450.
There is no financing available for this home. Contact me directly for more information.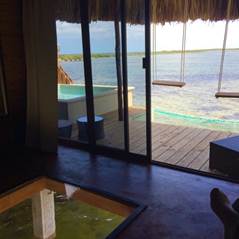 -Las Terrazas—3 bedrooms, 2 bathrooms; US$375,000; 158 square meters
Recently named Belize's Leading Resort for 2022 and always in the "Top 10 Resorts on Ambergris Caye" on TripAdvisor, Las Terrazas is a luxury Caribbean-front resort complex located 3 miles north of the bridge.
Boasting a spectacular 21-meter infinity pool, on-site restaurant, and concierge service, this community is home to full-time residents and high-end vacation renters.
This specific condo was occupied by the owner and is in pristine condition. There's an in-house rental management company to take care of your rental needs should you decide to rent your new home. HOA is a comprehensive US$989 per month.
There is no financing for this property. Review more information and photos here.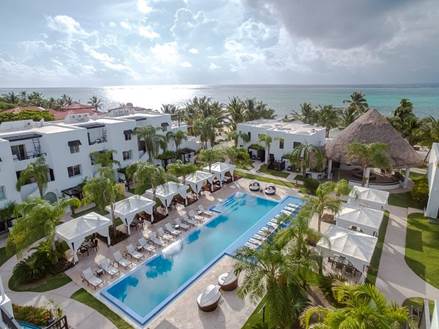 These are just three of the most noteworthy opportunities in the most popular market right now, but I'll be hosting a webinar on Saturday, Oct. 8 at 1 p.m. ET to review even more.
If you're not able to join the live session, register for the webinar anyway, and I'll send you the recording afterward.
Rachel Jensen
Belize Insider