As the saying goes, "Time flies when you're having fun…"
I couldn't agree more.
It's hard to believe… but it's been 10 years already since my husband and I began disclosing our plans about our pending move to Medellín.
Jump ahead to October 2014, when, after selling and giving away everything we could, we packed eight suitcases, boarded a plane, and landed in Colombia.
Our first stop was an Airbnb in Envigado, a smaller town just south of Medellín, until we found a rental apartment in the neighborhood of El Poblado.
Now, nearly eight years later, every day is an adventure in our adopted hometown of 3.5 million people.
The experience of living in Colombia has exceeded our expectations in so many ways…
To be completely honest, though, not everything has gone as planned.
How We Ended Up Living In Medellín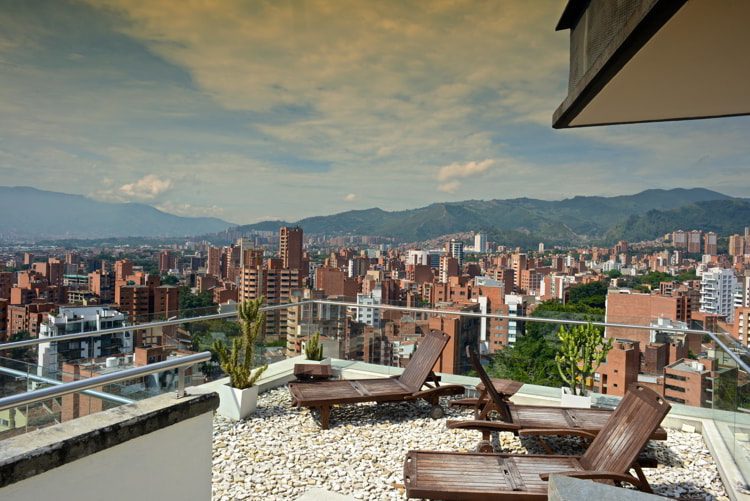 Originally, we intended to find a place to rent. We didn't imagine committing to Medellín. We thought we'd travel around South America for several months each year, returning to Medellín between adventures.
However, once we settled in, we realized that Medellín offers so much, all year long, that we bought an apartment. Now we just take vacations instead.
We decided we'd make an investment in a place of our own here.
We began watching for a spike in the value of the dollar versus the peso, then, when the exchange rate was near an all-time high, we transferred and converted our U.S. dollars into Colombian pesos for our property purchase.
I credit my husband Darren for his savvy financial insight. He says it was luck, but I know it was paying attention and taking advantage of some good timing.
Regardless, we found our dream apartment with a pool, a gym, and a Turkish bath and moved in right after Christmas.
Now that we had a permanent home, it was time to tackle the more mundane issues—things like opening a local bank account, setting up utilities, and learning how to pay our bills every month.
While these chores were not fun, we were guided by a wonderful network of attorneys and friends who helped us navigate the challenges.
In addition, as a result of our real estate purchase, we are now the proud owners of permanent resident visas, which have replaced the one-year temporary visas we started with.
Both Darren and I have virtual jobs, so our daily schedules are very flexible.
We can head to the pool if we want a mid-afternoon break and a quick dose of vitamin D or maybe pop down to the gym to break a sweat. Most of our neighbors work during the day, so we usually have the pool and gym to ourselves every afternoon.
Start Your New Life Today, Overseas
A world full of fun, adventure, and profit awaits! Sign up for our free daily e-letter, Overseas Opportunity Letter, and we'll send you a FREE report on the 10 Best Places To Retire In Style Overseas Today
Our Biggest Challenge Of Living In Medellín
One of our biggest challenges has been learning Spanish. We knew it would be difficult, as we knew very little Spanish before we arrived. I continued with lessons three days per week for years, and today I'm able to communicate easily.
At the same time, we see and hear more English around the city. There are more English-speaking foreigners in Medellín now than when we landed in 2014. Also, the locals, known as paisas, are very patient when we try to speak with them in Spanish.
Without exception, we have found the people here to be kind and helpful to foreigners.
Our Life In Medellín
We now have years of experience enjoying Medellín's many festivals.
We love bringing friends and visitors to the beautiful Feria de Las Flores in August. It's a great chance to show off the amazing flowers produced in Colombia.
Each year we look forward to the world-renowned display of lights this city puts on. Each year it's different… delightful in new ways.
Before Christmas is the charming tradition on Dec. 7 known as La Noche de las Velitas, the Night of the Little Candles. Families and neighbors take to the streets to light rows of small candles intended to illuminate the path and help the Virgin Mary reach Jerusalem to give birth to the baby Jesus.
As you wander through different neighborhoods, you are welcomed by total strangers who invite you to join their celebrations. This all-night party is unlike anything we have experienced in the United States.
Over the past eight years, we have also established a few of our own traditions.
Every Sunday morning we participate in ciclovía, when the southbound lanes of Avenida El Poblado are closed to motor traffic. From 7 a.m. until 1 p.m., people walk, run, bicycle, skateboard, and rollerblade along the main avenue of the town.
Then it's off to the farmer's market to stock up on all of the fresh fruits and veggies we need for the coming week.
And, because we no longer dread Monday mornings, we have created "Sunday Funday."
On Sunday nights a small group of friends gathers around 5 p.m. to watch the sunset, order some dinner for delivery, and toast another week in paradise with a bottle of wine. (Luckily, we have also made an excellent connection with a local wine distributor who keeps us well supplied with reasonably priced wines.)
Speaking of food and wine, Medellín has organized a culinary experience called Medellín Gourmet. For one month, several restaurants offer fixed-price menus for lunch or dinner. This is a great way to try new places and sample local specialties for almost unbelievably affordable prices.
It has been easy to meet new people and to become involved with our new community. Welcoming locals have opened their homes to us to celebrate different occasions, and we have introduced the concept of potluck dinners to our paisa friends.
We have also taken some amazing day trips to resorts and spas where we have enjoyed royal treatment, again at very reasonable prices.
After eight years of living in Medellín, we rate it a solid "A" overall.
I can happily report that we are enjoying a comfortable, pre-retirement life, with perfect, year-round weather, in a big city that feels more like a small town.
We are thankful for the opportunity to live overseas that Live and Invest Overseas has helped us to realize and so thankful that we are still:
Living the dream in Medellín!
Sincerely,
Wendy Howarter
Contributor, Overseas Living Letter
Editor's note: In Colombia you can afford to indulge in everyday luxuries… Daily household help, travel, trips to the opera, a luxury home in the best part of town… A move here could see you slash your cost of living by as much as 50%.
And it's not just about low costs… In Medellín, one of our favorite spots for expat life, you'll find a rich cultural scene, with theater, orchestra, and exciting events, world class health care, and year-round spring-like weather, requiring no heat or air conditioning—plus, the altitude means no mosquitos!
Join us for the 2023 Access Colombia Online Workshop where our team of local professionals, expats, and retirees will be on hand to reveal everything you need to know to kick-start your overseas adventure in this opportunity-rich haven.
Registration is now open. Reserve your spot at the 2023 Access Colombia Online Workshop today to lock-in a discount.