The naturist community dates back to the turn of the 20th century in some countries and has always attracted people with an easygoing, free-spirited mentality. Although the idea of nudism is as old as Adam and Eve, its values seem more modern than ever. Movements against body shaming and toward acceptance of all people are catching on worldwide. These principles have been part of the nudist community from its inception.
Humorists might joke that the sort of people who visit a nudist beach are seldom the people you want to see nude, but they miss the point. The naturist community is about loving your body for what it is and not for what a magazine tells you it should be.
Some associate nude beaches with swingers, but lewd acts are usually frowned upon. There is a big difference between nudists and exhibitionists (flashers), even though the two groups are often lumped together. Nudists enjoy being naked for a variety of personal reasons, whereas flashers merely want to draw attention to themselves… well, certain parts of themselves…
It is worth remembering nudists are their own community, with a code and set of values. If you are new to nudist beaches, here are some helpful tips to make your experience more enjoyable:
Bring a towel. Good for drying off and preventing sand from getting everywhere, but also for covering beach chairs (which may have been previously used), or to use as emergency cover should the need arise…
No yoga. Not a good look. Try to avoid bending over…
No photos. Have some discretion and respect for fellow beachgoers…
Don't invade people's personal space. Most people like at least 3 feet of space on any beach, but it's even more advocated among nudists…
Bring plenty of sunblock. Absolutely vital…
Don't stare. It's rude… and, on a nude beach, creepy…
If you are a guy and find yourself getting aroused, cover it up…
Now that you're equipped to avoid a faux pas, let's uncover some of the best countries for a trip to the coast—bonus: many of these countries have year-round beach weather…
1. France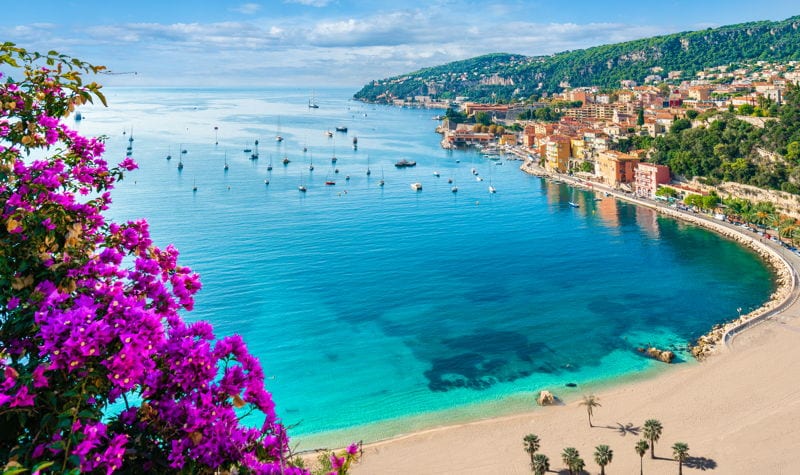 France is considered the spiritual home of nude beaches. In 1903 the first naturist community was founded in France, and in 1948 the Fédération Française de Naturisme was born. It is not surprising that nudism caught on easily in France. Going topless is commonplace on most beaches, and boobs are seen on TV shows and commercials.
Unsurprisingly, most of the nude beaches are located in the South of France, where the weather and beaches are best. On average, the coldest it gets here is the low 50s.
The most popular beach is the naturist resort of Cap d'Agde, near to Montpellier. In peak season it attracts thousands of visitors. Farther down the coast is one of the most famous nude beaches in the world, Saint-Tropez, made famous by Brigitte Bardot. It generally attracts an older crowd. You might possibly spot the next Brigitte Bardot… but you are more likely to see one of her contemporaries.
2. Spain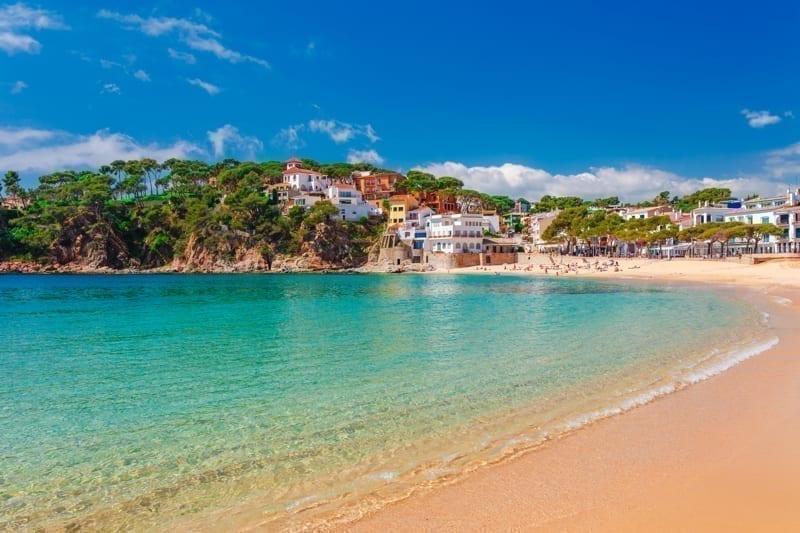 The first nude beaches in Spain opened in 1975. There are now over 400 naturist beaches, with most of these located in the Canary Islands. A strong online community provide up to date information on all the nude beaches and what to expect.
Tenerife has two of Spain's premiere beaches, Playa de la Tejita, and Playa de la Pelada. Playa de la Tejita is located at the foot of a mountain and has a bohemian vibe. Playa de la Pelada is tucked away behind some rocks, so you can be sure of some privacy while you work on your all over tan.
Staying in the Canary Islands, Playa de Maspalomas in Gran Canaria is the most popular of the island's many nude beaches. The sand dunes make it seem like a mini desert, which is this nude beach's unique selling point. However, bring some shoes with you, because walking across the sand dunes can get blisteringly hot.
Another island location that's naturist-friendly is the Balearic Islands—possibly the most nudist-friendly destination in the world. Formentera's relaxed attitude to textiles (clothing-wearers) means sunbathing naked is allowed on every beach. The most well-known of the beaches is Ses Illetes, which sits on a lagoon near to the town of Sant Francesc. Although pickpockets are known to operate in the Balearic Islands, they pose no threat to nudists!
3. Greece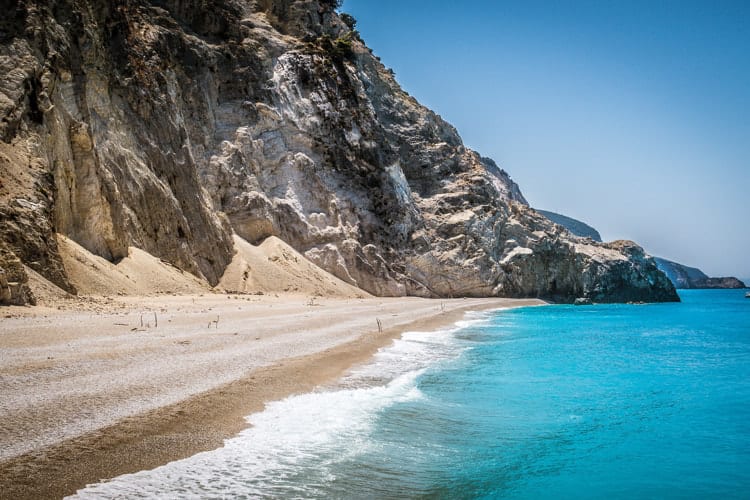 Greece is a popular destination for nudists, but the Greeks themselves are somewhat conservative. Most of the nudists you see on beaches here are likely to be tourists or travelers.
A lot has changed since the ancient statues were made. Few official nude beaches exist in Greece. Luckily, Greece has plenty of beaches with unofficial nudist status that you can visit. In these beaches, you'll have to share beach space with textiles. Fortunately, the rocky landscape provides many sheltered coves. With some exploration, you can usually find a sheltered spot to relax in.
Most tourists stay close to their hotels or rented accommodation, but trekking a little further afield gives you an opportunity to get a beach to yourself. These remote destinations don't come with sun loungers, umbrellas, or somewhere to buy drinks so be sure to bring everything you need with you.
Elia Beach in Mykonos is an LGBT and nudist beach with a variety of facilities—you can even use the sun loungers nude and have food delivered.
4. Portugal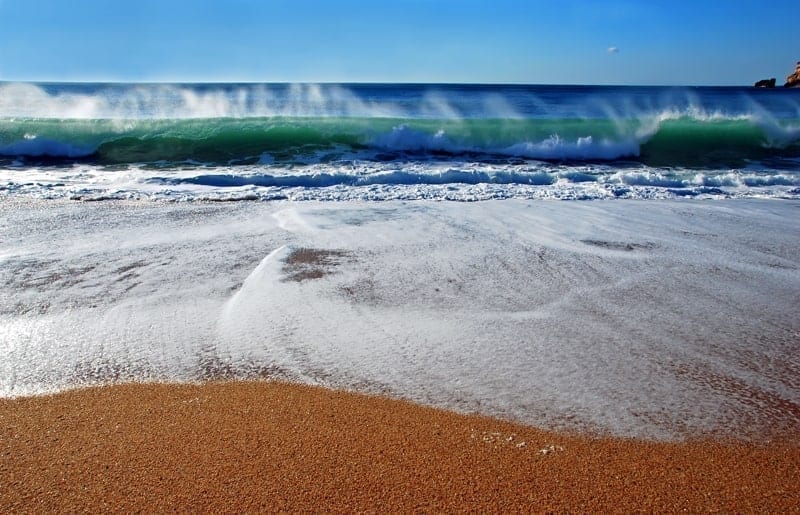 Like Greece, Portugal has surprisingly few official nudist beaches. However, the country has a relaxed attitude towards nudism, and it's acceptable to go without clothes on plenty of beaches. In fact, over 50 beaches are welcoming to nudists even if they do not have an official nudist friendly status. And this is another country that stays pretty warm even in winter, with temperatures rarely getting below the 50s.
The Algarve region is home to a number of Blue Flag beaches, and has a reputation for having some of the best beaches in the world. It's not surprising the Algarve is home to some of Portugal's best nudist beaches. Praia de Faro is the beach of the Algarve's capital city, Faro. The beach spans several miles and tucked away at the far end, away from the tourists, is the nudist beach.
Praia do Homem Nu is one of the official nude beaches of the Algarve. The name translates as "Beach of the Naked Man," in case there was any confusion about what to expect. The beach is located in Tavira, and it's an easy trip from the nearby tourist villages. A Blue Flag beach, with white sands and clean, bracing waters.
5. Italy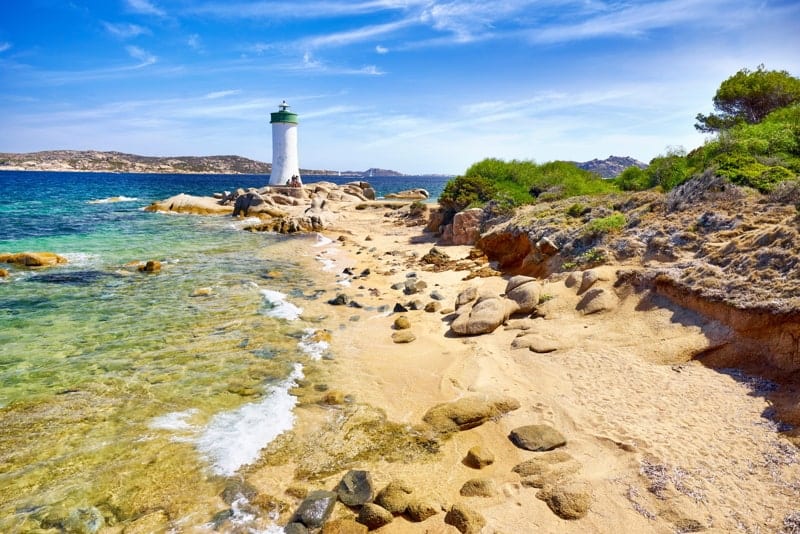 Naturist beaches only became legal in Italy in 2006. Although people still enjoyed the benefits of an all-over tan before then, it didn't become legal until after 2006. Italy has a strong nudist community, all looked after by the Federazione Naturista Italiana.
As well as advising on the best naturist beaches, the federation takes time to organize a range of nudist activities for its members, including naked horse riding, volleyball, and hiking. Specific beaches are now set aside for naturists who like to take advantage of the warm seas and hot summer weather.
Italy's most famous nudist beach is Bassona Beach in the Emilia Romagna region. It is over 1 kilometer long, and has a long history as a nudist beach. Unlike some of Italy's beaches, no admission fee is required.
Close to Rome, you can find Capocotta Beach, an established naturist beach set in a nature reserve that became popular in the 1980s. Capocotta offers free admission and a range of facilities.
Costa dei Barbari is about 10 kms from Trieste. It's a quiet rocky point, with clean, clear seas. Most naturists stay within the concreted areas so you can find quieter spots further on. The beach has few facilities apart from nearby restaurant. Order a dressed salad for hilarity to ensue.
6. Croatia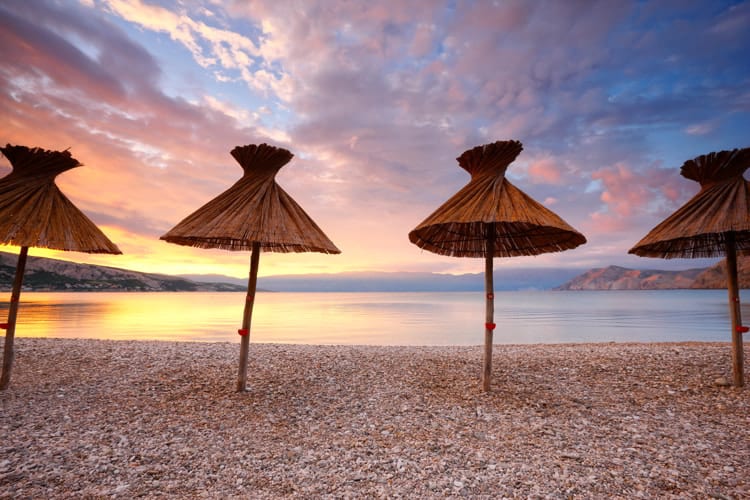 Croatia has only recently come to mainstream awareness for its beaches, but naturists have been coming here for decades. Croatia is more than simply nude beaches— you can find official naturist campsites, hotels, even naturist resorts. Nudist cruises operating out of numerous marinas take nudists to hard-to-reach beaches. Look out for signs reading FKK, posted at all nudist beaches in Croatia.
Lots of the beaches are pebbled or rocky, you don't have to worry about sand. Unsurprisingly, the culture in Croatia is fairly relaxed about nudism. Many bathe topless, plus there are many unofficial nudist beaches along the quieter areas of the coast. Bunculuka beach is found on the island of Krk and is a naturist camp as well as beach. A pine forest provides shade, and facilities include toilets, showers, changing rooms, plus beach chairs and umbrellas.
Beach Garma Podgora in the Dalmatia region provides a peaceful retreat for naturists. The beach is accessed via a macadam path, a few minutes' walk from the car park. You will find one larger beach with a restaurant, as well as many smaller beaches which provide more privacy.
Croatian nudist beaches are only an option during the summer months. The winter temperatures can fall below freezing, making it a case of "Sorry, clothed for winter."
7. Slovenia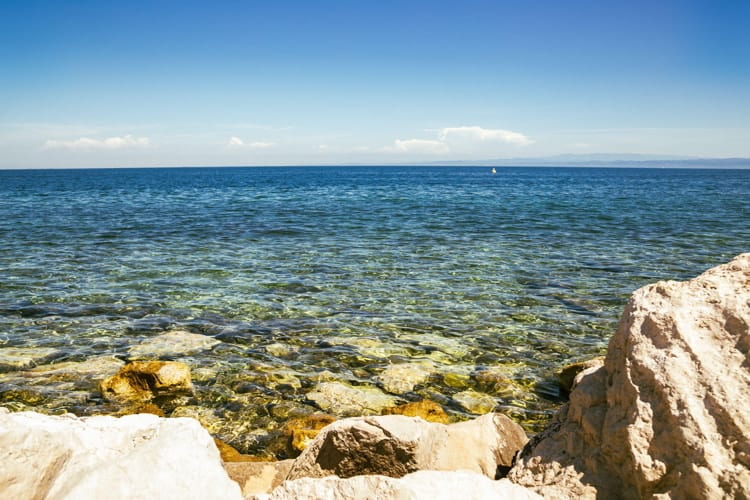 Slovenia has a few dedicated nudist beaches, as well as a naturist campsite. Thermal wellness centers are another place where nudism is allowed… some would even say encouraged.
If you are a naturist looking for things to do then Slovenia is a country you should check out. Strunjan has some pristine beaches including one nudist beach, in the aptly named Moon Bay.
We leave it to you, dear reader, to come up with your own joke here.
Sophia Titley
Editorial Director,Overseas Living Letter