Buying real estate in Portugal is one of the best things that you can do right now. It has grown by leaps and bounds over the years. This European country is considered to be one of the best places to retire in the world.
Today, property values in Portugal are at a level that makes it an ideal place for investment. The property market here is well-established. You won't find any restrictions on the purchase of real estate and most land and property are sold freehold.
The country's property registry system is centralized and very reliable. The law protects property, property rights, and the right to access and use one's own property.
Here are a few important things that you should know about investing in this country… and the four best places to buy real estate in Portugal.
How To Read Listings
In Portugal, you'll notice that listings advertise T0, T1, T2, T3 type apartments. All this means is how many bedrooms the unit has. So, T0 is a studio, a T1 a one-bedroom, and so on.
A T1+1 is a little trickier. Usually a T1+1 indicates a one-bedroom apartment with an additional room. Usually, the room is an internal one with no windows—but in a pinch, it could be used as another bedroom.
It never hurts to ask what other rooms the apartment has, just to be sure of what you're getting. Ask about a separate kitchen, separate living room, any storage spaces, etc.
The Purchase Process
Once you find a property you wish to buy, you'll sign a letter of intent in the presence of a local lawyer.
Once a price has been agreed to by both parties, the lawyer will write the promissory contract with the seller (contrato de promessa de compra e venda). To complete the promissory note, you'll need the following:

Property Registration Certificate (Certidão de Teor)
Property Tax Document (Caderneta Perdial)
License of Use (Licença de Utilização)

You'll have to put down a deposit. Usually 10% to 30% of the total purchase price. You may need a lawyer to negotiate a deposit in the lower end.
The deposit is forfeited if the buyer does not proceed. If the vendor withdraws from the transaction, double the deposit is paid back to the buyer.
The buyer pays the remaining balance of the purchase price, transfer tax (imposto de sisa), and any attorney or notary fees.
Once everything has been paid… usually within about four weeks of signing the promissory note… you'll be able to complete and sign the deed (escritura de compra e venda).
Finally, you will have to register the deed at the public land registry and tax office. This should be done as soon as possible after signing the deed.
1. Buying Real Estate In Lisbon
Most people looking to buy real estate in Portugal focus on Lisbon simply because this is the better known and more popular city in the country. However, with some research you'll find out it's not the best financial option.
It's all about price and return on investment.
Lisbon's prime market prices are about 10,000 euros per square meter… very close to markets like Madrid and Barcelona.
The quality of life Lisbon offers is top-notch. It has all the facilities that you would expect a well-developed city to have, hence its popularity among expats.
Price-wise, though, there are better options to look into.
Transportation System
Lisbon has a well-established metro, a tram system, funiculars, and urban buses and ferries running throughout the city. You won't find it difficult to travel anywhere here.
Things To Do
As a European capital, the city offers a diverse selection of concerts, theater, art museums, music festivals… and just about any other cultural activity you could think of.
Lisbon also has plenty of exquisite restaurants. This city is home to countless bars, restaurants, and pubs. Everything is easily accessible by bus, car, or even on foot.
Lisbon's Neighborhoods
In terms of neighborhoods, there's a wide variety to choose from. Each one has its own special personality and charm.
In Lisbon, you'll find a vast array of home styles and prices to suit all tastes and budgets.
Things To Be Aware Of
A lot of people live in Lisbon, and theft and robbery are commonly reported. Make sure you take security steps to protect your property.
Is It Easy To Sell Your House?
Yes.
Because it's such a big city, you won't find it difficult to buy and sell property.
Get Your Free Real Estate Report Now!
Sign up for our FREE daily e-letter, Overseas Opportunity Letter, and we'll send you our latest Real Estate Report: The 10 Things To Know Before Buying Real Estate Overseas.
2. Buying Real Estate In Porto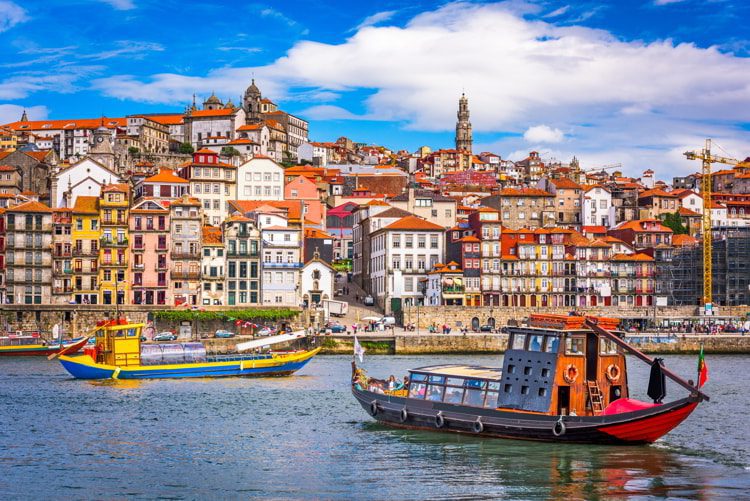 Porto is one of the best places to buy real estate in Portugal. You can find dreamy properties at incredible prices. Plus, for every 100 euros invested in property, expect to get on average 12 to 14 euros of annual revenue.
Since the arrival of low-cost airlines, Porto has almost tripled the number of tourists. This destination's increasing popularity offers a great opportunity to rent out your property, creating a steady cash flow.
Transportation System
Porto has a diverse and extensive transportation system. Even though the city is small and you can explore it on foot, you could easily take a bus or a local taxi.
Things To Do
There are plenty of things to do in Porto. The Clerigos Tower, the Crystal Palace Gardens, or the Serra do Pilar are just some of the places you should include on your list of places to visit.
Is It Easy To Sell Your House?
It all depends on the price you put up. Porto's real estate market is not as active as Lisbon's, so you will have to make an effort to sell off your property.
3. Buying Real Estate In Algarve
The Algarve is a popular summer rental market.
Long-term rentals represent a small percentage of the total rental market. These owners often only place properties on the market for long-term lease after experiencing a poor summer season.
Transportation System
The primary mode of transportation throughout Algarve is public transport. Buses are reliable and run every 30 minutes.
Things To Do
Ponta de Piedade, Praia da Falesia, and Cape St. Vincent are fantastic places to visit.
Things To Beware Of
Strict regulations about who can buy property in Algarve are in place, so do your research and talk to your real estate agent.
Is It Easy To Sell Your House?
No. Property demand is low in this area.
4. Buying Real Estate In Cascais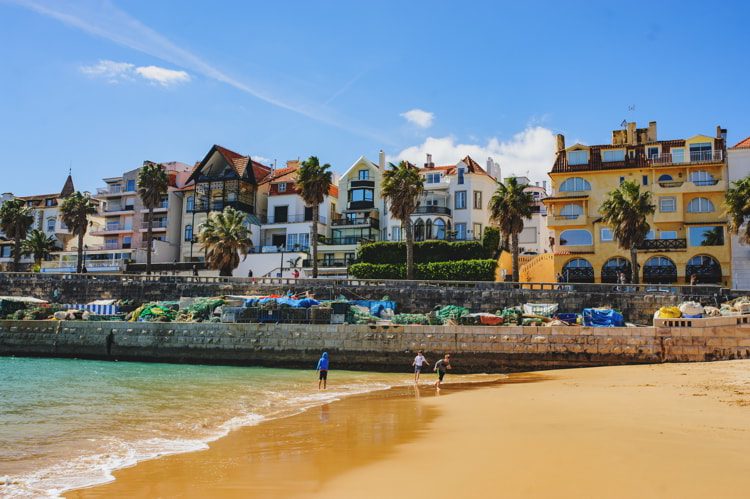 Cascais is a municipality in the Lisbon District of Portugal, and it's become an important tourist destination. By 2011, the population was just above the 200,000 mark.
Living near the marina is excellent for people who want a gorgeous coastal view. However, be aware that property values rise as you get closer to the center of town or nearer to the marina.
Cascais is considered as one of the wealthiest municipalities in all of Portugal. Property value quotas here will be some of the highest that you will ever pay in the country.
If you're looking for high-end property, Cascais is one of the best places to buy real estate in Portugal.
It's important that you decide whether buying a property in Cascais is worth the money or not. Many people buy property to live in it, while others buy it as a means of protecting their investment. So if you can afford it, you can be sure that the value of your property is only going to rise in Cascais.
Transportation System
The transportation system relies solely on local buses and taxis.
Things To Do
Make sure to include Museu Condes de Castro, Praia da Rainha, and, of course, the Old Centre of Cascais on your must-visit list.
Is It Easy To Sell Your House?
Cascais is situated near Lisbon, so it's not going to be difficult for you to sell your property here.
The cost of living in Lisbon is higher than in Porto and Algarve due to housing. Rent for an apartment with three bedrooms in the city center costs an average of 1,700 euros in Lisbon and about 1,200 euros in Faro (Algarve's main town) or Porto.
The budget of a family with 2 children will be 40% more expensive in Lisbon and 16% higher in Porto, both compared to Algarve.
The housing cost is lower outside central Lisbon and Porto. Renting a three-bedroom apartment in the Almada region (Greater Lisbon) costs about 750 euros. In Vila Nova de Gaia (Greater Porto) it'll be about 880 euros.
It is not the same experience as living in the city center, but it is an affordable option for those who want to be close to the bustling life of major Portuguese cities.