One of the most valuable conveniences you could hope for when purchasing a home abroad can be the ability to load up the car and drive to it…
And this is one of Mexico's biggest advantages.
Let's look at three popular spots on the Sea of Cortez, all within a day's drive of the U.S. border: Puerto Peñasco, San Carlos, and Mazatlán.
The Sea of Cortez is the body of water that separates Baja California from the Mexican mainland; it's also known as the Gulf of California. It starts at the mouth of the Colorado River. The sea is noted for its warm, calm, and relatively protected waters and for being one of the most biologically diverse seas on earth.
Anyone who has driven to western Mexico from the United States has likely skirted along the Sea of Cortez. The towns we're going to look at today are quite different from each other. (More on that in a minute.) But they also have several things in common:
They all enjoy the convenience of U.S. franchises, big-box stores, and U.S. products;
Many people in these places speak English, including virtually all service providers;
Each location has a large, English-speaking expat community;
The weather is just about perfect in the winter, with balmy days and cool nights. But it's far from perfect in the summer. I believe the precise meteorological term is "hot as hell";
Sportfishing is great on the sea and a big tourism draw to the area;
Property taxes are extremely low, even on the beach. You can expect to pay somewhere in the US$200 to US$400 range.
Let's take a look at three attractive choices just south of the border…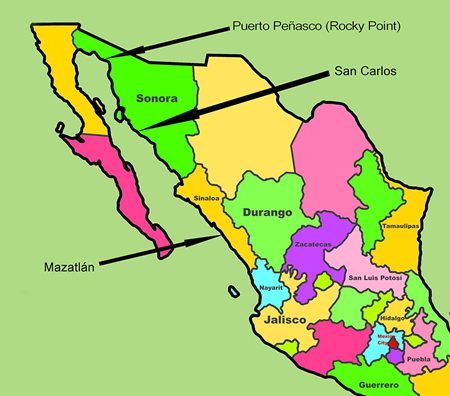 Town #1. Puerto Peñasco (AKA Rocky Point), Sonora
Drive time from U.S. border: 1 hour 10 minutes, 62 miles (100 kms).
No direct flights to the United States or Canada.
Puerto Peñasco enjoys miles of wide, sandy beaches bordered by the warm waters of the Sea of Cortez… waters that are warm, clear, and calm all year long. The grade going into the water is gentle, making it perfect for small children.
For sun lovers, Puerto Peñasco sees 362 days per year of brilliant sunshine… which is about as close to always as you can get. This is no surprise, as the town is on the edge of the Altar Desert… one of the driest and hottest in the Americas.
And if you're a boater, you'll appreciate the large, sheltered marina, which hosts both commercial and pleasure craft.
Best of all, beachfront homes here are a real bargain.
This popular destination is known as Puerto Peñasco in Spanish, and Rocky Point in English. Surprisingly, it had its English name first, named so in 1826 by a retired Royal Navy admiral who was in the area scouting for precious metals. The Mexican president renamed the town in the 1930s.
Any discussion of Puerto Peñasco has to start with the fact that it's only 62 miles (100 kms) from the U.S. border, a drive that takes about 1 hour and 10 minutes. It's just over three-and-a-half hours by car from Phoenix and six hours from San Diego.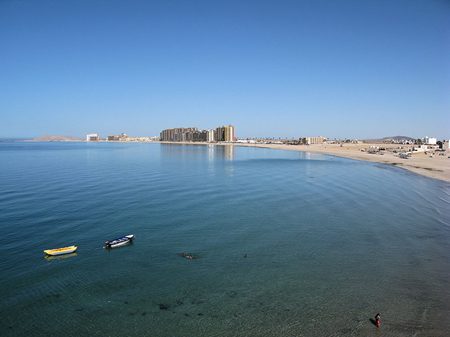 Disadvantages of Puerto Peñasco:
Puerto Peñasco does not have an attractive historic center, so there are better places to enjoy a downtown lifestyle near the sea.
The seafront restaurant district is fairly touristy, so it's hard to enjoy the malecón (seafront promenade) without the annoyances of vendors and tour guides looking for your business.
There are no big cities nearby, for the practical items that big cities offer. Your best bet for a real city is probably Tucson, Arizona.
Advantages of Puerto Peñasco:
Puerto Peñasco is just over an hour from Arizona. And after crossing at Lukeville, Arizona, I didn't stop for any customs or immigration checks. Also, no vehicle permit is required this close to the border.
Puerto Peñasco has a large expat community, and you'll have plenty of neighbors from Arizona or California.
U.S. dollars are accepted almost everywhere, except at the gas station. You'll get a better deal spending pesos, but it's nice to know you can use dollars in a pinch.
Start Your New Life Today, Overseas
A world full of fun, adventure, and profit awaits! Sign up for our free daily e-letter, Overseas Opportunity Letter, and we'll send you a FREE report on the 10 Best Places To Retire In Style Overseas Today
Town #2. San Carlos, Sonora
Drive time from U.S. border: 5 hours and 15 minutes, 261 miles (421 kms).
No direct flights to the United States or Canada.
Miles of sandy beaches… clear, warm waters… excellent diving… and a large expat community. These are what come to mind when I recall San Carlos.
San Carlos is a popular drive-to destination for people in the western United States and Canada. It's as far south as you can go in western Mexico without having to get a vehicle permit. I first traveled to San Carlos from Álamos, on the recommendation of our realtor there who pointed out that some Álamos residents also own second homes in San Carlos.
The city was born as a well-planned tourist destination in the mid-1950s… it had formerly been three large ranches. As such, you won't find a colonial historic center in San Carlos… but you won't find the poverty or run-down neighborhoods that you might expect in a real city either.
The town has a positive, upbeat atmosphere, bolstered by the abundance of cheerful cafés, bars, shops, and restaurants. Most venues cater to the American and Canadian residents, so you'll see plenty of burger joints along with a good selection of seafood restaurants.
Sandy beaches highlight the entire area, bordering warm, calm waters. The city sits at the top of a giant cove, and the San Carlos coastline actually runs east and west, rather than north and south. In town, the 1.5 miles (2 kms) of beaches are mostly behind oceanfront homes and buildings. But as soon as you leave town heading down the coast, you'll encounter over 3 miles (4.9 kms) of beautiful, uninterrupted beach. Heading north, it's just as beautiful.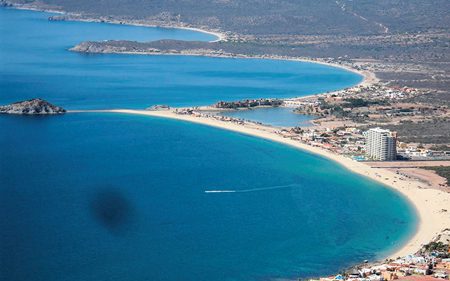 San Carlos is a noted diving destination, with visibilities commonly in excess of 100 feet (31 meters) and sometimes over 200 feet (61 meters). It's also a sportfishing destination and a good place for boaters, with two good marinas.
It's an easy drive down Highway 15 from Arizona, on what they call the "Hassle Free Highway." (The hassle-free label refers to absence of vehicle permits and customs… not the absence of speed limit enforcement.)
Disadvantages Of San Carlos
San Carlos is a planned city that came into being fairly recently. So you won't have the feel of Mexican heritage that you see in most Mexican cities. You will, however, see many homes in the colonial style.
Advantages Of San Carlos
It's an easy drive from the U.S. border, with no vehicle permit required. Like Puerto Peñasco, San Carlos lies in Sonora's "free zone," which enjoys reduced customs requirements.
It's a noted diving location, with good diving facilities.
San Carlos has two nice marinas with plenty of slips.
It's adjacent to a real city (Guaymas), with good services and commercial establishments.
Town #3. Mazatlán, Sinaloa
Drive time from U.S. border: 14 hours, 723 miles (1,165 kms).
Four nonstop flights to the United States, and five to Canada.
Mazatlán is a long-established, well-developed resort city on the Mexican coastal mainland opposite the tip of Baja California. It's a fairly large city, with the resort areas and historic center along the coast… while the non-resort sectors—the seaport, tuna fleet, and industrial area—lie farther inland. As you can imagine, most expats and part-year residents live on or near the coast.
One thing that sets Mazatlán apart is that it has a large and well-maintained colonial historic center. In fact, as I write this, road crews are working seven days per week converting the paved roads in Centro back to cobblestones. They're also widening the boardwalk, adding bike lanes, expanding many of the sidewalks, and improving the lighting.
But what originally made Mazatlán famous were the beaches… about 20 miles (32 kms) of white sand, bordering clear, warm waters, with a boardwalk running adjacent to the beach for about 10 miles (16 kms).
As Mazatlán is a real city, you'll also find a good offering of big city amenities… things like hospitals, theater, jazz, classical concerts, and fine dining, along with the waterfront seafood restaurants and beach scene.
The city also offers several golf courses and a large marina district with good marine facilities as well as residential developments. Sportfishing is a big attraction in Mazatlán, with a good-sized fleet of boats to service the influx of anglers going for sailfish, wahoo, mahi mahi, and yellowfin tuna, as well as the area's record-setting marlin.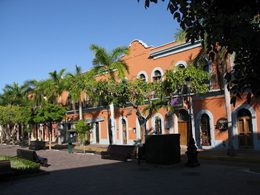 Disadvantages Of Mazatlán
If you're driving, it's at the limit of a one-day drive. I actually break it into two days when I go to the United States, while our younger family members do it in one.
In the Golden Zone (the main tourist area), you'll find plenty of touristy annoyances, such as tour guides and vendors. As a resident, you probably won't spend much time there.
Mazatlán is mostly a Mexican resort, and Mexicans are not known for their quiet partying… so it can get noisy downtown during weekends and holidays.
Advantages Of Mazatlán
Mazatlán offers city amenities, such as theater, orchestra, and city-style shopping.
You'll find plenty of fine dining, cafés, and hole-in-the-wall bars to enjoy.
Most of the beaches are directly accessible, without buildings blocking access.
There are a variety of lifestyles to choose from: quiet or bustling… historic or modern… expat areas or those more popular with well-off Mexicans.
Convenient flights make the trip to Phoenix in less than two hours.
Is A Home On The Sea Of Cortez For You?
Puerto Peñasco is perfect for those who want a convenient, short-term getaway. I think it's best for the part-time or vacation homeowner, and from the western United States, it's feasible to go for a long weekend.
San Carlos is still within an easy drive of the United States, and offers more amenities to the expat or part-time resident. It's also a better base of exploration from which you can discover more of interior Mexico.
Mazatlán is best for full-time or long-term living, offering the chance to combine colonial city living with a beachside lifestyle.
Indeed, that's why, for me, Mazatlán was the ideal retire-overseas choice.
And why Live And Invest Overseas has named this coastal city as one of the world's best places to live or retire overseas in 2022…
Current Currency Leverage
Of all the many reasons to consider Mexico, here's one that you need to take advantage of sooner than later… before it's gone…
I'm talking about the incredible strength of the U.S. and Canadian dollars in Mexico right now.
The dollar is near an all-time high here.
The cost of living was already low, and now you can compound that advantage with this "currency discount."
Many foreigner-focused property markets sell in U.S. dollars, but rents, groceries, peso-priced real estate, and everything else are now at bargain-bin levels…
Have a look at the chart below: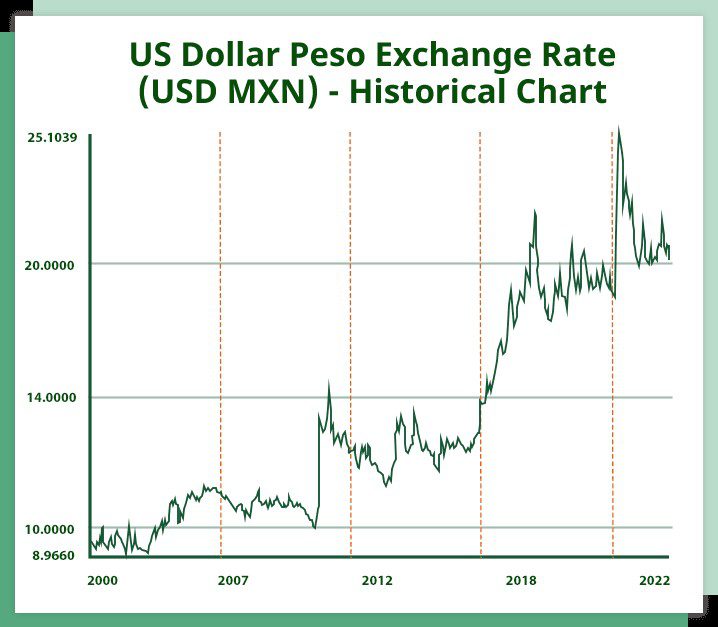 Head here for more info (including the Canadian dollar chart) now.
Lee Harrison
Part-time Mexico Expat