I am still surprised by the reactions I get when I tell people I live in Medellín, Colombia.
A few years ago, my friends and family expressed fear, concern, and disbelief.
Today I hear admiration, curiosity, and even a little envy.
Medellín has come a long way in a short time. No other city I can think of has ever graduated from the most dangerous in the world to one of the most highly acclaimed in so few years.
Medellín's dark days are long gone, although if you watch certain TV programs and movies, you might not believe me. In today's media, bad news travels fast, and good news can be hard to find.
I'm here to share the great news about Medellín, which you probably won't hear elsewhere, along with some of the challenges you might experience if you choose to have an adventure here.
Medellín's benefits far outweigh its downsides, but, like any city, it's not perfect. With some common sense and a solid sense of humor, you can navigate life in Medellín with grace and ease.
It's difficult to narrow Medellín's list of positives, but here's a start.
Medellín is…
Friendly… you'll be welcomed by both locals and expats…
Home to some of the best real estate buys in the world… even a modest budget is enough to afford truly luxury-standard properties thanks to the current currency discount…
A city with a rich cultural heritage, focused on paisa traditions, music, and dance, plus many holidays…
Increasingly diverse… you could join the city's growing expat community… you can choose to live more like a local… or, maybe best, you could embrace a combination of the two…
An arts and entertainment capital, with museums, theaters, symphonies, cinemas, etc….
A foodie's delight with dining opportunities from Colombian típico restaurants to molecular gastronomy and everything in between…
Comfortable and convenient day-to-day with diverse shopping options from small tiendas to big box stores and huge shopping malls… modern grocery stores similar to Whole Foods and farmers' markets for the freshest choices…
Accessible and easy to get around with transportation systems that are the best in Colombia and competitive with the best anywhere in the world…
Extremely affordable overall… the cost of living even in the most expensive areas qualifies as the world's best lifestyle bargain…
On the other hand, here are some challenges to consider:
Governmental bureaucracy, including to do with residency visa requirements, taxes, and setting up utilities…
Language—Spanish is the official language, but there's more English every year. A basic understanding of Spanish will improve your lifestyle…
Pollution… because the city is located in a valley, air pollution can be an issue. The leaders are addressing the problem but need to do more…
Noise… the loud music and noisy trucks and buses can be irritating…
Traffic—the city is home to millions of people, and the traffic can be bad. Again, the city is addressing the problem, but with Medellín's geography, the traffic can be frustrating…
Construction—I'd say that this is both a pro and a con. Building means growth, but it also means noise, dust, and inconvenience…
Medellín, the second-largest city in Colombia, was founded in 1616 by a Spaniard named Francisco Herrera Campuzano who constructed a small indigenous village ("poblado" in Spanish) in the area now known as El Poblado.
Jumping ahead to 1675, the Queen consort Mariana of Austria established the "Town of Our Lady of Candelaria of Medellín" in what is now the city center.
In 1810, Colombia won its independence from Spain, but Spain didn't officially recognize this until 1819. Meanwhile, the city became the capital of the Republic of Gran Colombia (including what is now Colombia, Venezuela, Ecuador, and Panama) in 1826.
Throughout the 19th century, Medellín was recognized as a dynamic commercial center mostly exporting gold. Soon it became known for its coffee, which you may know from the country's native son, Juan Valdez.
Medellín is divided into 16 large comunas, or neighborhoods. Each comuna is further divided into smaller barrios that are often self-sufficient areas with grocery stores, shopping, and restaurants within walking distance. The city is also classified by an estrato system based on social and economic status.
While expats live in many different areas, most prefer four specific locations—two of the largest communes in Medellín and two nearby towns. Let's dive into each of this city's top living choices to give you an idea of which might be the best choice for you…
El Poblado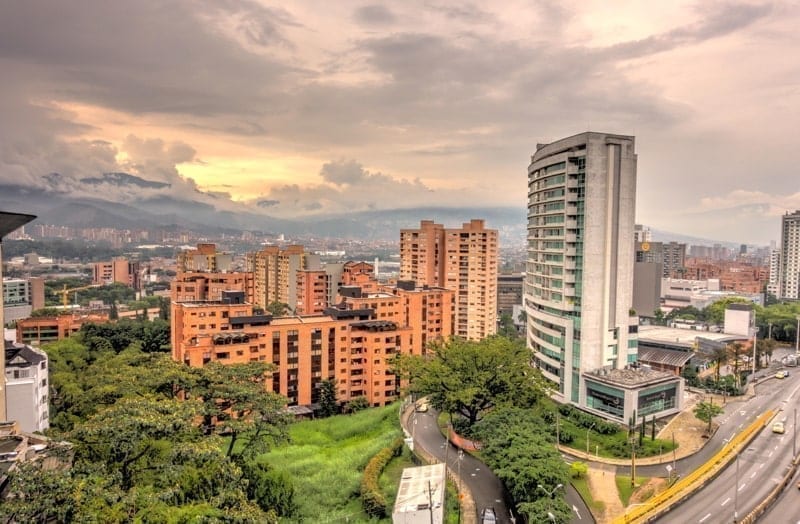 The largest commune in Medellín is also home to the largest percentage of expats. Most of Poblado is categorized as estratos 5 and 6, so it's also the most expensive commune in the city. It's considered the Manhattan of Medellín because it's the most cosmopolitan and luxurious area in town and the most desirable location for expats and Colombians alike.
I chose to live in Poblado because it most resembles my lifestyle in the States, and because I hear and read more English here than in other areas.
Poblado has hills. Starting on the valley floor, Poblado climbs the eastern mountainside and can be steep in places. As walkability is important to me, I decided to live in the Lalinde barrio. If you want to avoid hills, consider Manila, Astorga, Patio Bonito, Santa María de los Ángeles, and Aguacatala, all of which are more level and offer great access to the metro train system.
The best views can be found higher up the mountain in the Los Balsos, El Tesoro, and Las Lomas neighborhoods. Throughout Poblado you can find high-rises, low-rises, townhomes, and some single-family homes. Near the valley floor, the housing is more traditional, but uphill the majority of residences are skyscrapers.
Here are five things to know about living in El Poblado:
This is the most elite, luxurious location in Medellín…
It features the largest variety of dining options, from sushi to vegan to steak, and the finest dining in the city…
Many green spaces, parks, and creeks nearby, perfect for people watching…
Neighborhoods can be difficult to access due to the elevation…
It's home to the largest population of English speakers and expats in Medellín…
Start Your New Life Today, Overseas
A world full of fun, adventure, and profit awaits! Sign up for our free daily e-letter, Overseas Opportunity Letter, and we'll send you a FREE report on the 10 Best Places To Retire In Style Overseas Today
Laureles-Estadio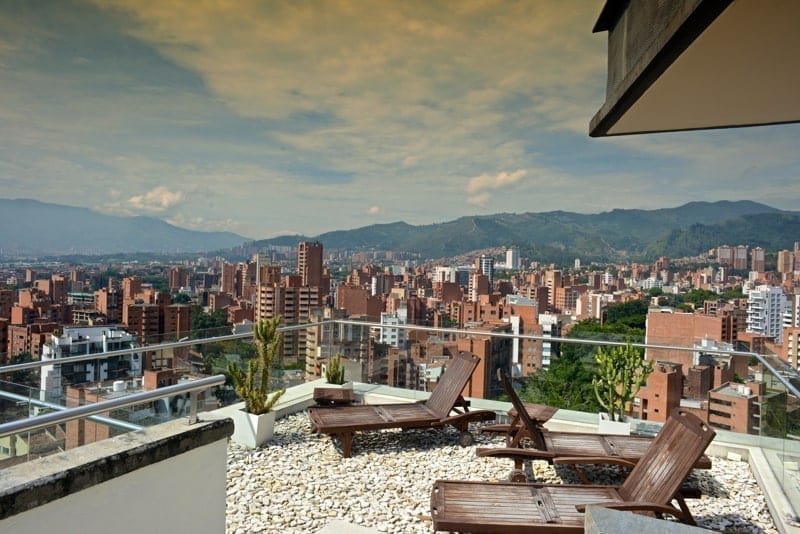 On the valley floor, near one of the largest universities in town, Laureles-Estadio offers walkable living surrounded by parks, outdoor eating, and sports facilities. If you enjoy fútbol (that is, soccer), you'll be steps away from the Estadio Atanasio Girardot, where the two local teams play.
The majority of homes here are estratos 4 and 5, so prices are lower than in Poblado. There are fewer high-rises and more leafy, residential neighborhoods located on circular roads, which can be confusing. The area is anchored by two large parks and the main thoroughfare, known as La 70, features many restaurants, offering mostly local fare and fast foods.
Here are five things to know about living in Laureles-Estadio:
There is a public sports complex offering swimming, tennis, gymnastics, basketball, volleyball, and soccer…
Pontifical Bolivarian University (UPB) offers Spanish lessons for all levels and will help you obtain a student visa to stay in Colombia while you study…
The population of this area is only 122,972…
The metro B Line offers easy access to this commune through the handy Estadio station…
It was developed in a planned way using innovative urban concepts for the time…
Envigado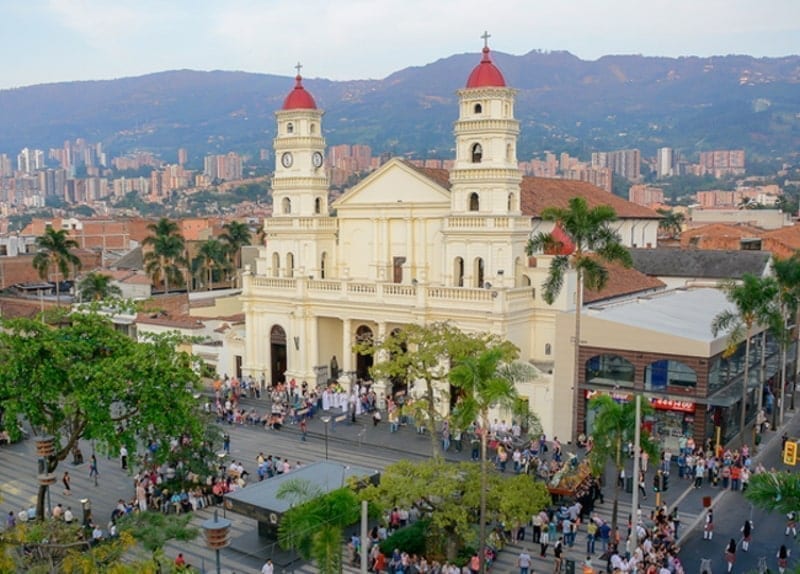 Technically a separate municipality, this more traditional, working-class community lies directly south of Medellín and has a population of 232,900. Ninety-six percent of the housing is estratos 2 to 5, which means sales prices are lower than in Laureles (though the rental rates are higher).
Envigado is mostly low-rise residential with few hotels, hostels, and high-rises. However, this area is growing rapidly and currently has 41 new projects under construction, compared with only 9 new projects in Laureles.
Here are five things to know about living in Envigado:
Envigado has its own fútbol team, Envigado Fútbol Club, which sometimes plays at the stadium in Laureles-Estadio…
It's famous for keeping the paisa traditions and architecture intact with a high standard of living…
It's home to the largest shopping mall in Colombia—Viva Envigado—featuring hundreds of stores, a modern cinema, an amusement park, and several food courts…
Some suggest the name comes from the large trees that were found in the area and used for rafters (vigas) in home construction…
Rural Envigado was originally inhabited by wealthy Spanish families whose prosperous residences and farms produced food for all of Antioquia for 150 years…
Sabaneta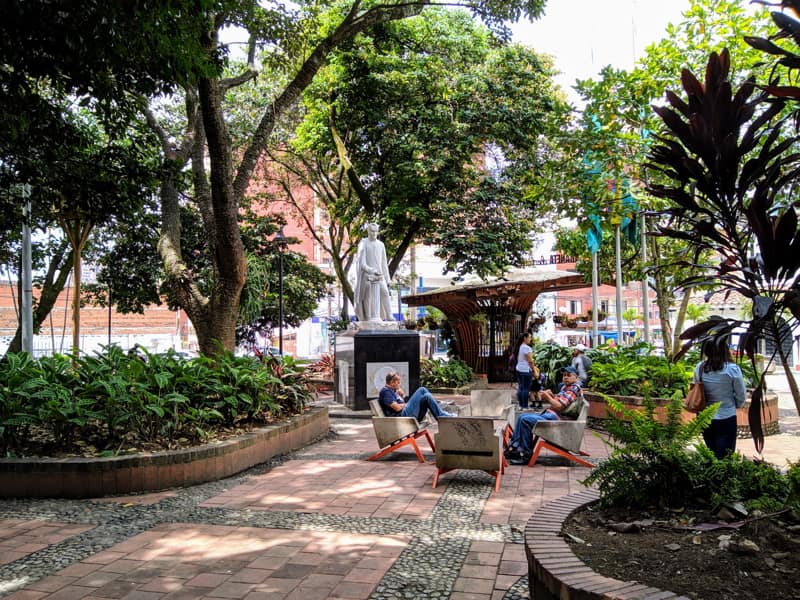 The smallest municipality in the country at only 15 square kilometers, Sabaneta is known as the Vallecito de Encanto, the Charming Little Valley.
Although it's small, it's growing. In its 31 barrios, 98% of the housing is in estratos 2 to 4. This working-class town maintains a traditional vibe, especially in its town square. Sabaneta borders Envigado on its southern edge. With a population of only 54,650, you might be surprised to learn that Sabaneta has 43 new construction projects underway, most of which are high-rise residential towers.
Here are five things to know about living in Sabaneta:
It offers the lowest prices to buy and rent an apartment of the neighborhoods I recommend mostly because it has the lowest estratos. However, homes in estratos 3 and 4 may not be acceptable to some expats…
You'll find fewer expats here, and you'll hear little English. However, it's quickly growing in popularity among expats looking for a more traditional, authentic experience…
Your dining options are limited to mostly traditional Colombian food and chain restaurants. Similarly, nightlife consists of traditional bars, not the high-end clubs and restaurants you'll find elsewhere…
The majority of Sabaneta is flat and therefore it's easier to walk around the neighborhoods. However, you can find steep hills on the edges of town…
Being a smaller town, Sabaneta also boasts a lower overall crime rate…
Wendy Howarter
Full-Time Colombia Expat