The market for real estate in Colombia is mature, active, and undervalued. There's a well-organized real estate industry here, with a generous inventory of quality properties. Construction standards are high—even in older buildings—yet prices are lower than you'll find in most markets in the hemisphere… an amazing value when compare to the quality of life offered. Prices for Colombia real estate are still an absolute global bargain. Costs of getting in are low, and demand is growing at an accelerating rate. The rental market is active and profitable, and you don't even have to be a resident in order to purchase property here.
Real estate in Colombia this country is priced in pesos, meaning you have to contend with the exchange rate, which fluctuates daily. Also note that a number of bureaucratic restrictions are in place. As an expat in Colombia, you would need to be prepared to navigate the system.
Colombian real estate is subject to municipal taxation, which is usually levied at rates within a band based on the value of property without regard to the number of owners or the taxpayer's personal wealth.
Foreigners cannot own within 2 kilometers of international borders or within 2 kilometers of the coast.
Where To Buy Real Estate In Colombia
When buying Colombian real estate, there are certain locations that present the best opportunities for lifestyle, investment, and rental income. Here are a few recommendations:
Bogota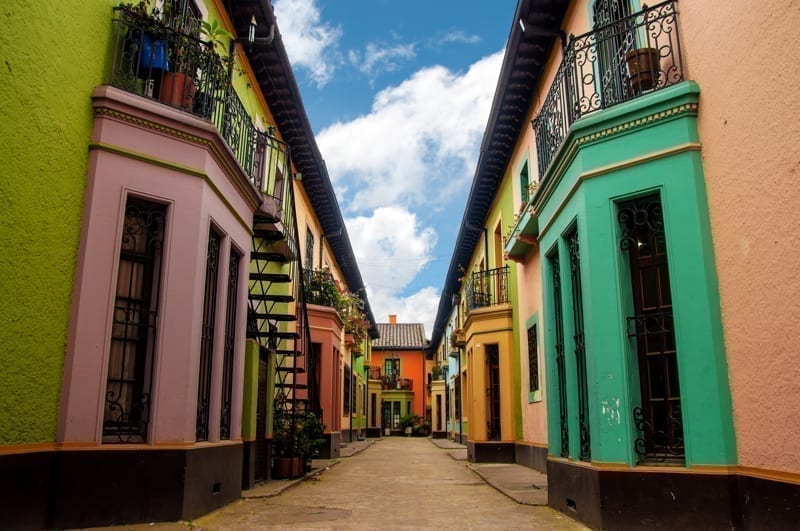 iStock/DC_Colombia
Bogota has a subtropical, spring-like climate with dry warm summers and winters that are mild. Sitting high along a plateau of the Andes, the average annual temperature is 58 °F (14.5 °C). Bogota, expected to reach a population of 25 million by 2038, is the fastest-growing major city in Latin America. The city is divided into 20 districts, with the higher-end real estate options centered in the north and northeast, and middle-class housing concentrated in the west, northwest, and center.
Medellin
Medellin, often referred to as the city of eternal spring because of its pleasant, springlike climate, has an average annual temperature of 72°F (22°C). Medellin is a particularly fantastic investment for a second-home buyer, especially now that expats are bypassing the well-worn snowbird haunts like Arizona and Florida, for the romance, excitement, and affordable high-end lifestyle in Colombia.
Santa Marta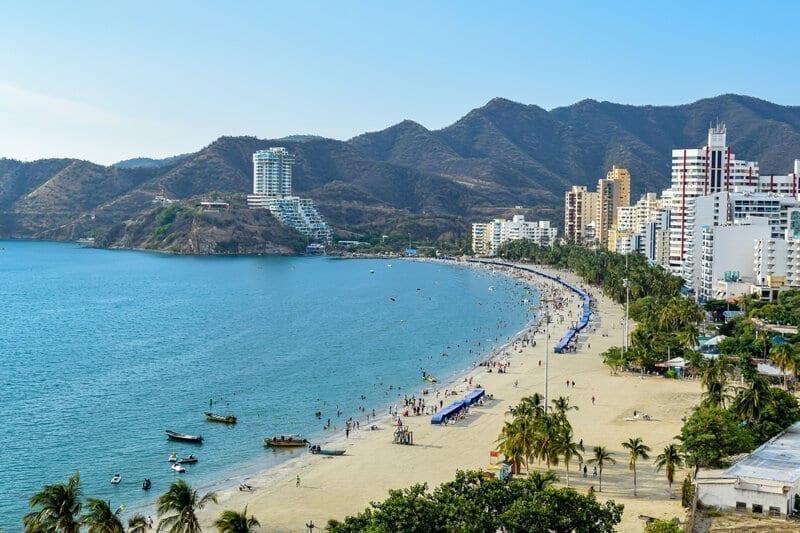 iStock/Robert Arango Lopez
Santa Marta has a tropical climate year-round. Cool evening breezes from the sea and breathtaking sunsets make Santa Marta a very attractive option for anyone looking to own a second-home or live in Colombia. The areas of Bavaria, Buenavista, and Jardin are home to much of the Santa Marta housing development, both high-end and residential.
Three Top Lifestyle Options In This Pretty City Of Flowers, All A Bargain
By Lauren Brown
1. El Poblado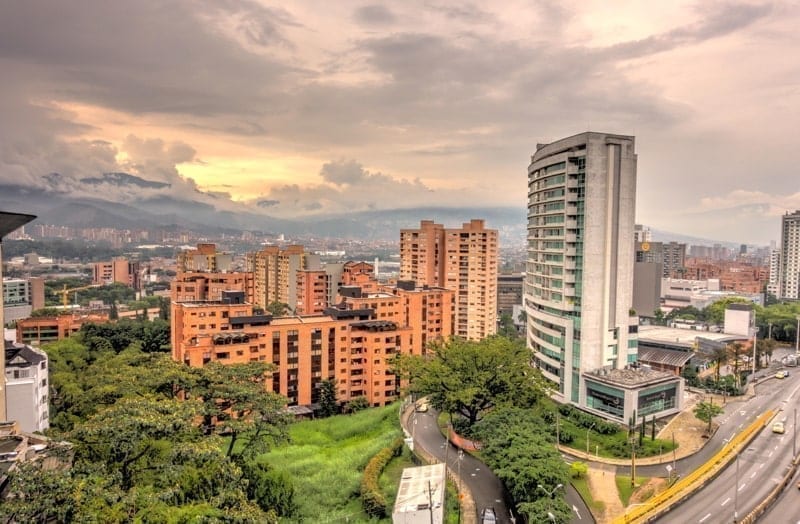 Alamy/Mehdi33300
One of Medellín, Colombia's, wealthiest areas, El Poblado has been the most popular spot for expats buying and renting property in this city. This is understandable, as Poblado offers a comfortable, convenient, and fully appointed lifestyle similar to city life in North America or Europe. Well-dressed paisas drive nice cars to high-end gyms, yoga studios, and hairdressers, stopping in at open-air restaurants and coffee shops between work and play.
Poblado is known for great nightlife, with trendy bars, restaurants, and clubs surrounding Parque Lleras and Parque Poblado (the Zona Rosa), and manages to be both upscale and laidback and peaceful. The area's winding, hilly, tree-lined streets pass through parks and alongside creeks. The feeling, as you drive around, is as much tropical jungle as big city.
The stretch of Avenida Poblado from Parque Poblado to Parque Envigado is known as the Golden Mile, a reference to relative property values. Along here you find shopping malls, office buildings, banks, health clinics, and low-rise apartment towers. The hills of Poblado can make walking long distances challenging, but the apartments higher up the mountainside offer great views of the Medellín valley. And, though, again, real estate values here are among the highest in this city, you can find penthouse apartments for a fraction the cost of comparable real estate in the United States, especially at current exchange rates. It's possible to live a lifestyle that could be described as luxury in Poblado, a bona-fide exclusive address, on even a modest budget.
It's easy to appreciate Poblado's appeal. However, this neighborhood is not for everyone. Poblado does not look, smell, or sound like other Medellín barrios. If you're interested in a more traditional local experience of life in this city, you have two perhaps better options.
2. Envigado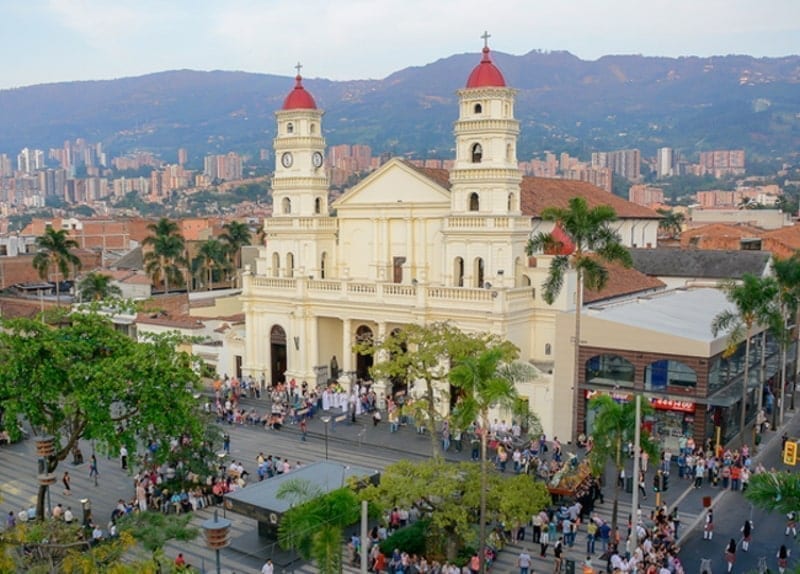 Wikimedia Commons/Alcaldía de EnvigadoiStock/Robi_J
Tourism in Belize
First is up-and-coming Envigado, just south of Poblado. This neighborhood offers a more typical and more affordable Latin American city living experience with easy access to trendy Poblado. Another upside of Envigado is that it is a flat, walkable neighborhood with a more residential and community feel.
Envigado is centered around Parque Envigado, a clean and well-maintained square dominated by the Santa Gertudis Catholic Church and surrounded by restaurants and stores. Instead of tall apartment buildings, Envigado is a neighborhood of one- and two-story buildings, most individual houses, and the occasional low-rise apartment building.
The cost of living in Envigado is notably less than in Poblado. Real estate is more affordable to buy and to rent, and groceries and restaurants can be less expensive, as well. Up the hills of Envigado are large houses and fincas with lawns and gardens, offering a more secluded suburban living experience. The farther into Envigado you go, the fewer foreigners you find and the less English you hear. This could be great if you want to learn Spanish quickly through immersion but a struggle otherwise.
The metro and many bus routes connect Pobaldo and Envigado via Avenida Poblado and Avenida Las Vegas, making it easy to commute between the neighborhoods. Both of these main avenues are flat, and you can walk from Park Poblado to Park Envigado in about 45 minutes at a leisurely pace. If you'd like to have as easy access as possible to both neighborhoods, consider basing yourself in "La Frontera" (literally, the border), where Poblado meets Envigado, roughly equidistant from both parks.
3. Laureles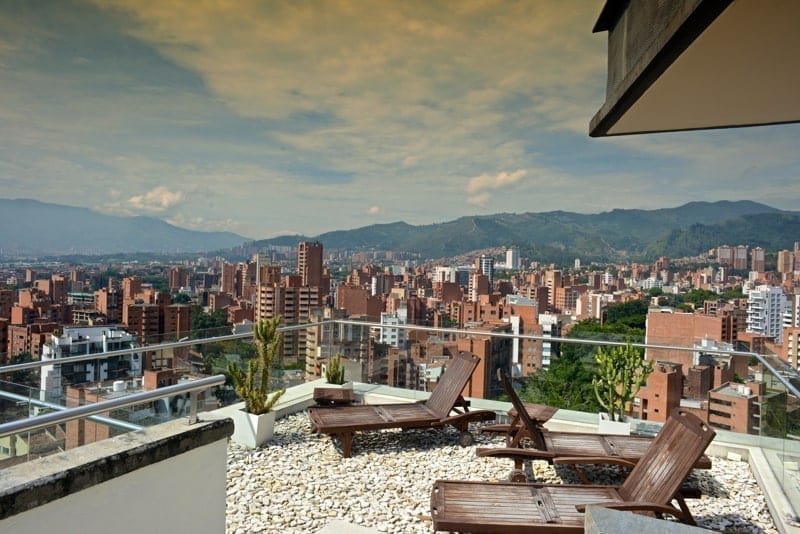 Alamy/KIKE CALVO /
The second Medellín neighborhood to consider if you're looking for a more local living experience is Laureles/Estadio, on the city's north side. Named for the Bay Laurel trees that line the streets here, Laureles was designed by Pedro Nel Gómez in the 1930s as the first planned expansion west of the Medellín River. Laureles' center area, Nutibara, has a European city plan. The streets are circular and organized around the roundabout of Laureles Park. This can make navigating the area confusing until you learn your way around, easy enough to do as Laureles is flat, walkable, and peaceful.
Laureles is calm and residential, but it is also known for some of the best nightlife in the city. The Nutibara area has more upscale Poblado-type restaurants, while the 70 Street "La Setenta" is home to more traditional and affordable restaurants, bars, and dance clubs that come to life on the weekends. This is the place to come for salsa clubs; I recommend the famous Son Havana.
Adjacent to Laureles is the Estadio (stadium) neighborhood, home (as you might guess) of the Atanasio Giradot Stadium, where the Medellín soccer team plays and where larger international games are hosted. One of the best parts of the stadium is the recreational area that surrounds it. This includes indoor pools, a running track, basketball courts, a skate park, even places for fencing, gymnastics, and dancing. Many of these amenities are free and available to the public; others require a membership or entrance fee.
Although the expatriate community here is growing, you are less likely to find English speakers in Laureles than in Poblado.
Subsidies in Medellín's Neighborhoods
Medellín designates each of its neighborhoods according to a "strata" system and subsidizes utility costs accordingly; the lower the strata, the greater the subsidy. Poblado is categorized as a strata 6, meaning that utilities and taxes are higher here than in lower stratas. Envigado and Laureles are both designated strata 5, meaning slightly lower utility costs.
Which Neighborhood Might Be Best For You?
The only way to find out is to come put your boots on the ground. I knew I was a "Poblado Girl" from my first visit, but I've known others who had that "ah, this is where I belong" feeling in Laureles.
Wherever you decide to base yourself, the rest of the city is no more than a US$3 taxi ride away.