Bogotá, the capital of Colombia, is the largest city in population and size in the country. Bogotá has an area of around 613 square miles (1,587 square kms), is situated 8,660 feet above sea level (2,640 meters). It has a population of 11.5 million.
Bogotá holds a lot of historic value and charm. It's one of the oldest cities in Colombia and became the capital after the country won independence from Spain.
This is a modern city where old and new coexist. If you walk down La Candelaria district, you'll end up in the financial district where the contrast between past (traditional colonial architecture) and present (modern businesses and high-rises) is everywhere.
If you're looking for a modern city with historical charm, a dynamic art scene, rich gastronomy, and vibrant traditions and culture, Bogotá is the place for you.
Cost Of Living In Bogotá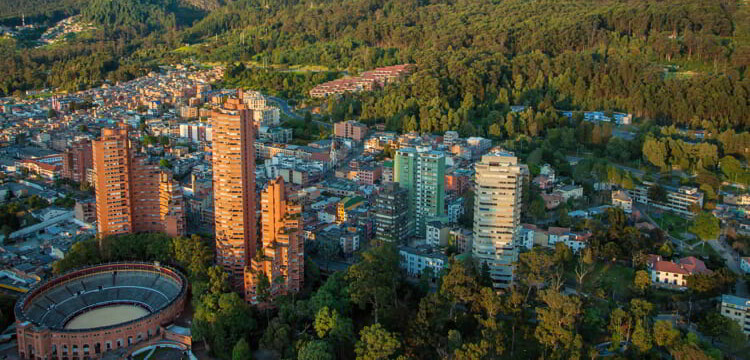 While the cost of living in Bogotá, Colombia, is more expensive than other places in Colombia, it's relatively cheap and affordable on a budget. A family of four, without rent, can live comfortably on US$1,300 to US$1,400 a month. A single person can get by with a little less than US$400 a month excluding rent.
When you compare rent in Bogotá (and in Colombia overall) to the United States (say New York City), you'll be floored by how cheap it is. The city center is more expensive than outlying areas—though not by much—but you'd be living in the heart of all the wonderful activities that Bogotá offers.
For a one-bedroom apartment in the city center you can expect to pay around US$340 a month (you'll pay about US$100 less outside the city center).
For a three-bedroom apartment in the city center you can expect to pay around US$650 a month. Outside the city center you'll pay about US$200 less.
If you're looking to invest in real estate or to buy a home in Bogotá, the average price per square meter is approximately US$1,500 in the city center and US$1,175 outside of it.
Prices in Bogotá are affordable. A three-course meal for two people at a nice restaurant costs around US$20. You can get a loaf of bread for less than US$1, a dozen eggs for about US$1.50, and a gallon of milk for less than US$3.50. It's easy to see that you could live a more luxurious lifestyle in Bogotá on the same budget you have now.
Things To Do In Bogotá, Colombia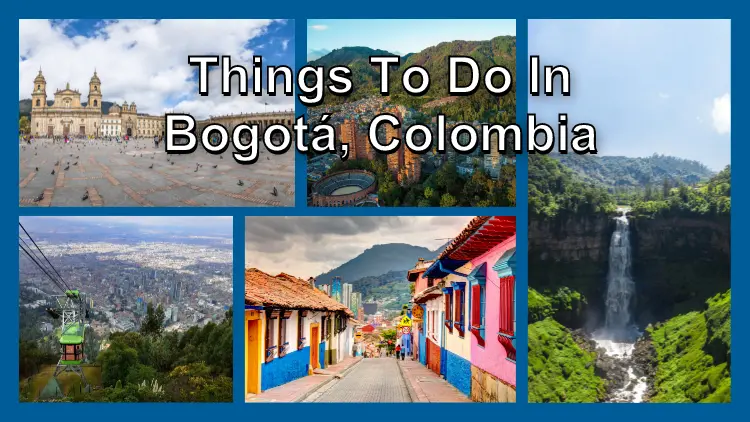 You will never run out of things to do in Bogotá, Colombia. Between the extensive food culture, bustling nightlife, inviting museums, delightful architecture, and more, the challenge is choosing what to do each day.
Start your day off with a stroll in La Candelaria district, where you can observe the contrast between historic and modern architecture.
Whether you're looking for a place to eat, want to admire unique graffiti , or visit cultural centers, this is the place to be. There is plenty to visit in La Candelaria…
Go see Museo Botero, a permanent museum exhibit for Fernando Botero, one of Colombia's most famed artists. You can also visit the Centro Cultural Gabriel García Márquez, an ideal place to relax, have coffee, and browse the library. It's named after one of Colombia's most famous writers.
There's also the Gold Museum (Museo de Oro), La Puerta Falsa (one of the oldest restaurants in the city), Espacio Odeón (a contemporary art gallery), and many more historical landmarks.
La Candelaria district is one of the best places to immerse yourself in and learn about the history, culture, and traditions of Bogotá and Colombia.
After walking around and admiring colonial architecture, old churches, and famous plazas such as Plaza Bolívar, you can take a break in any one of the countless parks that Bogotá has to offer. The city is famed for its vibrant greenery and luscious scenery.
You could stop at Parque 93 which is surrounded by food trucks, coffee shops, and delicious restaurants. It also hosts cultural and musical festivals year-round.
Start Your New Life Today, Overseas
A world full of fun, adventure, and profit awaits! Sign up for our free daily e-letter, Overseas Opportunity Letter, and we'll send you a FREE report on the 10 Best Places To Retire In Style Overseas Today
If you'd rather be near the water, you could go to Parque Metropolitano Simón Bolívar, which is the largest park in the city and surrounds a lake.
There are athletic facilities, rowboats, a small beach, and a little waterfall that you can see from the mirador (an viewpoint over the lake).
If gardens are more your style, there's Jardín Botánico de Bogotá Jose Celestino Mutis—a massive botanical garden that has over 5,000 indigenous orchids.
You can't leave Bogotá without visiting the nearby mountains, which attract local and international tourists alike. You'll be welcomed with open arms at the three main landmarks surrounding Bogotá: Monserrate, El Chicó, and Usaquén. From these points you can see breathtaking panoramic views of the city and its surrounding areas.
If you aren't tired after your long day touring the beautiful city of Bogotá, Colombia, there's a wide range of nightlife locales to keep you up well into the night.
Whether you're looking for a disco, club, bar, pub, restaurant, café, or something else, Bogotá truly has it all.
Be sure to try some of the local food such as ajiaco, cocido, and tamales.
Moving And Visas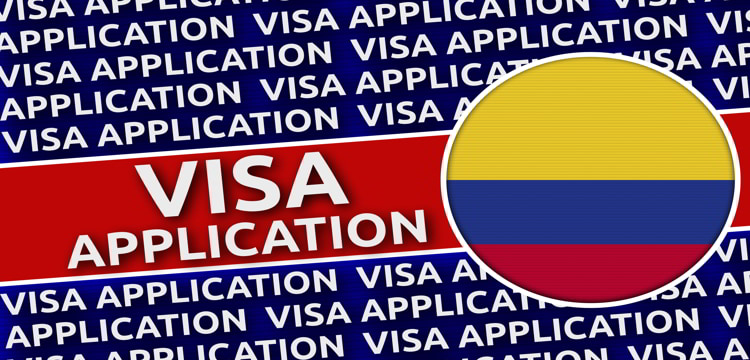 Moving to Bogotá and Colombia in general can seem like a daunting task, but it's actually pretty simple.
There's a well-established expat community in Bogotá. Most foreigners live in the northern part of the city in neighborhoods around Parque 93 or Chicó Norte, near Carrera 7.
If you're planning on visiting Colombia and won't be staying more than 90 days, all you need is a Tourist Visa. You'll get this automatically when you enter the country.
The main airport in Bogotá is El Dorado International Airport, located only 20 minutes from downtown.
When traveling within the city, the public transportation bus system is easy to use. It will get you anywhere you need to go, and you can use the TransMilenio website and Moovit app to plan your route.
If you take a taxi, be sure to use a taxi service app to avoid problems. Easy Taxi and Taxi Libre are known taxi companies, and apps such as Uber and Cabify work well in Bogotá.
You can travel to Bogotá with a reasonable amount and variety of goods on this visa. You can also travel with your pets to Bogotá… you just need to register the pet's entry and make sure their vaccinations are up to date.
You can move to Bogotá on a Migrant Visa, which lasts three years and is renewable. This leads to the possibility of you getting a full-time Residency Visa (if that's your goal), which lasts five years and is renewable.
Under the Migrant Visa program in Colombia there are marriage visas, work visas, student visas, religious visas, refugee visas, investment visas, and retirement visas.
If you invest a sum worth 350 times Colombia's minimum wage (currently around US$232 per month), you become eligible for the investment visa. If you invest a substantial sum in Colombia, you could immediately be eligible for the Residency Visa.
The retirement visa has specific requirements. If you're retirement age (65 and older for men, 57 and older for women) and have an income of at least US$800 a month, you're eligible for the Migrant Retirement Visa.
Start Your New Life Today, Overseas
A world full of fun, adventure, and profit awaits! Sign up for our free daily e-letter, Overseas Opportunity Letter, and we'll send you a FREE report on the 10 Best Places To Retire In Style Overseas Today
Bogotá has a cool, spring-like climate year-round with temperatures ranging from 45°F to 68°F (7°C to 20°C). You'll always be comfortable in this subtropical mountain climate, but don't forget to keep an umbrella handy as it tends to rain high up in the mountains!
Bogotá is surrounded by hills and mountains like Cerro Guadalupe and Monserrate, which account for the constant cool temperature.
When the sun shines it can feel warm in the sunlight, but still be cool and comfortable in the shade. The sun shines the most in the dry season between December and February.
There's often a magical fog covering the city and areas around Bogotá, especially from November to February.
It can rain any time of year in Bogotá, but December to February are the months with the least rainfall. It rains more at higher elevations, and the city center gets about 31 to 40 inches of rain a year.
The best time to visit Bogotá is during the dry season. That said, just because the sun is out doesn't mean it's not chilly. No matter when you visit, it's a good idea to pack a sweater.