Bucaramanga, Colombia, is a lush, green city with beautiful parks, excellent hotels, and a laid-back pace of living. Located in the heart of Colombia's Andes Mountains, Bucaramanga has picturesque green spaces with waterfalls, fountains, and palm trees. The city is the capital and largest city of the department of Santander in north-central Colombia. "The City of Parks" also has stunning colonial architecture and cultural sites. If you're visiting Bucaramanga, you'll have your pick of top-rated hotels, with a wide variety of luxury options at affordable prices.
Bucaramanga also serves up delicious local cuisine and warm, mild weather year-round, making it the perfect place to relax and enjoy the good life.
Cost Of Living In Bucaramanga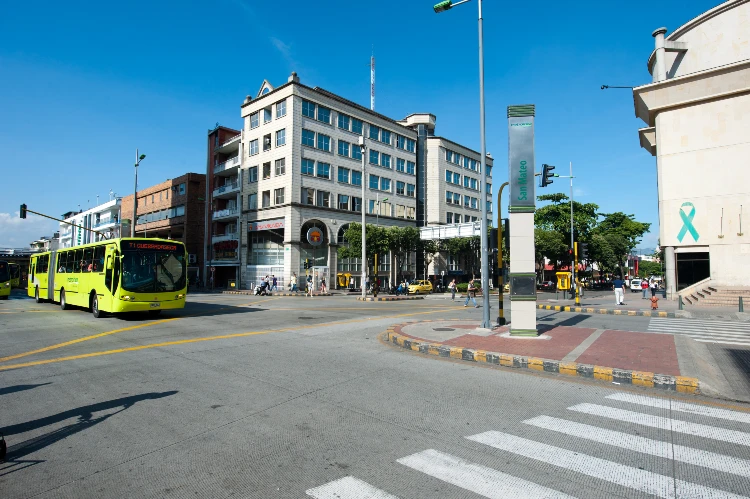 The cost of living in Bucaramanga, Colombia, is extremely affordable and low compared to North American countries. The city is an ideal destination if you want a low cost of living and a laid-back lifestyle with lots of natural beauty.
The average monthly cost for a family of four excluding rent is US$1,072. A single person can live on just US$310 per month excluding rent in Bucaramanga. Rent for a one-bedroom apartment in the city center averages US$178 per month, and a three-bedroom apartment in the city center averages US$289. For even lower rent, if you go outside the city center, a one-bedroom apartment costs an average of US$138 per month, and a three-bedroom apartment outside the city center averages US$228.
To understand how affordable rent is in Bucaramanga, Colombia, when compared to popular U.S. cities, rent in Bucaramanga is, on average, 93.3% lower than in Seattle, 95% less than in New York City, and 93% lower than in Los Angeles. Utilities are also budget-friendly, costing an average of US$51 a month for electricity, cooling, water, and garbage. Internet service costs about US$16 a month in Bucaramanga.
Entertainment and dining are also very affordable in Bucaramanga, Colombia. A meal at an inexpensive restaurant costs an average of just US$2.61. A meal for two people at a mid-range restaurant including three courses averages only US$13. This means you can enjoy delectable local cuisine at the many restaurants in Bucaramanga for just a few dollars. A domestic beer costs an average of US$1, while soda and water usually cost less than a dollar. If you want to check out a movie theater, a movie ticket costs US$2.61 on average.
As with other costs in Bucaramanga, you'll find shopping for clothes reasonable. A pair of name-brand jeans costs an average of US$41 and a summer dress will cost about US$25. For Nike running shoes, the cost is US$59 on average.
If you want to invest in real estate, to rent out or to live in, you will be amazed at the bargains you can find in Bucaramanga, Colombia. A two-bedroom, two-bathroom home in Bucaramanga usually costs between US$40,000 and US$150,000. Prices vary depending on the exact location and condition of the home, but you'll find your money goes far as an expat. You will find the lowest home prices outside of the city center, but overall, there are many bargains in the city's real estate market.
If you're an investor, real estate is a profitable business in Bucaramanga, and housing demand continues to grow. Rental yields are running from 8% to 14% on good properties. It's a great place to start out buying real estate as you will have a low cost of entry to buy high-quality properties.
Things To Do In Bucaramanga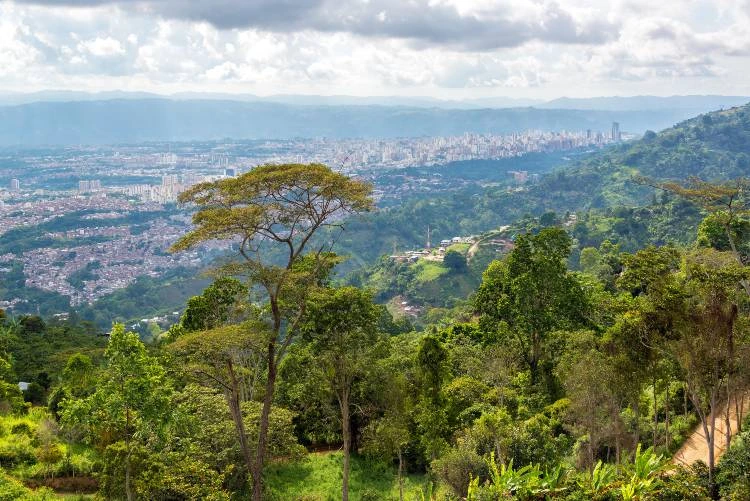 Bucaramanga is known as "the pretty city of Colombia" for its scenic parks and landscapes. Whether you want to enjoy the picturesque parks and natural beauty or take in local cultural attractions, Bucaramanga has plenty of things to do. Here are just a few of the best things to see in this welcoming city:
Saint Pío Park
One of the most popular parks in Bucaramanga is Saint Pío Park, an urban green space that offers a tree-filled sanctuary in the middle of the city. The park is a great place to people-watch or relax. The centerpiece of the park is a large bronze sculpture of a nude woman by renowned Colombian artist Fernando Botero using his signature Boterísmo style—sweeping, exaggerated proportions.
Agua Park
For more green solace in the city, check out Agua Park, a nature reserve with waterfalls, ponds, fountains, and lush local flora and fauna, including different flowers and fish. The park is a peaceful place to unwind and revel in nature. During the wintertime, the park has a popular lights display to celebrate the Christmas season.
Eloy Valenzuela Botanical Gardens
For colorful flora, check out the expansive Eloy Valenzuela Botanical Gardens, about 10 minutes south of Bucaramanga. The vibrant botanical garden stretches across 19 acres (5,000 square meters) and has 3,500 species of native plants including orchids, palms, and mosses. You can also relax by the lake, enjoy walking on trails, and see wildlife including squirrels, butterflies, ducks, and iguanas.
Museo De Arte Moderno De Bucaramanga
This modern art museum includes indoor exhibits with paintings, drawings, and other art as well as a beautiful outdoor sculpture garden with murals.
Parque Garcia Rovira
For a historic place to socialize or people-watch, head to Parque Garcia Rovira. The palm-lined park is a popular meeting spot. The park's namesake, José Custodio Cayetano García Rovira, was a soldier from Bucaramanga who is recognized as a martyr of the nation's independence. There is a sculpture of him in his honor and the park is centrally located next to government buildings such as the Santander Governorate and the Bucaramanga Mayor's Office.
Parque Cerro Del Santísimo
See sweeping views of Bucaramanga and a massive statue of Jesus at Parque Cerro del Santísimo. The unique park is in Floridablanca, an area bordering Bucaramanga. You can take a cable car up to the top of the hill and then climb to the top of Jesus' head, which stands 131 feet (40 meters) high.
The Sagrada Familia Cathedral
In front of Parque Santander is the Sagrada Familia Cathedral, a historic religious structure that was constructed over almost a century (from 1770 to 1865). The elegant building features two white towers and a yellow and green dome (the colors of the city's flag), as well as stained-glass windows, a ceramic cupola brought from Mexico, and religious paintings by Luis Alberto Acuña and Oscar Rodríguez Naranjo.
Skybar
For some of the best views of Bucaramanga, head to Skybar, located on the top floor of the Holiday Inn Hotel Bucaramanga. Sip some wine or dine on the rooftop against the bright backdrop of the city's skyline. There is also a rooftop pool that adds to the ambiance.
Retirement Information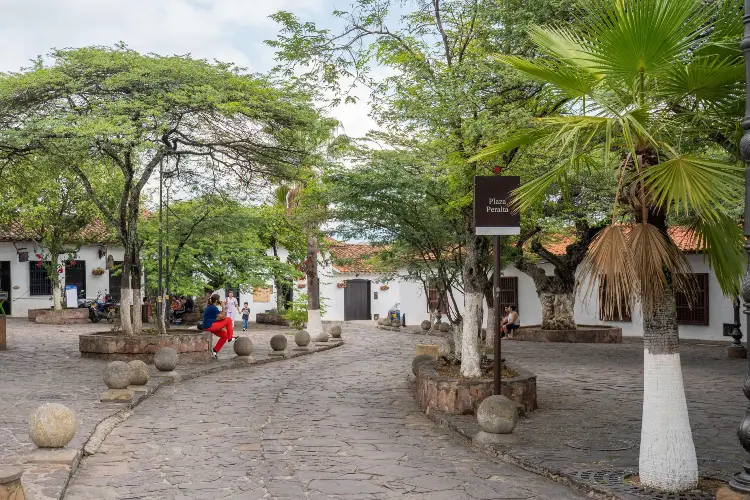 Bucaramanga, Colombia is an excellent place to retire for a low cost of living, plentiful green space, and a relaxed pace of life. The many beautiful parks, friendly locals, and warm climate make Bucaramanga a serene place to retire. Colombia has some of the best health care in Latin America and you will find affordable prices for everything from physical therapy to doctor visits. A massage therapy session costs between US$16 and US$40 and a dental appointment will cost you about US$45.
Safety Information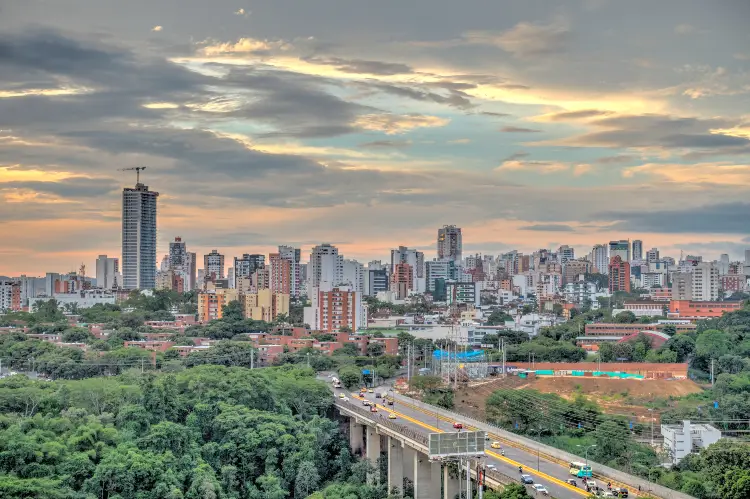 Bucaramanga is a middle-class city that is generally peaceful and away from major crime hubs. Colombia developed a notorious reputation during the 1970s and 1980s when drug lords like Pablo Escobar ran the cities, but Colombia is much safer than it used to be.
It's always good to take safety precautions in any city, such as locking your doors and being aware of your surroundings.
The areas that expats and tourists populate in Colombia have a strong police presence to ensure your safety. Generally, it's best to avoid the Colombia-Venezuela border. You can also check the U.S. State. Department's website for any updates and travel advisories.
Moving And Visas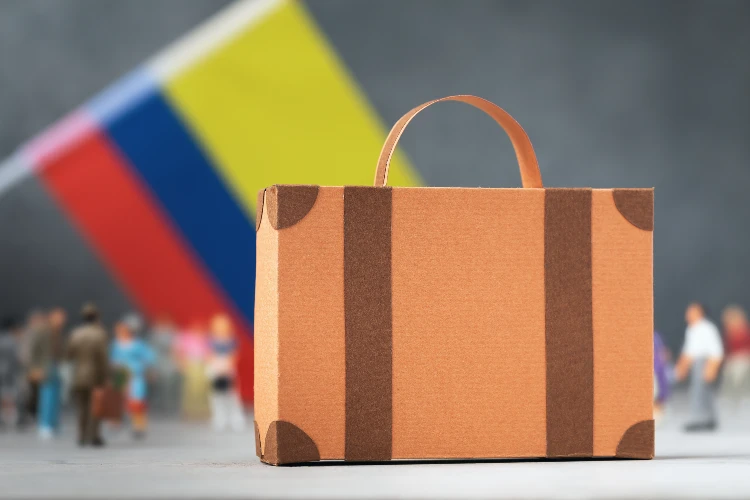 You can move to Bucaramanga, Colombia, with much less hassle and red tape than many locations. It's always a good idea to visit before moving, and you can easily travel to Bucaramanga from the United States or Canada for up to 90 days in a row or 180 days in a year without a visa.
For longer stays and moving to Colombia, there are temporary and permanent visa options. You can apply for a temporary visa online or at a Colombian consulate in your home country. A temporary visa usually lasts from one to three years. There are different types of visas for moving to Colombia, and you can apply for the one that best suits your lifestyle.
For retirees, there is a Special Temporary Pensioner's Visa in Colombia. This is one of the subcategories of the Migrant Type M Visa. For this visa, you have to demonstrate that you receive a pension equivalent to no less than three minimum legal monthly wages. The current minimum wage in Colombia is equal to about US$275 per month, meaning you will need to prove you have a pension equal to US$825 to qualify for the temporary retirement visa. You will have the possibility to renew this visa each time the term is ending.
To apply for the retirement visa, you will need:
A completed and signed visa application, Form DP-FO-67,
A valid passport or travel document with at least two blank pages,
A copy of the main page from your passport as well as a copy of the page with your last Colombian visa and most recent entry stamp for Colombia,
Two passport-sized color photos, or for applications at a Colombian Consulate, three photos,
Certification issued by a government or approved authority stating that you receive a pension of not less than three current minimum legal monthly wages.
If you want a permanent visa in Colombia, you can apply for a residency visa, which has no expiration date (but you need to renew your identification card every five years). For the permanent visa, you need to invest at least US$155,000 (based on exchange rates) in real estate or in creating a company in Colombia. After five years of residency, you can begin applying for citizenship.
Visa costs range from US$50 to US$500, depending on the visa, and there is additionally an application fee of US$52. Once you receive your temporary or permanent visa, you must register with the Foreign Registry of Migración Colombia and apply for a Colombian identification card, called a cédula. You will need your cédula for many things in Colombia, including opening a bank account, so it's important to keep your ID current.
Weather In Bucaramanga

If you want to escape cold, gloomy winters, you will love Bucaramanga. The tropical region enjoys a warm, mild climate year-round, with temperatures normally ranging between 69°F and 81°F. Thanks to the higher altitude, Bucaramanga has a mild climate that doesn't get as hot as most of South America. The average altitude of the city is 3,115 feet (950 meters). Located at the foot of the Andes Mountains, Bucaramanga enjoys warm temperatures and frequent rainfalls.
The best time to visit Bucaramanga, Colombia, is from mid-June to late August and early December to late February for mild weather. In general, the temperature range stays pretty consistent year-round with the main changing variable being the rain. The rainy season is a long one, lasting from the end of March to the beginning of December, with a 43% chance of rain during these months. The humidity also tends to be the highest at these times. October has the most number of rainy days, with an average of 20 days of rain and 5.7 inches the average amount per rainfall.
The driest months in Bucaramanga are from December to February, with January having the least rain, with an average of 1.4 inches.
There are plenty of daylight hours in Bucaramanga, with a similar day length year-round, with the shortest day being Dec. 21 and lasting 11 hours and 43 minutes and the longest day being June 21, lasting 12 hours and 32 minutes.