I've been traveling internationally for more than 30 years. I've lived abroad, for half that time, in Japan, the UAE, South Korea, and the U.K. My wife and I have raised three kids overseas and brought them on our travels…
Based on all that experience, one of our favorite places is Italy, where we generally spend a month in Rome and Tuscany.
The Castello di Montalto
The highlight of our trip is always the Castello di Montalto, a medieval castle in the heart of Chianti. The grounds are beautiful, dotted with cypresses, firs, and wildflowers, and the castle sits on a hilltop overlooking the valley. Situated in Castelnuovo Berardenga in the province of Siena, this is an ideal location for day trips to the delightful towns and cities scattered throughout Tuscany.
Because it sat between the rival cities of Florence and Siena, Montalto was a stronghold and strategic site; from 1200 to 1550 it was often under siege, and the castle suffered serious damage during the Battle of Montalto in 1208.
The watchtower was built in the 6th century, but the castle was not completed until circa 1000. In the 19th century the castle passed from the Berardengas to the Palmieris, who used it as a private home. Ownership eventually passed to Giovanni Nunziante and his wife Diana, who today is the sole proprietor.
Castello di Montalto sits at the end of a long, steep, winding road of dirt and gravel. You drive through an arched entryway into a courtyard. The Church of San Martino is here, and the watchtower rises to its left.
Inside the main villa are medieval and renaissance frescoes, portraits, and family crests. The Hall of Arms is decorated with armor, lances, and battleaxes.
The rental units are within the fortress walls. Despite periodic renovations, the buildings are vintage. All updates have been done to complement the millennium-old castle. The units are rustic and low-key but have modern conveniences like heating, electricity, and Wi-Fi.
Bocce, a swimming pool, tennis, and ping-pong on the property keep you entertained. You can borrow bicycles or arrange for classes and activities—horse riding, art, or music. The castle grounds are immense and perfect for walking, nature hikes, and morning jogs or simply taking in the unparalleled views—rolling hills, farmland, neighboring castles…
The estate is a certified-organic farm with 650 acres of woodland. Olive trees, honey, wheat, sunflowers, and alfalfa are just a few of the crops cultivated and sold on the property.
Renting a car when you get to Tuscany is both the most convenient option and the best way to explore the countryside. I recommend booking a car with a local company before you arrive.
The castle is off by itself, 11 kms from Castelnuovo Berardenga proper, but the town center has everything you'll need—grocery stores, playgrounds, historic sites, restaurants, and superb local wine at reasonable prices.
You should do two things in Castelnuovo Berardenga. First, visit the San Felice Winery, a short, pleasant drive through the Tuscan hills. San Felice is a charming village. The winery has tastings and tours, an elegant hotel, the Vitiatium for scientific research, and an enoteca (wine bar). It would be a crime to leave without trying the Brunello di Montalcino or the Pugnitello.
Second, try Il Bivacco Ristorante Pizzeria. Just 5 kms from the castle, down the dirt road and to the right, Il Bivacco is a simple, unpretentious place for locals. You can eat in or take a few pizzas to go.
Your Perfect Base In Tuscany
Castello di Montalto is the perfect jumping-off point for dozens of day trips. Cortona, Florence, Orvieto, Montalcino, Assiano… there are too many cities, towns, and hamlets to mention. Our plan was simple: One day we'd get in the car and go exploring; the next, we'd stay at the castle to swim, play bocce, and sip wine.
A few suggestions… One, rent a compact car or risk getting stuck in a narrow alleyway (as I did in Florence a few years ago).
Two, some of the walled towns sit atop steep, winding roads, making it hard to drive all the way up and even harder to turn around and get back down. It's often easier to park at the bottom and walk up.
Three, stop along the way. These are short, pleasant drives; no stress, no hassle. Sometimes an innocuous little village will have brilliant gelato or an outlet shop selling leather goods at remarkably low prices.
Here Are My Three Favorite Excursions From Castelnuovo Berardenga:
#1: Siena (27 kms away)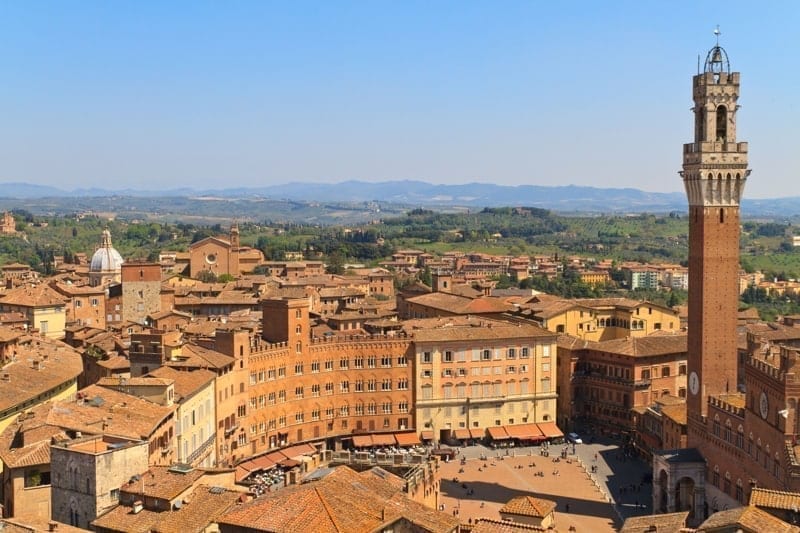 Considered Tuscany's second city, you'll find a glut of palaces, museums, galleries, churches, and renaissance masterpieces. Siena is also quite walkable, understated, and familiar—not as imposing or crowded as Florence. Start your tour in the Campo, the city's main piazza, which many consider Europe's premier medieval square, and the Siena cathedral (or Duomo). The Pinacoteca Nazionale is a great place to see the development of Sienese art, from the 1100s until today.
#2: Arezzo (44 kms away)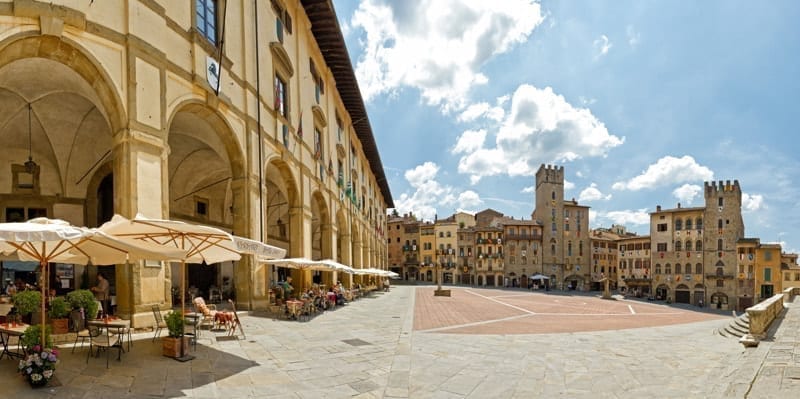 Arezzo sometimes gets a bad but unjustified rap. The outskirts of town and the crowded modern city of 100,000 have a dreary industrial look. That's not what you expect from Tuscany. However, Arezzo also has some of Italy's best food, and there's a walled town within the city limits. Roberto Benigni set "Life Is Beautiful" here, which attests to Arezzo's charm.
This was a fortified city during the Etruscan period and is over 2,000 years old. In addition to the usual churches and museums, Arezzo boasts a magnificent Roman amphitheater. Start at the Piazza Grande and visit the Palace of the Lay Fraternity and the Episcopal Palace.
When you need a break, stop at one of the city's great wine bars. I recommend the chic Vineria al 10. The wine cellar is extensive and the waiters are helpful. My wife and I discovered our favorite Tuscan varietal here, Morellino di Scansano.
Once you're revived yourself, stop by the Franciscan church to see Piero della Francesca's fresco cycle "Legend of the True Cross," one of Tuscany's artistic treasures.
#3: San Gimignano (70 kms away)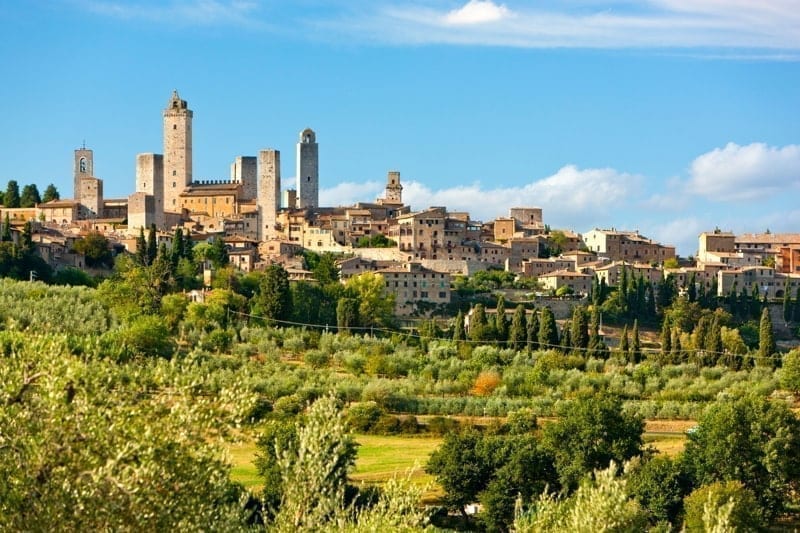 San Gimignano is a walled hill town that flourished in the 13th century as a stop on the pilgrim trail from northern Europe to Rome. It's still a great place to walk, get lost, or wander the cobbled streets. San Gimignano is in better shape than most towns its age; the walls, strongholds, gates, and palaces have been preserved. This is sometimes called the medieval Manhattan because 14 original towers remain standing, while other cities lost their "skyscrapers" to war, natural disaster, and city planning.
If I had only an hour, I'd see the magnificent Church of Sant'Agostino. In addition to other notable works, it boasts "The Life of St. Augustine," a 17-panel fresco by Benozzo Gozzoli, who fled to San Gimignano from Florence to escape the plague.
If I had time for just one more stop, I'd have a glass of Vernaccia di San Gimignano, the city's flagship wine.
Here's a tip for anywhere in Italy: If you're looking for a snack but aren't ready for a full meal, a wine bar is a good option. You'll often be served complimentary salami, cheese, and bread, and if you stay for a few glasses it's a great chance to chat with the owner to get inside information about the city.
Ultimately, Tuscany isn't about hustle and bustle. It's a place to relax in a quiet, peaceful setting. The rooms at the castle have no TV and no air conditioning, but we don't miss them. We go to bed early and sleep with the windows wide open. I've not slept better anywhere in the world.
There's something in the wine, too. Even the cheaper bottles taste great and, no matter how much I drink, I never feel groggy the next day or wake up in the middle of the night with a dry mouth. The wine is as magical as the place itself.
Andrew Madigan
Part-time Italy Expat