Can you afford to live in Belize?
The simple answer, I'd bet, is yes.
But the better answer is that it depends…
It depends on what you're looking for in a home, what you want to do for recreation, and, above all, where in Belize you want to live.
Like the cost of living anywhere, the cost of living in Belize is in many ways controllable.
The biggest variable, as I suggest above, is where in Belize you decide to base yourself.
Our Overseas Retirement Index identifies Belize as home to the World's Best Small Town.
It's a rain forest escape where expats and locals live together peacefully and sustainably…
And where the cost of living is delightfully low. You could settle in here quickly and comfortably on a budget of about US$850 a month.
This part of the country is not only one of the cheapest places to live in Belize, but it's also actually my personal favorite region of the country.
You can spend your days relaxing on a hammock or working the land… tubing through river caves with a cooler of beer or four-wheeling through the jungle and hiking up Mayan pyramids…
All just a short trip from the coast for long day trip or a weekend at the beach.
Take A Look At Our Man On The Ground's Latest Budget: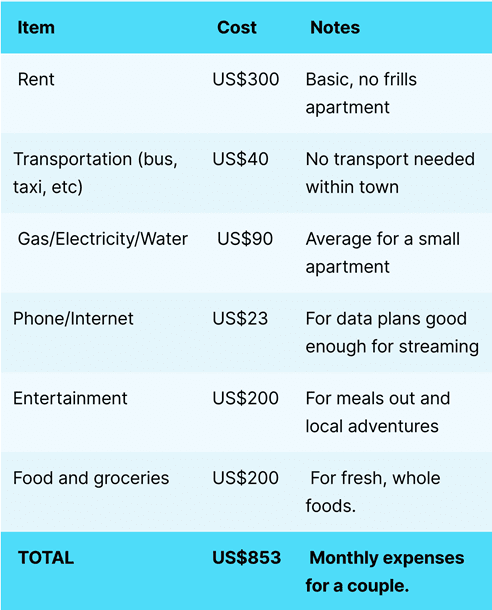 Again, this is a sample budget. You could customize it, of course, spending more or less in any category of expense, according to your wants and needs.
You could add help with household chores for another couple of hundred dollars a month more, for instance. And you could choose to spend more for a bigger and better located home, faster internet, and your own vehicle.
The bottom-line point, though, is that you do not need a big retirement nest egg to retire well in this part of the world. A skinny retirement budget can be more than enough.
Head to the coast, and you could expect to more or less double that budget… depending on where, exactly, you choose to live.
The Cost Of Living In Belize Is Just One Part Of The Equation
Now, to clarify, these budgets are only practical once you're already settled in here…
In fact, residency itself is a critical choice to make when it comes to your budget… some visas require monthly fees, while others need only a single payment.
Plus, prior to legal residency, you'll want to make sure you know the right people when it comes to the administration, to travel within the country, and to living in a rental while you search for your home.
It's a lot to consider, but, properly prepared, you can accomplish it all in no time and at minimal cost—just like hundreds of Live and Invest Overseas readers have done before you.
So, what was the secret that past readers used to do all of that as cheaply, sensibly, and wisely as possible?
They tapped into an inner circle here in Belize…
A group of folks on the ground that live here and want to help you join them…
People who know the tricks to getting it done and know the pitfalls to avoid.
In other words, you want to be in the room with all of those people for our Live and Invest in Belize Conference.
This is the world's most trusted Belize event, and it's the only way to get to know all of our Belize insiders and all of their wisdom.
And I'm delighted to be able to say that this Belize event will be an in-Belize event.
That is, we're finally able to get back out in the world.
And I can't wait to meet you in Belize.
More details on the program we're planning are here.
Sincerely,

Kathleen Peddicord
Founding Publisher, Overseas Opportunity Letter