The expat community has expanded quickly in Medellín, Colombia, since David and Carole Wallis first arrived.
In the past three years, they have made great friends, bought and remodeled a home, bought a car, and established a new life in the City of Eternal Spring.
I had the opportunity to sit down with them to learn about their experience…
Q: Tell me about yourselves and what you did before moving to Colombia…
Dave: I was a police sergeant in Virginia for 30 years.
Carole: I was a Regional Sales Director for a medical equipment and supply company in Virginia. A few years after moving here my company asked me to work part-time from Medellín. Six months later I stopped because I missed my free time…
Q: How did you choose Medellín for your overseas home?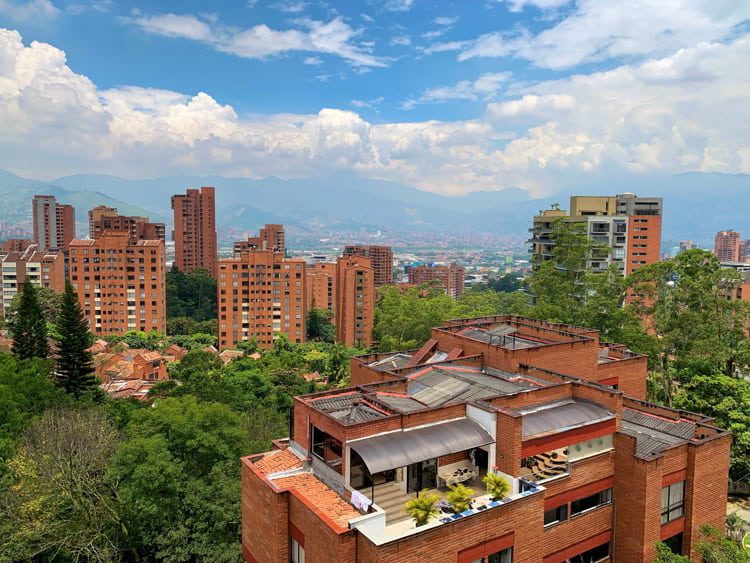 Dave: In 2011 I was considering overseas retirement and researching options. We attended a Live And Invest Overseas Conference in San Antonio to see which countries might be viable options. I wanted a place where I could afford to retire, instead of working until I dropped dead.
When we first visited Medellín, the exchange rate was US$1 to 1,700 Colombian pesos. I watched the dollar go up against the Colombian peso, and we returned in February 2016 and bought an apartment.
Carole: We wanted three bedrooms, a decent kitchen, a large living space for a large TV, and a pool. The place we chose needed a kitchen remodel. We returned to the States and made our offer long distance.
Dave: A bit of advice for anyone buying a home here: open a brokerage account first, while you're in Colombia, and bring your money here before making any offer. Also be present for the paperwork and to decide when to exchange your funds to get the best rate.
Q: How did your remodeling project go?
Carole: Our kitchen took six weeks to remodel and was completed on time. We were very pleased with the results and the contractor. We had a good experience although I know others who weren't so lucky.
Q: Did you ship any belongings from the States?
Carole: We shipped most of our furnishings from the States. Because you ship by weight, it was less expensive to bring appliances than to buy new in Colombia. Our total cost to ship everything, including all taxes and port fees, was US$13,000 door to door.
Q: You recently bought a car. What can you tell us about owning a car in Colombia?
Dave: After three years without a car, we bought a used 2019 Ford Escape with 4,000 kilometers on it. The price was similar to U.S. prices. We pay 110,000 Colombian pesos for gas every month, vehicle insurance runs 243,000 Colombian pesos per month, and body work is cheap and fast.
Q: Did you speak Spanish before you moved to Medellín?
Carole: We had very little Spanish before coming here. We worked with a tutor for a year, taking classes twice a week. We also tried classes at the local university but we only lasted a few months. It was too rigid and stressful for the lifestyle we wanted. We will never be fluent but we get by on a day-to-day basis.
Start Your New Life Today, Overseas
A world full of fun, adventure, and profit awaits! Sign up for our free daily e-letter, Overseas Opportunity Letter, and we'll send you a FREE report on the 10 Best Places To Retire In Style Overseas Today
Q: I see your puppy Sami running around your apartment, but I know you brought a different dog to Medellín when you first came here. How was that experience?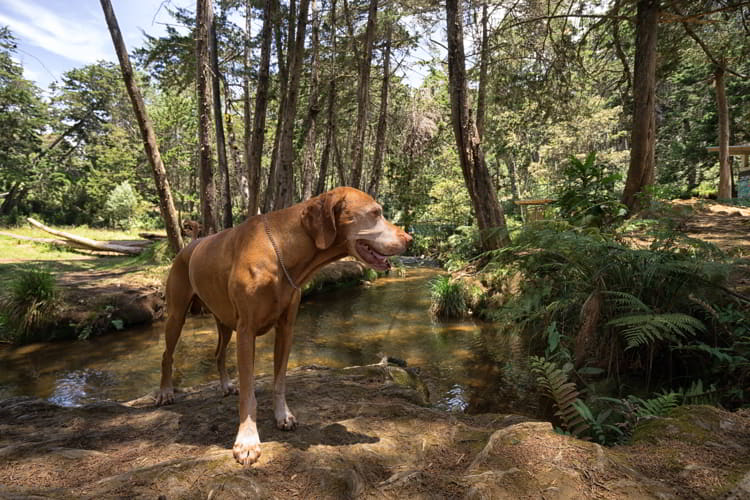 Dave: We brought Bear from Virginia. It was a straightforward process. You need a USDA certified veterinarian report and documents from the USDA office 10 days before traveling. In the Medellín airport, after you clear customs, you bring your paperwork to an office and pay the fee to bring him into the country.
Carole: The vet care here is excellent and reasonably priced, including end of life care, which we unfortunately experienced in 2018 when Bear passed away. Last year Sami was sick. An overnight stay in the vet ER with 24/7 care cost us 195,000 Colombian pesos. Also, our vet speaks English.
Dave: Medellín is a very pet-friendly city, and we bring Sami everywhere.
Q: Do you have local medical insurance?
Carole: We have EPS, the basic insurance. Our cost is approximately US$35 per month as a couple. For quick appointments, and to ensure an English-speaking doctor, we just pay out of pocket. The system is not difficult, it's just time consuming.
Q: What are your favorite things about Medellín?
Dave: The people are great, we love the climate, especially because we don't need heat or air conditioning, and we enjoy a good quality of life at a great cost of living.
Carole: I love our big group of new friends and entertaining them.
Q: What are some of your challenges?
Carole: It's difficult to make phone calls because of the language barrier. I'll ask a friend to help me, or I use the WhatsApp phone app so I can type and translate.
Q: Do you miss anything from the States?
Carole: I miss certain luxury foods like prime rib. Dave misses bourbon and Amazon although it's getting easier to ship here. Also, you will need to shop in the States for larger sized clothes and shoes, as the Colombian people are generally smaller.
Dave: There's nothing that we need that we can't get here…
Q: Do you have any advice for others considering a move overseas?
Both: Beware of Facebook groups and forums because people like to complain and some don't even live here. Also, El Poblado is much more than just Parque Lleras (the club and nightlife area).
Dave: Decide what standard of living and creature comforts you want. Do you want part-time living, your dream home, or an adventure without strings? Then you can decide about shipping things when you move.
Carole: Remember the expenses you still have in the States, like insurance policies, when considering your overseas budget.
Carole: We live a similar lifestyle spending approximately US$3,000 per month as opposed to US$8,000 in the States. We could live more frugally, but we don't want to, and we don't have to.
Q: After three years of living in Medellín, how do you feel about your decision?
Carole: Medellín is our home now.
Dave: Yes, it's the place we look forward to coming back to when we travel.
Wendy Howarter
Full-time Colombia Expat