I have traveled to Pereira, known as Colombia's second "City of Eternal Spring," many times over the past several years… and I don't understand why this little city remains so undiscovered.
Pereira is one of the corners of Colombia's Coffee Triangle, along with the nearby cities of Armenia and Manizales. The scenery in this coffee region of Colombia is stunning. This is one of the best regions in this country for hiking, photography, horseback riding, and all sorts of outdoor activities.
In some ways Pereira is like Medellín 10 or more years ago… before all the positive press brought so many foreigners to the one-time drug capital of the country. Both cities are in the mountains at about 5,000 feet, and both boast pleasant year-round climates.
One of the most notable differences, however, between the two is the cost of living and of real estate. Property values in Pereira are at least 20% to 25% cheaper than in Medellín.
Several expats I've met in Pereira told me that, when they made their moves to Colombia, they settled initially in Medellín. They moved when they discovered smaller Pereira, which they felt to be a more livable city.
I can understand this. I've lived in Medellín. In Pereira, the traffic is much less and the air cleaner. Pereira is also a highly walkable city, depending on where you decide to live.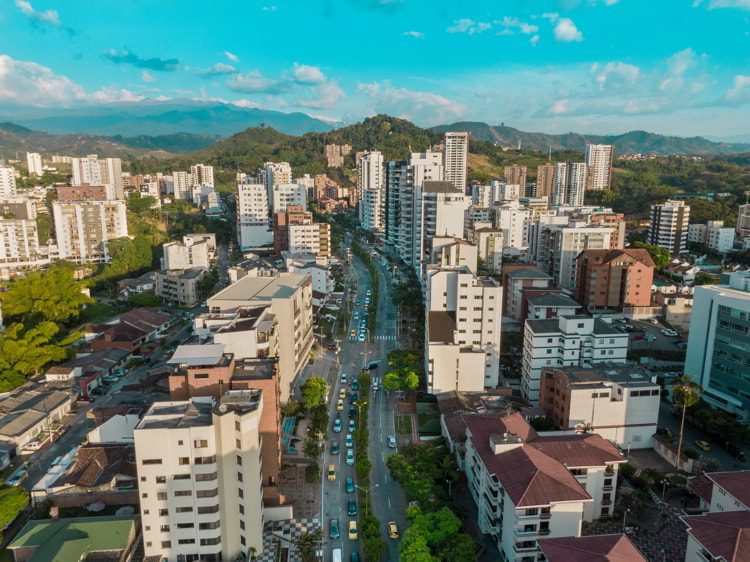 Specifically, Here Are Eight Reasons I Say Pereira Offers A Quality Of Life That's Hard To Beat:
1. The Weather Is Perfect…
At an elevation of about 4,800 feet, Pereira enjoys beautiful weather all year, with warm, balmy days and cool, pleasant nights. The average daytime high is 79.6 degrees and the low is 62.1 degrees, with only 1 degree of seasonal variation.
I like to say that Pereira is room temperature every day, all year-round, much like Medellín.
2. It's Part Of Colombia's Coffee Region…
Nearby hot springs, picturesque pueblos within a couple hours, and countless fincas (small farms and country homes) in the surrounding areas make for great getaways from the small city.
Pereira is also a jumping-off point to two of the top nature preserves in Colombia: Parque Ucumarí and Santuario Otún Quimbaya.
3. It's A First-World Environment…
The city's water is drinkable, its roads well maintained, and phone service, electricity, and high-speed internet are reliable. You have many shopping options, from mom-and-pop stores to upscale boutiques and several large, modern shopping malls.
The banks and financial services in the city are the same as you will find in the biggest cities of Colombia, solid and dependable.
4. It's Physically Attractive…
Pereira—and specifically its Pinares neighborhood—is built on lush hills with tree-lined streets, green parks, and meandering roads… with mountain views in every direction.
5. It's An Enjoyable Place To Be…
From the hole-in-the-wall shop selling homemade empanadas to elegant restaurants serving fine cuisine, your dining-out options are many and varied. The city's sizzling nightlife draws visitors from around the coffee region.
6. The Real Estate Market Is Active And Under-Valued…
The city's real estate industry is well organized, and the inventory of quality properties for sale is broad. Construction standards are high—even in older buildings—yet prices are lower than you'll find in most markets in South America.
This city is one of the region's best property values. In its best-address Pinares neighborhood, you could buy a two-bedroom, two-bath apartment for as little as US$75,000 or less.
And you could rent one for as little as US$300 per month.
Pereira offers a fashionable and modern lifestyle that can be challenging to find in Latin America and at a bargain cost. You could live here on a budget of 3 million pesos per month, including rent. At the current rate of exchange, that's about US$1,000.
7. It's Away From The Gringo Trail…
Pereira is not a popular or even a known tourist destination in Colombia, and the city doesn't get much press. As a result, not many foreigners visit and even fewer stick around indefinitely. I believe this will change as word spreads. Meantime, the absence of an established expat community could be a plus or a minus for you, depending on what kind of overseas living experience you're looking for.
8. The Health Care Is Excellent And An Unbelievable Bargain…
Pereira is one place where health care is so affordable that it can make sense to pay for it out of pocket rather than insuring against it. I've met many expats who have decided to opt out of insurance.
Generally speaking, medical costs are 50% to 90% less than in the United States. A private office visit runs about 65,000 pesos (US$21), while a specialist charges about 135,000 pesos (US$43). A visit to a subsidized clinic starts at about 26,000 pesos (US$8).
While in Pereira recently I went to an upscale dentist for a new metal-ceramic crown. The cost was US$290, including an exam and a cleaning. The cost of the crown alone in Texas with my regular dentist would have been US$1,300.
That's 77.7% less in Pereira… or 448.3% more in the United States.
And the standard of care is sophisticated and excellent.
Jeff Paschke
Full-time Colombia Expat