If you ever dreamed of a 5-star lifestyle in the sun…
Waking to the sound of the ocean lapping at the private beach below…
With fine dining, entertainment, and adventure right on your doorstep…
But gave up hope thanks to the multi-million-dollar sums you're usually asked to fork out for these kinds of perks…
Then I've got very good news for you.
Today, I'm bringing you a red-hot deal… thanks to my insider connection in this top overseas haven.
This is your chance to bag the luxury second home of your dreams (and the champagne-sipping lifestyle that goes with it)…
In the place Vogue calls "the Miami of Central America"…
CNN counts among its "Up-and-coming Cities For The Rich"…
And Forbes just dubbed "the cure-all for the pandemic blues"…
With all that media attention, this place can't stay under the radar much longer.
But, right now, you can still grab a luxury foothold here at a fraction the cost of Miami or Malibu… Dubai or Singapore…
(And, thanks to my key connection on the ground, pay even less than the going rate in this sought-after market)…
What's more, this safe haven has warm weather every day of the year…
The kind of weather that attracts everyone from honeymooners to adrenaline junkies… surfers to snowbirders…
So, when you're not relaxing by the pool yourself, these guests can line your pockets with an extra US$12,000 or more a year…
In 20 years of doing business in this market, I haven't come across anything like this. Once I hit send the send button, and word is out among your fellow readers, the window to act here will be short…
This opportunity is in Panama.
I first recommended Panama as a buy way back in 1998… and moved here with my family 13 years ago…
And, I'm more bullish than ever on the potential in this country…
Today, Panama City is a booming metropolis…
It has a level of infrastructure you won't find anywhere else in Latin America. That includes first-class, first-world service in everything from entertainment to transport to health care…
Not to mention its glitz and glamour that draws the jet-set…
You can while away an afternoon browsing the rails at Gucci, Hermes, Armani, and Chanel… then chill out with a glass of prosecco at a rooftop bar while watching ships queuing up to cross the Panama Canal…
But Panama City, too, has shopping, restaurants, and entertainment to suit all tastes and budgets… as well as landscaped parks and green spaces so you can enjoy more time outdoors…
But enough about the city for now.
I promised you a beach.
Most visitors don't know this, but there's a place—just 15 minutes out from downtown Panama City—where you can kick back in a truly peaceful setting…
It's a luxury beach resort, right on the Pacific, surrounded by lush jungle… a world apart from the non-stop buzz of the city…
It's the closest stretch of sand you'll find to Panama City…
And, it's private.
Only owners and guests can enjoy time at the beach and all the top amenities of the resort.
Other residents and visitors to Panama City have to travel at least an hour out of town (to Coronado and the other "City Beaches") to get their toes in the sand…
In other words, there's no competition for this "beach on the doorstep of a cosmopolitan city" lifestyle…
Not in Panama… and not in the rest of the Americas.
Here in this tranquil setting, you (or your paying guests) can wake to the sounds of nature… and take breakfast on your private balcony, gazing out over the twinkling Pacific below…
You can stretch out in an Olympic-size infinity pool…
Enjoy a full body massage at an award-winning spa…
Choose from a steak dinner in an upscale restaurant… a laid-back Asian fusion experience… or tuck into freshly-caught scallops on the beachside terrace…
Sip sunset cocktails with new friends on the rooftop…
Without ever leaving your new home away from home.
But you're also a short hop from downtown Panama City with its uber-modern shopping malls, incredible array of restaurants, and late-night clubs and casinos…
Not forgetting its charming old quarter, Casco Viejo, where you could check out a new café or restaurant every day…
And let's also not forget Panama's wild nature.
You can hike, paddle or zip through the Gamboa Rainforest… take off to the Pearl Islands for a day of snorkeling or diving… head up into the mountain town of El Valle (set in the crater of an extinct volcano) to explore its artisan markets, thermal springs, and views that are out of this world…
All of this and more is what attracts over 2 million visitors to Panama every year (an extraordinary number for a population of just 4.2 million)…
Not many—if any—places in the world that you could have all these attractions in such close range…
But this unbeatable setting is only one side of the story.
I'll give you more details on this hot opportunity in our secret beach resort (and exactly what's included in your high-spec condo) in a second…
Get Your Free Panama Report Today!
Simply enter your email address below and we'll send you our FREE REPORT - Live And Invest In Panama: The #1 Retirement Haven In The Americas.
But first, let's look at two important factors that make this deal stand head and shoulders above anything else I've seen in this part of the world.
The first thing is its strategic location.
I'm talking about the big picture here. Coming out of a global pandemic, we need to be careful about where we put our hard-earned cash…
You want somewhere that's safe and stable, with a steady economy.
Here again, Panama delivers.
Over the past decade, this tiny country boasted one of the fastest-growing economies in the world, far outpacing its Latin American neighbors. Panama's government is committed to transforming the country into "the Singapore of the Americas." And that's not just some clever marketing slogan.
I've seen the transformation of Panama City firsthand over the past two decades. From its now iconic skyline… to the Cinta Costera boulevard that connects Panama new and old… to the regentrification of Casco Viejo…
The pace of progress here is nothing short of extraordinary… and it's far from over…
While most of the world's economies were crippled during the 2008 financial crisis, Panama kept her head above water. Today, as governments scramble to patch up their economies in the wake of the pandemic, Panama is set to bounce back again, ahead of the crowd.
Driving all this success is the Panama Canal.
When its expansion was completed in 2016, the canal doubled its revenues… bringing in over US$3.4 billion to the country in 2020. Every time a ship passes through those locks, it's money straight into the coffers.
But the story doesn't stop there. Because Panama has another important feather in its cap—namely its copper mine, Cobre Panama, 120 kilometers west of Panama City.
Within the next five years, mine revenues are expected to outpace canal revenues. This means a whole lot more budget for investment in infrastructure, health care, tourism, and more.
Back in the wake of the financial crisis, smart investors looking to put their money into a safe, reliable haven—and watch it grow—turned to Panama.
Now they're preparing to flock again.
Bloomberg Tax recently reported that millionaires across Latin America are worried. To escape higher taxes in the wake of the pandemic, they're turning to "convenient locations for the emigrant rich." For many, Panama is the solution.
Right now, you have a chance to make your move in Panama, before this influx of the rich sends prices out of control.
On top of the unmatched private setting of our secret beach resort (again, just 15 minutes from downtown Panama City… and 30 minutes from Panama City's international airport)…
And, the fact that you'd be diversifying into one of the safest and fastest-growing economies in the world…
There's a third factor that makes this deal shine…
Its developer.
The family-run company of Empresas Bern behind this project is the biggest player in Panama's construction industry. They started out 40 years ago and began buying up land in what they saw as the city's prime areas of the future. Today, with 160 projects behind them, these are the guys responsible for the capital's iconic skyline.
I bought an apartment in Bern's Bayfront Tower development back in 2004. My wife and I now keep this apartment as our base in Panama City. (That's the way some of the best investments go—it's a great location and we have open views over the Bay of Panama)…
But, in the years I rented it out, I earned net yields of up to 20%…
Today, 15 years on, my Bayfront apartment has tripled in value…
All thanks to the Bern family's forward-thinking. These guys know where and what to build to attract the next-generation traveler or expat in town…
It's José Bern—one of my closest friends for the past 20 years—who's the mastermind behind this project.
Here José and his crew have broken the mold again. They've pulled out all the stops to provide 5-star service in this private oasis.
This is by far the best deal I've seen coming out of Panama City since my investment in 2004.
The latest opportunity—open to you right now—comes in this luxury tower of private residences.
Check out its sleek Greek-Mediterranean look, nestled just behind the private beach and club area.
The residences in our private beach resort are fully built. The complex includes 252 luxury apartments and penthouses, plus two floors given over to social areas.
Right now, the developer is down to the last condos.
But this isn't simply a final shout out.
José has agreed to offer 10 of these final units… at a deep discount… for Live and Invest Overseas readers only.
These residences offer you that second-home experience… at a luxury level.
The developer has thought of every detail to give you (and your guests) the ultimate "home away from home" experience, starting with…
A luxury interior
Each 107-square-meter condo has marble floors throughout, quartz countertops in the kitchen, marble bathroom counters, and walk-in closets…
Apartments are one-bedroom with 1.5 bathrooms but can be converted to two-bedroom units if you prefer.
Best of all, every apartment has a balcony with a clear view of the water…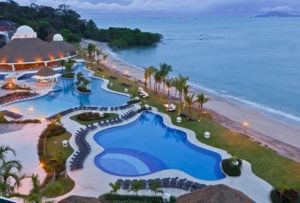 First-class entertainment and amenities
Right in your building, you and your guests can enjoy a whole host of amenities, including a private swimming pool, gym, and rooftop social area… all nestled among a 38-acre resort…
In addition, you're just a couple of minutes' walk from the neighboring Westin Hotel, with its selection of restaurants, fully equipped fitness center, private Olympic swimming pool, and award-winning sensory spa…
Not forgetting the private beach for an easy after-dinner stroll.
And, you're just a quick Uber ride to the bright lights of downtown Panama City… with its hundreds of restaurants (serving up every cuisine you can think of)… and clubs and casinos where you could play all night…
Whenever you need a service, but want to avoid the downtown bustle, you don't have to miss out. From here, you're just a five-minute drive to Punta Pacifica with its shopping mall, supermarket, medical center, dentist, pharmacy, bank, and more.
I've visited this project dozens of times. No question, this is the kind of luxury you'd expect to find in a high-end beach resort in the United States.
For a property of this caliber in Miami Beach—with that all-important ocean view—you'd pay a minimum US$675,000.
In Malibu, the lowest price I could find for a comparable condo was US$1.1 million (but it had less amenities than our beach resort and was a longer walk to the beach).
You get the picture.
Now, the good news…
As I mentioned, I've been working with José, the developer behind this project for almost 20 years.
It's thanks to our friendship… having worked on many projects together… that he's making this special off-market offer to Live And Invest Overseas readers.
If you're one of the first 10 readers to act, you can get the key to your second home in paradise for just US$275,000.
This US$275k price is a one-off, cash-only deal.
If you prefer to spread your payments, developer financing is available. The financed price is US$320,000. Still a great deal in this market.
Going back to our Stateside examples, our exclusive US$275,000 price-tag is almost 60% less than what you'd pay for a luxury, one-bed condo in Miami… and 76% less than in Malibu…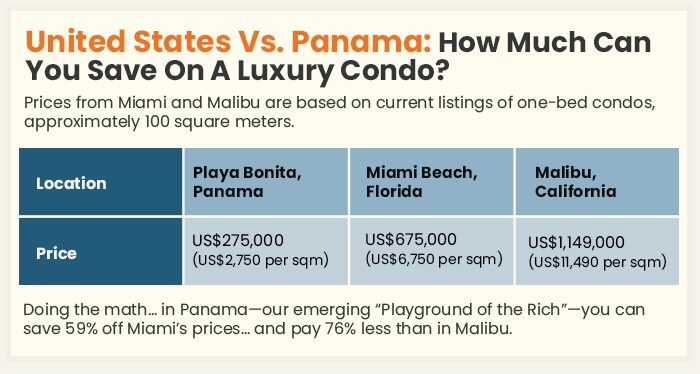 You'd be forgiven for thinking that this is a pre-construction price…
But remember, there's no wait time at all. These apartments are fully completed with all amenities already in place.
If you'd like to rent out your property, full or part time, the developer also offers on-site property and rental management. The management company is run by another member of the Bern family. They've worked in the hotel business for years and know how to attract the right crowd… and keep your unit in top condition every time a new guest walks through the door.
What kind of returns can you expect here?
Based on the most conservative occupancy levels for these 107-square-meter units, your projected net rental income starts at around US$12,000 in the long-term rental market.
That's a pretty sweet annual bonus.
And, again, it's a conservative figure. As Panama's tourism continues its growth, you can look forward to even higher returns.
It's rare that you come across this perfect storm of an opportunity…
The chance to stake a claim in a cutting-edge, luxury beach community… just a short hop to all the trappings of a cosmopolitan city… and to partner with the biggest hotel developer in the country… at a bargain-basement price-tag.
Let me repeat that, because it barely happens anywhere in the world these days…
With this killer deal, you're getting…
A high-end condo in the tranquil settings of an established private beach resort…
Easy access to Panama City's international businesses, shopping, restaurants, and nightlife. Kick off your flipflops, freshen up, and be in the heart of Casco Viejo for dinner with friends in just 20 minutes. (You're also just 30 minutes from Tocumen International Airport)…
The opportunity for year-round rental cash flow… thanks to Panama's all-year warm weather and the developer's solid track record in hospitality and property management…
Bonus perk: The peace of mind that comes with diversifying into one of the safest havens during troubled times…
And, thanks to this off-market cash deal… you have the chance to secure one of these luxury apartments for just US$275,000…
Remember these are ready to move in, meaning you can start earning straightaway.
For all the details—including floor plans, photos, videos, financing options, and more—you can get in touch here now.
Lief Simon
Editorial Director, Overseas Property Alert