How to Live in France
For many expats to Live in France is the fairytale land of romance, culinary excellence, delicious wine, and beautiful architecture. Thanks to countless movies with love stories that unravel in Paris, or some quaint French town, many of us view France with rose-tinted glasses. This rose-tinted ideal is not far off from the reality of living here.
In France, you'll be surrounded by a rich culture, delectable fresh cuisine, and excellent health care. Plus, when choosing where and how to live, you'll have an array of options.
France has excellent infrastructure and virtually free health care for all. It offers something for everyone, with iconic city living in cities like Paris, Marseilles, and Nice, as well as charming countryside cottages in more low-cost rural areas.
Quality of Life and Healthcare
France has always ranked high when it comes to the quality of life its citizens enjoy. The World Health Organization ranked France as number one for the best quality of health care in the world. It's virtually free for residents and low-cost for visitors.
In France, every resident is required to be covered by health insurance, with most residents benefitting from state health insurance. This also applies to expats, who are granted access to the public health care system after three months of residency in France.
The high quality of life and excellent health care helps make France one of the leading expat and tourist destinations in the world, with more than 200 million visitors per year.
Other things that make living in France appealing are its unique regional diversity, incredible food and dining, and extensive land resources since it's the largest country in the European Union.
Transportation in France
France prides itself on having one of the most sophisticated infrastructures in the world, and that includes transit.
Aside from the government's heavy investment, technology advancement played a significant role in building this source of pride. All modes of transport are available when you live in France, with extensive and high-quality transit coverage. You can travel by air, land, rail, and even rivers, with relative ease and comfort.
France's rail system is technologically advanced by many standards. It's operated by a state-owned company called French National Railways. It uses some of the world's fastest trains. The country has 19,486 miles of rail lines in total.
Buses are also available in cities and populated areas of France. All the roads, measuring about 514,065 miles, are paved.
The country has a whopping 474 airports in total, and most of them serve international traffic. Mulhouse, Saint Nazaire, Strasbourg, Cherbourg, La Pallice, Rouen, Nantes, Marseille, Dunkirk, Bordeaux, Saint-Malo, Le Havre, and Boulogne are the major port cities in France.
Communications in France
France is home to the third largest telecoms market in Europe.
The French government has played a major role to ensure the availability of key communication services including phone, radio, and television, as well as postal services. The press has quite a long history in France and is internationally regarded as top-notch.
If you decide to live in France, good news, internet is widely available here. You can get Wi-Fi for free or pay as you go. Most French hotels have business services with internet access, and many have high-speed wireless access. If you plan to stay in Paris, you may want to take advantage of the 296 public places with free Wi-Fi.
French Law
If you plan to live in France, it's important to know a few things about the laws of the land to avoid problems. Take note of the following:
It's illegal to not help a person who is in danger. For instance, you may be charged if you fail to respond to calls for urgent assistance, or you witness a car accident and go without reporting it to emergency services.
You should always carry an identification document, such as a passport.
Traffic infringements have severe punishments.
You risk detention if you take photos of security services, including the police.
Cost of Living in France
France isn't always a budget destination, but it doesn't need to be as expensive as you may expect, and the high quality of life is well worth it.
Living in the center of Paris is going to cost you more than in other areas, but even within Paris, rent and real estate costs vary depending on the neighborhood.
Venture out of the capital into other cities or towns, and the cost of living and property prices drop dramatically. Those searching for the idyllic French cottage dream will be happy to find the prices of cottages in the French countryside to be extremely cheap.
Taxes in France are high, which adds to the cost of living. In return for these high taxes, though, you are rewarded with virtually free health care and some of the best infrastructure in the world. Utilities and day-to-day living in France can be a bargain compared to the States. You will be able to enjoy high-quality locally produced food, and eat out in restaurants for affordable prices, making the cost to live in France worthwhile.
You can live a high-quality life in France on a budget, you just need to know where to settle.
Economy in France
France has a diversified economy and is one of the world's biggest economic powers. It's the seventh-largest economy in the world and the third-largest economy in Europe.
Major players in the French economic landscape include services, agriculture, livestock, the chemical industry, and of course, tourism. France's tourism industry represents almost 10% of the country's GDP and supports 10.9% of the country's employment.
Real Estate in France
France has no restrictions on foreigners owning property.
This is the most visited country on the planet. As a result, it's one of the safest real estate investment markets in the world. You can buy and collect guaranteed returns every year or live in France part-time and cash the rent checks while you're away.
Paris is perhaps the world's most proven rental market. If you're considering a real estate purchase in the French capital, think about a place you could use yourself from time to time, and then rent when you're out.
Paris is the highest-priced property market in France. However, not all of France is as costly a place to call home. Outside of Paris, property prices drop dramatically, sometimes to bargain levels.
And, of course, not all neighborhoods in Paris are as costly as one another. Paris divides into 20 districts, or arrondissements, numbered in an outward spiral starting in the center of the city on the right (or northern) bank of the River Seine. The most sought-after of these are the 1st, 4th, 5th, 6th, and 7th. They are all near the river in the heart of the city… and all at the top of the property pricing scale.
The lowest property prices in Paris right now are in the 18th, 19th, and 20th arrondissements, followed by the 10th and the 13th. Every arrondissement is distinct with its own character.
Buying a home or apartment in France is straightforward. Here is the checklist for real estate transactions:
Hire an attorney or notary who speaks French and English;
The contract of sale, known as the compromis de vente in French, is drawn up and signed;
You pay your deposit;
Title of the property search carries out;
The deed to the property is signed.
Climate in France
The climate in France is varied, giving you options ranging from mild Mediterranean climates to temperate mountains. As in any country, the weather depends on your region, but generally, France enjoys a temperate climate with four regular seasons, little rain, and low humidity.
The different types of climatic zones in France are usually divided into the following:
The Mountainside Regions––The alps and the Pyrenees
Oceanic Regions––Brittany, Normandy
The Continental Regions––Strasbourg, Paris, Versailles
Central France Regions––Bourges, Lyon
Southwest France Regions––La Rochelle, Aquitaine
Mediterranean Coast Regions––Provence, Occitanie, Corsica, Nice
Types of Weather in France
The oceanic climate prevailing in the western parts of the country is one of a small temperature range including ample rainfall, cool summers, and cool but seldom very cold winters.
The continental (transition) climate is found over much of eastern and central France, adjoining its long common boundary with west-central Europe. It is known for warmer summers and colder winters than areas farther west, ample rainfall, and snowy winters, especially in the higher areas.
The Mediterranean climate, widespread throughout the south of France (except in the mountainous southwest), is one of cool winters, hot summers, and low rainfall. The mean temperature is about 53°F in Paris and 59°F in Nice. In central and southern France, annual rainfall is light to moderate. It ranges from about 68 cm (27 in) in Paris to 100 cm (39 in) in Bordeaux. Rainfall is heavy in Brittany, the northern coastal areas, and the mountainous areas, where it reaches more than 112 cm (44 inches).
Normally, excluding Paris and Versailles in the Île-de-France region, expats and retirees take interest in the areas around the Mediterranean Coast, where they can find the more popular Mediterranean climate of other neighbors like Spain and Portugal––hot days in the summer. It usually goes from May to September but can stretch from April to October, and shorter and milder winters in comparison to up north. These are the regions of France with the most days of sunshine per year and lesser precipitation.
Best Places to Live in France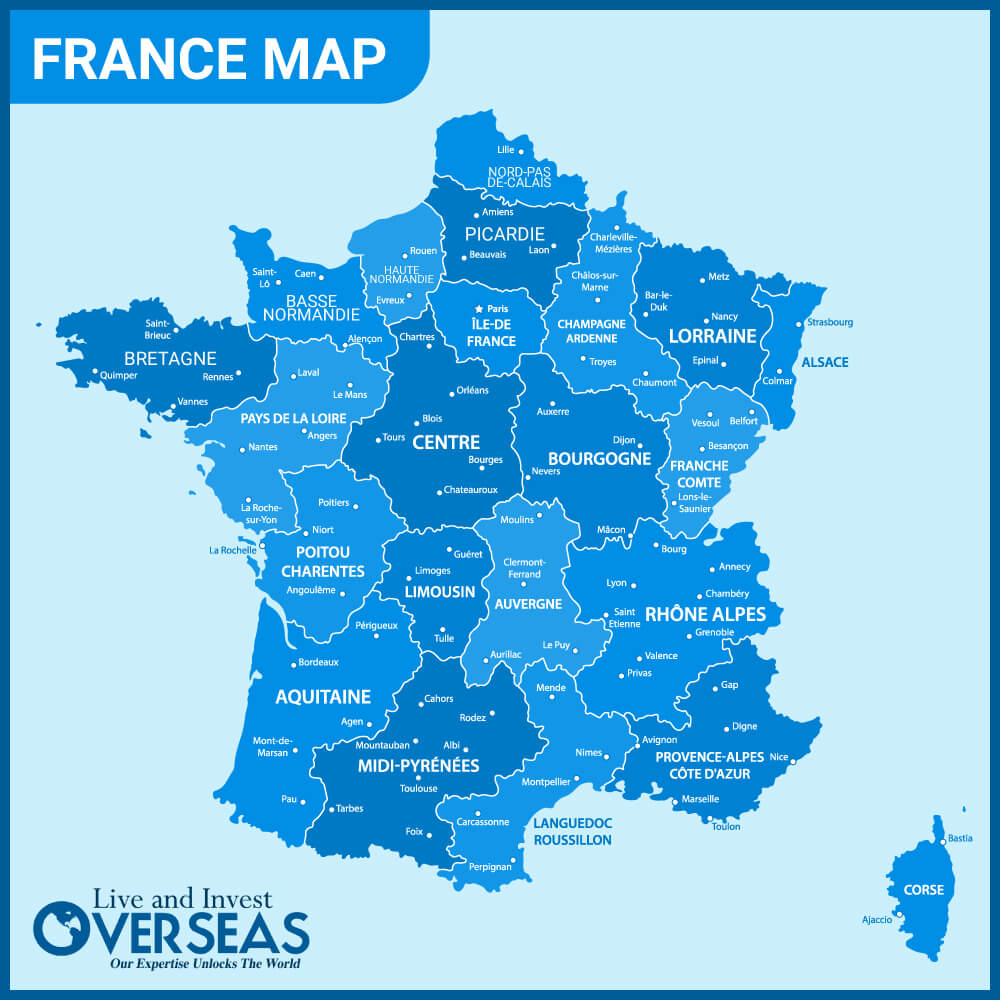 Offering the best quality of life in Europe, France is the perfect place for expats.
Moving to France takes an adjustment to a slower pace of life. The French value quality time with family members and friends, sharing conversations over an espresso or a glass of wine, any time of the day.
There are vibrant expat communities in many parts of France, including Pau, Bordeaux, and Saint-Chinian. These communities are welcoming and make the transition to a new side of the world much less daunting.
France varies so greatly in its regions that it has a lifestyle opportunity for everyone; you just need to know where to find it.
Its larger cities, such as Paris, Lyon, and Marseille, are bustling with life and endless picturesque streets to explore, filled with art, music, good food, and boutique shops. City life usually means living in an apartment. Most apartments maintain the old, charming architecture of over a century ago.
In the countryside, in regions such as Occitanie and Carcassonne, life is not so action-packed. You can spend your time casually browsing fruit and vegetable markets, chatting to local farmers about their produce––a good opportunity to practice some French. Spend the rest of the day exploring the ruins of old castles and churches or simply soaking in the beautiful weather and tranquility.
Lifestyle opportunities in France don't stop there; the jaw-droppingly beautiful Côte d'Azur is a popular retirement destination for many expats. Bright blue waters contrast with the dramatic cliff faces, where beautiful old villages perch. Life on the 'Blue Coast' can be glamorous, with Monaco and its luxury private yachts and casinos only a stone's throw away.
France's mountain ranges are playgrounds for adventure seekers out there, with year-round outdoor activities on offer. The French Alps, featuring Europe's second-highest peak, Mont Blanc, are a popular skiing destination during winter. The Pyrenees are another beautiful mountain range in France, and many expats settle in the nearby town of Pau. Relocating here will mean you can perfect your skiing skills during the winter and enjoy the stunning hiking trails during the summer.
---
F.A.Q About Living in France
1. How much does it cost to live in France?
The cost of living in France varies depending on if you live in a big city like Paris, which costs the most. The cheapest places to live in France are outside of the major cities, with countryside real estate especially affordable in the interior regions. The cost of healthcare and high-quality, fresh food is affordable throughout France.
2. How to live in France as an American?
If you want to live in France as an American, the first step is to travel to France and find your ideal rental or real estate property location. You will need a valid passport to visit France and for moving, you will need to apply for a visa and bring all of your identity documents, including birth certificate, driver's license, marriage certificate, if applicable, and medical records.
3. Where to live in France?
There are many options for affordable places to live in France, ranging from seaside towns to country cottages and smaller cities. Paris is also a popular destination that is well worth the cost if you are looking for the sophisticated culture and cuisine of the big city.
4. Can Americans live in France?
Yes, American citizens can live in France, if they follow the requirements and obtain a visa. You can learn more about visa options and apply online.