Deciding to live in Ireland can be an exciting and life-changing experience where you will discover the enchanted land of green fields, stone castles, and pub loving folk.
Those living in Ireland's capital city Dublin will continue to see development in a more European direction.
A recently modernized public transport system is a long overdue boon to those living in Ireland today.
While living in Ireland you will discover that many of the significant events in Irish life are still celebrated in the Pub – Births, Weddings, Funerals and all other major events. It's part of the culture and history of the Island.
Reasons for Living in Ireland
There are many reasons for living in Ireland, some of which include:
Real Irish Culture is re-emerging, in fact, life in Ireland is returning to its old self after the Excesses of the Celtic Tiger.
For the avid golfer, to live in Ireland is to avail of the multitude of world class golf courses.
Ireland's 'Sunny' Southeast will have plenty to explore as old estates, castles and old gardens abound.
If you enjoy a rich entertainment and cultural history, you'll happily find it right at your fingertips.
The cost of purchasing your own home is still very reasonable in many culturally rich cities.
Great health care facilities are available throughout the country.
Safety is paramount among the Irish.
History of Ireland
While living in Ireland you will find the adventurous spirit of 'Brendan the Navigator" (who reportedly discovered the Americas in the 9th Century in a leather canoe) in the locals you meet.
For those living close to Country Kerry, acquaint yourself with the story of Tom Crean, Ireland's other great navigational and exploratory hero, who traveled on 3 great Antarctic Expeditions.
And make sure you check out the Dunbrody Famine Ship in New Ross, a testament to the period of misery and suffering that is still etched in the Irish Psyche today.
Start Your New Life Today, Overseas
A world full of fun, adventure, and profit awaits! Sign up for our free daily e-letter, Overseas Opportunity Letter, and we'll send you a FREE report on the 10 Best Places To Retire In Style Overseas Today
Social Life in Ireland
There is a vibrant social life available to those living in Ireland.
Living in Ireland is more affordable than it was during the Celtic Tiger. Yet still, to live in Ireland is to live in one of the more expensive destinations in the world, but Ireland now arguably has the facilities and amenities it needs to show herself to be a modern cosmopolitan country.
The cost of living in Ireland has seriously benefitted from the advent of low cost but high quality European retailers like Aldi and Lidl.
Ireland's health care system ranks 13th of 34 European Countries and private medical treatment is even higher quality. For this type of care, private health insurance is recommended.
Where to Live in Ireland
Its easy to live out your retirement in Ireland but remember that inevitably when you live in Ireland, expect the weather to be 'Mild, moist and changeable' almost every day!
Most Tourists can live in Ireland for 90 days without a visa, once they can show they can support themselves and their dependents.
For those who choose to start a new life in Ireland, it is common to live or at least vacation on the startlingly beautiful west coast.
Living in Ireland with mobility issues will have less hassle in larger towns and cities than in rural villages.
Investment in Ireland
International Investors are returning and once again have a big impact on business life in Ireland. Observers hope that another real estate bubble distort market prices locally.
We strongly recommend anyone considering living in Ireland to rent first before buying. When living in Ireland it is easier to keep an eye on fluctuations in the property market.
If you don't want to pay income tax in Ireland you'll want to keep your time there below 182 days per year, or 365 days over 2 years.
When considering making a life in Ireland start your research on real estate sites such as Daft.ie or the Allsop Allspace Auctions where great deals can be still found.
Nowadays if you live in Ireland and own property there are now modest property taxes to be paid – (less than 1/4% of assessed Value).
Start Your New Life Today, Overseas
A world full of fun, adventure, and profit awaits! Sign up for our free daily e-letter, Overseas Opportunity Letter, and we'll send you a FREE report on the 10 Best Places To Retire In Style Overseas Today
New Meaning of Life in Ireland
Life in Ireland is an education in immigration and racial diversity, with the past's monoculture now gone, an eclectic mix of ethnicities and creeds make modern Ireland a more vibrant culture.
The Many Charms Of Life In Ireland
By Kat Kalashian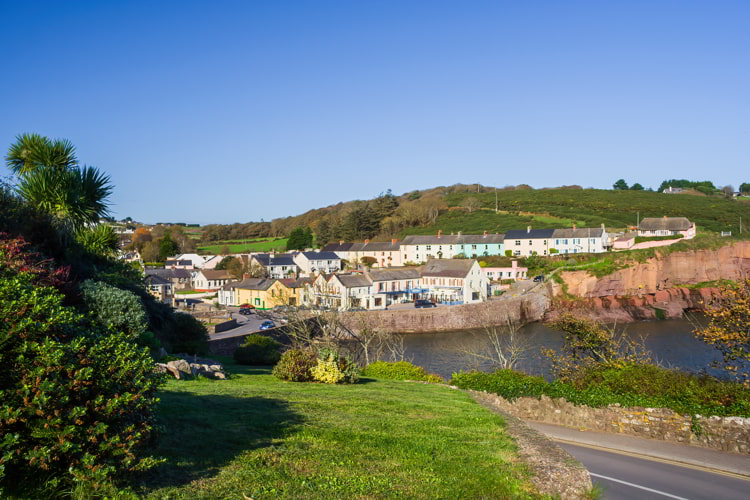 Ireland, whence I write today, was where my expat journey began, some 20-odd years ago…
My family moved to Waterford, in the Sunny Southeast of the Emerald Isle, in 1998, when I was about 8 years old.
Back then I didn't think about the fact that I was an expat, and the choice of location wasn't up to me…
Now, as an adult revisiting my one-time home, I can see all the reasons someone might want to settle on this friendly little island…
Language
First, perhaps foremost, is the language—the fact that you wouldn't have to deal with learning another language in your new home overseas.
That's not to say there won't be an adjustment to the language, though… I often make the joke that just because the Irish speak English doesn't mean you'll understand them.
The delightful accents and sayings here might throw you at first, but once your ear adapts, you'll learn to love the particular way of speaking the Irish have.
Heritage
The heritage is another factor. So many of us North Americans can trace our roots back to Ireland, and that connection to the past can be a powerful tug to head back to the homeland.
After arriving, we shared a shuttle with a Canadian couple who were visiting because the guy's grandfather had helped build the cabinets for the Titanic.
They began their tour of family history in Belfast and were planning to visit Cork, the final pick-up spot before it set off across the Atlantic.
History And Arts
The history here is fascinating and ubiquitous… you can't go far without seeing a castle, a ruin, walled city, a monastery, or church of historical significance.
It's remarkable how many claims to fame little Waterford has (beyond crystal), and the city is working hard to bring it all to the fore and make it a tourist destination. The Viking triangle is well worth a visit if you're in the region.
When it comes to the arts, Ireland has produced more legendary authors and poets than most other countries can claim.
Following in their footsteps, visiting the library at Trinity College to see the stacks and the Book of Kells is a treat for booklovers.
The Food
The food is another reason to love Ireland, though maybe not as obvious. Ireland isn't renowned for haute cuisine, but it's got its own homey charm. And they happen to excel here in all the dishes I particularly enjoy—creamy soups, beef and lamb stews, stuffing, shepherd's pies, sausages, roasts, and, of course, potatoes.
Gravy is a mainstay and comes on everything… and it's oh so good…
One unique aspect of Irish gastronomy is the carvery. I had never heard of this before we moved here, and I've seen it rarely since moving away. If you've spent time in the U.K., you might have come across it.
Essentially a buffet, it begins with a giant roast meat or two—usually roast beef and ham.
You're served by the carver, who carves off a slice of whatever you want (hence the carvery), and you proceed down the line to fill your plate with potatoes (usually at least three ways), stuffing, veg, Yorkshire pudding, and top it off with abundant gravy.
Sometimes there are some other mains offered, a chicken breast, a slice of local hake or salmon, a curry, etc. Plus a soup, and the obligatory soda bread.
You usually fill your plate with as much as you want for a flat fee.
It's magnificent.
When my mother was pregnant with my brother here, she ate nothing but mashed potatoes and gravy—she'd send us out for a plate of just that. By the time he was born, they knew us well.
I misspoke when I said Irish food isn't internationally known, as, of course, Irish beef and dairy is exported all over the world.
The milk, cream, butter, cheese and ice cream is second-to-none (I miss sharp Irish cheddar so much I had to bring a couple bricks of it back with me), and the beef is famously some of the best in the world, thanks to all that rain—the grass is so plentiful it's a year-round feast for the cattle.
Nature
Ireland is known for its greenery but less so for the rest of its natural features, which is a shame.
The wild coasts, the craggy cliffs, the rolling hills, and the dense forests are all just as worth your attention. If you enjoy nature walks and hiking, this is a wonderful destination.
Start Your New Life Today, Overseas
A world full of fun, adventure, and profit awaits! Sign up for our free daily e-letter, Overseas Opportunity Letter, and we'll send you a FREE report on the 10 Best Places To Retire In Style Overseas Today
And you're never far from water here, even if you're in the dead center of the island it's only ever an hour or so to get to the coast. Rivers crisscross the island, as well, and if you enjoy boating, this is a great place to be based. Sailing is a popular sport, especially in the south.
While I wouldn't personally recommend swimming, the Irish are enthusiastic sea swimmers—even in the depths of winter.
You can even surf the mighty Atlantic waves on the west coast.
The endless space is something I never relished (or even noticed) in my youth, but as the world becomes ever more crowded and developed, the wide-open expanses—miles and miles of uninterrupted views of nature, not a building to be seen—is a glory to behold.
The Irish
The Irish themselves are a reason to come to Ireland. Famously friendly, welcoming, charming, funny… Just being around the people here is a joy.
The Weather
The climate, of course, leaves something to be desired for most… it's pretty cold and grey year-round.
Even at the height of summer, it's never too hot here. On the other hand, you'll rarely see snow here either.
The dependability of the weather, at least, can't be denied. You'll see plenty of rain—which, if you're a gardener, might be a dream come true!
What drove me nuts about Ireland when I lived here was the how antiquated everything was.
Nowadays, Ireland is much more modernized, which makes life a lot more convenient, especially for those of us who were used to high levels of American convenience before coming.
To retire to Ireland used to be easy… but a few years ago they implemented a new discouraging set of requirements.
They want you to show 50,000 euros a year in personal income, 100k for a couple. Plus, they want to see a lump sum of cash somewhere that you could fall back on in case of emergency.
The amount isn't set, but it's meant to be enough to buy a home here.
And, the cost of living here is famously one of the highest in the EU.
Although you could certainly live on less than the stipulated 4,000 euros a month, it's said that Ireland is the second most expensive country in the EU, with average prices 40% higher than those of other countries.
I have to say, though, that eating out here was much cheaper than prices I'm used to.
Thanks to those two downsides, Ireland might make more sense for some as a part-time location, but I recommend taking a good look at it—this little island has a lot to offer the prospective expat.
Bonne route,



Kat Kalashian
Editor, In Focus: Europe