English-Speaking Islands That Are Perfect For Travel, Life, Or Retirement…
This list of islands that speak English will be helpful for anyone who is looking for the benefits of island life with some of the familiarity of home. Visit or relocate to any of these islands and you can relax, knowing you will be able to communicate with the local people. Integrating into the local community and making friends outside of the usual expat circles is vital for anyone overseas. The ability to converse in your mother tongue with the locals is not to be underestimated. For those who are keen to learn, many of these islands speak more than one language. You can learn a new language with the safety net of being able to revert back to English if you get stuck!
[Read: The Best Ways To Learn A Foreign Language Today]
Here at Live and Invest Overseas we like to think of ourselves as impartial, so it would be remiss of me not to mention some of the downsides to living on an island in the sun. The salt in the air means things will rust more quickly. Not only cars and BBQs but also computers and frying pans. Your favorite U.S. products will have to be imported and will cost far more than you would expect to pay at home.
If you are adaptable this can be beneficial though. Local seasonal produce is generally inexpensive and also delicious. Most fruit and veg you are used to buying from the supermarket has been picked before it is ripe then flown half way across the world in a chiller. Tasting fresh food which is perfectly ripe and picked that morning can be a revelation.
The list of Islands that speak English has something for everyone and moving to a country where you speak the language can make moving overseas that little bit less daunting.
Islands of Belize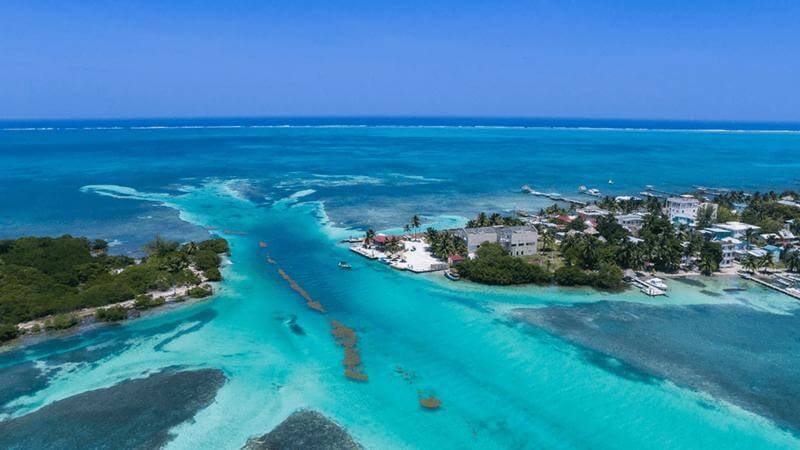 Formerly known as British Honduras, Belize is the only English speaking nation in Central America. The islands in Belize are known as Cayes and there are around 450 in total. Ambergris Caye is the largest and most developed of these islands.
English is the official language and widely spoken here. The native language is Kriol and the locals will appreciate any attempts to learn. The currency is the Belize dollar which is conveniently locked at $2 Belize to $1 U.S. Most places list prices in U.S. and Belize dollars which is convenient. You can generally spend both currencies here. Spending large notes can sometimes be tricky and there is often a minimum spend enforced if you wish to use a note above the value of $20.
The average temperature in Belize is 29 degrees Celsius and the weather is hot year round. Mainland Belize is one of the least densely populated places on earth and while the islands are slightly more populous they are still uncrowded in comparison with other Caribbean islands.
Belize is a great location for diving and sports fishing. The coral reef in Belize is the second biggest in the world and home to more than 400 species of fish.
The Belizeans are generally welcoming and ex pats say they have been made to feel welcome. There are no restrictions on foreigners owning property here. There is also a refreshing lack of 'red tape' in Belize so if you are someone who likes to do your own home improvements you can make excellent progress. Builders move at a slower pace than in the U.S. though. Many of the ex-pats who move here are looking for an 'off the grid' lifestyle but luxury units and beachfront property is also available at competitive prices.
Malta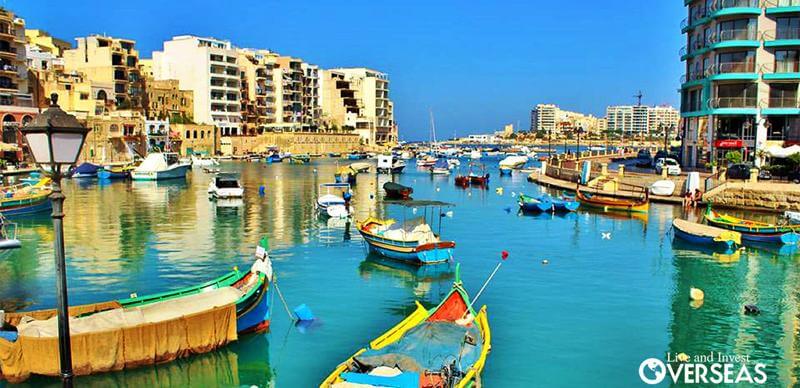 Malta is located in the central Mediterranean, south of Italy. It is an island with a rich history and a favorite with holiday makers in Europe.
Malta has two official languages which are English and Maltese. All the locals speak Maltese and it is estimated that nearly 90% of the population speak English. Business transactions and official documents use English. Due to Malta's close proximity to Italy the language is spoken with an Italian accent. Indeed many people here speak Italian as well as English and Maltese. The currency of Malta is the Euro which was adopted in 2008.
Plenty of accommodation is available, both rental and purchase. Expat areas can be very expensive so look around for the best value. As Malta speaks English integrating into the local community will not be a problem.
For employment opportunities there are lots of international companies. They are generally keen on multilingual people, the more languages you speak the better your chances of getting a top job here.
Malta is a safe place to live with great healthcare (private healthcare particularly cheap) and low monthly bills. The climate is mild and warm year round and on average Malta receives around 3000 hours of sunshine per year. The Mediterranean is beautifully clear here and the shipwrecks that have accumulated over the years make Malta a haven for divers. Malta also has a number of great walking routes.
Islands of Malaysia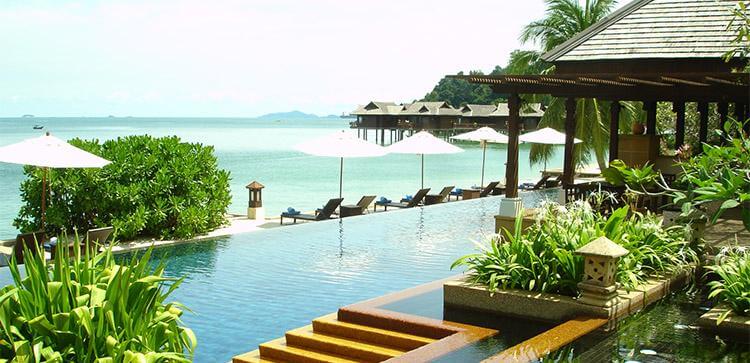 Although English is not an official language of Malaysia it is widely spoken. Many people here speak 'Manglish' which blends vocabulary from the different languages. For example, 'Wei macha, you want makan here or tapau?" (Do you want to eat here or take out?) contains Tamil, English, Malay and Chinese.
The Malaysian currency is called the ringgit but everyone refers to it as dollar. In major shopping centers you can buy your goods with the U.S. dollar but everywhere else you will need to use the ringgit.
Malaysia has a tropical climate. This means hot and humid year round with an average temperature of 27 degrees Celsius and nearly 100 inches of rain falling every year. As the days are so hot, the people like to take advantage of the cooler temperatures in the evening by having late suppers. Around 11pm the outdoor cafes will be busy with people eating their supper and socializing. This late supper is a tradition in Malaysia and forms an important part of the culture. For an expat moving here this is something to attend when possible if you want to become part of the local community.
Malaysia has the tallest towers in the world, The Petronas Towers which dominate the Kuala Lumpur's skyline. It has amazing street food which incorporates the many styles of food. You can eat cheaply and well at these stalls and sample a range of unfamiliar foods at the same time.
We recommend checking out the islands of Pulau Pangkor, Penang (George Town, in particular), or Langkawi.
Barbados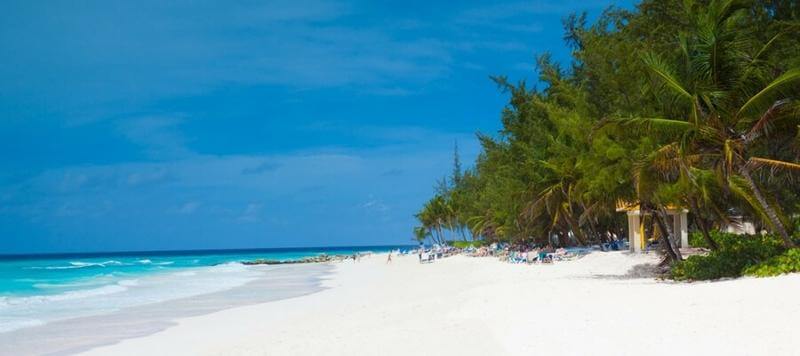 Barbados has long been popular with tourists and is one of the quintessential blue seas, white sands location. Originally a British Colony, Barbados gained her independence in 1966 although she retains Commonwealth status. Barbados has had uninterrupted parliamentary governance dating back to 1639 which makes it one of the oldest parliaments in the world. The currency is the Barbadian dollar or Bajan dollar and is fixed at $2 Barbadian to $1 U.S. Most places will accept U.S. dollars but you will get more for your money using the local currency.
Barbados is warm and sunny year round and has an average daily high of 30 degrees Celsius. A sea breeze makes the temperature and humidity bearable and also makes for excellent sailing and windsurfing. Barbados is the most developed nation in the Caribbean and has pure drinking water. The flip side to this is that it is the most expensive Caribbean destination and also the most densely populated.
[Lower-Cost Alternative: Try the Dominican Republic]
Barbados is especially popular as a holiday destination with the rich and famous. The island also boasts a huge population of Mongoose. These were bought over to control the rat populations which were destroying the farmer's sugarcane. The snakes on the island were not able to eat the rats quickly enough so the Mongoose were bought in to help. However the Mongoose hunt during the day whereas the rats come out at night so it is debatable how much help they Mongoose have provided.
Gibraltar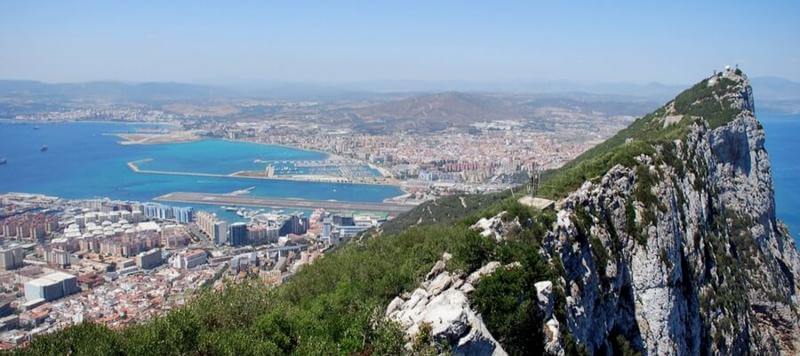 Located on the south of Spain, Gibraltar has been a British territory since 1713. Although it's not technically an island, it is sort of on an island by itself. Gibraltar basically self-governs now but military and defense matters are still decided by the British. Gibraltar has its own language, Llanito which can be very difficult to understand. Luckily everyone also speaks English. The currency is the Pound sterling.
The winters here are mild and the summers are hot and very dry. You can spend time on the beaches, which were artificially constructed using imported sand. British artifacts such as red telephone boxes are found here and Gibraltar gives you an idea of what Britain would be like with more sun. The country comes to life in the summer months and also provides easy access to the rest of Spain. Gibraltar opened its first university in 2015 and is considered an idyllic place to live for young people.
During World War 2 it was an important military base, guarding the entrance to the Mediterranean Sea which narrows to around 8 miles at Gibraltar. The country is famous for its population of Macaques. Known as the 'Apes of Gibraltar' these are actually monkeys and are the only wild monkeys to be found anywhere in Europe. They were introduced before the British arrived and it is said that if the apes leave, the British will as well.
Islands of Fiji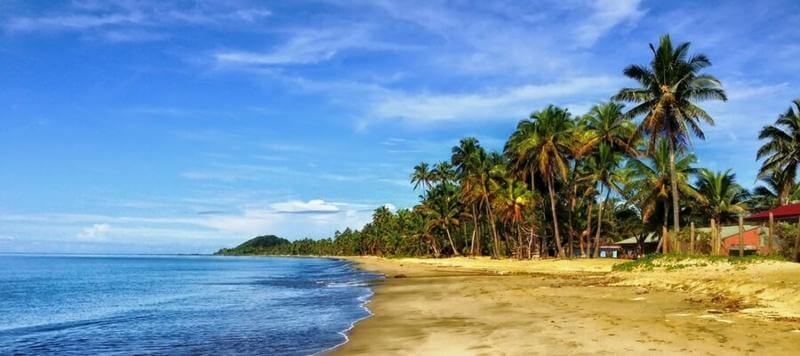 Formed by volcanic activity in the South Pacific, Fiji was established as a British colony during 1874. She gained independence in 1970 and became part of the Commonwealth. In 1987 she became a republic after a military coup and in 2014 Fiji gained a democratic government. The currency is the Fiji dollar although U.S. dollars are generally accepted.
Fiji is made up of 333 islands which contain jungle, mountains, beaches and grassland for rugby pitches. Fiji is the number one rugby nation in the world, with the highest percentage of its population playing professional rugby than anywhere else. If Fiji are playing a 7s or International game then the country will come to a standstill. Fiji has a warm if rainy climate and is a premier destination for surfing, kitesurfing and diving.
Fiji was formerly a cannibal island and a missionary named Rev. Thomas Baker was eaten during a visit. His crime was the insulting behavior of touching someone on the head. The head is considered sacred in Fiji and touching someone on the head is a serious faux pas. While you won't be eaten if you make that mistake nowadays it's still best avoided. If you are interested, it is possible to buy souvenirs such as brain pickers and cannibal forks!
The Fijians are now regarded as one of the friendliest people in the world and you will be welcomed here with a big smile wherever you go.
St. Kitts and Nevis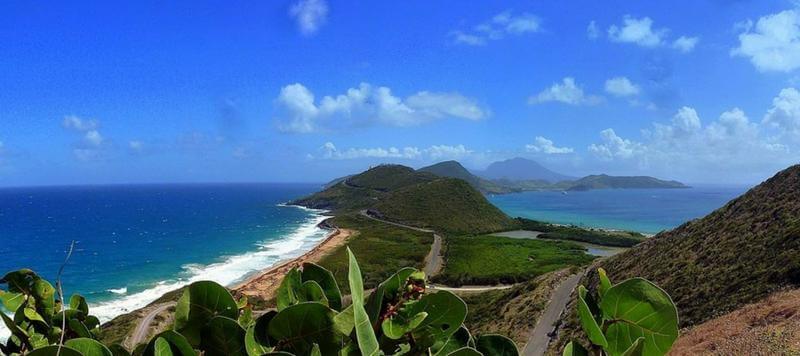 Located in the Leeward Islands of the West Indies, Saint Kitts and Nevis is the smallest sovereign state in the Western Hemisphere. It is a commonwealth country, and Queen Elizabeth II is the head of state. It was discovered by Christopher Columbus in 1493 and is called the Mother Colony as it was the first island in the West Indies to be settled by Europeans. The currency is the Eastern Caribbean dollar but the U.S. dollar is widely accepted. As with the other countries on this list you will get better value for money using the local currency.
The island has white sand beaches, a tropical climate and mountain slopes covered in forest, with streams running down them. You will find both white beaches and black volcanic beaches depending which side of the Island you visit. St Kitts and Nevis is an attractive destination for tax purposes and if you have money to store offshore then it is definitely a location to consider. The cost of living is similar to the U.S. however jobs are not easy to find so St Kitts is a better destination for retirement or for those with savings. A seaport is being developed in Nevis which will bring extra money into the economy.
St Kitts was originally a tobacco plantation and although it later switched to sugar cane, tobacco still grows wild in some areas.
Australia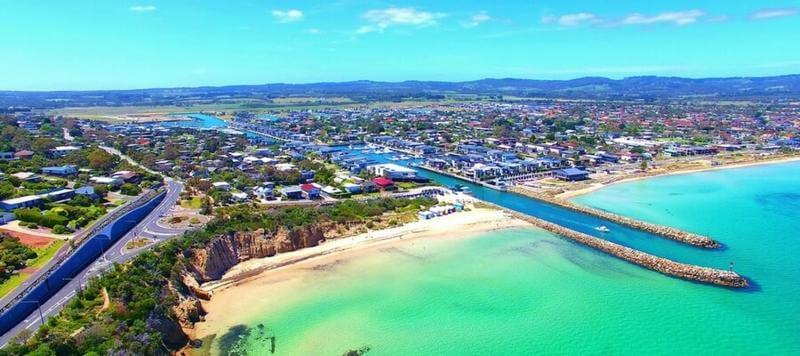 Officially the commonwealth of Australia, it is the largest island in the world. Until the British arrived in the 18th Century Australia was inhabited by indigenous Australians known as the Aborigines. In 1901 the common wealth was founded and since then a stable democratic political system has been in place. The currency is the Australian dollar which is the only money accepted in Australia.
Surrounded by the Indian and Pacific Oceans most of the population of Australia is located on the coast. The interior is a huge arid land known as the bush which is practically deserted. Australia is one of the least densely populated countries in the world and has a population the size of New York spread over an area nearly as big as the U.S. This translates as population of approximately 2 people per square kilometer.
With over 12,000 miles of coastline Australia has some of the world's best beaches and is a premier surf destination. Australia is a great choice for people who enjoy an active lifestyle and more than 70% of the population do at least one sporting activity every week.
Australia is one of the most biodiverse countries in the world. Several species are only found in Australia and it also has the two only egg laying mammals in the world. Scarily Australia has more species of venomous snake than non-venomous. In addition there are many deadly spiders and scorpions as well as huge salt water crocodiles. Sharks patrol some of the beaches and box jellyfish are also a hazard of swimming here. Not only that but Australia has a plant which will make you vomit just by touching it and has a sting potent enough to kill a horse.
Ireland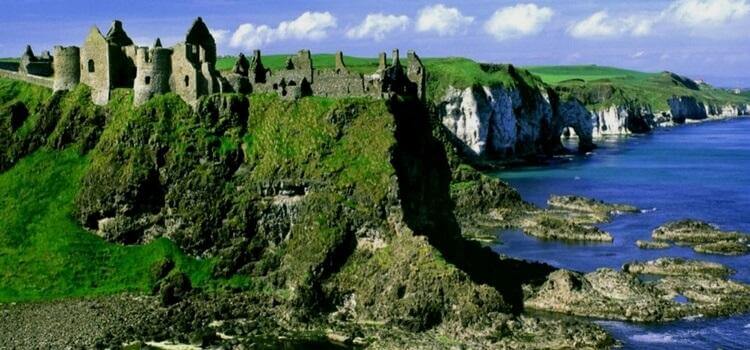 Ireland is made up of two countries, Northern and Southern Ireland. Located West of Great Britain it is known as the 'Emerald Isle' due to the lush green grass which abounds. Ireland has had a human presence since 10,500 BC and the Gaelic culture evolved during the first century A.D. Most of the big towns such as Dublin, Cork and Waterford were established by Vikings raiders during the 9th century.
Over 40 million people of Irish descent are in the U.S. and if you have just one Irish grandparent you are eligible for citizenship. This means you can qualify for an E.U. passport and are able to work or live anywhere in the European Union.
The climate in Ireland is generally mild with a lot of rain. It is the rain which keeps the grass green here and in 2007 40 consecutive rainy days were recorded. Property prices took a hit after the 2008 economic crash but have been recovering recently. They are expected to rise in future and property in Ireland could be a good long term investment. The economy is modern and reliant on international trade with job opportunities available to those with the right qualifications.
And that concludes our list of top English-speaking islands. Whether you're looking for a spot to live, retire, or just take a nice vacation, these island destinations will give you a comfort and piece of mind that you'll be able to easily communicate and get around.
Oliver Lovett

Comments