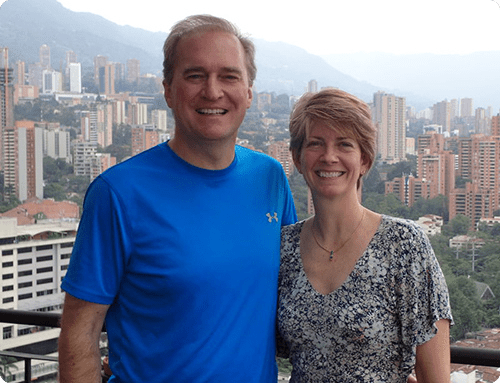 "I get two weeks of vacation a year from my stressful job, and you want me to spend one of those weeks in a hotel meeting room at a conference in Orlando?"
That was my response to my husband Darren 10 years ago when he suggested we should fly to Florida for the Live and Invest Overseas Retire Overseas Conference.
At that point in my career, I had been practicing law (mostly contentious divorce and custody cases) for almost 20 years, and I was burned out. I cherished my vacation time, lounging on a beach or traveling through Europe or the Caribbean. Sitting in a hotel conference room and listening to people talk about their adventures overseas was the last thing I wanted to do with any of my precious vacation days.
I was 43, resigned to working 50 to 60 hours per week at a job I no longer enjoyed until retirement age—whenever that might be. Darren was relentless, though, and, finally, begrudgingly, I agreed to attend the conference.
What I hadn't realized yet was that the Retire Overseas Conference was exactly where I needed to be at that time in my life.
Discovering Our Retirement Haven
Before the conference, we started thinking about country options. Originally, we narrowed our search to three—Belize, Ecuador, and Costa Rica. Then, bright and early on the first morning of the conference, Kathleen Peddicord greeted the crowd of adventurers. She briefly discussed each of the countries being featured, including one that was completely off our radar, Colombia, but what Kathleen said about Medellín got our attention.
We attended as many sessions as we could, even splitting up to get more information from different presentations. We called it our divide and conquer strategy. We spoke to as many experts and expats as we could. We were determined to soak up all the available knowledge we could over those two-and-a-half days.
By the end of the third day, returning to our hotel room, we were exhausted, and our brains were full of facts, opinions, photos, and stories to digest. However, we were certain about two things. First, Costa Rica was off our short list and Colombia was on.
Second, and more important, I was now fully on board with the plan to "retire" early and make a move overseas as soon as possible.
Our next step was to attend LIOS conferences in each of the three countries we were considering, to get our "boots on the ground" in each location.
We decided that the best way to get a feel for each place would be to spend time living like a local. So, after attending each in-country conference, we booked an apartment and spent at least a week doing the things the natives do. We shopped at grocery stores and markets, we cooked our own meals, and we walked the streets and neighborhoods as much as we could, to see what living in each place would be like as opposed to just visiting.
Initially, my retirement daydream featured a romantic lifestyle on a Caribbean island, swinging from a hammock and sipping margaritas while watching the sunset.
Visiting Belize
Our first overseas LIOS conference was in Belize. Following the event, we booked an apartment on Ambergris Caye for the next week. Belize and especially San Pedro Town on Ambergris are lovely places to visit, and we had a great time on that trip, but, at the end of our stay, we agreed that Belize was not the place where we wanted to hang our hammock. We were disappointed, but we still had two other countries to visit.
Visiting Colombia
The next conference was in Medellín, Colombia. I was unable to make the trip due to work conflicts, so Darren went alone. His job was to attend the conference and soak up as much information and make as many contacts as possible. Then he would scout the location and report back. We agreed that, if he didn't like the city, we wouldn't waste time or money planning a return trip for me to check it out.
Within 48 hours of his return, we had booked a two-week trip back to Medellín a couple of months later. That's how sold Darren was on the place.
After our extended stay in this gorgeous city, we were both in love with Medellín. But we still had one more location on our list, and we decided to carry through with our plan and experience our third choice before making a final decision.
Visiting Ecuador
Our last conference was in Ecuador. We focused our interest on Cuenca because of the amazing things we had heard and read about this expat haven, including the low cost of living. After the conference in Guayaquil, we took the harrowing, I-think-my-life-passed-before-my-eyes, four-hour van ride through the Andes to Cuenca. We agreed that Cuenca, like Ambergris, could be a nice place to live, but, when we made the comparison to Medellín, there was no comparison. Our decision was made. We were moving to Colombia.
Starting Our Adventure In Colombia
Now we just had to break the news to our families, sell everything, and quit our jobs… which we did.
Fast forward to today and here we are, at home in Medellín. We're enjoying a semi-retirement lifestyle years before I imagined we'd be able to and a standard of living we wouldn't be able to afford otherwise. We are in love with this city and proud of ourselves for having taken what at times seemed like a crazy leap.
It all started with the Retire Overseas Conference in Orlando, where we met incredibly friendly and knowledgeable people, several of whom have become friends.
While each country conference was worth every penny, the Retire Overseas Conference in Orlando was invaluable for Darren and me. It was the first stepping stone on our path toward making our overseas dreams come true.
Our life in Medellín is everything we hoped for and better than we expected, mainly because of the great people we met and the helpful advice and accurate information we received over those three fateful days in Orlando 10 years ago.
More on our impressions of Medellin now that we've really gotten to know this city tomorrow…
Wendy Howarter
Full-Time Colombia Expat