The sun rises over the ocean, turning the sky a kaleidoscope of colors. The afternoons pass with the music of waves on the shore while palm trees sway overhead. This is Ron and Michele Schings' paradise dream come true.
In September 2019, Ron and Michele moved to Puerto Armuelles, Panama. They had had enough of Detroit winters and were looking for someplace to enjoy their days oceanside. Finding beachfront property in the United States wasn't economically feasible, so Ron started to research other options.
"I considered Panama, Ecuador, and Costa Rica… I never made it past Panama," Ron explains as he sits under his rancho, taking in the view. "I found exactly what I was looking for, it was a real-life 1960 Mayberry."
Ron isn't the only one that views Puerto Armuelles as Mayberry. Life in Puerto is a slower version of reality, a place where children still ride bikes in the streets and mañana isn't just a time but a way of life.
Panama had exactly what Ron was looking for, and the country's pensionado visa made the immigration process easy. The pensionado visa requires a monthly income or pension of at least US$1,000 in exchange for residency. The application must be handled by a lawyer. Ron found his lawyer through a relocation tour group, but there are many options available.
Get Your Free Panama Report Today!
Simply enter your email address below and we'll send you our FREE REPORT - Live And Invest In Panama: The #1 Retirement Haven In The Americas.
What Life In Puerto Armuelles Is Like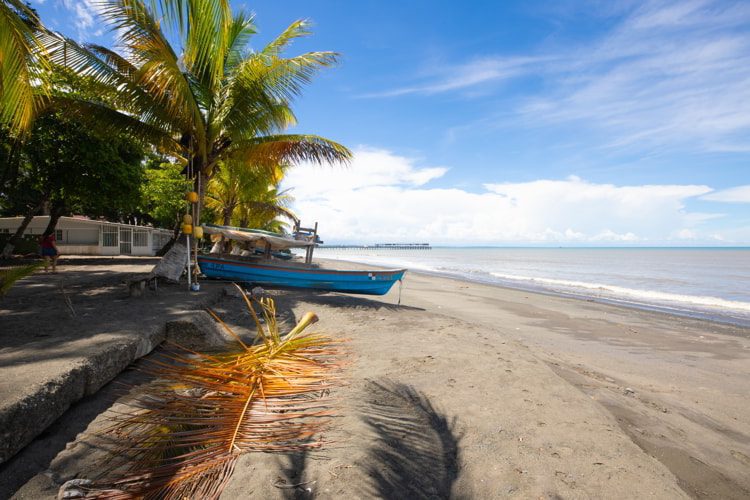 Ron had dreams of being a "professional beach bum," but he also decided he needed a hobby. When the neighboring hotel came on the market, Ron and Michele's financial flexibility allowed them to purchase what is now known as the Sunrise Inn. The hotel is a small, eight-room boutique with ocean views and a friendly atmosphere. "I like the opportunity to meet all kinds of people, from all over the world," explains Ron.
Life seems to have turned on its head. After a hectic life raising children, working two jobs, and enduring cold winters, today Ron and Michele spend their days eating fresh fruit and seafood caught in front of their property. "No lobster makes it past my gate," Ron laughs as a local fisherman passes by.
The couple now has more time to enjoy life. Ron likes to play pool downtown and basketball at the local courts. He even started a weekly poker game with other Puerto expats. "The expats are a great source of information, but I tend to enjoy the Panamanian culture," Ron shares. Panamanian culture is a change of lifestyle, but Ron doesn't seem bothered.
"If I can't find it, oh well… Life in Puerto is a give and take," he says. Whether Ron is trying a guanábana or fresh cane juice, each day presents new opportunities.
There are challenges as well. Running a business and dealing with bureaucracy in a foreign country can be aggravating, but Ron doesn't mind. "I am living my dream," he explains. Even the hour-and-a-half drive to David doesn't phase Ron, "I love the scenery, the different colors of green," he tells me.
Puerto Armuelles' small-town atmosphere isn't for everyone. Life is slower and there are fewer options than in big cities. If you're looking to spend your golden years watching the tide roll in, then Puerto is the answer. For Ron and Michele, it's the place that made their dreams come true.
Rebecca Teeters
Panama Insider