Belize is only a two-hour flight from the United States… yet it has a faraway, pioneer feel to it. Nowhere in the country is this truer than in the Cayo District.
Located on the mainland in western Belize, Cayo is a frontier land of rivers and rain forest, the type of place where the burdens and concerns of the rest of the world feel far away and unimportant.
Cayo's history dates back thousands of years to the era of the Maya, with relics embedded throughout the vast natural landscape.
In more modern times, the area has developed an open-minded, almost bohemian identity that celebrates independence, healthy living, environmental preservation, and diversity.
Of Belize's six geopolitical districts, Cayo is the biggest by land area at 5,340 square kms (2,061 square miles). A population of about 90,000 is spread out across it.
This is a nature lover's paradise… with warm year-round weather (at about 81ºF or 27ºC) and some of the country's best opportunities for exploring rivers, caves, mountains, tropical forests, and wide-open spaces.
About 40% of Belize's area is designated as national park. Nearby are the Mountain Pine Ridge Forest Reserve, the Chiquibul Forest Reserve, and an expansive network of tributaries of the Mopan, Macal, and Belize Rivers.
More and more, expats are recognizing the small-town vibe here and are making the migration to down-to-earth, simple living. The social fabric is diverse and welcoming. It doesn't take long to become a part of the community…
Very quickly, you'll know the shop owners, farmers, schoolteachers, yoga instructors, artists, and your expat neighbors. A friendly smile and nod of the head is the standard greeting around here.
While there are smaller villages and neighborhoods that comprise Cayo, each with their own unique characteristics, the town of San Ignacio is the nucleus.
From here, you can easily travel to surrounding communities to find the one that suits you best…
Where To Live In The Cayo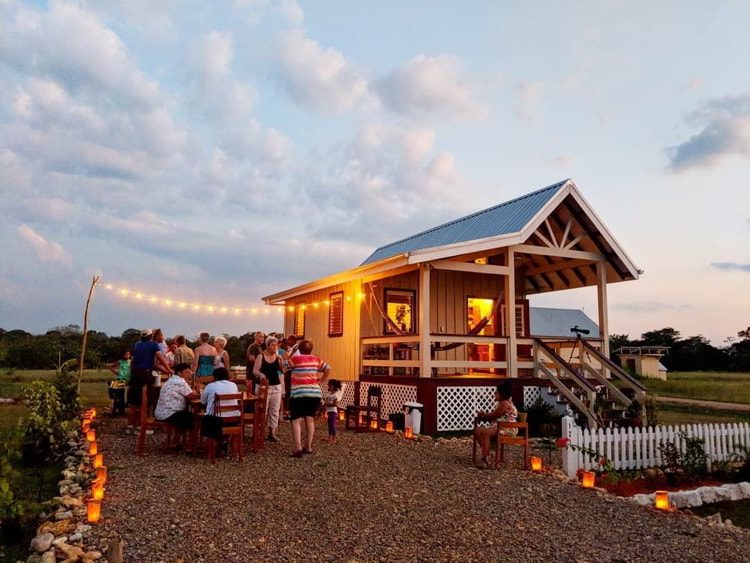 One area of Cayo that deserves special attention is Carmelita Gardens. Nestled in a bend of the beautiful Belize River, Carmelita Gardens is 98-acre expat community of houses, lots, verdant riverfront and river access, greenspaces, pasture, and a community garden.
The town founder, Phil Hahn, has worked over the past 10 years to create an off-grid neighborhood that emphasizes simple living. It was founded on the notion of living "independently together," a vision of that the dozen-or-so residents are fully vested in.
They're proud of the organic gardens, community events, and local relationships they've built. Everyone respects each other's personal decisions, and the stresses of the rest of the world don't affect much.
Not even the pandemic has changed life for Carmelita's residents much… They get on with relaxing or socializing with neighbors or in town.
Houses in this community range from large luxury houses with pools to artisan, custom-built hardwood tiny homes, designed for the most efficient and comfortable living possible.
Its homes are fully off-grid and self-sufficient but can have all modern conveniences like air conditioning, high-speed internet, and home help if desired.
The community is well-established with dozens of houses built and owners in residence.
But this year, things are different.
Carmelita has seen an unprecedented surge in interest as the current world circumstances push people towards more simple, self-reliant ways of living… A more pleasant Plan B…
Why Do Expats Love Carmelita Gardens?
1. Peace, Quiet, And Back-To-Basics Living
Carmelita attracts community-minded folks who like to have fun together but also do their own things… It has none of the loud, brash, look-at-me crowd who sometimes give us gringos a bad name.
If you own your own home in Carmelita Gardens, your monthly cost of living could be minimal. US$1,000 per month would be plenty.
3. Spectacular Wildlife At Your Doorstep
Stunning tropical flora and fauna also call the Cayo home. Parrots, toucans, howler monkeys, bush dogs, aguti, gibnut… you name it, and you'll see it trotting, swinging, or flying around.
4. Residential Lots And Mini-Farms Available
Lots range in size from one-eighth of an acre to over a half-acre. There are riverfront, interior, and commercial lots. Prices start at US$39,000.
5. A Sustainable Farming Paradise
Deep, fertile, alluvial soils, plenty of rain, a bountiful river, sun drenched pastures and orchards: this is the farming heartland of Belize. After a few years, a small tropical food forest could be producing more fruit than you need without much heavy lifting. Grow what you need and swap with your neighbors for whatever you fancy.
6. Good For Your Health
I know a guy who lost 70 pounds in Belize without trying. Less stress, less processed food, fresh tropical fruit, and the opportunity for evening walks or cooling swims makes for natural weight loss.
7. Proximity to San Ignacio and Santa Familia Village
Carmelita is just a few hundred yards away from Santa Familia Village, with small stores, a gas station, and a few bars and restaurants. It's also just 2 miles from San Ignacio, a short walk across the bridge in the nearby village over the Belize River.
In your garden or a little further into the bush, you can find all sorts of traditional remedies growing. You might soon find your reliance on Western medicine and pharmaceuticals lessening, too.
9. Remote Working Is Easy
With high-speed internet, housekeeping, and yard help available, self-sufficiency in power and water, and time zone similarity to the States and Canada, remote working from Carmelita Gardens is easy.
10. Turn-Key Custom-Built Homes:
Riverfront. There are still riverfront lots available at Carmelita Gardens, but they are selling fast.
Custom homes. It took years of trial and error to find a high-quality and reliable team to manage construction. The onsite construction crews are skilled carpenters and concrete workers.
Tiny houses. Most of the new community members are opting to live in tiny houses. Prices start at US$135,000 for turn-key, fully off-grid, tiny homes plus lot.
Property and rental management services. These are provided in-house, should you want to rent your property out.
If the Carmelita Gardens lifestyle sounds like it might be right for you or if you'd like more information, get in touch with Phil and his team here.
Con Murphy
Editor, Overseas Property Alert