Being in a beautiful place during the Christmas season can make the experience even more exciting, enjoyable, and memorable. Right now, excitement is in the air in the northern coastal town of Corozal, Belize… twinkling lights adorn homes and businesses alike… Stores display sparkling Christmas trees… Christmas carols and holiday music are played as customers go about their shopping…
People are going to and fro as usual, especially on Fridays when fresh fruits and vegetables are aplenty in the outdoor markets. But there's a little more pep in their steps these days as they stretch their budgets to decorate their homes for the holiday season and get gifts for their children. Hopefully, this year has seen a bountiful crop from the farms… but, if not, parents still make the holidays happy for the family.
Each year schools offer special activities for students, often featuring food, a piñata, gifts, and lots of merrymaking. Community groups often make donations to add to the festivities. Last year, in addition to the usual, the Corozal Rotary Club donated book shelves to a nearby school after learning one was needed.
More important than toys and exchanging gifts, the coming together of family and friends is priority in Belize. An even greater sense of community takes over the already-tight-knit population so that everyone is looked out for this time of year, especially senior citizens.
A while ago, the newly built Hope Building in Punta Gorda in Toledo District hosted a grand event for elders. Buses transported residents for free so they could take advantage of the holiday festivities planned just for them; the turnout was fantastic.
As each person came through the door, they were presented with a colorful holiday pin to wear. After being escorted and seated at beautifully decorated tables, each attendee was treated to a wonderful dinner. The entertainment program included speeches from various levels of the Belizean government, live music, sing-alongs, and fun galore. More than a few energetic seniors glided across the dance floor to the sounds of seasonal music. The highlight of the afternoon was the arrival of the adorable Santa Claus who came with his bag filled with goodies, greeting each senior, wishing them season's greetings, and offering them gift bags full of useful items. Before heading home, each party-goer was given a big bag of fresh fruit. It was a memorable event for both the attendees and the hosts.
Because Belize is home to many and varied religions, churches plan their own ways of celebrating the message and the meaning of Christmas. Congregants take part in their own services and join in community gatherings that are often held in town plazas and parks.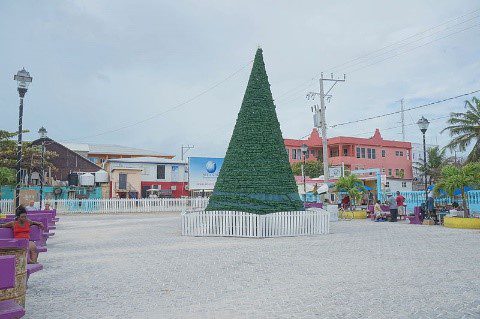 There's a strong sense of family in Belize, but more so than ever during the Christmas season. Communities and families practice traditional festivities and welcome newcomers to join in.
In Corozal, the town council hosts a tree-lighting ceremony every year. Not just any old tree-lighting event—it's spectacular! As is the tree that adorns Corozal's central town park. It stands tall and stands out. Children enjoy playing on the nearby huge, colored ornaments. On the first Saturday in December, residents come from everywhere just to see this great tree being lit. Vendors display and sell an array of goods and Holiday music is enjoyed.
As anywhere, businesses have high hopes for sales this month… but if harvests are low, so will be sales. Most Belizeans don't have credit cards; they can't spend what they don't have (as so many of us do back home). But, no matter what the year has brought them, families make sure that if they have nothing else, their children will have a delicious, nutritious, and fulfilling meal on Christmas Day. And with the help of local businesses and organizations, a number of children who may not have otherwise will wake up to find a gift under the tree. For now, excitement and anticipation keep a sparkle in the eyes of youngsters.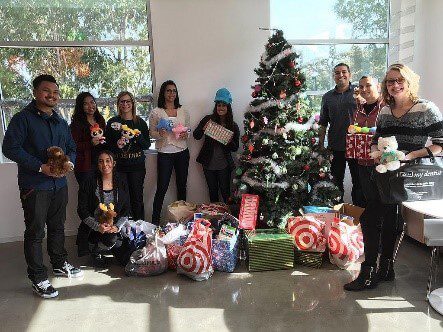 Belizeans are a warm and friendly people and they treat strangers as family. Here, everyone smiles all the time… whether they are riding bicycles, walking on worn flip flops or even barefoot, or driving a shiny, new car or even an old, beat-up one. But, with the spirit of Christmas in the air, the joy felt in Belize this time of year goes beyond the normal friendly atmosphere to a happy wonderland.
A uniquely Kriol Christmas tradition, thebram, is a dancing spree for everyone in the country. The population takes to the streets and parades from house to house spreading holiday cheer by singing, making music, and boogieing in honor of the season. In rural Belize, the two-day Christmas holiday is synonymous with thebramfestivities. The Gales Point Manateebramis reportedly the best example of a traditionalbramtoday.
Brokdongis the traditional Kriol music that accompanies thebram. It's explained thatbrokdongcan occur without thebram, but thebramcannot occur withoutbrokdong. This Caribbean-style music is typically made with forks, graters, a two-sided drum called a goombay, banjo, harmonica, accordion, aquijada(the jawbone of a donkey), ashakka gourd(like a maraca, anything that rattles can be used)… and just about anything else that makes noise.
The lyrics ofbrokdongmusic are usually narrative, often reciting histories, legends, and satire and are always in Kriol.
Whilebrokdongmusic is less popular with the youth these days, the over-40 crowd in Belize still love to jam to this rhythmic, infectious music.
AbrokdongChristmas Carol in Kriol:
Pull out yu grater an di fork
Battl pahn tabl
Draw di kaak
Gimi di ridim, gimi di sung
Krismos di kom so gyada rung
Get yu cake and yu lemonade
And don't forget the wine and the rum
Wine and go down
All to the sound of the brokdong
Translation:
Pull out your grater and the fork
Bottle on table
Draw the cork
Give me the rhythm, give me the song
Christmas is coming so gather 'round
Get your cake and your lemonade
And don't forget the wine and the rum
Wind and go down
All to the sound of thebrokdong
I visited Corozal Town recently with quite a list of things to do… and I had no idea the day would turn out to be so hot. Sweat pouring down my face, I thought about going home and returning another day. But, as I continued walking, headed in the direction of the Corozal Town Council building, I heard the ending of a favorite Christmas carol coming from the loudspeakers. I listened, hoping it would be replayed. Instead, I heard "Sleigh bells ring, are you listening? In the lane, snow is glistening… a beautiful sight, we're happy tonight, walking in a winter wonderland…"
"Are you serious…" I couldn't help but wonder to myself, "in 90-degree weather?"
I began to laugh, "OK, I'll go along with it." And started to sing along as I continued my walk and finished my errands.
Here I am, ready to celebrate what I'm sure will be a memorable Christmas in Belize—a wonderland, definitely… just without the winter!
Marie Peay