Carmelita Gardens Discovery Tours include visiting ruins, sampling local food, and learning about our sustainable community from town founder Phil Hahn… but the true highlight is the simple pleasure of experiencing life with the Carmelita family.
During the tour, you'll come to understand the town motto: Independent Together.

Perhaps the term "tour" is misleading… These short visits are more focused on discovery.
It's easy to learn about Belize from articles, blogs, and videos, or from organizing your own vacation… but we aim to give our guests the opportunity to discover what life could really be like here.
To make lasting connections with future neighbors… To find answers to the questions you've been worried about… To share delicious food with new friends… To listen to Phil's stories (no matter how long they are) and jokes…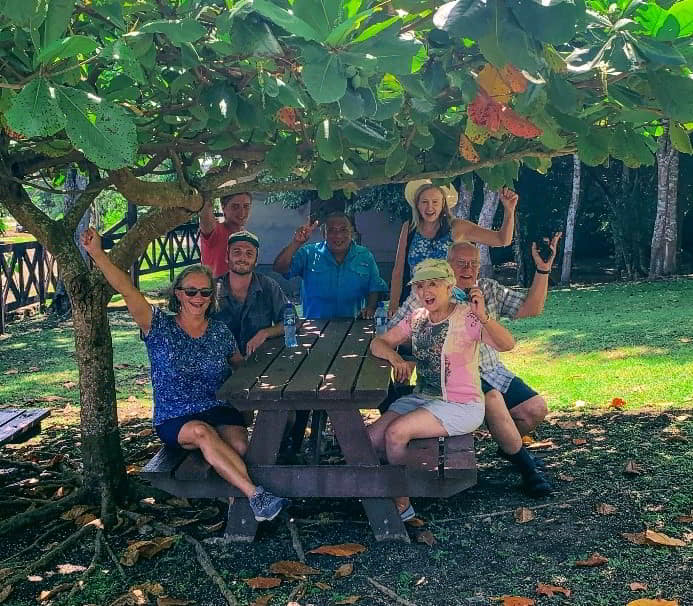 The Discovery Tours are a chance for the Carmelita Gardens team to introduce you to everything we love about the community, the town, and the country.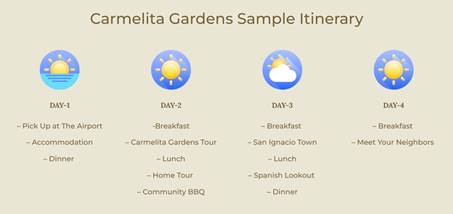 The tour begins the moment you're picked up at the airport. It's never too soon to start asking questions and piecing the puzzle together.
Each tour is slightly different because we customize them to our guests as well as community events.
One thing that is consistent is that no guest ever goes hungry. So much of Belize culture is centered around food, so we kick things off with a welcome dinner where we get to know each other.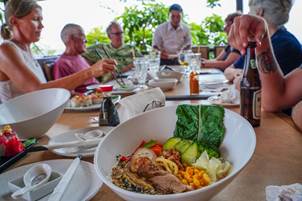 We have three goals for our Discovery Tours:
To show you everything there is to know about Carmelita Gardens.
To give you all the practical information you need to start a new life here.
To enjoy some of the fun and beautiful things San Ignacio has to offer.
You probably won't leave knowing absolutely everything there is to know… You may have some unanswered questions, and you won't see enough of the Cayo District… But that's OK. This is just a Discovery Tour.
You'll make great friends with our team, and they'll be on hand to continue helping you after you leave. We have too much knowledge and experience to share in just a few days, but we're available whenever you need us.
As for the rest of Belize? The tour scratches the surface of our little corner of the country and leaves you itching to return and continue exploring.
Day One
The first day is dedicated to discovering life at Carmelita Gardens. You'll find out about the vision for the off-grid riverside community as well as how it has developed over the past decade.
Phil has poured his heart and soul into Carmelita Gardens, and hearing him describe it brings new meaning to the term "passion project."
We'll take a driving tour around the community to explore the different neighborhoods and get familiar with the site plan. You'll see the winding river that surrounds the community and come across some of our residents.
This is a chance to ask questions about the different lots for sale, think about where you might like to live, or simply enjoy the views.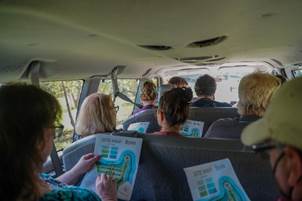 The gardens are one of the central ideas of the community. We have a flourishing fruit and vegetable garden where our residents get fresh produce, as well as 98 acres full of blossoming trees.
Our volunteer arborist, Dave, will lead a tree walk to explain the natural wonders we are surrounded by. Day to day, Dave maintains the green spaces and helps our residents with their own gardens.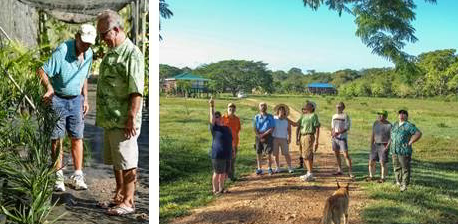 After exploring the site and getting a better understanding of the community, it's time to focus on the different homes we've built. We have three home models—tried, tested, and well-loved designs, which we'll start off by touring.
Though we've built several of each model, no two are exactly the same as every owner has customized the designs. You'll get to talk to the owners and ask questions, whether it's where they got their tile from or what they would do differently if they built it again.
If you're looking for something larger or completely unique, our design team would love to chat to you about custom designs, of which we now have many examples.
You'll get a sense of the home designs as well as the interior fit outs and high standards we maintain in all builds. We are proud of our architecture and have spectacular local draftsmen, builders, and crews on site.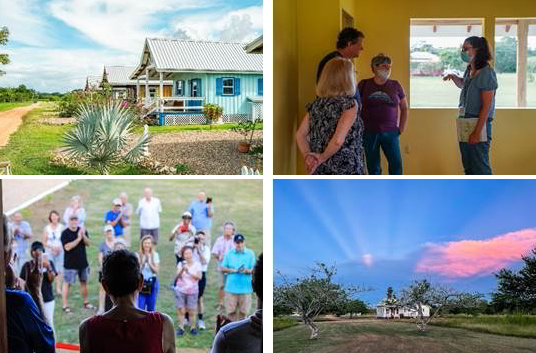 We like to end Day 1, the "Carmelita Day," with a relaxed community event so you can spend more time getting to know the residents. Whether it's a potluck dinner or a cocktail party with homemade appetizers, we love to celebrate.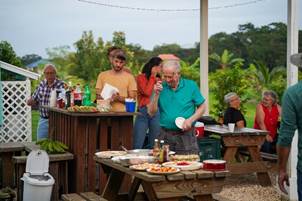 Day Two
The second day of the tour is all about San Ignacio, our local town, and giving you a taste of what Belize has to offer.
We start at the center of the town, at the biggest market in the country, which comes to life every Saturday. You can chat to local vendors, check out the fresh produce, grab breakfast, or even pick up a handmade souvenir. It's a hive of activity.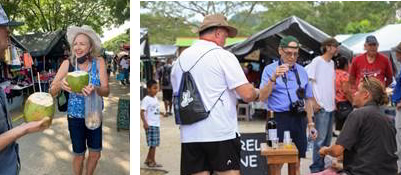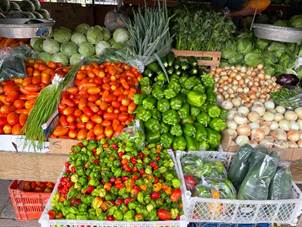 San Ignacio was built around a Mayan archaeological reserve, Cahal Pech, which we will tour with our favorite guide. It's a relatively small and peaceful site but impressive.
Once everyone has worked up an appetite, we'll go to one of our favorite restaurants for lunch.
The afternoon will likely include a visit to another local attraction: the Raptor Rescue Centre or the Botanical Gardens. These are both great places to retreat into the forest and enjoy the local nature and wildlife.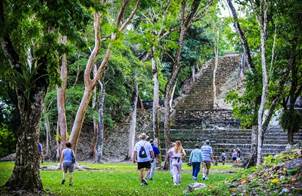 We'll also show you the agricultural center of Belize: Spanish Lookout, 7 miles away from Carmelita Gardens. Here you can find everything you need whether you're building a house, fixing a car, or filling your cupboards.
There's also an ice cream stop where you can sample a favorite local flavor, soursop, which is also grown by Dave in Carmelita.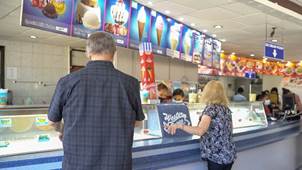 With any remaining time, we'll encourage you to explore the community by foot, relax by the river, and indulge in our legendary barbecues. It might be a busy couple of days, but there's always time to take a breather or have a chat.

The final morning offers an opportunity to discuss your plans with the sales team or home ideas with the design team. We can help you find the perfect lot to build your home on or explain the design and construction process.
We'll be on hand to help you with all the big and small decisions before you leave.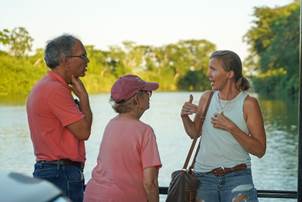 This tour is about you discovering a potential new life in Belize at Carmelita Gardens, and we can't wait to help you do it.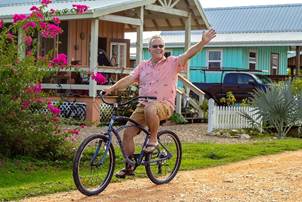 For more information on Carmelita Gardens or to book yourself on the next Discovery Tour, go here.
Louise Cooper
Belize Insider