Who's up for checking into an age-restricted community?
Hmm, no thanks.
A retirement village?
Maybe…
How about independent living?
Ah, now we're talking…
I jest, of course. These are all the same thing. But we know, too, that they come in different shapes and standards. And, just as we're choosing better language to describe them, the blueprints for our future retirement communities are moving into the 21st century.
Frankly, this can't come quickly enough…
Right now, 15% of the U.S. population is over 65. That number is expected to hit 20% by 2050.
Americans are also living longer than ever. And, their ideas of retirement are far removed from that of their parents. Many will continue to run some small businesses on the side… to get out into the world and check experiences off their lengthy bucket lists… to get healthier and maintain their quality of life…
And, of course, a growing number will want to do all of this overseas.
In 2019, more than 700,000 Social Security payments were sent to U.S. citizens abroad. That's a 40% increase over the last decade alone.
This aging population needs safe, comfortable places to live where they can be both engaged and cared for. Places where they can still be as active and free as they wish… but they have a ready-made network to fall back on for company and friendship, as well as access to health care and support when needed.
Options for independent living in the havens we highlight here at LIOS are very thin on the ground. In Latin America, they're almost non-existent… especially to the kind of standard the North American retiree is seeking.
The good news is that this is beginning to change. And, it presents an opportunity for you if…
You'd like to have this community option for your own move overseas.
You're looking for a niche investment opportunity—with the potential for both capital appreciation and rental income.
We know of two luxury-level retirement communities being developed in two of our top recommended havens overseas.
The first is in Panama City. I've highlighted this one in the past, but I'd like to flag it again here as it represents a truly affordable entry price for a high standard of living… and possibly your last chance to get into this sought-after part of the city at a true bargain…
Overseas Luxury Retirement Community Option #1:
Costa Del Este, Panama
Best Suited For: Investment
This development is Panama's first venture into the independent living sector—geared toward the discerning expat retiree.
It's a state-of-the-art facility brought to the market by one of the city's top developers who has recognized a gap in the market.
These independent living condos are part of a larger luxury development in Costa del Este—one of Panama City's most coveted business and residential addresses.
New, spacious, shiny, slick, and turn-key, Costa del Este claims to be Panama's biggest modern-day planned community. National and international companies are located here, which means international families are putting down roots. People coming from all corners of the world has helped make Costa del Este a truly cosmopolitan neighborhood.
Residents of these independent living apartments will be just steps from Costa del Este's newly built Johns Hopkins-affiliated hospital… as well as the Town Center shopping mall with its movie theater… a selection of restaurants… and one of the city's best pharmacies. An 18-hole golf course designed by Jack Nicklaus is just minutes away.
Part of a larger building of mixed generation apartments, the independent living floors will consist of 48 apartments—with a choice of single or double occupancy…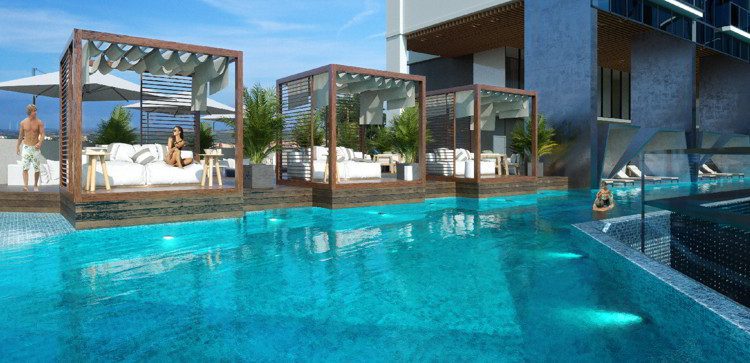 All residents will have full access to the wellness center, gym, yoga studio, social areas, theater, sky bar, and individual pools on each floor…
There's even an on-site co-working center for individuals who want to manage online businesses.
First-class health care, nursing, meals, housekeeping, and property management are part of the package. As residents age, they can avail of support packages—including health insurance (at a small fraction of the cost in the United States).
If you prefer to keep your unit to yourself, that's an option, too. As an owner, you can occupy your apartment and avail of the independent living package—including full-service health care and support—from just US$1,885 per month.
Considering that the cost of independent living communities in the United States cost from US$1,500 per month at the lower end to as much as US$6,000, this is an affordable option for a luxury-level retirement in a cosmopolitan neighborhood… with all amenities and the support of a community on your doorstep.
Prices start from US$185,500. If you opt to rent out your property, you can expect a net ROI of 7% to 8%, or an annual payout of US$14,000 to US$15,000—all 100% turn-key.
Again, this project is offering a luxury retirement, with an incredible package of additional benefits, at an affordable price simply not possible in North America or Europe.
Get the full details on Panama's one and only independent living community here now.
Overseas Luxury Retirement Community Option #2:
Praia da Luz, Portugal
Best Suited For: Personal Use
Spoiler alert: this one has a higher entry-level price. But, let's remember, we're talking about the retirement haven that ticks all the boxes of the "average" retiree looking to go overseas…
A warm, sunny climate most of the year… unspoiled, golden-sand beaches… a healthy, outdoor lifestyle… English widely spoken… excellent health care… an affordable cost of living…
These are just a few of the Algarve's assets…
And we're talking an old-world location, with easy connections to all of Europe.
The pre-construction opportunity here is truly a rare find…
It's in one of the Algarve's most exclusive resort towns—Praia da Luz. And this is the region's first luxury residential development. It's being built to house expat retirees who are looking for a high-standard living space (either to buy or rent long term), surrounded by like-minded neighbors and with access to all the attractions of the Algarve…
Everything from the project's location at the highest point in town with the best sea views to its fully accessible unit designs has been carefully chosen by the developer.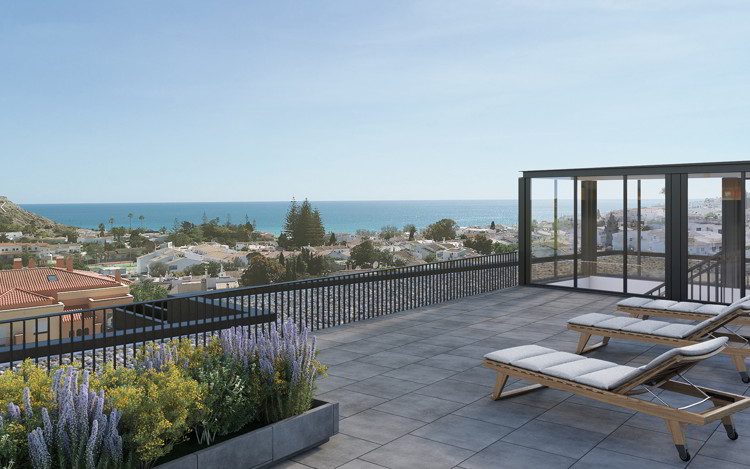 One hour from Faro airport, this project is within walking distance to restaurants, cafés, shops, a hairdresser, the city center, and one of the best beaches in Europe. Public transportation is at your doorstep, which gives you easy access to everything the town offers.
The building has 38 units—all of which are accessible and come with a terrace. Buyers can choose from one-, two-, and three-bed designs, ranging in size from 55 to 90 square meters. Units are energy efficient, come with underfloor heating, and are soundproofed per local building requirements.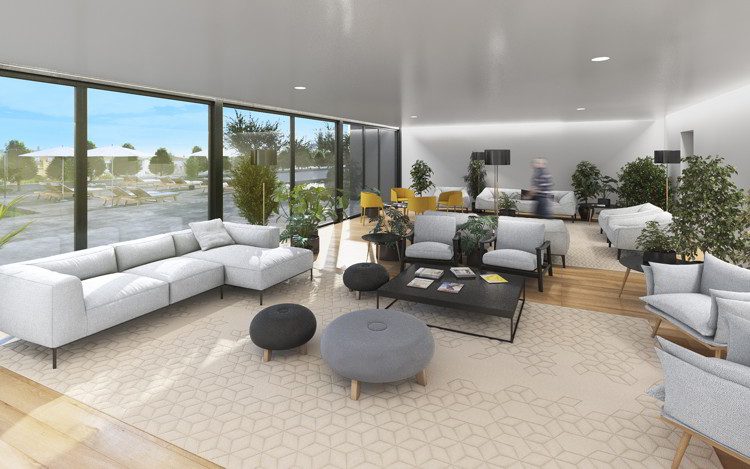 The community space includes an outdoor lap pool, indoor heated pool, a library, gym, reading lounge, high-tech internet in all areas, solar heating, a rooftop terrace, barbecue, and small community kitchen with beautiful landscaping all around. Once completed, residents will be well cared for with a reception and concierge service, as well as full-time security.
Unlike the bulk of accommodation in the area, this is not geared toward the short-term rental market. The aim is to nurture and serve the on-site expat community.
With net rental yield projected below 5%, this project is really a lifestyle buy—one to keep for your own use. (If you're not ready to move by the time your unit is complete, you could rent it in the intervening years.)
We like to play it conservative when it comes to capital appreciation. But the fact that this is the only luxury retirement community in town—and options are severely limited for other developers to get in here in such a prime location—you can expect to see appreciation over the coming years… and be in a strong position on the resale market.
Pre-construction prices start from 275,000 euros (US$324,760) for a one-bed apartment… with a choice of payment plans on offer.
If you'd like to know more about this upscale, ocean-view development in the Algarve, please get in touch with our trusted agent here.
Lynn Mulvihill
Editor, Overseas Property Alert