After an unavoidable but overlong time away, Lief and I prepare this weekend for our return to the sunny seaside town of Carvoeiro on Portugal's Algarve coast.
We can't wait to introduce this village… this coast… this country to the hundreds of Live And Invest Overseas readers who will be joining us both in person in the room and virtually online for next week's Live And Invest In Portugal Conference.
As we prepare for the biggest Portugal event in our history, let's regroup on why we've named this country and specifically its Algarve region the world's best place to live or retire overseas for nine years running.
Portugal's Algarve is a land of medieval towns and fishing villages, open-air markets and local wine, cobblestoned streets and whitewashed houses with lace-patterned chimneys surrounded by fig, olive, almond, and carob trees.
The region boasts some of Europe's best sandy beaches, best golf courses, and most dramatic sea views.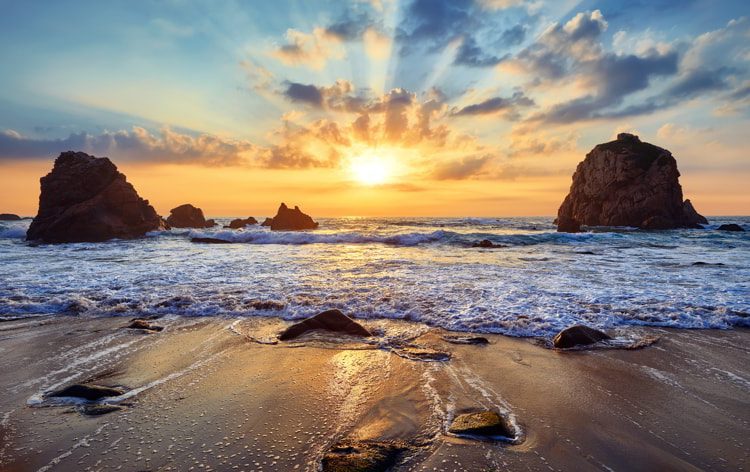 Specifically, here's why we say Portugal's Algarve qualifies as not only a top retirement option in Europe, but, in fact, the world's best retirement choice right now:
This region enjoys one of the most stable climates in the world and 3,300 hours of sunshine per year, meaning more sunny days than almost anywhere else in Europe. As a result, the Algarve has a longstanding reputation as a top summer destination among European sun-seekers and a top winter retreat for those looking to escape Northern Europe's coldest months. It's a popular holiday destination among the Portuguese year-round, and the Spanish love the region's wilder western coast.
2. Safety
Portugal is the third-safest country in the world, according to the Global Peace Index. Violent crime is unheard-of, and even petty crime is uncommon.
3. Good Infrastructure
Portugal and the Algarve in particular have enjoyed important infrastructure investments in recent years, specifically to do with the country's highway network and airports. This could be a great base for exploring all of Europe and North Africa. Portugal is also one of the most wired countries in the world, making it a top choice for laptop entrepreneurs and digital nomads.
Get Your Free Portugal Report Today!
Simply enter your email address below and we'll send you our ​FREE REPORT — Portugal: The World's #1 Retirement Haven...
4. International-Standard Health Care

Portugal's health care system is among the best in the world. Medical tourism is a growing industry, particularly if you are interested in the aesthetic, hip replacement, and dental specialties. Thinking more day-to-day, Portugal offers a huge advantage to the would-be retiree in this context. Become a legal resident, and your health care can be free.
5. Golf
Portugal boasts 75 courses. The Algarve region alone has 31 golf courses in less than 100 miles. This is a top golfing destination not only in continental Europe but worldwide.
The Algarve's 100 miles of Atlantic coastline is punctuated by jagged rock formations, lagoons, and extensive sandy beaches. In total, 372 of the country's beaches have been awarded coveted Blue Flags from the European Blue Flag Association, including 21 additional Blue Flag beach designations in 2021. The water off this country's shores is azure, and the cliff-top vistas are spectacular. Most beaches have lifeguards during the summer season. Many have restaurants or snack bars, sometimes open only seasonally.
7. Affordable Cost Of Living
The cost of living in Portugal is among the lowest in Western Europe, on average 30% lower than in any other country of the region. A retired couple could live in some regions of Portugal comfortably but modestly on a budget of as little as US$1,500 per month. With a budget of US$2,000 per month or more, you could enjoy a fully appointed lifestyle in the heart of the Old World.
8. English Is Widely Spoken
Thanks to Portugal's strong historic and cultural links with England, English is widely spoken in the country in general and even more so in the Algarve, the country's main tourist draw. Retired here, you could get by without learning to speak Portuguese if you wanted to.
9. Healthy Living And Eating

The Portuguese are the biggest fish eaters per capita in Europe, and fresh fish of great variety is available in all the ever-present daily markets. In addition, the abundance of sunshine in this part of the world means an abundance of fresh produce is also available in the local markets.
10. Potential Tax Benefits

One advantage Portugal offers compared with the rest of Europe is its Non-Habitual Resident (NHR) program. This unfortunately named program isn't about residency but taxes. Once you have established legal residency, you can apply for NHR status. If you qualify, you enjoy significant tax benefits for your first 10 years as a resident.
11. Severely Undervalued Property Market

Real estate in Portugal beyond Lisbon and a few other key markets remains undervalued and among the most affordable in Europe. Further, Portuguese real estate has one of the most favorable price-to-rent ratios (a measure of the profitability of owning a house) and price-to-income ratios (a measure of affordability) in the region. What that means is that housing is cheaper to buy and investors can make more money from rentals than in many other European countries.
Sincerely,



Kathleen Peddicord
Founding Publisher,Overseas Opportunity Letter