We believe Belize is one of the best places in the world to live, retire, invest, and chase adventure.
In fact, it's many of the world's best options.
For such a small country, Belize offers many appealing lifestyle and investment choices.
Bottom line, you're choosing between beach or jungle… surf or turf.
Let's compare them…
The Islands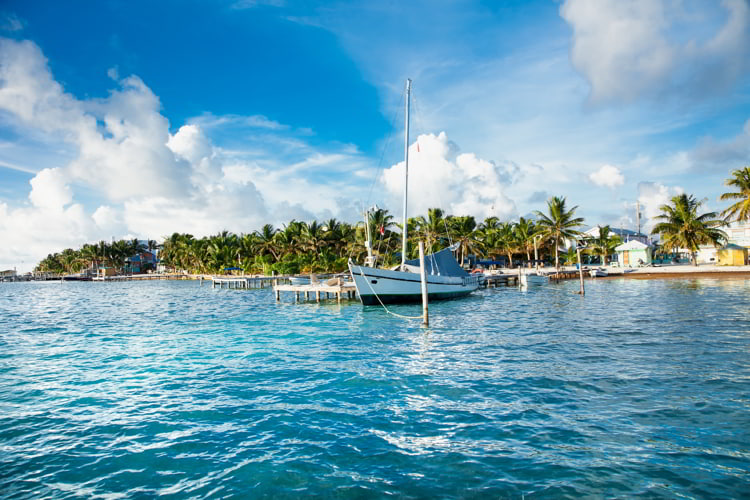 Clear turquoise waters lapping gently against soft white sand… palm trees rustling in the warm breeze… fishing boats bobbing on the horizon… birdsong and island tunes all around…
For many that's the ultimate retire-overseas dream… and that's what Ambergris Caye, the little island off the coast of mainland Belize, delivers… unadulterated, unpretentious Caribbean… the sea, sand, and sunshine of the Caymans or the Virgin Islands without the price tag.
San Pedro town, a former fishing village, is the center of activity and home to a growing expatriate community of North Americans and Europeans catered to now by dozens of restaurants, shops, art galleries, and community organizations. You could settle in here quickly and easily, as the language (like everywhere in Belize) is English.
The real estate market, for both buying and renting, is developed, meaning you have many options at all price points. You can buy a condo for as little as US$100,000 or invest up to US$1 million or more, and you can rent for as little as US$700 to US$800 per month.
Life on Ambergris is relaxed and friendly, carefree and sunny. Adopt this island as your home, and you'd enjoy most all services and comforts of home. And you'd never want for like-minded company.
Your biggest complaint might be the tourists. In season, San Pedro town swarms with them.
That's one face of Belize. Back on the mainland, life is very different.
Get ​Your Free ​Belize Report Today!
Simply enter your email address below and we'll send you our ​FREE REPORT – ​​Discover Belize: Reef, Ruins, Rivers, And Rain Forest… Plus Easy Residency And Tax-Free Living
The Mainland
Mainland Belize can be broken down into four zones: Belize City; the northern coast around Corozal; the southern coast around Placencia; and the interior Cayo.
Forget Belize City. This isn't a place you'd want to live. The city has a reputation for being poor, dirty, and unsafe… and that reputation isn't for nothing. My most recent visit, I found the city cleaner and more pleasant than I remembered from preceding visits. You, however, seeing it for the first time, especially certain neighborhoods south of the river, might find the whole scene appalling.
But Belize City is not representative of mainland Belize. It's simply the place you must pass through on the way to your real destination (as it's home to the only international airport in the country).
Following the highway from Belize City south (this is one of but four highways in the entire country… as we remind you often, infrastructure is not Belize's long suit) you come to Dangriga, Hopkins, Placencia and then, way down south, Punta Gorda. This is perhaps the most culturally diverse part of the country, home to the Garifuna, black Carib Indians known for their pounding and sensual song and dance. It's really something to see, alone worth a visit to this region.
Following the coast north from Belize City brings you to Corozal, where life couldn't be more laid-back. This is a part of the world where you can still arrange a home of your own directly on the beach with nary a neighbor around if that's what you're in the market for. It's also one of the most affordable regions in the country. You could live a simple but comfortable life on the water here on a budget of as little as US$1,000 per month.
The fourth face of Belize is my favorite. Inland, in the rain forest, is the Cayo District, a land of mountains and Mayan ruins, rivers and waterfalls. This is Belize's frontier, a land where a man (or a woman) comes to stake a claim and make his own way.
The wide-open spaces of the Cayo appeal to the adventuresome and the independent. Living here, you'd enjoy lots of elbow room and far-reaching vistas.
You'd also enjoy a higher level of support than you might expect. I was surprised and delighted during my most recent visit to Cayo to find many more shops and services than existed when I was in this part of the world last.
I sought out my favorite haunts, including Eva's, the café and expat meeting spot in the heart of San Ignacio, Cayo's main town, and was pleased to find them all still operating. Today, though, Eva's and the handful of other spots I frequented for the first time some three decades ago, are hardly the only places for an expat to connect with his fellows.
Alas, development is coming to the Cayo, today the fastest-growing district in Belize.
I acknowledge this with melancholy exuberance. Cayo is one of my secret favorite places on Earth. I'm happy she's finally getting the recognition I've long believed she's deserved. And the increased attention, I note happily, means it's easier than ever to spend time here more comfortably than ever.
On the other hand, for me, Cayo has always been one of the world's best kept secrets. Alas, the secret is out…
Sincerely,



Kathleen Peddicord
Founding Publisher, Overseas Opportunity Letter