Most of the world has never heard of this place…
But it's everything you want from the Caribbean…
I'm talking about the 17 miles of beautiful, undeveloped, white sandy beaches nestled between the rainforest-draped Maya Mountains and the most spectacular barrier reef in the world.
I'm describing the thin finger of golden sand known as Placencia, Belize.
Formerly the site of Mayan civilizations, pirate hideaways, and puritan settlers, its modern-day name comes from a derivation of the Spanish-colonial name "Point Pleasant."
Today, this sleepy little village is finally coming into its own. With reliable road access, quality developments, and a great community atmosphere, Placencia might be the piece of paradise you didn't know you were missing. Sailing, diving, snorkeling, fishing, and rain forest hiking are all around…
Or maybe you'd be happiest in this tropical retreat just hanging out with friends. However you choose to spend your time, Placencia could be your ideal new Caribbean home.

While today's Placencia boasts five-star, luxury-standard accommodation (for the first time in this little peninsula's history), this remains an affordable seaside escape. You can still own a snug, tropical hardwood home here of your own for less than US$100,000.
And the region is more accessible all the time. Nearby, Belize's second international airport is 90% complete. When planes are able to land here in the not too distant future, this quiet piece of paradise will experience a controlled boom in development and property prices.
Meantime, Belize's second cruise ship port is opening at Harvest Caye, only 18 miles offshore, meaning more appreciation of values and more investment and business opportunities.
On my recent visit, driving along the now smooth highway, it struck me that I hadn't been to Placencia for nearly 10 years. As I came closer to the end of my journey, I was truly stunned by what I found. High-quality developments, great restaurants, and a friendly atmosphere that this devoted Cayo fan has to admit manages even to surpass that of the general good nature of the rest of the country.
How had I been missing out on all this for so long?
Placencia is a 17-mile long sand spit that is at most only a quarter mile wide. The one-time fishing village turned quiet tourist destination boasts high-quality developments, high-quality people, and little to no crime… just an abundance of deserted white beaches, turquoise waters, and relaxed luxury.
Tourists and those seeking a quietly opulent Caribbean coastal lifestyle are finding their way to Placencia in growing numbers for several reasons… including and perhaps especially the barrier reef just offshore. This coral wonderland of billions of individual living coral polyps is home to some of the most diverse communities of marine life found anywhere in the world. The reef also protects Placencia from the wilds of Atlantic storms and allows for reliably clear blue water between the mainland and the reef year-round.
Climate Belize is situated on the Caribbean coast of Central America, with Mexico to the north and Guatemala to the west and south. The climate of Belize is characterized by two seasons: rainy and dry. In Belize, most of the year's rainfall occurs June to November. Average annual rainfall across Belize ranges from 60 inches on Ambergris and in the north to 160 inches in the most southern parts of Belize.
The dry season is from November to May, with April being the driest month. The average temperature is 81°F (27 Celsius) along the coast, with lows around 72°F (22 Celsius). Nighttime temperatures are usually 10 degrees lower than in the daytime, and cool sea breezes make it quite pleasant here. The coldest month is January, while the highest temperatures are experienced in May.
Belize experiences a disproportionately small number of hurricanes compared to other countries, given its location in the Caribbean. In fact, only about 5% of hurricanes that form in the near Caribbean ever make any form of landfall on Belize. There is always ample warning of any possible storm in the region, and all newly built concrete homes are built above the required hurricane standards. Compared to Florida, hurricane effects on Placencia are minimal.
The Economy And People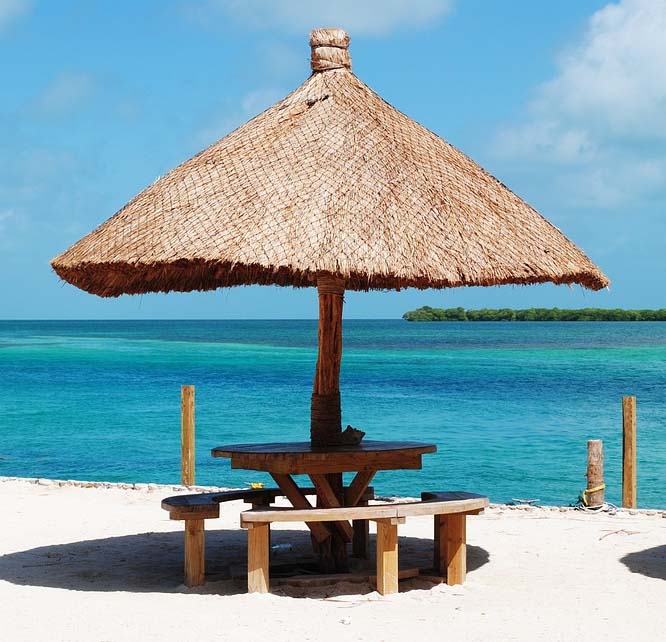 Today, tourism is the mainstay of the peninsula. The natural riches Belize enjoys makes scuba diving and snorkeling in the many marine reserves a spectacular experience. When Spanish explorers came to the area hundreds of years ago, they saw pristine beaches lined with coconut palms skirting the beauty and bounty of the barrier reef. They named the peninsula Punta Placencia ("pleasant point" in English). This description is equally suitable today.
Pirates holed up on the peninsula in 1629 using the shallow cuts through the barrier reef (the second largest in the world) to shelter from the Spanish and English navies' reprisals for harrying their merchant ships. In pre-Columbian times, there were more than 14 Maya settlements dotting the area around the peninsula, where the natives fished, traded, and produced salt for export across the Mayan world.
Modern colonization harks to a family of English puritans called Garbutt, who arrived via Nova Scotia in 1894 and were quickly followed by the Westbys, Eileys, Cabrals, and Leslies. These family names still dominate on the peninsula today, but the ethnicities on the peninsula are now vastly more diverse. Latino, Mestizo, Creole, Garifuna, Mennonite, East Indian, Chinese, and us gringos now spice up what originally was a very monocultural community.
The peninsula was devastated in 2001 by Hurricane Iris. Following the destruction left in its wake, many of the light wooden houses favored on the peninsula were rebuilt out of concrete for future security.
The Expat Community 
There is a small but significant expat group on the peninsula. In Placencia you find all sorts of expats to meet and socialize with. The majority of all new developments are bought by newcomers, and social outlets available to expats have been increasing. Most of the new construction in Placencia is for the foreign market and will continue to be so. There are many foreign-owned businesses on the peninsula, both large and small. In fact, most of the profits earned in Placencia are from foreign investments. Opportunities for real estate investment, small-scale development, and other service or supply opportunities still exist and will become more evident as the community grows.
More and more of those making their way to one of Belize's least-known corners are deciding to stick around. A small but significant expat group has formed on the peninsula. This eclectic group is welcoming, involved, and connected. Placencia expats participate in fund raisers for the Placencia Humane Society, the Rotary Club, and many other good causes with a local presence.
As I mentioned, my focus this past decade I've been a Belize expat has been Cayo… but I'm delighted to have discovered a new face of this country I'm so happy to call home.
Con Murphy
Belize Insider