A Foodie's Paradise…
Of course, it's hard to discuss activities in Mexico City without mentioning the Mexican food. Whether it's on the street, in a fancy restaurant, or at a local joint, it's hard to have a bad meal in Mexico City. To be sure, Mexican cuisine is diverse, and plates from all over the country find their way to the capital. In fact, for all its richness and diversity, traditional Mexican food has been declared an intangible UNESCO world treasure.
But a word to the wise: When the waiter brings different salsas to accompany your meal, try a small taste of the salsa before you slather your food with it—even if you think you've seen the salsa before. And if you get tired of eating Mexican food all the time, rest assured, the city has outstanding food from virtually everywhere in the world.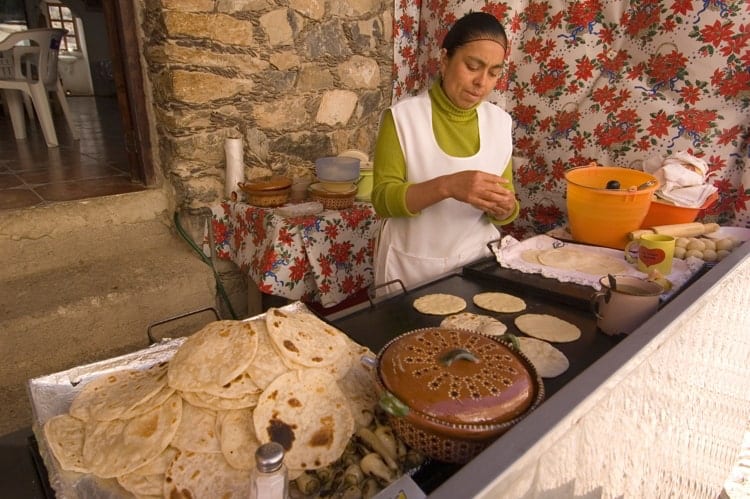 Eating street food in Mexico is a key part of the Mexican experience. You can find colorful food stands throughout the country. The food is cheap and absolutely delicious, often as good as what you will find in restaurants. The best part is that street food in Mexico is available at all hours—from breakfast right through until the small hours of the night.
Perhaps it's the surroundings, but familiar dishes like Tacos, Tamales, and Quesadillas just taste better in Mexico. Don't missthe soups either, especially if you've had too many tequilas the night before. There are a lot of different corn soups. A street food favorite is Pazole which is made with pork, vegetables, and chili.
People with a sweet tooth will enjoy the Paletas which is ice cream made with fresh fruit. Raspado, another popular desert, is shaved ice with flavored syrup and fresh fruit. It's super-sweet and very refreshing.
Here are some dishes to try on your Mexican adventure:
1. Pozole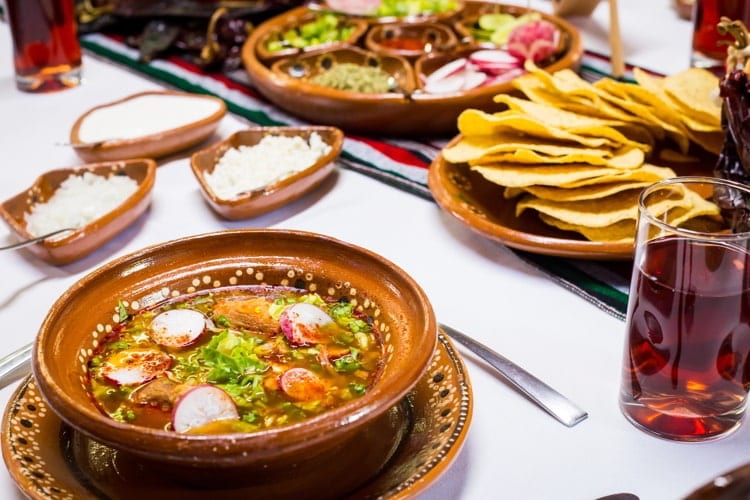 One of the main ingredients in Mexican cuisine is corn. It is even transformed into a traditional soup known as Pozole featuring a broth made from grains of corn commonly known as cacahuazintle. Depending on the location, chicken or beef will be added to the broth.
There are many different ways to prepare this dish, so you should try it in different parts of the country. There is greenpozolein the state of Guerrero and redpozole in Sonora, Sinaloa, Jalisco, Tlaxcala, Nayarit and Guanajuato.
This dish can be accompanied by many different sides, usually served at the table so you can choose what you wish. Some sides include finely sliced lettuce, chopped onion, cabbage, cream to taste, oregano, lemon juice, radish slices, avocado, fresh cheese, pork rinds, and chili sauce or powder.
2. Enchiladas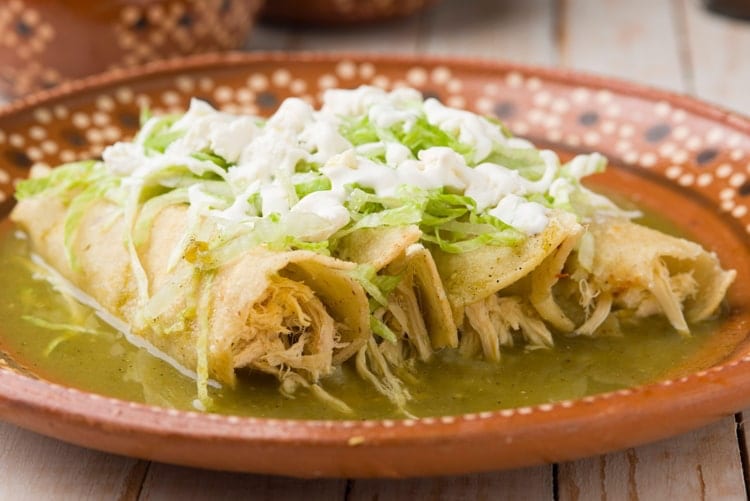 This dish is traditional Mexican food. It´s main ingredients are minced meat, beet, onion, parsley, garlic, thyme, chili pepper, green beans, carrots, cabbage, oregano, vinegar, tomato sauce, beef, chicken, or pork. It consists of a rolled corn tortilla bathed in spicy chili sauce.
3. Tamales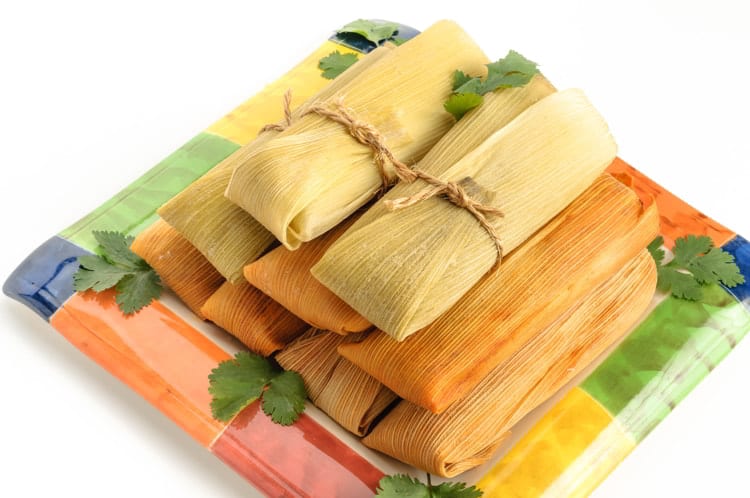 Tamales are prepared corn or rice dough stuffed with meat, vegetables, fruits, and sauces. They come wrapped in a plant leaf. The flavor can be sweet or salty. Tamales are found across different Latin American countries but it's been a part of Mexican culture for centuries. It is a part of their everyday life and usually very popular at celebrations or parties.
4. Escamoles and Chapulines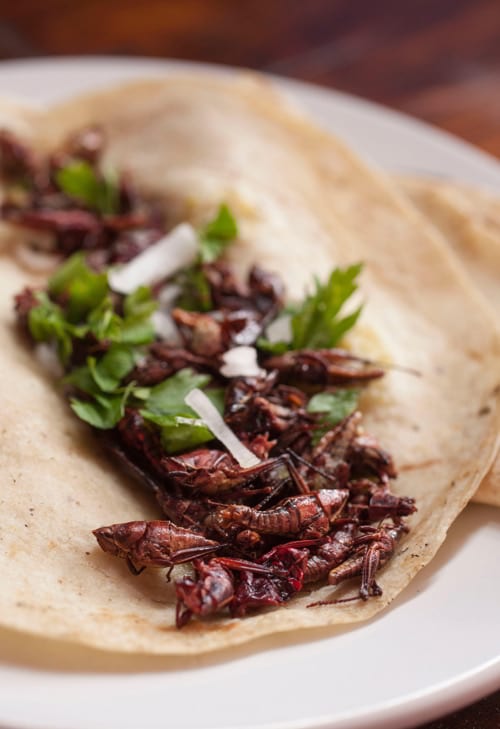 Escamoles, thelarvae of thegüijeraant, have been highly appreciated in Mexico since pre-Hispanic times as part of the daily diet. Today, they are considered a gourmet delicacy, seen as exotic food in states such as Guanajuato, Puebla de Zaragoza, Hidalgo, and Tlaxcala. They are also calledazcamolli, huigues, chiquereyesormaicitos.
Escamoles preparations include frying with butter and epazote, in mixiote, in mole, on the barbecue, with egg, or among many other stews.
Chapulineson the other hand are grasshoppers. They are specially bred to be consumed. Thechapulines are small, but they are nutritious, and can be equal to or more nutritious than beef, chicken or pork.
While 100 grams of beef contains between 54 to 57 percent protein, 100 grams of grasshoppers contain 62 to 75 percent protein.
Due to their popular and exotic flavor, different products use them such as sauces, sausages, snacks, and they are also used as complements in certain stews.
5. Tlayuda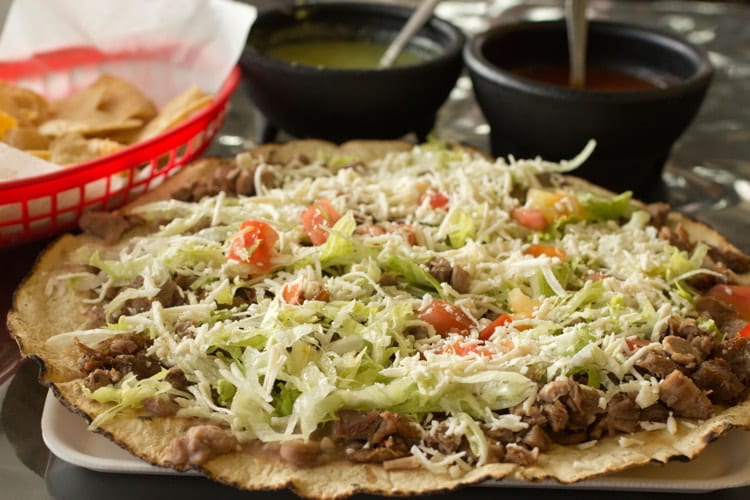 Thetlayuda, also known as clayuda, is a corn tortilla from the Mexican state of Oaxaca. It usually has a diameter of 30 centimeters or more and it is browned, which makes it harder than a conventional tortilla, with a brittle and leathery consistency. Due to the thickness and pre-cooking, they remain in good condition for long periods of time.Tlayuda are usually prepared with different ingredients such as ground and fried black beans, cabbage, pork jerky, pork chorizo, dried meat, quesillo, and spicy green or yellow chilis, as well as pasilla chili sauce.
6. Mole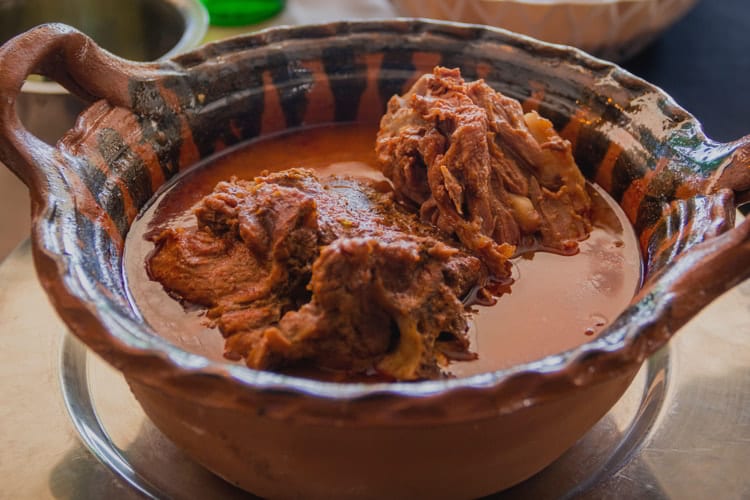 Moleis made of different kinds of highly seasoned Mexican sauces mainly based on chili peppers and spices, and which are thickened with corn dough, tortilla, or bread. The stew can also be prepared with meat or simply vegetable-based. Mole is of pre-Hispanic origin, and was used in ceremonies as an offering to the gods. Of the many variants of mole, the most popular is mole poblano, a dark mole from Puebla, but known throughout the country. Other moles are white mole, almond mole, Oaxacan mole, huaxmole, and manchamanteles.
7. Aguachile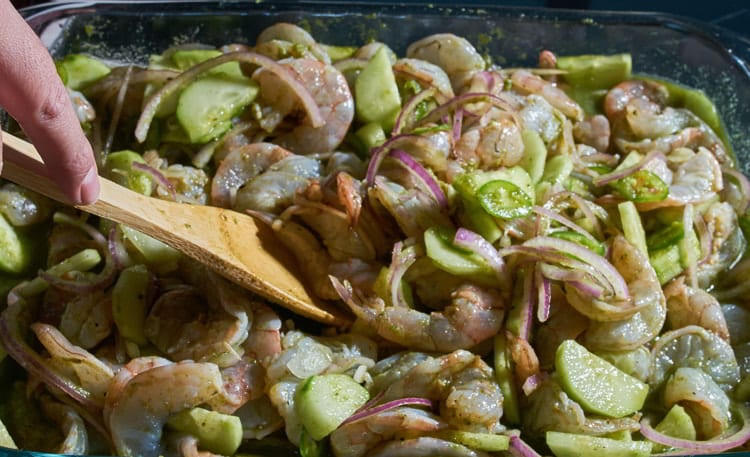 Aguachile(chili water) is a typical dish of the western coast of Mexico. It consists of shrimp, fresh or dried chili peppers, lemon, onion, and cucumber. In Sinaloa, the classic chile water consists of a bed of butterflied shrimp with salt and ground black pepper added to taste, then in a molcajete or a blender serrano chiles are crushed or blended with the juice of several lemons. The sauce is used to bathe the shrimp completely and marinate a bit. The classic and original aguachile is consumed fresh. Today the recipes vary, from which chilies are used (habaneros, chiltepines, jalapeños or Caribbean chilis) and now the lemon juice preparation is usually made with tomato juice and clams, Worcestershire sauce, or soy sauce and served with cucumber and onion. The most important thing about aguachile is that it is a fresh dish, and very spicy. It is usually accompanied with toast or crackers and a cold beer.
8. Aguas Frescas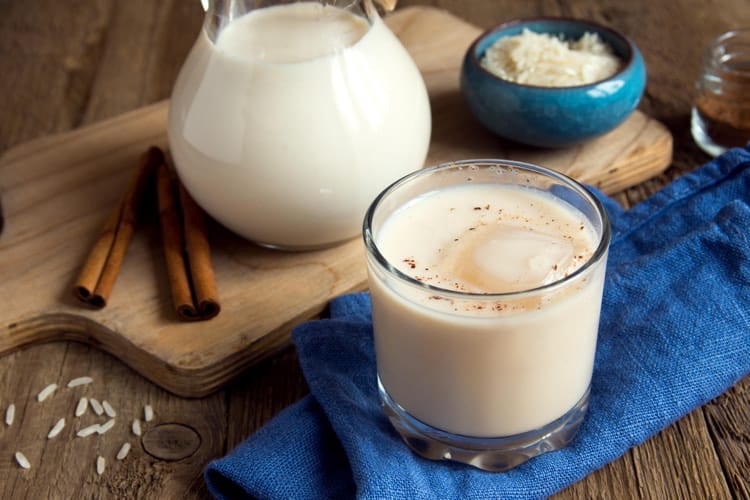 Aguas Frescasare different kinds of non-alcoholic beverages based on water, fruits or grains, and sugar. These concoctions are widely consumed with Mexican cuisine during lunch. The most popular fresh waters are Jamaica, lemon or lemonade, orange or orangeade, tamarind, and rice horchata.