I was wrong about Faro, Portugal.
Before I ever saw the city, I convinced myself it was boring.
My rationale?
It had an international airport, so I concluded it was overrun by mass tourism and should be avoided.
Not true at all, I discovered!
Yes, the tourists fly in, of course, but Faro has kept a strong Portuguese identity and its lively center, with a marina, jacaranda trees, and stately buildings, is a tonic for the eye.
The place has character and a keen sense of history. It's not a clone of anywhere else and the smart money, domestic and foreign, is arriving to boost the economy.
Until recently, an area to the west of Faro dubbed the Golden Triangle attracted most of the attention on this stretch of coast and foreigners with money tended to invest there.
The Golden Triangle is bounded by the resort town of Vilamoura, the gated communities of Vale do Lobo and Quinta do Lago, and finally, the village of Almancil.
Now, more real estate investment is coming into Faro itself and the city has a confident, expansive air. It's at its best in May, when the jacarandas are in bloom and the occasional stork scuds across the sky.
I have a soft spot for Faro because it was my home throughout two COVID-19 lockdowns. The city was deserted but the shoreline was alive and helped to keep me sane. I used to stroll down to the lagoon edge, close to the marina, and watch crabs scuttling over the mudflats or spoonbills flying in.
I can't view Faro as just any other city. But by any objective criteria, it's a fine town. As befits the capital of the Algarve, Faro has much to offer, from a medieval town center to a university, from excellent restaurants and cafés to live concerts.
Because it receives more than 3,000 hours of sunshine a year, Faro is often dubbed Europe's sunniest city. The climate is mild in the winter and rarely gets scorching hot in the summer.
The average annual temperature in Faro, Portugal, is around 64°F (18°C). Sea temperatures are often glorious, rising to 72 to 75°F (22 to 24°C) in August and September.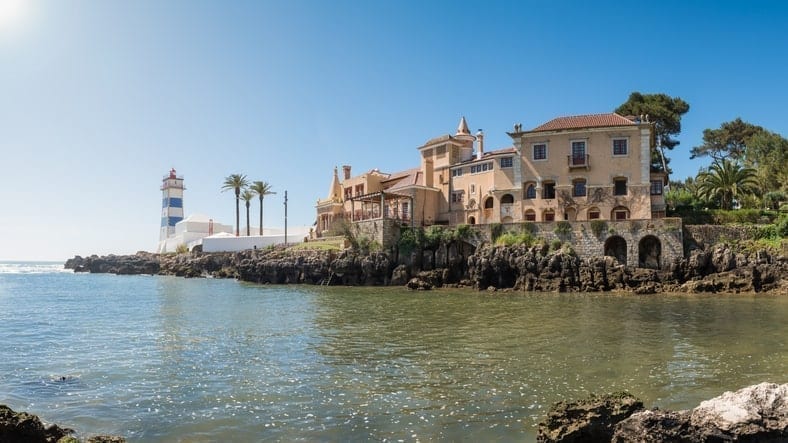 So, What Will Keep You Entertained Here…?
For starters, you can just soak up the atmosphere of this southern, sunny city. In Faro, you'll find storks nesting on the tops of churches, outdoor food markets with everything from Algarve honey to mangos, narrow cobbled alleyways and anarchic street art, even one mural dedicated to the pandemic.
The Old Town, within medieval walls, has a cathedral where you can climb up the tower for views over Faro, the coast, and nearby islands.
What makes Faro stand out, either as a home or as a travel destination, is the Ria Formosa natural park, an atmospheric stretch of coast which is one of Portugal's most important wetlands.
It starts just west of Faro and stretches for about 60 kilometers, up to Cacela Velha at the eastern end.
The Ria Formosa includes a long string of barrier islands that run parallel to the mainland, and the result of this topography has a great variety of habitats and exceptional biodiversity.
There are saltpans and marshes, lagoons, woods, and farmland. More than 300 species of birds, including waders ducks, and herons, have been sighted in this wetland, and in many places flamingos abound.
Get Your Free Portugal Report Today!
Simply enter your email address below and we'll send you our ​FREE REPORT — Portugal: The World's #1 Retirement Haven...
What To Enjoy …
From Faro, a variety of tours are on offer to explore the marine environment. There are boat trips to the Ilha da Barreta, also known as Desert Island, and to the island of Culatra. You can also sign up for a dolphin-watching tour.
One excellent option is to visit the Ludo Park, a wildlife reserve close to the perimeter fence of Faro airport. The park is a great introduction to the Ria Formosa, and I advise devoting a big chunk of a day to it.
Start early, ideally, to benefit from the cooler temperatures of the morning.
One signposted entrance to Ludo Park, for pedestrians and cyclists, is on the right side of the road to Faro Island, before the bridge that crosses to the island. It's a magical place to have so close to the city, and here you can often see flamingos feeding.
If you have in mind a much lazier sort of day, head for the Chelsea café in the pedestrian part of town. This busy establishment serves the best cheesecake in Faro.
The Algarve Regional Museum in central Faro is colorful and informative, and well worth a visit.
At the end of the day, one traditional destination in town is the rooftop terrace bar at the Hotel Faro, a favored spot to watch the sun set over the lagoon. Then, for later, there's always the nearby Columbus bar, a Faro institution famous for its cocktails.
If shopping is your bag, then Faro and the surrounding area has much to offer. Pride of place must go to the Mar Shopping Center, a 20-minute drive to the northwest of Faro on the road to Loulé. This has everything from IKEA to a cinema.
In Faro itself is the Forum Algarve shopping center, which contains an Auchan hypermarket. The municipal market in the town center has stalls selling a range of food, from fresh fish and octopus to local oranges.
You'll find English-speaking realtors, lawyers, and accountants working locally. Faro also has a good public library, with helpful assistants.
The Cost Of Living In Faro, Portugal
The cost of living is lower in Portugal than it is in the United States. Prices are rising faster than they have done in recent years, but this is an international phenomenon.
Wages are low in Portugal, so for a range of services from cleaning to gardening, you can expect to pay less than you would in many other European countries.
Portugal offers an extraordinary range of nationally produced wines at reasonable prices, and other local produce, such as oysters, are available at a comparatively modest cost.
Train fares are low, particularly for senior citizens: passengers over 65 who can show an ID travel half-price. An Algarve train line runs from Vila Real de Santo António on the border with Spain to Lagos in the west.
Typical monthly rent for a two-bedroom apartment here will be in the range of 800 to 900 euros.
If you're looking to buy a home in Faro, a budget of 500,000 euros would buy a three or four-bedroom house. A two-bedroom apartment in the city costs about 250,000 euros.
Buying Real Estate In Faro, Portugal
There are no restrictions on foreigners buying property in Portugal, and the Algarve has plenty of English-speaking realtors and lawyers to help with the process.
My experience when I bought a house in the eastern Algarve last year was that transaction costs amounted to 7% of the purchase price: 6% went on government property taxes and other fees, while a lawyer took 1%.
Hiring a lawyer was a personal choice, not a legal necessity
Health Care In Faro, Portugal
Portugal has a tax-funded public health care system, the Serviço Nacional de Saude (SNS).
Most essential medical services are free of charge. Patients need to cover a percentage of medicine costs at the pharmacy. The SNS does not generally cover dental care.
Private health insurance is also available in Portugal, with costs varying from several hundred euros a year to thousands.
Faro, Portugal, has both a state hospital, the Geral Hospital de Faro, and a private hospital, the Hospital Particular do Algarve, in Gambelas.
Doctors in the Algarve often speak English.
Overall, Faro offers an attractive combination that appeals to many. On the one hand, it has all the amenities of a small city and then right on the doorstep are the beautiful wetlands of the Ria Formosa. Its international airport makes it an easy destination for visiting friends and family.
Sincerely,
Stephen Powell
Portugal Letter Contributor