We've named Portugal's Algarve region the World's #1 Best Place To Retire Overseas for nine years running.
And we stand by that claim, of course.
However, we also realize that it isn't as helpful a recommendation as we'd like it to be.
You see, when it comes to choosing the right place for you to retire overseas, you've got to "thin-slice" your options.
Thanks in large part to our coverage, the Algarve is now well-known to North Americans.
All this popularity has led to important infrastructural developments and improved amenities, but it's also had the effect of driving up prices.
That is to say, this region is no longer the same budget destination that it was nearly a decade ago when we first recommended it.
At least not region-wide.
However, one corner of the Algarve in particular has held firmly to its authenticity, both in terms of its culture and way of life… and its low cost of living.
I'm Speaking Of Tavira…
An attractive little fishing town with all the traditional trappings of the Algarve. From its lazy river and white-washed buildings to its lacework chimney pots and azulejo tiles, Tavira charmed me from the first time I wandered it cobblestoned streets.
Known as the "Venice of the Algarve," the town unfolds along both sides of the River Gilão. Flanked by Renaissance architecture and connected by an old Roman bridge, the riverfront, with its promenades, swaying palms, open-air cafés, and restaurants serving the day's catch, casts a romantic air about Tavira.
The town is situated along Ria Formosa Natural Park, a remarkable area made up of lagoons and sandbanks, canals and islands. The protected status of the park means that Tavira's beaches have been unmarred by development and remain the most naturally beautiful in the region.
Tavira Island, just offshore, features three perfect, golden-sand beaches and clear turquoise waters.
Marie Moore, one of our top on-the-ground expat correspondents in the Algarve (and a key speaker during this week's Live and Invest in Portugal Virtual Conference), recently wrote a full report on this town, which we have named as our #1 Place To Live In Portugal.
And, as we consider Portugal the number-one place to live in the world, period… well, you get the point.
Tavira is less expensive than the Algarve's brand-name towns like Lagos and Carvoeiro.
Who Should Come To Tavira?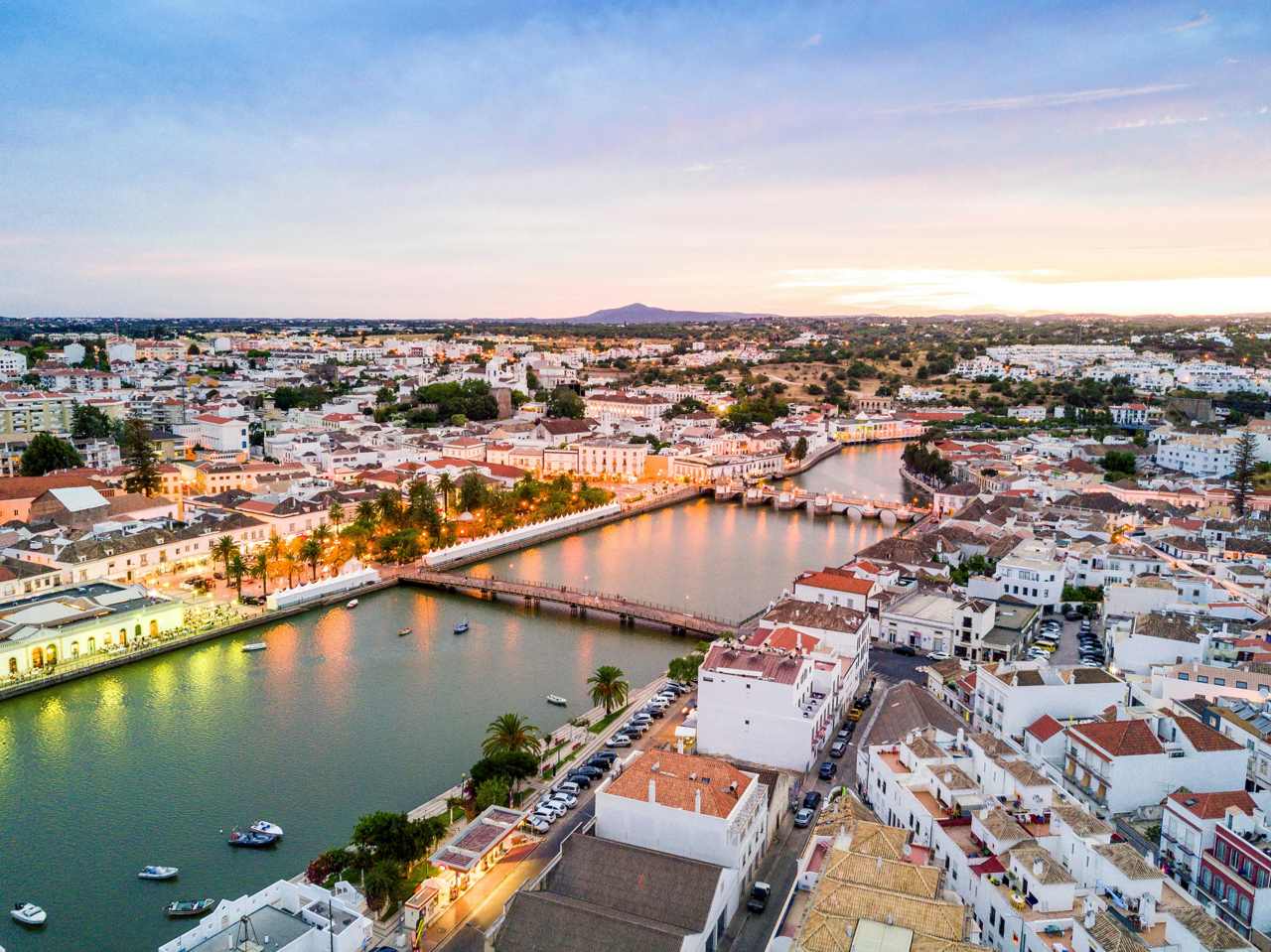 If you enjoy a fast-paced lifestyle surrounded by thumping nightlife, neon lights, crowded streets, and noisy traffic… this is not your next home. Tavira is a place for people who enjoy simple pleasures like taking leisurely walks in a picturesque environment, discovering the idiosyncrasies of local culture, and perusing local shops and markets.
It's also a place for adventurers…
From Tavira, you can drive to the edge of the Old World in three hours or be in the country next door in 30 minutes… or you can travel to the northern tip of Africa in less than a day, including the ferry trip. And the continental capitals of Europe are all within easy reach from Tavira by car, rail, or inexpensive flight.
Some of the unique perks of living in Tavira are the free concerts in Republica Square, attending Dancing for Seniors in the old market, and counting the turtles in Fontaine aux Tortues. There's nothing better than a scoop of local gelato on a hot sunny day or sampling ambrosia at an outdoor wine fair.
If you're looking for the opportunity to relax on beautiful sandy beaches, eat delicious food at affordable prices, and meet people from all over the world while living in a safe, fun, friendly town… you'll love Tavira.
Again, Portugal and its Algarve region continue to offer everything the would-be retiree could want: lots of sunny and warm days, welcoming (and English-speaking) locals, top-notch medical facilities, an affordable cost of living for a high quality of life, and a rich and fun lifestyle near the water.
Tavira, though, remains both authentically Portuguese and extremely affordable, with a budget starting as low as US$1,084 a month…
It also features unique beaches, an architecturally stunning town center, an embellished riverfront promenade, diverse dining options, proximity to an important national park, and a welcoming expat community…
But there's much more to know about the winner of our award for the "Best Place To Retire Overseas"…
And, of course, no place on Earth is perfect—fortunately, we have you covered on every single aspect you need to consider Tavira as the place for you… including the challenges.
As I mentioned, Marie Moore is one of our top experts in this part of the world. Marie recently covered Tavira end-to-end with a fully illustrated insider's report and an hour-long VIP video webinar.
This is the sort of intel you can't find anywhere else… and we're making it available with our compliments for some Live and Invest Overseas readers.
Go here now for details on how you can access our complete Tavira Discovery Package free.
Sincerely,



Kathleen Peddicord
Founding Publisher, Overseas Opportunity Letter