Larnaca, Cyprus, is known for its seafront. It's got the sand, sea, and palm trees…
The climate is ideal—warm but not too humid with a constant sea breeze…
The sky is sunny more than 300 days a year in this land that boasts Europe's longest summer…
As a result, travelers from across Europe, Asia, and Africa have long sought out these shores for relaxation and escape.
Take a short walk from buzzing Mackenzie Beach, where all the tourists gather, and you'll reach the Turkish Quarter.
This Old World heart of the original city is a scene from "Zorba The Greek". Centuries-old structures are given over to artisans' shops and cafés.
The main attraction is the ninth-century Church of St. Lazarus, containing the tomb of the saint said to have risen from the dead.
However, despite the ancient history still visible throughout this city, our contacts in Cyprus assure us that Larnaca is this island's future.
How Larnaca Will Transform Cyprus
The long-held vision to engineer what will be the biggest development project in all southern Europe—recreating Larnaca's beachfront into a first-class luxury destination—has been 15 years in the making.
In other words, the enormous do-over now underway along Larnaca's coast will transform it.
This calls for the redevelopment of a 12-kilometer stretch, starting at the international airport, to include a promenade with cafés, restaurants, shops, hotels, a theme park, a casino, a marina, and cruise ports.
Meanwhile, you'll be able to arrive at the airport and instantly access what will be one of the world's leading high-end destinations.
Pay Attention To Larnaca Today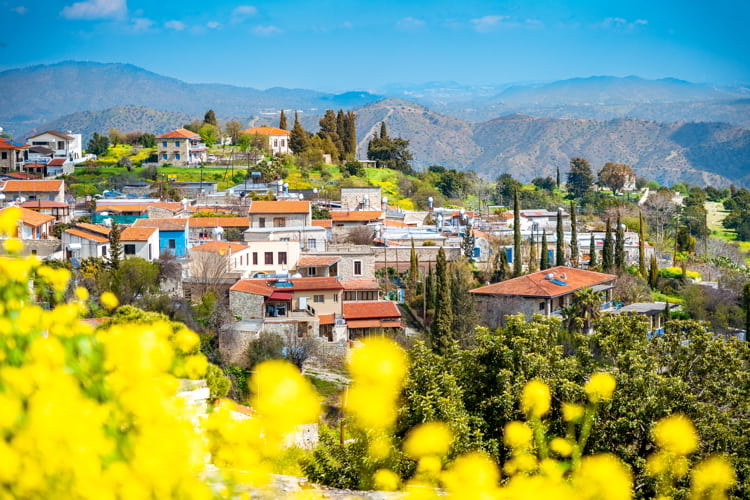 Most importantly, right now prices in Larnaca are pre-development. But, this time next year will be a different story.
After that, let's say three… five… seven years from now? The value appreciation potential is enormous.
One specific opportunity we've identified here is a unique eco-responsible residential community…
Five-Star Luxury In Cyprus
Located in the little town of Perivolia, just south of Larnaca's airport, this community feels a world away from the bigger city.
About 15 minutes from Larnaca, you get the best of both worlds at your fingertips—modern conveniences mere steps away from your personal nature retreat. Nicosia, the capital, is just under an hour away.
This first-of its-kind development in Cyprus blends traditional and modern lifestyles, offering five-star luxury nestled within a cocoon of sustainable nature.
So, the name Perivolia itself derives from the Greek, meaning abundant gardens, rich, fertile soil, and productive trees—a fitting name for this agriculturally-minded development's location.
The location of the community makes use of Larnaca's coastal plains, sloping gently to the sea.
And, the development's four-kilometer private beach is just meters away from the front doors of these homes.
Productive Land In Cyprus
The eco-project makes use of more than just the coast and sea, though—it leverages the area's other geographical assets, too… namely, the fertile soil and productive land.
Most importantly, each homeowner in this innovative development buys not just a home, but the potential for self-sufficiency.
When you purchase a house here, you also purchase a stake in the community's agricultural plot (727 square meters out of 5,815 square meters).
For instance, the tract will provide all necessary produce for its community, from fruits and vegetables to condiments and herbs, including:
• Grape vines
• Lemon
• Orange
• Tangerine
• Fig
• Pomegranate
• Olive
• Artichoke
• Eggplant
• Beans
• Peppers
• Chili peppers
• Pumpkins
• Cucumber
• Black eyed beans
• Watermelon
• Melon
• Onions
• Tomatoes
• Okra
• Spinach
• Cabbage
• Lettuce
• Mint
• Parsley
• Roquette
• Oregano
• Thyme
What Your Life In Larnaca Could Be Like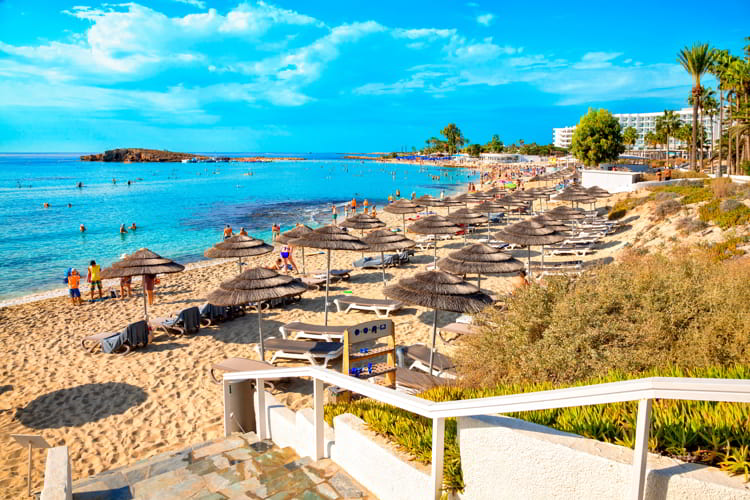 The lifestyle of this project can't be pigeonholed… it's eco responsible, it's self-sufficient, it's coastal, it's city, it's rural…
Also, it's small-town. Perivolia, the nearest town to the project, could aptly be called a village—this walkable, easy-to-navigate little hamlet is friendly and welcoming.
It offers everything you need at just a few minutes' walk from your home, including banks, supermarkets, pharmacies, boutiques, bus stops, and everything you need for everyday life.
Living here, you won't be the first to settle on this spot for relaxation—it was a one-time retreat for ancient kings and nobles.
Plus, legend has it that a local tower ruin, the Tower of Regina dating to the Venetian Occupation, was frequented by a mythical queen of Cyprus, Regina (meaning queen), who was said to have bathed here with Aphrodite.
Some say the tower was connected to nearby baths—a favorite of hers—by underground tunnels, which she traversed in a golden carriage.
Today, the situation is just an enviable, with gorgeous, sandy beaches and some of the most stunning sunrises on the island, according to locals.
The sun rising tranquilly from across the calm waters of Larnaca Bay is a daily panacea for the soul.
It's a great place to locate yourself for enjoying the great outdoors, too, with unparalleled opportunities for pretty strolls, swimming, biking, fishing, picnicking, hosting barbecues, and simply enjoying the view and everything the landscape has to offer.
The community also plans a beautiful barbecue area (along with a common green space and playground for kids)—a requisite in Cyprus. Barbecue is an integral part of Cypriot culture and a staple of any holiday or Sunday.
Spit roasts and souvlaki are mainstays of the local cuisine, and are best enjoyed in the barbecue setting, surrounded by family and friends.
A Growing Expat Community In Larnaca
You'll have plenty of chances to share the setting with your newly made friends—be they the friendly and welcoming locals or your fellow expats. Not many Americans live here yet, but you'll find plenty of foreigners…
Close to 110,000 (out of 1.2 million) foreign residents live on Cyprus. And, the largest groups being Greek, British, Romanian, and Bulgarian.
It's not just the community as a whole that aims to be eco-responsible, either—each home here is state of the art. Above all, the energy-efficient building concept makes use of a powerful, insulated thermal shell that reduces the need for heating or cooling.
Each 165-square-meter house is as efficient as it gets, earning A grades, according to European energy standards.
A three-bedroom, three-bathroom home comes equipped with solar panels, double-glazed windows, a thermal and water insulated roof, and high-insulation walls.
Most importantly, the construction is also up to relevant earthquake codes.
Interior flooring is either wood parquet or marble, as you prefer, with non-slip marble on the veranda; the pool can be surrounded by tiles or wooden decking. Automated systems for lighting and audio are available. Under-floor heating systems and a central air conditioning system are in each home.
Green Living On The Sparkling Blue Med
Natural light is maximized through the house design, and artificial lighting is all low-consumption, and automated lights are installed where appropriate.
For example, water consumption is minimized with the help of regulators on taps that optimize usage. Neighborhood composting will reduce organic waste.
Along with the community agricultural land, you'll also have a small plot of land all your own, as each home sits on a 500 square meter lot.
As well as the interior space, you'll have a two-car garage and an outdoor pool, and the landscaping that comes with each home is sustainable, with minimal impacts on the endemic environment.
In conclusion, Larnaca is part of the sustainable future of Cyprus.
Bonne route,



Kat Kalashian
Editor, In Focus: Europe