For the months leading up to our vacation in Sicily, my husband and I asked everyone we knew if they had been and what we should do there. All we heard was "It's my favorite place on Earth!" and "We plan to retire there, we love it so much!"
For our part, we know we love Italy—for me it's a close second to France—and we knew we wanted a real Mediterranean experience for our first abroad summer vacation since before COVID-19. Those criteria left us deciding between Sicily and Sardinia. The choice between the two was made for us by our friends, another couple with a daughter a few months younger than ours, who had already planned to visit. We piggybacked on their plans and took our first multi-family vacation.
Italy holds a special place in my heart. It's as if in another life I was Italian… I relish everything about it and its culture. When everyone else on the trip tires of pasta and pizza, I'm ordering seconds. I'm by no means fluent in Italian, but I love trying to speak it, mistakes be damned. Italian operas, wine, olives, and fashion… I can't get enough.
However… Sicily didn't steal my heart in the way it made off with so many others… and I felt nothing of the affinity there that I have for the mainland.
Italy is not a homogenous country. I've always known this, both historically and in the way the country operates now, but Sicily really feels a world away from any Italy I've experienced before now.
The easiest description of Sicily I can think of is that it's the most Latin American-feeling place I've ever visited in Europe. Greece also feels Latin, especially Athens, with its sweltering heat and ill-maintained streets and facades… but much of that feeling is limited to the capital. Once you get beyond Athens, you do start to "feel Europe" again.
Sicily, on the other hand, is uniform. We stayed in several cities, crisscrossed the country by car and train, and spent time in small towns as well as the biggest cities, and never did I get a sense of a more typically European-feeling culture. (With the notable exception of Ortygia in Syracuse—this old town was by far my favorite part of the island.)
What exactly do I mean by European versus Latin American culture? It's hard to define, but impossible to deny when you're in one or the other… I'll try to give a few bullet points that illustrate what I'm talking about:
In Europe…
You rarely see litter on the ground, and certainly never come across overflowing dumpsters or garbage piles in the middle of a city.
Streets and sidewalks are well maintained—you don't expect cracks or potholes, and when they come up, they are swiftly repaired.
Buildings and facades in cities and many towns are strictly regulated, meaning they must be regularly cleaned and painted (according to the local style).
Green spaces are typically abundant, as local governments have put a premium on providing them in their domains. They usually offer amenities, like playgrounds, picnic tables, grills, and fitness equipment.
There tend to be lots of rules and paperwork involved in just about everything. Their enforcement is another story, but they exist and you must comply… just in case someone checks. The general feeling is uptight rather than easygoing.
It's colder. Most of Europe sees some kind of winter, even if its relatively mild. Architecture is therefore designed for people to stay indoors most of the year.
Markets and street vendors are (thanks to all those regulations I mentioned) limited in their scope. You have your food markets in designated areas, opening on a schedule… you have occasional flea markets that take over a few streets (with permits) but most are confined to specific areas… and then there are the non-legals selling knock off purses, watches, and trinkets for kids—these lay out blankets on sidewalks that they can easily bundle up and walk away with if a cop comes.
Trash is a common sight… on the ground, in the rivers, in the jungle, on the beaches, along the highways… And it's not just a little piece here and there, you'll often come across big piles of trash or overloaded dumpsters rotting in the heat.
Streets and sidewalks are not maintained in any regular way, so you need to watch your step and drive carefully.
Building facades tend to crumble… plaster cracks, peeling and faded paint, broken cornices, rusty railings, and uneven rooves patched over in different materials… these are all more common than not.
Green spaces can be hit and miss. Some cities do a good job of providing residents with parks, but they are typically a recent idea. This means that parks are often at the edges of town instead of sprinkled throughout. And many parks in Latin America are part of large nature reserves rather than planned as being a place for residents to enjoy nature on their own street—even if you can access them from the city, there's often a fee to enter and they are a little more overwhelming than a corner garden would be.
The heat and sun create a languor that permeates a population going centuries back, hence the infamous "mañana attitude." There's a laidback quality to all countries nearer the equator.
Thanks to this regional heat, Latin American architecture is predicated on air flow, shade, and outdoor living space.
In any lively Latin American city, you'll come across an active street vendor culture for anything under the sun. Produce, media, clothes, jewelry, fake passports, toys, toiletries… you name it, and you can buy it on the street if you know where to go—or even if you don't, these guys don't make themselves hard to find!
These are all generalities laid out bluntly to try to paint a picture of the biggest differences I see between the lifestyles on these respective continents. No, they are not categorically accurate in all cases, but, for the most part, they hold true.
The Cause Of These Differences
The Economy

And, of course, it comes down to economics—richer countries have better infrastructure and developing countries haven't had the funds for it. It also comes down to what a culture values and where they put their money when they have it. Europe, for better or worse, values appearances. Call me superficial, but I do, too. Europe tends to pour money into amenities, social comforts, and presentation.
Climate
The other big cultural difference stems from the climate differences. Whether in architecture, city planning, or the mentality of a people, weather matters. When it's 100+ degrees every day, you cease to care about your makeup, hairdo, and the wrinkles in your clothes. Men going topless is a common sight whether you're at the beach or on a city street… and why not? Kids run naked and barefoot, hopping in and out of fountains. Usually stylish women droop and don't notice sweat stains.
These things are considered undignified at best—disgraceful and shameful at worst—in non-Mediterranean Europe. But when you're all roasting under the same tyrannical sun, who cares about flouting decorum?
In Sicily, all the Latin bullets are checked off… in most cases, the streets I walked and drove down could just as easily have been in Panama, Peru, or Colombia.
It doesn't feel like Europe to me, and, as Sicily is fond of saying, "Sicily is not Italy," but if a beach lifestyle in Europe is what you're looking for, this might be one of the best. The water here is warm and welcoming, the cost of living is super low, and the pace of life is slow and syrupy.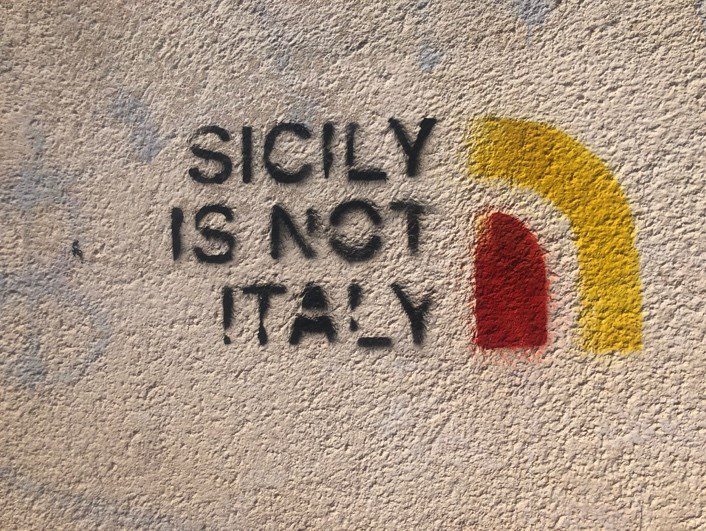 Who Should Go To Sicily?
The Sicilian lifestyle isn't for me, but I can see its appeal clearly. It feels un-European while still being in Europe. It's exotic, but still Italian.
And, of course, the beaches… it's impossible not to appreciate the glittering Mediterranean waters and the dramatic, rocky coastline… or the delectable fruits of the sea that are served at every indulgent meal.
If you're looking for a more easygoing, casual form of Europe, Sicily is it.
Kat Kalashian
Editor, In Focus: Europe