When people talk about Panama, the first things you'll probably hear (or read) will be on favorable taxes, great shopping, the canal, amazing beaches and wildlife, the inexpensive cost of living, how hot and humid it is, and even how much it rains.
But what people sometimes miss is that Panama is a treat for the food enthusiast. And Panama is actually working towards turning itself from not only the Hub of the Americas, but into the Food Hub of the Americas.
You can find nearly every type of dish here. There are Brazilian, Argentinian, Japanese, Mexican, Venezuelan, Colombian, Peruvian, Indian specialized venues, and even your classic style U.S. diners.
But today, I want to focus on the national options. Panama by itself has a world of different (and extremely affordable) dishes, drinks, and sweets, making this list as difficult to put together as you could imagine. But here's my honest try on the total musts to try if you happen to be on this side of the Isthmus (In no particular order. Rating them would prove even harder!)
Guacho de Mariscos (Seafood Guacho)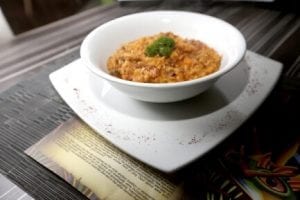 A local favorite. It's basically a kind of thick rice soup with yams, yucca, mixed vegetables and mixed seafood. It can also be served with beef instead of seafood, but the first choice is the most popular. Guacho is sometimes served in a totuma, a deep plate made from the carcass of a fruit named calabash, though this is seen only deep in the region.
You can find this dish in almost any Panamanian restaurant in town. We recommend checking out venues around Via Argentina, in El Cangrejo, or in Maito, a Panamanian restaurant from renowned national chef Mario Castrellón.
Ceviche del Mercado de Mariscos (Ceviche from the Seafood Market)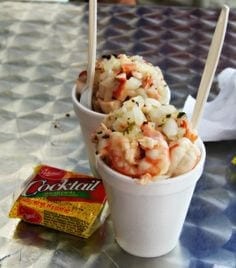 A Panamanian classic. If you come to Panama, a visit to the Mercado de Mariscos, or Seafood Market, should be a must. In most stalls here, you can find ceviche cocktails for as little as $2,5. A steal for first-class ceviche. Here, the fish comes directly from the fishermen to the restaurants nearby, making sure freshness is as high as possible. The local favorite is the Ceviche Corvina, or Seabass Ceviche, sometimes served on top of crackers or fried plantains.
On the flipside, the market can have that signature dock smell from time to time. Also, the place is really popular and informal. So have this in mind if you're a first timer!
Still, it is a pleasant experience to take a walk to the market all the way from the Cinta Costera, enjoying all the sounds and views of the marinas, docks, and nearby parks. The Cinta Costera is a massive, world class pedestrian beltway that ends right there on the market. The majority of food stalls count with people that can manage English if you struggle with your Spanish, so don't worry about the language barrier. Personally, I tend to order to go and enjoy the ceviche with a good walk, but you can stay and admire the view with a good beer to accompany your cocktail (Panama beer is a prime example.)
If Peru is the number one ceviche destination, Panama can be regarded as the definite number 2, though they rely on tangier, sourer flavors, in contrast with the Peruvian spice.
Ropa Vieja y Arroz con Coco (Shredded Beef and Coconut Rice)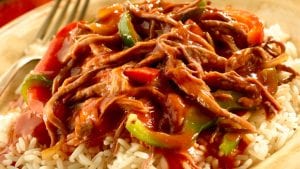 This is a personal favorite. The contrast of flavors is simply amazing. It's spiced up shredded meat (popularly beef, but if you are lucky, you can find deer), on top of rice. This rice, called arroz con coco, translates to rice with coconut.
The rice, instead of being cooked in normal water, is cooked in coconut milk, giving it a more thick, and sweet finish. This combination can be paired with fried plantains as a side.
It is to be noted that fried plantains or tostones are the default side dish to almost any Panamanian and non-Panamanian main course.
This classic dish is one I highly recommend trying, even if you have to make it at home.
Sancocho (Stew)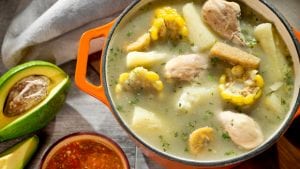 Also known as Sancocho de Patio (Yard Stew), it is one of the most traditional meals is Panama. It's a chicken broth mixed with yams, cilantro, and other species and vegetables, with a side of white rice. It happens to be closely familiar to the Guacho, but in this case, the rice is not cooked with the broth.
Panamanians will often swear by the healing powers of sancocho, which is said to cure even the most terrible of hangovers. You will find everyone eating the typical dish, from Panama's working class to the elite. As many can attest, where there is a kitchen, there is sure to be a pot of sancocho on simmer.
Bienmesabe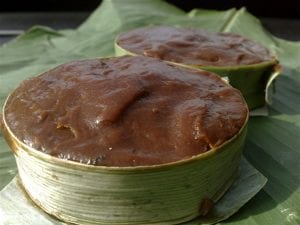 Not a dish per se, but a great dessert instead. Bienmesabe would translate to something like "tastes good to me" in English.
The dessert is of Spanish-Gipsy origin, but has become a big hit in the Hub of the Americas.
It is a Panamanian staple that is a must for foreigner visitors and returning Panamanians.
It is said that one of the best places to have a taste of this delicacy is in the Panamanian restaurant, Trapiche. This popular, traditional restaurant is located in the heart of Panama City's El Cangrejo area, along Via Argentina.
The primary ingredients of this dish are almonds (ground), egg yolks, and honey. It's elaborated with milk and as no big surprise, rice.
Arroz con Guandú y Pollo Guisado (Rice and Beans with Chicken)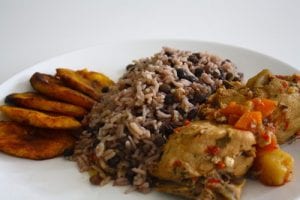 A trip to Panama wouldn't be complete without having a taste of the most popular dish from this country. Rice and beans with chicken, it may sound simple, but when done right, it is a welcome sight to any Panamanian.
You won't find a food that is more of a staple in the county. It is served in the most humble to the most wealthy households.
Tip: Many people accompany their meal with small, fried ripe plantains, which help to add a little sweetness.
Pargo frito (Fried Red Snapper)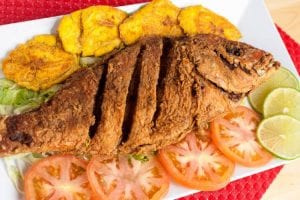 Pargo frito is the perfect meal to accompany your ceviche, especially when enjoyed along Panama City's Cinta Costera. If you are more of a beach person, you are in even better luck, as this meal can be found in almost every beach restaurant you come upon.
The dish features a whole, deep-fried Red Snapper, served as fresh as possible. And when you are a small country nearly surrounded by water, it's hard not to have some of the freshest catch the world over.
The meal usually comes accompanied once again with the trademark tostones (twice fried plantain slices) or papas fritas (french fries), and a selection of different sauces to choose from. Many restaurants will also include cut lemons and tomatoes to give the fish a little bit of citrus flavor.
If you are a bit squeamish when it comes to seafood, especially when fried whole, this might take some getting used to, but believe me, once you have a taste you will be sold. This is one dish you will want to have to top off any beach holiday.
Sao (Saus)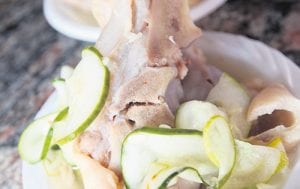 This dish is 100% Panamanian. It is often considered the alternative to ceviche, and one that is made for an eccentric and exotic palate.
Sao is essentially a ceviche made from pork feet instead of seafood.
Yeah. I know.
The dish is found in many local spots across Panama. It comes from the regional low working class, the class that couldn't get a hold of proper ceviche, and instead opted for this dish, making it some kind of poor man's ceviche. It is a kind of love it or hate it cocktail, mostly boasted up by the "ick" factor. But if you can get past it, you may find yourself hooked to the unique taste it has to offer.
Admittedly, it is not a plate for everyone's tastes, however, those who love it, love it absolutely.
Carimañolas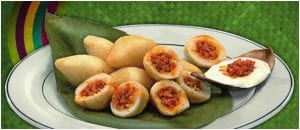 The carimañola has won the hearts of nationals and immigrants all over the land.
It's a deep-fried (yes, deep-fried food is as Panamanian as the canal) yucca pastry, with a filling of ground meat and cheese. It's small (no more than 1 inch), and it's extremely improbable to say no to the next one.
Panamanians tend to eat it as breakfast or as an appetizer. You'll find many restaurants with a good selection of this delectable dish at around US$2.
Tamal de Olla (Pot Tamal)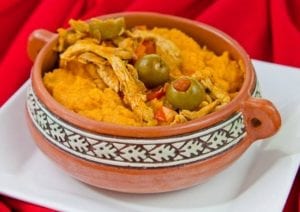 The récipe for Tamal de Olla varies from country to country in Latin America.
Panama's rectangular Tamal uses a salty and sweet mix of olives, meat or chicken, peppers, capers, and olives, to give it its unique taste. It is often cooked wrapped in a bijao, banana, or plantain leaf, boiled in a water filled pan, and devoured in a fraction of the time it takes to prepare.
It is usually served for Christmas occasions, like Venezuela's Hallaca.
If you aren't able to make it down to Panama for the holidays, you can do a quick Google search and find some pretty good recipes.
Limiting Panamanian dishes to a "top 10" was a pretty hard decision, having so many options to choose from, I couldn't help but yearn for those bites that just missed the cut. So, in case you were wondering, here are just a few of my runner-ups that could have made the list:
Chicheme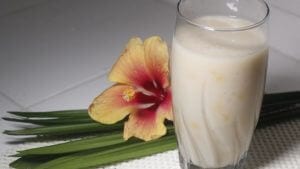 Chicheme is  actually a sweet drink made from milk and corn, served ice-cold, and it is great to accompany a "light" breakfast.
It is filling, but refreshing, simple, but sweetly complex. This is "dish" with some flexibility, allowing you to add a pinch of any little spices that might make it a little more to your taste.
The best chicheme is said to be brewed in Chorrera, near Panama City. The drink can cost as low as US$0.50 depending on where you look.
No Me Olvides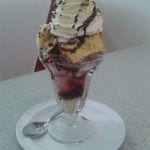 It's a Panamanian registered trademark dessert. The dessert is a massive ice cream cup with a biscuit layer, vanilla ice cream, chantilly whipped cream, and "Grandma's secret recipe" sauce.
This is La Inmaculada restaurant's (a chain in Panama that brings a 50s style diner feel) best kept secret. The dish sells at around US$6 dollars, but it is probably worth double that.
It is a perfect way to top off any meal.
And a perfect way to top off this list!
If you have a personal favorite you want to share, feel free to comment.