Durango is my favorite spot for full-time city living in Mexico.
In fact, I consider this city my most exciting personal find of the past few years. You might find that surprising as you've likely never heard Durango mentioned as an expat destination.
That's because it's not an expat destination.
Durango is a large, sophisticated city––with great weather and a high standard of living––that's still relatively undiscovered by the expat forces.
If there's such a thing as the "real, unadulterated Mexico," Durango is it.
You May Not Have Been To Durango, But You've Seen It Dozens Of Times
Nestled in a valley high in Mexico's western Sierra Madre range, Durango's surroundings look like what we think of as the Old West. Properly called Victoria de Durango, Durango is the capital of the state that bears the same name.
More than 140 Hollywood movies have been filmed in the mountains, valleys, and deserts surrounding Durango. These include classic Westerns featuring the likes of John Wayne, Burt Lancaster, Kirk Douglas, and Maureen O'Hara.
A handful of those old movie sets are still standing. Some remain movie sets… some are destinations for tour companies… while others—such as John Wayne's personal set—were occupied by former workers and their families and have become real towns.
I found Durango to be a bustling, modern city, situated in a Western mountain setting. It offers clean, well-kept streets, good infrastructure, a thriving central market, and amazing architecture more reminiscent of Europe than Hispanic America. The newly-constructed, pedestrian-only areas are filled with cafés, shops, and clubs.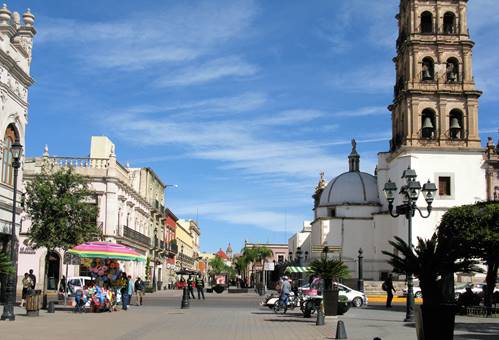 The occasional cowboys on the street give the town a Wild West feel, as they are typically dressed like their West Texas counterparts 600 miles to the north.
The weather in Durango is great. The coldest months of the year (December and January) have an average high temperature of 69°F (20.5°C). During the hottest months of May and June, the highs average 86.5°F (30.2°C). Overnight lows are always below 60°F (15.5°C), so I'd be fine with no air conditioning. Humidity levels are low, and rainfall is about 20 inches (529 mm).
The skies are almost always clear and deep blue.
The New Highway Is Bringing Economic Benefits To Durango
In 2013, the Mexican government completed a new superhighway between Mazatlán and Durango. This was a huge project, which involved the construction of 115 bridges and 60 tunnels.
The highway makes truck traffic possible via a direct link between the port of Mazatlán and Durango. Trucks from the port can also continue on to Monterrey and Texas.
More important––from the perspective of the real estate investor––the highway has allowed Mazatlán to become a weekend destination for people in Durango and beyond. The effect on Mazatlán has been dramatic.
But the highway has also affected the Durango market and has allowed Durango to become a weekend destination for people living around Mazatlán. People are coming to escape the summertime heat on the coast and to use it as a base for active tourism in the surrounding area… an area that offers tall pine forests, canyons, mountains, and deserts, as well as the most northerly ancient pyramids in the Americas.
The Pros And Cons Of Buying In Durango
I realize that we're all looking for something different in an overseas lifestyle or real estate market. But here's what I see as Durango's advantages:
Almost no foreigners. This means no gringo pricing, no gringo stereotypes, and no foreign domination of the local culture and real estate market.
It's clean and safe.
Cost of properties is far below that of more popular Mexican cities.
Durango offers a youthful, energetic university vibe.
The weather is dry and relatively cool.
The city boasts great air quality.
The architecture is surprisingly European rather than Spanish-colonial. It's more reminiscent of Madrid than of Hispanic America.
These are the disadvantages of buying in Durango:
Lower liquidity. Selling a property here will take longer than in the active markets on the coast or in the highland cities popular with expats.
No English is spoken, so you'll need to get to Spanish class before settling here or shortly after you arrive.
No expat community, which is great from a lifestyle perspective… but if you're simply looking for a warmer version of Minneapolis or Calgary, then Durango won't be for you.
Durango offers fewer dining options than Mexico's resort or expat-heavy communities.
No direct flights to the United States are available at this time. International flights connect through Mexico City.
Durango sits at about 6,000 feet above sea level, so it may not be suitable for people with respiratory problems.
Is Durango Right For You?
Durango is a modern, clean, and efficient destination with all the big-city amenities you could need. It's cheerful, youthful, energetic, and inexpensive. Its four mild seasons will be just right for most people.
As I mentioned, you'll find almost no expat community and few English speakers… so you'll need to appreciate living in non-gringo Mexico. Spanish lessons should be a priority if you don't speak any.
On the positive side, you'll enjoy a Mexican capital with almost no American-expat influence and no foreign-community stereotypes to deal with. This not only means an authentic and welcoming cultural experience but also far better prices than you'll find in the expat venues.
If you're ready for an unadulterated experience of Mexico, then Durango is for you.
Lee Harrison
Part-Time Mexico Expat