In today's world, we value sweet, simple, and private above most other things.
In addition, Tavira's undiscovered status means it's also one of the most affordable spots in all Portugal. Costs of living and of buying property have risen in Lisbon, Porto, Lagos, and other better-known Portuguese cities and towns… but in Tavira the cost of everything is refreshingly low.
The Algarve continues to offer everything the would-be retiree could want, including:
Near-perfect weather and sunshine year-round…
An established and welcoming expat community…
Top-notch medical facilities…
A high-quality Old World way of life that's a bargain compared with costs in the rest of the EU…
Endless opportunities for fun and adventure, especially for nature-lovers…
A great deal of English spoken…
And easy access to the United States and all of Europe.
Indeed, the Algarve continues to be one of the world's best places to retire overseas.
However, thanks in part to our coverage, the Algarve is now well-known internationally, home to big, long-established expat communities. All this popularity has led to important infrastructural developments and improved amenities, but it's also had the effect of driving up prices.
Why We Recommend Tavira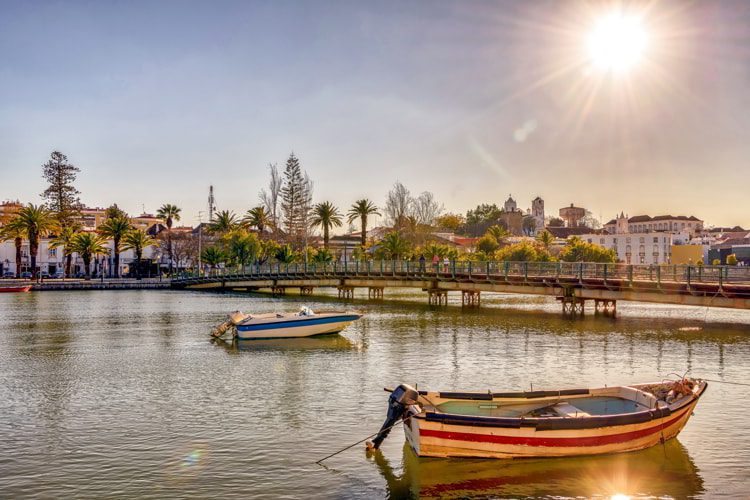 This region, taken as a whole, remains a highly affordable retirement option… but not everywhere in the Algarve is the budget destination it once was.
That's why this year we're drawing your attention to Tavira in particular.
This charming little fishing town in the eastern Algarve features all the bests of a traditional Algarvean town… from cobblestone streets and whitewashed buildings to lacework chimney pots and colorful azulejo tiles.
If you want a view to the Algarve of centuries past, before the golf courses and beach resorts were put in, look no further than Tavira.
The town unfolds along both sides of the River Gilão, the graceful, slow-moving waterway that has long been Tavira's defining feature.
The riverfront, flanked by Renaissance architecture and traversed via an old roman bridge, is an attraction in and of itself, endowed with promenades and swaying palms, open-air cafés, and restaurants serving the day's catch. Residents catch up on the day's gossip over coffee… lovers stroll hand-in-hand along the promenade… children cycle by…
Locals earn their living making carpets and fishing tuna, as they have for generations.
Today they work alongside a small but growing community of expats attracted by the fantastic beaches, the agreeable climate, the traditional atmosphere, and the super low cost of living.
Get Your Free Portugal Report Today!
Simply enter your email address below and we'll send you our ​FREE REPORT — Portugal: The World's #1 Retirement Haven...
Life In Tavira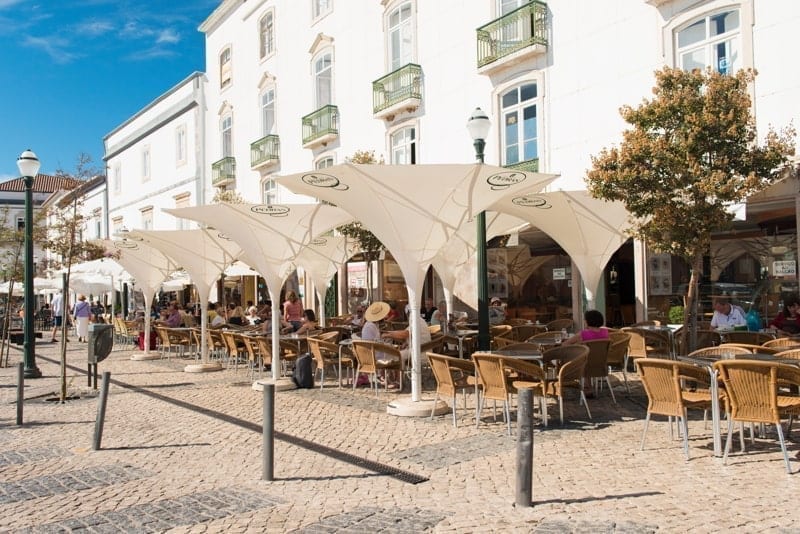 The town is situated along Ria Formosa Natural Park, a remarkable 18,000-hectare natural preserve made up of lagoons and sandbanks, canals and islands. The protected status of the park means that Tavira's beaches have been unmarred by development and remain the most naturally beautiful in the region. Tavira Island, just offshore, features three perfect, golden-sand beaches and clear turquoise waters.
Tavira has a well-deserved reputation among nature-lovers. Ria Formosa is one of the most important wetlands in the world and one of the 7 Natural Wonders of Portugal. It supports astounding biodiversity, from the biggest population of seahorses in the world to the 20,000-plus migratory birds that make a stop here on their way from Europe to Africa.
Tavira is culturally vibrant, with open-air markets and fairs and festivals year-round. It draws tourists but not in the numbers you can encounter elsewhere along this coast.
And its property market remains a real bargain. The center of town boasts an enviable selection of historic homes, and riverside properties are especially charming. More modern, new-build residential developments just outside town are likewise temptingly priced.
If you're ready to slow down and savor moments in the sun… discover a healthier lifestyle and food… live in a place that's among the safest on Earth… with an emphasis on family and friends… or make a good investment with the potential of gaining you an EU passport… Tavira is the place to be.
Sophia Titley
Editor, Overseas Living Letter