If anyone had told me six years ago that today I would be living inColombia, I would have laughed.
Back then, I knew little of the country, except where it was in the world and what it had once been famous for. I had no expectations when I planned my first visit. At the time, I thought I would be just passing through on my way to find where I wanted to settle in Latin America.
"You're going where?!" people would ask, surprised at my choice of relocating to the other side of the world…
For me, it was simply a matter of wanting a better quality of life than I could expect living in England.
I believe that's what Latin America offers, every lifestyle element I was looking for—salsa dancing, a great climate, and, most important, a chance to remove myself from the nine-to-five rat race that I no longer wanted to be part of.
I took off to find out if I was right. I left England on a one-way ticket, unsure where, or even if, I would find the place I wanted to call home.
But as the plane flew into Medellín, I felt an overwhelming and complete certainty that this was where I wanted to be.
Once one of the most dangerous cities in the world, Medellín is now a global success story. As recently as two decades ago, parents were afraid to send their children to school for fear they might never see them again. Fast-forward to 2013 and Colombia's second-largest city is awarded the World's Most Innovative City Award, beating out Tel Aviv and New York. So why do I love living in Medellín?
It's not called the City of Eternal Spring for nothing. The pleasant 27°C year-round is definitely a bonus. Yes, it rains, and there are storms, but, because the city is situated in a valley, those storms are amazing to watch from the windows of an apartment with a view.
Which leads to another thing I love about Medellín—the views.
Each morning I feel so lucky to be able to stare out at the mountains and the city skyline in the distance. I have been to 84 countries, and I'll take this city for views any day… and also at night, when Medellín lights up.
Like many Brits, I love football, and the Colombians do, too. Being here for the World Cup and supporting both England and Colombia was a great experience. Football games are constantly being shown across the city, in shopping malls, bars, and restaurants, and I love that I can get the Premiership here. I just need to find a man who doesn't mind me watching footie as we dine.
A night out here is so much cheaper than in the U.K., and I've adapted to thepaisacustoms—like the bottle of aguardiente, you drink in shots throughout the evening. One of my passions is dancing, and Colombians love to dance—salsa, bachata, reggaeton, and, my favorite, electronic, which I find in some clubs.
Taxis are economical and everywhere, so it's so easy to get around. Not having been able to afford taxis in the U.K., I now take them everywhere.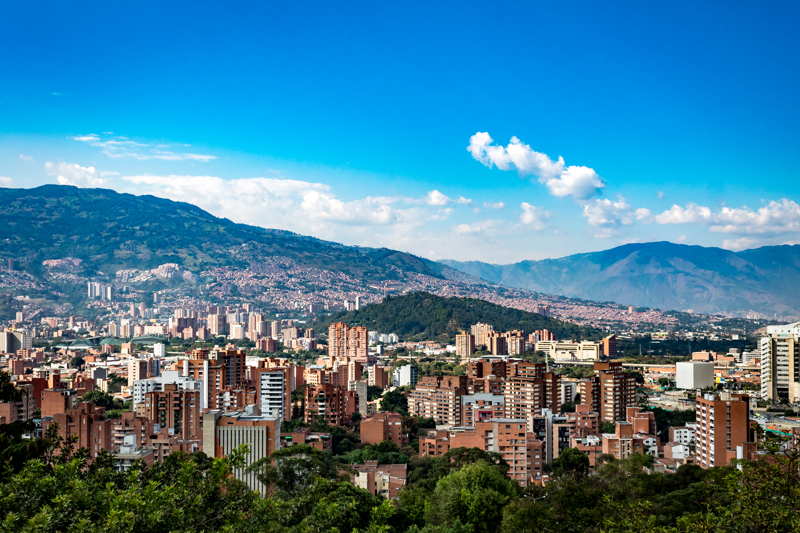 Which leads to another important thing I like about Medellín—the cost of living.
In London, I lived in a little box. Here in Medellín, I've lived in a penthouse, something I never thought I'd be able to afford. But living in that penthouse cost half as much as my tiny apartment in London.
However, the real reason this city has blown me away is its energy. The energy of the mountains surrounding the valley and the energy of the people who live here.
The people of Medellín are really proud of their city, and that pride is contagious. Locals say hello, and everyone is beyond friendly.
This is also an impressively clean city. You see hardly any litter. Even the poorest residents are made to feel part of the city with regeneration projects such as the cable car and outdoor escalators that provide public transport for those in thepuebloson the mountains.
Medellín has come so far in the last two decades, and I am so proud to call this city home today. This is a place of people who only look ahead, not behind.
I came to Latin America with the hope that I would find a new home, and I didn't get any farther than the first country I visited. They say that home is where the heart is, and Medellín definitely has my heart.
Though I admit there are days when I find myself dreaming of marmite on toast and a cup of English tea, I know that I am where I am meant to be.
Lisa Eldridge
Full-Time Colombia Expat