As I make my way down a broad boulevard shaded by leafy cedars on either side, I regret that I'm not wearing a jacket. Despite the sunshine and blue sky, the air is crisper than I'd anticipated.
I'm kept from turning back to my hotel by the smell of fresh-baked baguettes stacked in a window display ahead. With one of those and a cup of coffee in hand, I'm determined to continue my initial exploration of this town.
I pass estates with shuttered windows, wrought-iron balconies, and latticed gardens… all the makings of alpine chalets. Ahead of me, the spire of a Roman Catholic church juts out above the skyline, and Grand Lac shimmers in the morning light.
At first, the sensation is disorienting, but as I look up at a replica of the Eiffel Tower (about one-fourth the size of the original), it becomes downright bizarre…
Am I in small-town Vietnam or some sort of France-themed amusement park? The answer, it turns out, is a bit of both…
I'm In Da Lat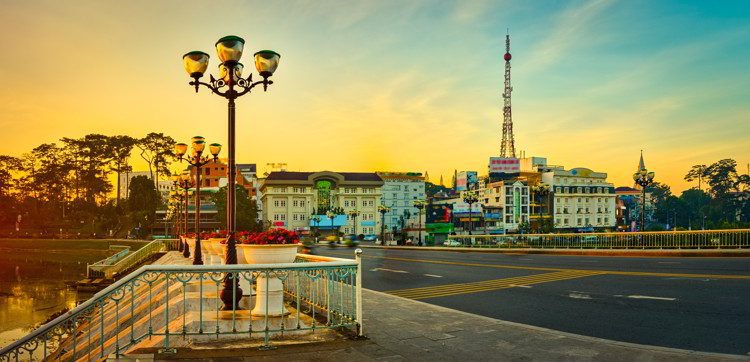 Da Lat is the resort town that the French carved out of Vietnam's Central Highlands back when the country was a French colony. Like all hill stations around the world, it served colonists as an escape from the sweat, grime, and tropical malady of the lowlands.
The French endowed Da Lat with villas, boulevards, golf courses, parks, health complexes, and more. Architectural and cultural remnants from that era remain today, casting a historic and otherworldly charm over the place.
Something about Da Lat inspires romance. Whether it's the well-preserved past or its cool weather, misty peaks, and pine forest, love is in the air here in Vietnam's honeymoon capital.
Understandably, Da Lat's tourism organizers want to encourage that reputation and have made efforts to capture the town's natural charm. To most Westerners, those efforts are probably misguided.
They come in the form of Vietnamese-brand kitsch—swan-shaped paddleboats, concrete statues of woodland creatures, and heart-shaped everything meant for young couples to pose in front of.
While tacky, these adornments add to Da Lat's quirkiness. This is a fascinating place to visit.
Mainstream international tourism hasn't discovered Da Lat yet, but the word is out among expats. The small but diverse group that live here does so because this little-known city offers peace and tranquility, natural beauty, an agreeable climate, and a low cost of living.
The Lam Dong Province and Da Lat, its capital, are the garden bed of Vietnam. This province produces more flowers than any other in Vietnam and is responsible for 50% of the country's floral output. Everything from roses and marigolds to hydrangeas and golden everlastings is grown here.
So, too, is produce not available in other parts of the country: coffee, strawberries, cabbage, cauliflower. Da Lat even has its own wine industry.
Vietnamese food is some of the healthiest in the world because of its heavy emphasis on fresh herbs and vegetables and avoidance of oil and dairy. Out of necessity, Vietnamese people have learned to do a lot with a little. Dishes are made from simple, inexpensive ingredients but masterfully prepared. In Lam Dong province (where you'll find Da Lat), the herbs and vegetables essential to Vietnamese cuisine are at their freshest.
The best thing about Da Lat, though, is that it can be enjoyed at an impossibly low cost. You don't need a lot to live well here, and, as people shake off outdated perspectives about this part of the world, Da Lat's reputation as an overseas retirement destination is only going to grow.
Cost Of Living In Da Lat
Your cost of living in Da Lat will vary depending on your lifestyle, of course, but, regardless, it will be lower here than it is in the States, no question. A couple can live comfortably on about US$1,000 a month. This number changes depending on where you live (rent is higher in central areas), the size and modernity of your rental, what you eat (eating at expat restaurants and buying imported groceries add to your budget), and your habits (how often you shop, your indulgences, travel expenses, etc.).
If you eat and shop like a local, you'll save greatly.
You can enjoy a meal for two at a local Vietnamese restaurant for about 100,000 dong (US$4.50) for a meal for two. A grocery trip to a local market is about 500,000 dong (US$22). This is one place in the world where eating out can save you money. The same isn't true of the expat restaurants, where an average meal for two costs about 400,000 (US$17). I dined at Primavera Restaurant and had pizza, salad, and wine for two for 365,000 dong (just under US$16).
Likewise, if you shop for imported goods at stores, you'll spend much more on groceries.
Rent can be as low as 4,500,000 dong (US$200) a month for a studio apartment on the edge of town. For a more central apartment, expect to pay between 8,000,000 and 10,000,000 dong (US$350 to US$450) monthly. Air conditioning isn't needed in Da Lat, so electricity bills are always low, and utilities are usually included in the cost of rent.
In short, life in Da Lat is inexpensive. The dong is one of the weakest currencies in the world, and the average salary here starts at about US$125 a month. If locals can get by on that, an expat should be able to do quite well on a few times that. The average pension goes a lot further in Vietnam than it does nearly anywhere else in the world.
If you're not planning to retire just yet, you have options, too. Every expat I met is doing business in Da Lat. The entrepreneurial options are many. Most of the expat entrepreneurs operate cafés, restaurants, homestays, or hotels, but some Dutch expats are involved in flower production, for example.
Something geared to Vietnamese tourists—the biggest demographic that visits Da Lat—could be a good option. The infrastructure necessary for someone to work remotely is already in place, and a good number of expats living here rely on the internet for their livelihoods.
To help you decide whether Asia's "City of Eternal Spring," could make sense for you, here are some quick pros and cons to living here…
Da Lat Pros:
1. It's Quiet
If you're after peace and tranquility, rest and relaxation, then this could be the place for you.
2. It's Naturally Beautiful
You can pursue a variety of outdoor interests here: hiking, biking, golf, gardening, etc.
3. Perfect Weather
This is the Eastern Hemisphere's City of Eternal Spring.
4. The Food Is Delicious And Fresh
Reduce your expenses and your waistline just by eating out.
5. Low Cost Of Living
Everything from rent to health insurance to a cup of coffee is cheaper than it is at home, and you can live very well here on nothing but your Social Security check.
Da Lat Cons:
1. It's Quiet
If you need constant stimulation and the amenities of a big city, this isn't the place for you.
2. Few Vietnamese People Speak English
Not being able to make yourself understood might become tiresome. You'd have to invest time in getting to grips with the language.
3. Cultural Exclusion
It's hard to form meaningful connections with locals when you can't understand each other.
4. Hospitals Aren't Great
For more serious procedures, you'll need to travel to Ho Chi Minh City.
Sophia Titley
Editor, Overseas Living Letter