Arica is Chile's northernmost city, located just 18 kilometers from the Peru border. (For the soccer fans out there, Arica was one of the host cities when Chile hosted the World Cup in 1962.) Arica's climate is classified as mild desert—it's characterized by temperatures averaging 23 degrees Celsius (75 degrees Fahrenheit) year-round, with no major temperature extremes or changes. Arica boasts Chile's version of eternal springtime.
This enviable climate has allowed Arica to reap the benefits of a booming tourism industry; its beaches are the major attraction. Arica is known the world-around as a surfer's haven and plays host to international surfing and body boarding championships every year. The city also acts as a port for cruise ships and services many cruise lines, Royal Caribbean and Celebrity Cruise Lines included.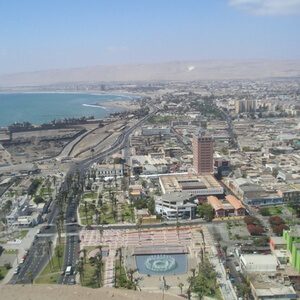 Given the city's current and continually increasing popularity, foreign investors in Chile already have a niche cut out for them here, and the market is eager to be better-serviced. The surfing competitions hosted by Arica have grown in number and popularity year after year, as have the number of dates for which the city will be a port of call for tourist lines. Anyone looking for short-term property rental, hotels, or any kind of shop or restaurant catering to this type of tourist will be welcomed and will see a great occupancy rate.
Moreover, for investors in the renewable energy industry, Chile's Ministry of Mining and Energy (newly created in 2010) has recently invested funds into the Arica 1 Project to increase the use of renewable resources to meet the demands of the mining industry. The current government is aggressively trying to attract more investors into the renewable energy sector right now.