Tierras Altas is poised to become the next Boquete.
Situated in the highlands of western Panama, it features comparable scenery—misty hillsides dense with greenery, gardens terraced into slopes, and abundant wildflowers.
Its cool-weather climate and the outdoor lifestyle it affords are also similar…
But Tierras Altas is also very different from Boquete in important ways.
First, it's more affordable.
Everything from the price of property to the price of a burger is less here, while costs in Boquete are closer to those of a mid-size U.S. city.
Second, Tierras Altas is relatively unknown, while Boquete is one of the most famous expat communities in the world.
Third, Tierras Altas is authentic and down-to-earth, while some complain of the imported American culture that dominates Boquete.
Where Is Tierras Altas?
Tierras Altas is a district in Chiriquí Province, on the east side of Volcán Barú, an inactive volcano. It's made up of five townships: Volcán, Cerro Punta, Cuesta de Piedra, Nueva California, and Paso Ancho. Each of these contains a dozen or more small mountain towns.
The region is situated at a higher altitude than Boquete and its climate is cooler, but these factors vary village to village. Expats choose which village is right for them based on the microclimate they prefer.
The towns and villages that make up the Tierras Altas region are stretched out along an asphalt road system. Volcán is the largest of them, with a population of 13,000. It's one hour (56 kms, or 35 miles) from David, the provincial capital and nearest big town, and nearly seven hours (490 kms, or 304 miles) from Panama City.
Volcán has the lowest elevation in Tierras Altas, sitting at 1,400 meters (4,617 feet) above sea level. Guadalupe, my favorite destination in the region, is one of the last towns on the road and is situated at 2,255 meters (7,398 feet) above sea level.
Tierras Altas Climate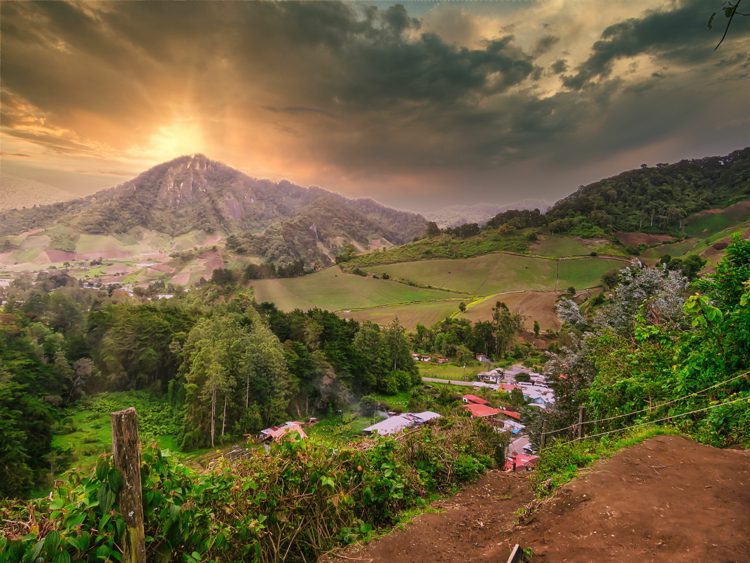 Tierras Altas has a temperate mountain climate due to its altitude in the cloud forest. In fact, the name of one town here, "Las Nubes," literally means "the clouds."
In Volcán, the average temperature ranges between 13°C and 24°C (55°F to 75°F). There are micro-climates here, and at higher elevations… places like Cerro Punta, Guadalupe, and Las Nubes… it can get down to 5°C (41°F) at night, especially in the dry season, which means frost.
Get Your Free Panama Report Today!
Simply enter your email address below and we'll send you our FREE REPORT - Live And Invest In Panama: The #1 Retirement Haven In The Americas.
The Breadbasket Of Panama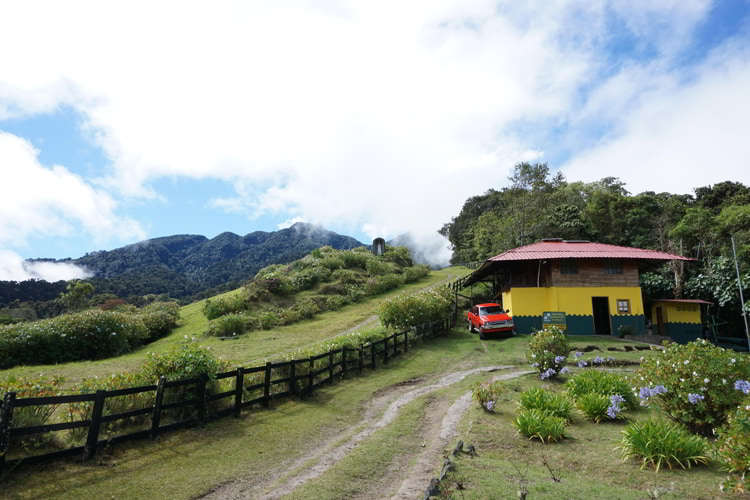 Tierras Altas is the breadbasket of Panama thanks to its volcanic soil. Eighty percent of the country's produce comes from these highlands, making agriculture the driving force of the local economy. It's the only place in the country where I've seen dairy cows, rather than the typical long-eared Brahman cattle.
The cool climate, coffee, and produce—especially strawberries—all make Tierras Altas famous.
There are small businesses along the roads offering hot chocolate, coffee, and everything strawberry… shortcake, milkshakes, popsicles, strawberries with cream… you name it, they've got it made from strawberries.
As a "crazy plant lady" myself, I love this area for the variety of plants, flowers, and succulents that adorn every other house—at least in Guadalupe. Nearly everything grows here… citrus, broccoli, cauliflower, cabbage, lettuce, carrots, and of course, strawberries… in addition to the lowland crops, such as bananas.
From citrus to roses and orchids, Tierras Altas has it all. There are lots of gardens to tour here, including Finca Dracula whose orchid collection is the third largest in the world.
Things To Do In Tierras Alta
Bird watching, hiking, and the national parks bring visitors from around the world.
Volcán Barú National Park is located here. At 3,475 meters (11,400 feet) above sea level, it's the highest point in the country. There are seven different craters visible from trails within the park, including the Quetzal Trail which joins Cerro Punta and Boquete.
The picturesque town of Las Nubes is the gateway to International Park La Amistad (friendship), which is shared with Costa Rica. La Amistad was established in 1988 and declared a UNESCO World Heritage Site in 1990.
The 407,000 hectares of forest protect five species of cats: ocelot, puma, jaguar, jaguarundi, and margay. The endangered Baird's tapir is found here and about 600 species of birds.
The park is home to four indigenous groups—the Naso, Bribri, Ngäbe, and Buglé—who live traditional lifestyles in small communities.
Tierras Altas is one of the most affordable places to live in all Panama. It also has the cheapest produce in the country. A couple could live well on a food budget of US$400 to US$500 per month shopping at both the nicer Romero and the other local supermarkets in Volcán.
That might include one or two nights out per month, even at the popular Wandering Sloth Bar and Grill where a "gringo burger" costs US$4.45. A national beer costs just US$1.50 and a glass of wine is US$2.50. A 16-inch family-sized pizza starts at US$8.95.
If you were to eat a more Panamanian-style fare, your monthly food costs would be less. A typical dish with chicken or meat, rice, beans, and a small salad costs US$3 to US$4.
I saw a small apartment building in downtown Volcán offering private furnished apartments for US$300 a month, with washing machines, electricity, water, sewage, garbage, and Wi-Fi included.
Who Should Come To Tierras Altas?
Tierras Altas would be a wonderful home for nature lovers, birders, gardeners, hikers, tinkerers (those who can stay busy with hobbies and projects), and relaxed, every-day, down-to-earth people.
If you're used to large social circles and events, like to get dressed up, night life, and fine dining, you may be disappointed here.
If you seek simplicity, privacy, a connection with nature, and an unpretentious and welcoming expat community, you should come see Tierras Altas for yourself.
Michelle Miller Shogren
Full-time Panama Expat