Julie and Peter Thorpe discovered the Italian region of Abruzzo when visiting friends who had settled there.
"We had been coming to Italy on holiday for many years, mainly up in Tuscany and Umbria, but fell in love with Abruzzo, the people, and the lifestyle here," says Julie.
"In Abruzzo, the best of everything is within a half-hour journey—the stunning mountains, the coast, and the rolling classical Italian countryside."
In 2014, the couple quit their busy careers and moved from the U.K. to a small village of Limiti in the south of the Abruzzo region.

Julie took early retirement, and the Thorpes needed to generate an additional income to make ends meet. As affordable as life in this region of Italy can be, the couple worried that Julie's pension wouldn't be enough.
As they both enjoy meeting new people, they decided to start a hospitality business.
"We bought three properties beside each other," recalls Julie.
"The one that we use as a holiday let now was a complete ruin. We had to rebuild it. The other two properties were attached. One side was habitable by sort of 1950s standards. The other side was another ruin."
They turned the dilapidated buildings into a three-bedroom family home and a small villa for guests, Casa della Zia, catering to couples.
"When we visited Abruzzo on holiday, we found it difficult to find a small accommodation for a couple—a place that was peaceful and quiet, where we could come and go as we pleased, cook if we wanted.
"Most accommodation we found was bigger than we needed, meaning we were paying for space we weren't using."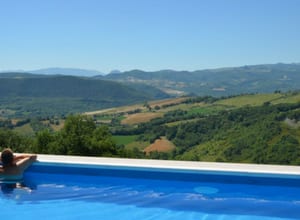 Relaxed luxury among sun-drenched hillsides at Casa della Zia
The Casa della Zia guest villa has a bedroom, bathroom, sun terrace, living room-cum-kitchen, and a swimming pool. The picturesque location makes this couples' getaway idyllic.
"When you look out," Julie explains, "you see the classic hilltop town of Palombaro, with a backdrop of the mountains, olive groves, and vineyards. It is fabulous at sunset. Even in winter, on a warm day, you can sit out on the balcony enjoying breakfast or a glass of wine while looking at the snowcapped mountains".
Listings on HomeAway.com, Airbnb, and Booking.com have brought a steady stream of guests, with 11 weeks occupied in 2017, the couple's first year in business.
"To make it work for us financially, we need just 12 to 15 weeks booked every year," explains Peter.
"We won't become millionaires from this venture, but it tops up Julie's pension."
Julie describes their business as laid-back and relaxed, a contrast to their previous hectic work life.
"In summer, our busiest season, we have breakfast, tidy up around the pool, and chat with our guests. We clean rooms once a week and occasionally cook dinner on request.
"Our schedule is flexible. We can do what we want when we want. It is a very pleasant life we have here."
Abruzzo offers plenty of things to do and see in Julie and Peter's spare time.
"We love exploring new places… the coast and little towns in the mountains," Julie says.
"Each area has its own festival, and there is always something going on.
"Near us, in the small town of Pennapiedimonte, for example, there is a living nativity at Christmas. You go around the town to see the different scenes, and then at the end you enjoy a big meal.
"In another town in the area, Altino, we like the peperoncino festival in summer. Local restaurants offer menus where everything, including the desserts, is made with local red pepper."
Another pastime that the Thorpes enjoy is tending their land. The couple has 100 olive trees, which they learned to prune with the help of a neighbor.
Perhaps the best part of their new life in Abruzzo is how very affordable it is.
"Our monthly budget is 1,200 to 1,300 euros," Peter explains.
"That includes food, utilities, gas, and other basic things. Our weekly grocery shopping bill comes to 75 euros, which includes pet food for our two cats and three dogs. We stock up when there are special offers."
"Food is amazingly good and cheap here," adds Julie. "There are many restaurants near us with fixed-price lunch menus for 10 to 12 euros a person. That includes a pasta dish, a meat dish, and a quarter-liter of wine. There are also, of course, more expensive restaurants for special occasions, where you can eat nicely for 40 to 50 euros a head."
Clothing is the one thing the couple finds expensive.
"However, our lifestyle is very relaxed," Julie says, "so I am always in shorts and T-shirts. I probably wear only 20% of the clothes that I brought here with me."
The couple has found it easy to settle down and integrate into their small local community.
"People around here are very friendly and welcoming," Julie explains. "What we love most about living in Abruzzo is the sense of community. Everybody here knows everybody else.
"When we arrived, our neighbor Antonio, in his 80s, came over to teach me how to prune our olive trees. Another neighbor, Diamante, gives us fresh eggs and local waffles called pizzelle."
Julie and Peter admit that there is a lot of bureaucracy in Abruzzo, but they say that their house restoration went smoothly.
"We didn't encounter much bureaucracy with our renovation project," Julie says, "but you do have it here. You have to accept it and go with the flow. You can't let it raise your blood pressure.
"For all the little frustrations that you will experience, you have so much good to balance it out."
The Thorpes' advice to aspiring expats considering buying a property and running a hospitality business in Italy is to do thorough research before committing to a plan.
"Go and speak to the people in the community where you want to live, both locals and expats," recommends Julia. "Here in Italy you can easily make an appointment with a mayor even for a personal meeting."
Peter adds that getting at least three quotes for any building works is important.
"It can be scary the way the money goes while you are restoring a house," he cautions.
The couple also recommends that you learn the language.
"Take Italian lessons," Peter advises. "You don't have to be word perfect. People will welcome you as long as you are trying."
"Finally," Peter adds, "be prepared to make an effort to become part of your new community. Otherwise you will feel isolated, and the experience will be much less rich than it otherwise could be."
Anna Lebedeva