Caribbean Versus Mountain, Old World Versus Modern And Urban—Cartagena Versus Medellín
Medellín versus Cartagena… which is the better Colombian city for living and investing?
I hear this question a lot, so today I'd like to take an in-depth look at the relative strengths and weaknesses of these two places I have gotten to know well.
Cartagena is a historic resort city located on the Caribbean coast. Medellín is located in a valley in the Andes Mountains, and some expats consider it the most livable city in Colombia.
Both cities have their fans.
I have lived in Medellín for over six years, but I have traveled to Cartagena over 20 times for both business and pleasure. In fact, Cartagena was the first city I discovered in Colombia back in 2006.
Let's take a look at how the two compare, in 14 different categories.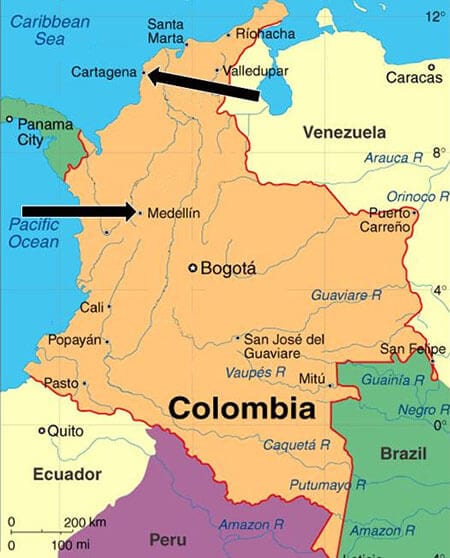 1. Climate
Medellín wins here, hands down.
The 24-hour average temperature during the year in Medellín is 72° Fahrenheit. Medellín is known as "La Ciudad de la Eterna Primavera," or the City of Eternal Spring. While in Cartagena, the 24-hour average temperature is 82° Fahrenheit.
In Medellín, the average daily high temperature is around 82° Fahrenheit, and the average daily low is about 62° Fahrenheit.
In Cartagena, the daily high temperature averages just under 89° Fahrenheit, and the average daily low is about 75° Fahrenheit. The record high each year in Cartagena is typically around 104° Fahrenheit.
Both cities have almost no seasonal variation.
Due to the hotter climate, air conditioning is definitely needed in Cartagena. In Medellín you can do without air conditioning.
2. Restaurants And Nightlife
Medellín wins this one. Medellín is a much bigger city with a metro population of more than 3.7 million, so it naturally has more in the way of restaurants and nightlife.
Cartagena is a tourist destination (population 1.2 million), so it has more restaurant and nightlife options than you might expect, just not as many as are found in the bigger city of Medellín.
One area where Cartagena beats Medellín is in seafood restaurants. Because Cartagena is on the coast, you will definitely find more and better seafood restaurants in this city than in Medellín.
3. History And Culture
Cartagena wins here. Cartagena is one of the oldest cities in the Americas, founded in 1533. In 1984, Cartagena's colonial walled city and fortress were designated a UNESCO World Heritage Site. It has a rich history.
Cartagena has had a very interesting confluence of cultures over the past almost-500 years, which includes the cultures of the Spanish, Native Americans, and Africans.
In comparison, Medellín is a younger, less diverse city, which never enjoyed Cartagena's prominence. So the city and the culture in Medellín are much more contemporary.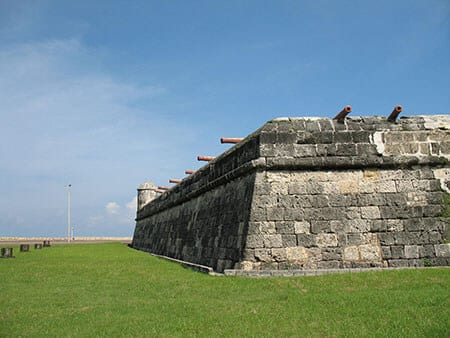 4. Cost Of Living
Medellín takes this category. Properties I have seen in Cartagena (off the beach) tend to rent or sell for at least 30% more than properties in Medellín—or even much more. Beachfront properties are definitely more expensive.
Electricity costs in Cartagena are typically at least 60% to 70% higher than those in Medellin due to the need for air conditioning.
Other costs—such as groceries, restaurants, and entertainment—tend to be at least 5% to 15% cheaper in Medellín than in Cartagena.
In general, Cartagena is a more expensive place to live than Medellín.
5. Things To Do
This one's arguably a tie. Both have many things to do in the city as well as plenty of things to do nearby.
As a beach location, Cartagena offers water activities that aren't found in Medellín. This includes boat trips to nearby islands (particularly Rosario Islands, with 27 islands), scuba diving, deep-sea fishing, and so on.
As one of the oldest cities in the Americas, Cartagena also has many historic sites, including the walled city and Castillo San Felipe de Barajas.
Medellín has many more churches and shopping options, plus many parks, gardens, and museums.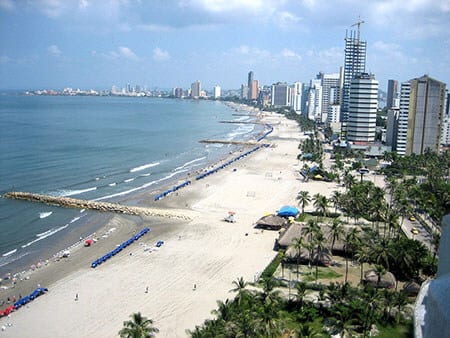 6. Feeling Safe
Medellín wins here. Medellín ranked much higher than Cartagena in a recent survey of 12,548 Colombians in terms of citizens feeling safe in their barrio (neighborhood) and city.
In this nationwide study, Medellín came in first… citizens felt the safest in Medellín's barrios, with 75% of respondents feeling secure. In comparison, Cartagena was ranked the worst with only 30% of respondents in Cartagena feeling safe in their barrio.
In general, the tourist areas of Cartagena, including the walled Centro Histórico, Bocagrande, and El Laguito are relatively safe. But take care after dark when the streets become much less busy.
7. Health Care
Medellín wins here. Medellín has eight of the top-rated hospitals in Latin America, while Cartagena has none. Being a bigger city, Medellín also has more medical and dental providers.
Medical costs also tend to be somewhat higher in Cartagena, in my experience, compared with medical costs in Medellín.
8. Pollution
Cartagena wins here. The World Health Organization (WHO) last year reported that Medellín was ranked #9 in a list of the 10 most polluted cities in Latin America.
Medellín is located in a valley, with mountains surrounding the city, meaning pollutants are not easily dispersed and pollution tends to stay in the metropolitan area. Fairly regular rain does help to clean the atmosphere, though.
Cartagena is located on the coast and benefits from frequent ocean breezes that help keep the air clean.
9. Traffic
Cartagena wins here. Traffic is Medellín is generally much worse than in Cartagena. A survey by Waze last year rated Medellín as one of the worst cities in Latin America in terms of traffic.
And while the traffic can get pretty bad anywhere in Medellín, the worst traffic is found in the El Poblado and Envigado neighborhoods during rush hours, in my experience.
The traffic in Cartagena is nothing by comparison.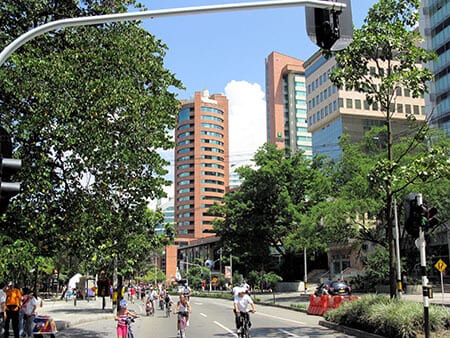 10. Access To The States, Europe, And The Rest Of
Latin America
Medellín wins this one, although both cities service the same cities in the States (Atlanta, Fort Lauderdale, Miami, and New York).
Otherwise, Medellín's airport is the second largest in Colombia, with non-stops to 13 international locations in the United States, Europe, and Latin America. Cartagena has only seven, with none going to Europe.
Domestically, you can fly non-stop to more than 30 cities in Colombia from Medellín but to only 9 Colombian cities from Cartagena.
11. Job Opportunities
Medellín wins here. Medellín is a much bigger city with more job opportunities than you'll find in Cartagena.
But even in Medellín there still aren't a lot of work opportunities for foreigners, especially if you don't speak Spanish fluently. The best jobs in Colombia typically require good Spanish-language skills.
While it's possible to get a job teaching English in both cities if you are a native English speaker, competition is fierce, and the pay isn't the greatest. That said, there are more English-teaching job opportunities in Medellín.
12. Public Transportation
Medellín takes this one. Unlike Cartagena, Medellín has an extensive metro system with integrated metro trains, a new tram, buses, and cable cars. The Medellín metro is spotlessly clean, easy to use, and very inexpensive.
Both cities have extensive bus routes and inexpensive taxis. But unlike Medellín, the taxis in Cartagena don't have meters, which results in gringo/tourist pricing by the drivers… something that can't happen in Medellín where all taxis are metered.
Taxi drivers in Cartagena can demand ridiculous rates from tourists if not negotiated in advance, so always establish the price before you get in.
13. Bugs
Medellín wins here. Mosquitos and other bugs can be a problem in Cartagena. Medellín is at a high elevation so it doesn't have many bugs.
In fact, mosquitos that spread the Zika virus are reportedly fairly prevalent in Cartagena so take precautions and use insect repellent. It is possible to find these mosquitos in Medellín, but it's rare. Most cases of Zika reported in Colombia have been at lower elevations.
I have lived in high-rise apartments in Medellín for over six years, and I sleep with the windows open with absolutely no concern about bugs… and I have never seen a mosquito in this city.
14. Education Options
Medellín wins for education. As the bigger city, Medellín is home to more than 30 universities, while Cartagena has only a handful.
There are also more Spanish-language programs available in Medellín. This includes Universidad EAFIT with reportedly the largest Spanish-language program for foreigners in the country.
I found only one bilingual international school for children in Cartagena, while I know of two in Medellín.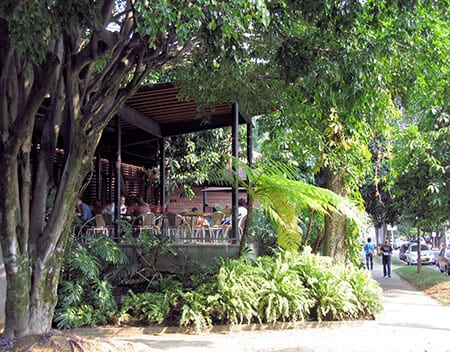 And the overall winner is?
In our Medellín versus Cartagena comparison, Medellín beats out Cartagena in 10 of our 14 categories. Cartagena beats out Medellín in three categories, and the two cities tie in one category.
So, if the categories were equally weighted, Medellín would clearly come out on top.
However, in reality, the categories should not be equally weighted. To determine which city is best for you, you have to put a higher weighting on the categories most important to you.
For example, if cost of living, a springtime climate, health care, and public transportation are most important for you, Medellín wins.
But if you want to be on the beach—with history, culture, light traffic, and low levels of pollution—then Cartagena easily wins.
And where Cartagena really shines is when you compare it with other Caribbean locations. The lack of hurricanes and the low prices (thanks to today's exchange rate between the U.S. dollar and the Colombian peso) make it an attractive alternative compared with the rest of the Caribbean.
Really, to compare Cartagena to Medellín is to compare two lifestyles—an Old World beach lifestyle versus a modern, urban, mountain lifestyle.
Which do you prefer?
Jeff Paschke
Comments