I retired to Cuenca in 2001, at the age of 49. I knew no other North Americans there, and no one who spoke English.
Retiring to Ecuador was not a popular idea in 2001. At the time, one restaurant in Cuenca qualified as fine dining.
By 2004, I counted around a dozen expats… and marveled at how popular Cuenca had become.
But by 2015, there were more than 8,000 Americans living in Cuenca, according to the local paper El Tiempo. That number expanded to 12,000 when including Canadians and Europeans.
I expected Cuenca to be ruined by this volume of expats… but I was wrong, for two reasons.
First, this is a fairly large city, with an urban population of more than 600,000. Granted, the number of expats is still big, but the density is not what you might fear.
The other reason the city hasn't been "ruined" is because its impressively big expat population has been—in my judgment—a net contributor to the local scene.
Cuenca today is home to a wealth of fine restaurants and cafés, and this wouldn't have materialized without the expat community. The city is also noticeably cleaner and boasts far more services and amenities.
Of course the expat boom has also been kind to real estate investors.
Plenty Of Advantages To Life In Cuenca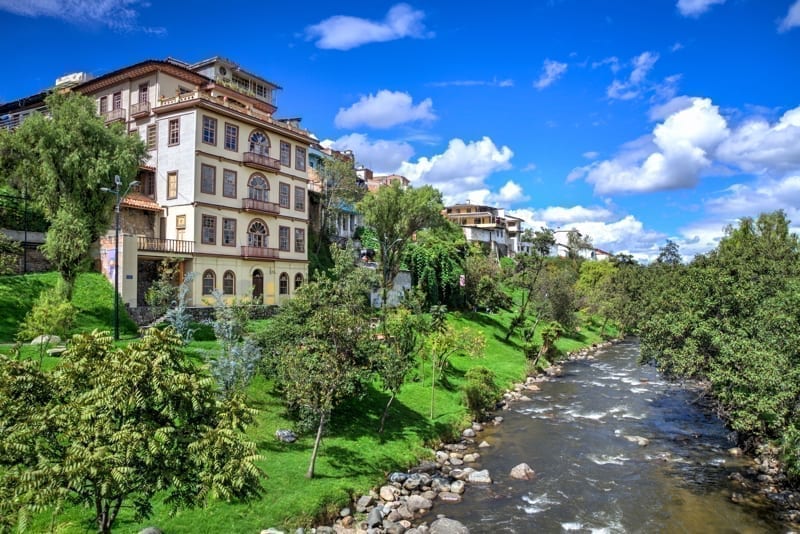 Cuenca is a beautiful city, with cobblestone streets and a well-preserved historic center—the nicest in the country, in my experience. I lived in Cuenca for five years and always marveled at the architecture and how I felt as though I'd been transported back in time.
The city also enjoys reliable electricity, modern internet service, and drinkable water throughout. If you're interested in studying Spanish, Cuenca offers a wide selection of quality schools. The strong indigenous presence here adds a color and a vibrancy to the city that's hard to find elsewhere.
Best of all, downtown Cuenca is very walkable, and most people can get by easily with no car.
Here Are Five More Reasons Cuenca Is An Ideal Retire-Overseas Choice:
Granted, it's not as low as it once was, but Cuenca's lifestyle is better than ever… and is still a terrific value for the price.
#2. Real estate is a bargain.
Cuenca has a large inventory of quality properties. Real estate in Colombia and Brazil (priced in their local currencies) has become cheaper in recent years, but not by much. Real estate in Ecuador is still a great value.
#3. Real estate (and everything else) is priced in dollars.
It's true that the current strength of the dollar has resulted in lower costs in places like Colombia, Brazil, and Europe. But the dollar's present strength will not last forever. Living in a dollarized economy provides a level of stability, especially if you're retired on a fixed dollar-based income. You never have to worry about when the exchange rate will move against you.
#4. Health care is first-rate.
In Cuenca you have access to a number of good, modern facilities where you can seek world-class health care. It's so inexpensive that I paid my costs out of pocket when I lived there… and have even returned to Cuenca specifically to see my dentist and dermatologist in the city. They're the best I've known anywhere in the world… better than I ever experienced in the United States… and a fraction the cost.
#5. Cuenca has a large expat community.
If you have some concerns about the idea of living abroad, you can rest assured that you'll have plenty of company in Cuenca to help you with your transition. You'll find it easy to make English-speaking friends, and then, with those new friends, you'll be able to enjoy everything from fine baked goods to English-language church services and jazz jam sessions.
Start Your New Life Today, Overseas
A world full of fun, adventure, and profit awaits! Sign up for our free daily e-letter, Overseas Opportunity Letter, and we'll send you a FREE report on the 10 Best Places To Retire In Style Overseas Today
What's Not To Like About Cuenca?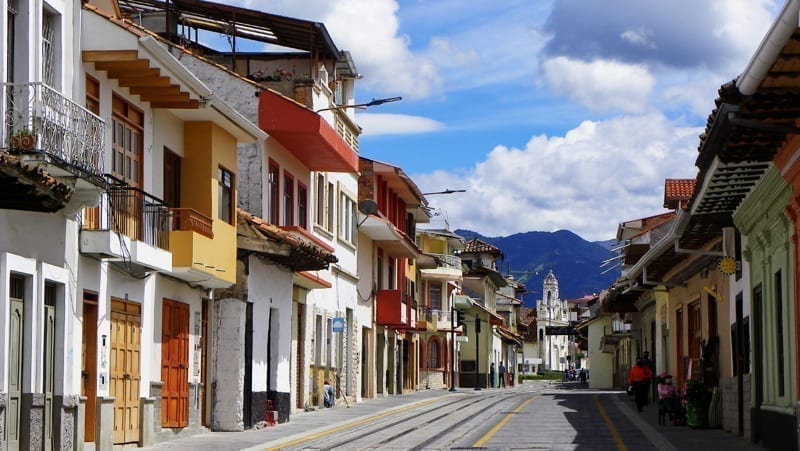 #1. Cuenca has a large expat community.
Yes, I included this on the "pros" list, as well. However, while some see this as an advantage, others will see it as a downside.
Your experience in Cuenca today will not be that of a pioneer. If you want to integrate and become part of the city's original Ecuadorian society, you will find it harder to do than when I arrived on the scene in 2001.
#2. The weather may be too cool for some.
These days when describing overseas retirement options, the term "springlike weather" is as overused as "colonial gem."
In the case of Cuenca, "springlike" means that you'll see a high of around 70°F most days. The strong, high-altitude sunshine can make it feel warmer, but this is really a cool climate. I happen to like this weather, but warm-weather fans may not.
#3. The big expat community means more traffic on the streets.
Traffic has gotten worse in recent years, creating an inconvenience for anyone driving through town. The new tram system will help, but right now traffic is annoying. When I lived in Cuenca, I used public transportation when going through the historic center.
Good News For Today's Property Buyers
Cuenca's real estate market went through a boom between 2006 and 2014, where property owners enjoyed double-digit appreciation year after year. Ecuador's infrastructure was improving dramatically during this time, oil prices were high, crime was down, and things were good. Ecuadorians living abroad returned home to Ecuador by the thousands, with many settling in Cuenca.
Then the Cuenca real estate market slowed dramatically.
Two contributing factors are that the previous influx of retirees has leveled off… and the number of Ecuadorians returning to Cuenca has likewise fallen off markedly.
Prices did not drop as dramatically as sales volumes, but they did come down.
In recent years, however, the market has been turning around. In fact, prices rose about 15% in the 12 months ending Dec. 1, 2021.
Cuenca is still a great place to live, work, or retire. Nothing has changed that. And today, it's looking more attractive than ever, especially if you're interested in buying a home of your own in this colonial city.
My advice is that you should not buy here expecting a quick capital gain in the next year or two. Take a longer view. Things may have turned around, but no one should be counting on a rapid increase in values.
On the other hand, if you'd like to own a rental property, this is a good time to buy.
And, most important, if you'd like to live or retire to Cuenca, again, now is still a good time to shop for remaining bargains.
The premium properties in Cuenca were least affected by the market's downturn… while the fringe properties are the hardest hit. By fringe properties, I mean cheaper, less desirable properties in second- and third-tier locations.
So you've got a choice. You could buy a hard-to-sell fringe property and get a super price, or you could buy a sought-after property that will always be in demand, even during future slowdowns.
I'd recommend the latter.
Is Cuenca For You?
I enjoyed my time in Cuenca and enjoy returning when I get the chance. The city gets better every time I visit, and life in the Andes is unlike any other experience I've had abroad.
Cuenca is one of the best examples of a Spanish-colonial city you'll find anywhere. If you'd enjoy feeling a part of history—and like cool, bug-free weather—then Cuenca could well be a good fit for you.
Lee Harrison
Senior Correspondent