I've been hanging out in New World cities that Spain built for a long time.
Over the past 35 years, I've gotten to know old towns from Granada and León, Nicaragua, and Cuenca, Ecuador, to Old San Juan, Puerto Rico, Antigua, Guatemala, and Casco Viejo, Panama…
Established in 1492, Santo Domingo in the Dominican Republic predates them all.
It's the oldest European city in the Americas and the capital of Spain's first colony in this part of the world.

Founded by Christopher Columbus' brother Bartholomew, colonial Santo Domingo might best be described as dignified. It feels more genteel than the cities built in other of Spain's colonies in the decades to follow.
The structures at the heart of this old town are classic Spanish colonial but simpler, statelier, and somehow more refined than their counterparts across the region.
Calle Las Damas, the first street of the original city and therefore the oldest street in all the Americas, is lined with 16th-century pale stone facades and runs into Plaza de España, the expansive open square at the harbor.
The highlight here is the colonial city's first palace, the private home of the first governor of the colony, Diego Columbus, Christopher's son. It's an exceptional example of classic Spanish-colonial architecture.
Diego's viceregal residence marks one edge of the Plaza de España, at the water. At the square's other edge, alongside the old town, is a row of restaurants where you can dine al fresco and watch modern-day activity in this harbor that helped build the Americas.
In colonial Santo Domingo, Bartholomew and Diego created an administrative hub for the activities their sponsoring country imagined for the New World they envisioned. It was from this base that the Spanish managed their conquests of Mexico, Puerto Rico, Cuba, Guatemala, Peru, Florida, Colombia, and Jamaica.
In colonial Santo Domingo, the Columbuses built a customs house, a hospital, a cathedral, a university, a library… everything required to launch a new Spain.
During its golden age, this city's colonial structures stood as testament to the riches flowing through their benefactors' coffers.
Today, Santo Domingo, capital of the country with one of the fastest-growing economies in Latin America, is chasing a new prosperity. The streets are lively, the harbor busy.
Most of the world knows the Dominican Republic for its white-sand beaches. The expanding tourist traffic to this island nation's many coastal resorts is a key driver of the economic growth the country is enjoying.
And I appreciate a beautiful beach as much as the next girl…
But it's Santo Domingo, as I've gotten to know it over the past few years, that has captured my imagination. I appreciate its history, its architecture, and its café culture.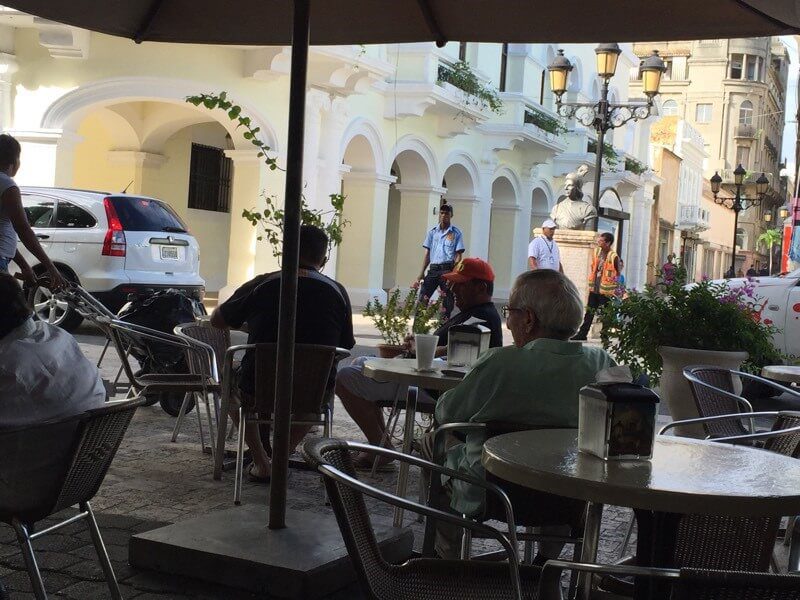 Today Santo Domingo is the epicenter for tourism investment in this country. Recently opened are a JW Marriott, an Embassy Suites by Hilton, and an Intercontinental Hotel.
Meantime, Carnival is bringing a ship a day to its cruise dock.
The country is working to diversify its tourist trade.
"We don't like being so reliant on North American tourists," one in the industry explained to me recently.
"Don't misunderstand," my contact continued. "We love our North American visitors. But diversification is always smart."
The DR will see about 6.5 million tourists this year; about 60% of these are from North America. The country's President Danilo Medina is trying to attract more Chinese tourists and has also targeted Israel with success. Charters arrive regularly from that country.
Beyond tourism, the Dominican Republic's economy relies on agriculture (bananas, coffee, and cocoa) and mining.
"Big outfits mine here for gold," a friend told me, "but we Dominicans search for gold as well, panning in the rivers in the interior.
"I grew up in a small town in the hills," my friend continued, "and we were always panning for gold in our rivers. We found some, too."
Alongside economic growth, Danilo (as his countrymen affectionately refer to their president) has made education a priority, sponsoring literacy and vocational training programs for adults and building 2,500 new schools during his four years in office.
"The current administration is working hard to get this country beyond developing-world status," one local businessman told me on my most recent visit to the country.
"We have a long way to go, but we're making progress. Things are improving in real time."
I could see some of the improvements myself, even since my last visit to Santo Domingo 15 months before.
Like all developing-world cities, the streets of Santo Domingo are overhung and crisscrossed by masses and knots of electrical cables. These are being put underground. It can seem a small thing, but it's the kind of thing that makes a big difference in the overall impression of a place.
A new 911 service was instituted in 2016 and is operating effectively, our contacts reported, and everyone I spoke with agreed that tourism to this country is officially "booming."
This country is on track to take a position on the world stage.
Until recently, I didn't get the Dominican Republic. It didn't connect with me.
Caribbean beaches are great, but I'm a city girl. My time in the DR in the past has been focused on property scouting on this country's coast.
No question, you can get one of the world's best buys on a beachfront property here (prices are low, financing is available), and a rental property on one of the DR's white-sand beaches can yield a solid return.
But there's a lot more to the DR than beach escape… and on my most recent visits these other faces of this country have gotten my attention.
I like countries at turning points, and that's the case here. While nobody's been paying it any attention, the Dominican Republic has been pulling itself up by its bootstraps and getting its economic act together.
The country is working strategically and aggressively to make itself more appealing to the foreign retiree, expat, and investor. The DR is on a mission to attract foreign interest and investment, and every Dominican I speak with is keen for feedback from us foreign investors on how to work more effectively at achieving that goal.
What are we looking for, they ask… and then they go figure out a way to deliver. It's this you-want-it… we'll-fulfill-it attitude that led the country to conceive the Fast Track residency and naturalization programs it now boasts.
Could these programs be as cheap, quick, and easy as they've advertised to be?
To find out, 18 months ago, Lief and I applied.
In November 2016, we received our residency cards and cédulas. Then, in November 2017, exactly one year later, our attorney contacted us to tell us that our naturalization processes were nearly complete.
We need to return to Santo Domingo one more time to finalize the paperwork.
Meaning we could have our DR passports 18 months, más o menos, from the date of application.
As advertised.
Kathleen Peddicord
Comments