"If you want to understand how the French think and what is on their minds… start here: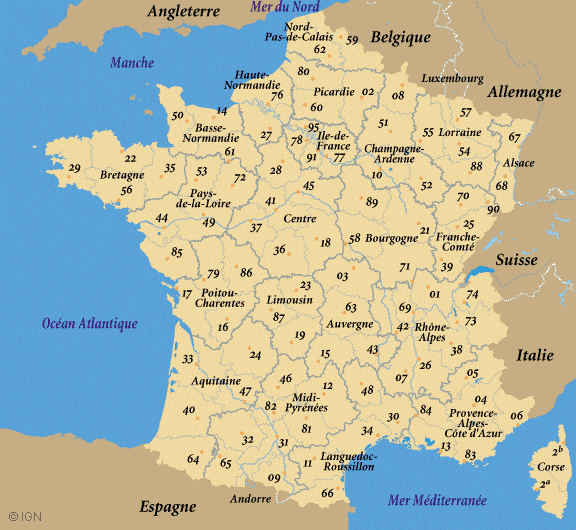 "This map is on the wall of every primary school classroom across France. It is imprinted on the mind of every French national. This is our perspective on the world…"
So explained Francine Rouanet-Démocrate to all of us assembled in the meeting rooms of the Hôtel Provinces Opéra on Paris' rue de l'Echiquier for this week's Live and Invest in France Conference.
France is a country of superlatives. Our challenge for this event has been to focus and feature the best of the many bests this country has to offer. More than two-dozen French experts and expats from across the country joined us in Paris this week to help us meet that challenge.
Francine traveled to Paris to represent Saint-Chinian, in the south, the French country town that we named among the world's best places to live or retire overseas in our annual Retire Overseas Index this year.
"Some of us in Saint-Chinian came across an article online talking about this organization Live and Invest Overseas and the annual Index they had published naming Saint-Chinian as one of the best places in the world to be," Francine explained to the group.
"We were surprised, perplexed, happy, and proud. How did this happen, we wanted to know. Of course we agree, but we did not realize anyone else understood all that Saint-Chinian has to offer.
"We searched online, connected with Live and Invest Overseas, and, over the past two months since hearing the news, we have been reading everything, learning all about this group… and now we are even more proud to have received this honor.
"I am delighted to be here with you all in person to introduce you personally to France and, especially, to Saint-Chinian.
"For Europe, France is a big, diverse place," Francine continued for the group.
"One of the most interesting things about this country is its balance. We have three maritime zones, including the English Channel… which we call La Manche.
"We have mountains, plains, and coastlines… and five major rivers…
"France is the size of Texas. We have a population about the same as that of Britain in a space twice as big. We have many cities and towns but only one city of more than 10 million people (Paris). Not a lot of density…
"We have five major climates that can be very different.
"The south of France is not very big, but it is in two parts. Provence is very known and very expensive. Alongside it is the other south of France, Languedoc, not known and not expensive.
"The main city here is Montpellier. This is the Paris of the south of France but without the pollution… and much more sun. It doesn't rain often, but when it does rain, it pours. Don't buy a house by a stream… that is my advice!
"Also in Languedoc is little Saint-Chinian, the town I most want you to know. Sitting on a hill in Saint-Chinian… a very pleasant thing to do, by the way… you can think you are in the middle of nowhere. But in no time you can be many interesting places. You can go easily to Spain for holiday, for example. You can go to Spain for dinner!
"And you can live here without a car. The bus service is excellent, and Paris is three hours away by TGV. Or make friends with your neighbors, and they will drive you wherever you want to go. We are very friendly people in Saint-Chinian.
"The backbone of the Languedoc is the Canal du Midi, built in the 17th century, during the reign of Louis XIV. The Canal Royal de Languedoc, as it was then known, was built by Pierre-Paul Riquet, a man whose name we French know well, for the transport of wheat, wine, and textiles. To build this then was the equivalent of building the tunnel under the English Channel in the 1980s. It was an extraordinary engineering feat for the time.
"Saint-Chinian is a village. You might find it very quiet, and it is. But Saint-Chinian knows how to celebrate. When we celebrate, we do it with wine.
"Saint-Chinian is home to 1,900 inhabitants and 200 wine makers. Wine is our economy. And our wine is excellent, if I do say so myself.
"Life in Saint-Chinian is simple and also very affordable. You can have a charming little village house here for not a lot of money… less than 100,000 euros even. And living here you will have no heating bill.
"Come see Saint-Chinian. That is the way to know if it is the place for you. If you decide it is, and you settle here, make friends with the mayor. He is like the local president. Maybe have a housewarming party and invite the mayor.
"Invite me, too," Francine added. "I will bring the wine.
"I look forward to it."
Kathleen Peddicord