Our Ecuador Resources
Country Retirement Report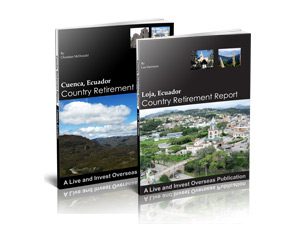 Ecuador is the #1 place in the world right now to retire well on a very limited budget–even to live the adventure of your lifetime on a Social Security check alone… Only a 4-hour flight from the United States, a beautiful and welcoming land has a cost of living so low that a couple could live comfortably for less than US$750 a month.Healthcare is routinely 1/3 cheaper than back home, but it's the quality of care and the personal attention you'll receive that may surprise you most. What's more, this friendly place boasts one of the world's greatest retirement benefit packages, offering discounts of 50% off utilities and air travel and a 100% refund on sales tax.
Live and Invest in Ecuador Home Conference Kit
Our Ecuador Home Conference Kit includes:—-The 26 all-newExpert Recordings and Presentationsfrom our most recent Live & Invest in Ecuador live event (a US$279 value)…These programs will help you learn everything you need to know about buying and selling real estate…renting an apartment…establishing residency… understanding your potential tax liability…opening a bank account and setting up a corporation…forming the right holding structures…obtaining the right health insurance…medical care…employment opportunities and entrepreneurial options…
Ecuador Articles
Worried about soaring utility costs? You're not alone. Over the past year, energy costs across the United States have increased 23.8%. The cost of electricity, specifically, is up 15.8%. That's the greatest 12-month increase in 41 years. Russia's war... continuing post-pandemic economic struggles worldwide, and generally hotter summers and colder winters are to blame. But you don't have to suffer. I'm not talking about lowering your thermostat or investing in more blankets. I'm talking about leaving cold winters... and steaming...
Read more