On paper, Belize doesn't add up to much. This is a sleepy Caribbean nation with but 330,000 people, three highways, and little other infrastructure to speak of. As Morley Safer remarked decades ago, nothing much happens here, an observation that is as relevant today as it was back when Morley offered it.
However, this is a land of opportunity for those intrepid expats who aren't thrown off by a few challenges.
One thing that attracted Jim and Kathy Suits to Belize back when they moved in 2013 was its tradition of banking privacy. FATCA has diminished the opportunity for "private banking" anywhere, but Belize is still one of the best options for where to have an offshore account.
Jim and Kathy also liked that the language in Belize is English. "Learning Spanish wasn't something we wanted to deal with," Jim admits.
"Another thing we really appreciate about this country is the people," Kathy adds. "We've lived all around the world with the military, and we find the people in Belize to be wonderful and friendly. Belize is one of the top 10 happiest countries in the world. When they say 'good morning,' they actually mean it."
But everywhere has its downsides and Belize is no different. While expats love towax poetic about their beloved new home, they are the first to admit the places where Belize falls short. To give you an idea of the types of obstacles you might face, we polled some Belize expats on what they'd be most likely to complain about…
"A lack of infrastructure is probably the biggest challenge of living in Belize," says Cayo expat Jim Suits. "You have to be prepared to lose your cell signal regularly, for example, and to struggle with less than high-speed Internet. If the thought of that makes you crazy, Belize is not for you…"
Amma Carey further explains, "Belize has four highways—one that goes north, one that goes south, one that goes west, and the Hummingbird Highway. You can assume that all other roads are dirt or gravel… This makes driving difficult even in the best of circumstances sometimes.
"Any vehicle you buy or rent should be four-wheel-drive, because, again, most of the roads are dirt. As well, though, you don't want a vehicle that's too big. The in-town roads are narrow!
"Buses are safe, cheap, and colorful… but not for everyone. You never know what might be in the seat next to you—could be a box of puppies or a crate of chickens. Be prepared for anything if you try your hand at these buses.
"An exception are the buses that travel from Belize City to and from Cancun. These take you through the Mexican Maya Riviera and are not Belizean buses but Mexican ones. They're big and modern with bathrooms and televisions. This can be a great way to travel up to Cancun…
"Why would you want to travel to Cancun? Because from there you'll have more, and often cheaper, flight options for travel to and from the States.
"Taxis are not metered, and fares are highly negotiable. Drivers can quote prices that are double the going rate, so don't be shy when negotiating a fare and always negotiate before getting in the cab. The fare for a ride between Belize City and the airport is set, though—at US$25."Jim continues, "Police in this country don't really patrol, so you don't have to worry about them pulling you over for speeding on the highway. However, they do set up checkpoints. The main thing they're checking for is car insurance… so make sure that if you have a vehicle in Belize, you also have insurance for it. Even the shortest drive could have you passing a police control.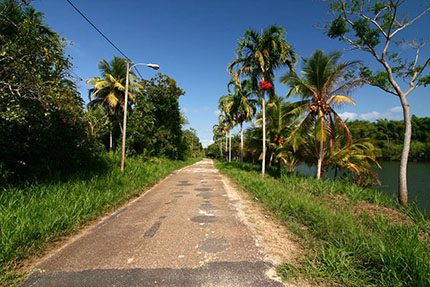 "Oh, and which side of the road do Belizeans drive on? The side with the fewest pot holes…
"Living in the country, you can drive on your foreign license for one year. Then you'll need to get a local Belize driver's license. To get your local driver's license, you'll have to take both a written and a driving test. Fortunately, the language here is English, so this isn't a big deal. The cost is US$30…
"Infrastructure concerns aside," Jim adds, "living here, you need patience. Belize moves at its own pace, and Belizeans are on mañana time. Monday may mean Monday, but not next Monday.
"Birds are noisy. They wake us at the crack of dawn most mornings," Jim says. "And bugs are a part of life here. This is the tropics, after all."
"Ants came into the house," Kathy explains, "and they found something in our storage area they liked. We had a sea of ants coming in to feast. On the other hand, we also have 'cleaner ants,' as they're called, that migrate through every four or five years. They clean out spider webs, mites, etc. They're actually a wonderful help! When they come to your place, just go out for a few hours. When you get back, they'll be gone and your house will be a lot cleaner."
"Belize has no big department stores," Kathy goes on. "You must look for what you want in small shops, and you'll find things in unusual places," she explains. "The best place to find electrical parts in San Ignacio is the Esso station in Spanish Lookout. You can buy Victoria's Secret-style underwear at the bakery. They have some drawers off to one side. We bought our car insurance at the auto-parts store and our phones at the local hotel…
"Check your canned goods before purchase. I bought three cans of beans," Kathy told us, "and two cans out of the three had no beans—they were all juice! So now I shake my bean cans to make sure they have beans in them and not just bean juice. A friend bought a can labeled green beans but opened it to find corn. (These are U.S. brands coming from the United States.)"
"Don't ask if a price is in U.S. dollars or Belize dollars," Jim advises. "Assume that everything is priced in Belize dollars. If you ask, they may tell you U.S. dollars and you just paid twice as much as you should have.
"This is a beautiful country with beautiful people. If we could offer you one final word of advice," Jim says, "it would be this: When you come here, embrace what Belize has to offer. Embrace the country and the way of life it offers. And adapt. Don't bring the United States with you. Come here to discover Belize. Come with an open mind and an open heart. Belize will reward you with the adventure of your lifetime."
The key is to understand the trade-off you're making. Belize is a small, poor country with a small, underfunded government. Thus the lack of development and infrastructure.
On the other hand, a small, underfunded government also means less intervention in your day-to-day life. Less regulation. Less restriction.
Belize is a tropical country—which means wildlife is just part of the deal. If you're up for an adventuresome retirement, Belize could be the perfect place… but if creepy-crawlies terrify you, Belize would give your blood pressure a run for its money.
It's all a matter of priorities.
Kat Kalashian
Comments