It's easy to list plenty of amazing places to live in the Mediterranean. Living pretty much anywhere in this part of Europe sounds like a dream. We´ve taken into consideration different factors to find the ultimate Mediterranean destinations and make our list of the 7 Best Places Where You Can Live in The Mediterranean.
Living in the Mediterranean doesn't cost as much as you might think. The property prices in this list are all competitive, and some are verging on a bargain. If you're a "snowbird," there is great potential for renting out your property for part of the year to earn extra income, as the Mediterranean is a popular holiday destination year-round.
It's not just your wallet that could benefit if you choose to live in the Mediterranean. The food here is incredible and often regarded as the healthiest in the world. It has been proven to reduce the risk of heart attack and stroke and slow down the aging process. Some of these destinations are recognized as the best places to retire for this reason and many more. If you decide to live in the Mediterranean, you are not only improving your quality of life, but maybe adding years onto your life as well.
Here is our list of the best places to live in the Mediterranean.
Malta—Historical Place In The Mediterranean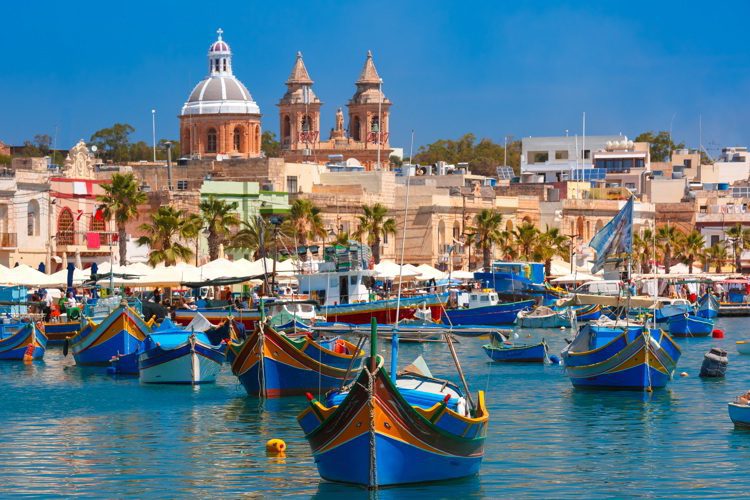 Malta, otherwise known as The Republic of Malta, is a small group of islands in the Mediterranean. Located south of Italy, it has been a strategic military position throughout history. During World War II, Malta was a submarine base for the allies. Due to its proximity to Italy, it was heavily bombed as it was in easy range of Italian bombers. The Maltese people persevered and earned the country a George Cross medal, which now takes its place on the Maltese flag.
The cost of living in Malta is much lower than in major U.S. and European cities. Locally grown produce is reasonably priced, eating out and public transport is inexpensive, and utilities are very reasonable. Due to the islands' small size, owning a car is unnecessary, cutting out a huge cost from your budget.
House prices in Malta have been increasing in recent years. Yet, it remains cheaper than Mediterranean standards, especially outside of the usual expat areas.
Malta has free public schooling and some of the best health care in the world. The health care prices will keep your bank balance healthy. You can expect to pay around 20 euros for a trip to the doctor.
The weather in Malta is one of its main draws, with over 300 days of sunshine each year. With mild winters and hot summers, this is the perfect climate to enjoy an active retirement or simply soak up some sun by the beach.
Malta's islands are some of the world's best diving locations. The swimming conditions are safe, and shipwrecks to explore are plentiful. If discovering Malta's underwater world isn't for you, there are plenty of other activities on offer, including hiking, sailing, historical tours, or visiting museums, art galleries, and beautiful gardens.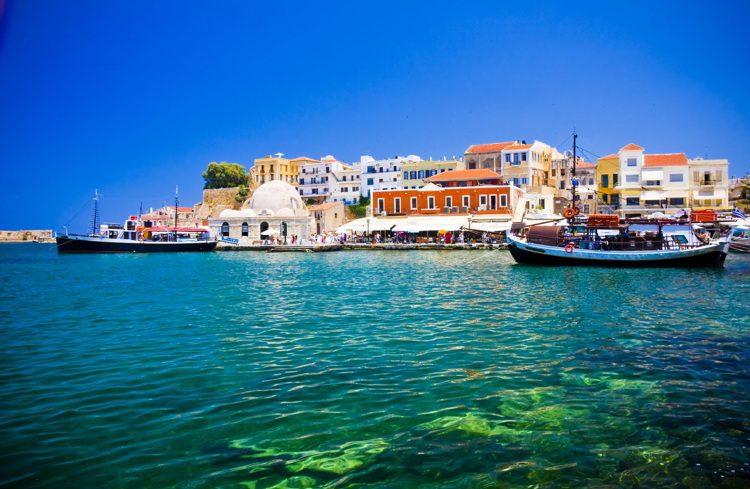 According to legend, Crete is the home of Greek God Zeus and the land of the mythical Minotaur. It has a history dating back to 7000 BC and is the birthplace of western civilization. This intriguing history, combined with its white sandy beaches and crystal clear waters, makes Crete one of the best places to live in the Mediterranean.
Hippocrates claimed that the air in Crete contained healing powers. He prescribed visits to the island as a treatment for his sick patients, and Crete became a place of healing for many. Crete maintains this reputation with its high standard of health care. However, you should invest in health insurance, as private hospitals are superior to public options. You will find the standard of care in private clinics excellent, and most doctors are fluent in English.
The cost of living in Crete is relatively low compared to the majority of U.S. cities. You can save money and eat healthily by purchasing fresh, locally grown produce. Eating out is a lot cheaper than in the United States, so you can enjoy wining and dining without worrying about the bill. As you might expect on an island, imported goods cost more than usual. Public transport here is cheap and reliable, so you can easily avoid the cost of owning a car.
The Mediterranean is renowned for its crystal blue waters, but nowhere has waters clearer than Crete. You can see through the water as far as 40 meters deep. The waters are safe, and Crete has some of the most beautiful beaches in Europe.
The terrain in Crete is diverse. Beaches, mountains, lakes, and rivers dot the landscape, resulting in plenty of exciting places to explore. Crete enjoys a temperate Mediterranean climate with mild, wet winters and hot, dry summers.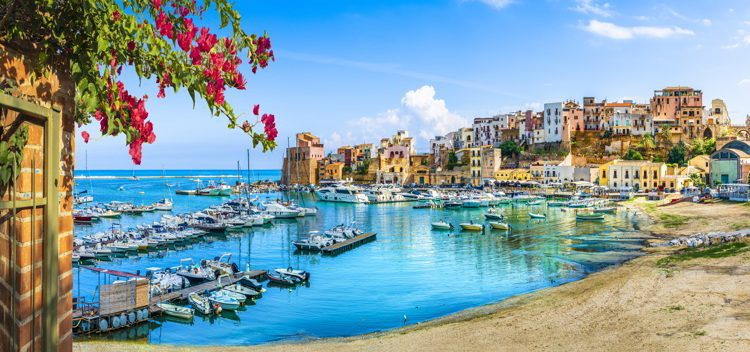 Sicily is a picturesque island south of Italy, with a reputation for having a strong national identity. Sicilian people see themselves as Sicilian rather than Italian. Their culture is rich and unique, and Sicilian cuisine is loved all over the world.
One of the advantages of living in Sicily is that you can manage without a car. The island has both buses and trains, which are reasonably priced and efficient. These can bring you to nearly every corner of this 26,000 km² landmass.
In Sicily, you can access the national health care system once you register with the regional government. Public health care isn't free but is very cheap compared to U.S. standards. Expats often invest in health insurance as the private clinics are to a higher standard than the public system.
You can easily live off your security check in Sicily if needs be. Everyday expenses, utilities, and eating out are all very affordable. Once again, if you enjoy fresh seasonal produce, you will save a lot of money on groceries. Sicily has some of the best street food in the world. Go for a stroll in the evening and take your pick from a selection of delicious, cheap, and homemade meals from local street vendors.
House prices in Sicily are generally affordable, and some are outrageously cheap… Sicily has taken part in the one-euro home scheme, where you can buy a run-down home for as little as one euro. Of course, you will need to invest thousands in the property to restore it, but this can be an exciting renovation adventure and allows you to make your mark on your own little piece of Sicilian paradise.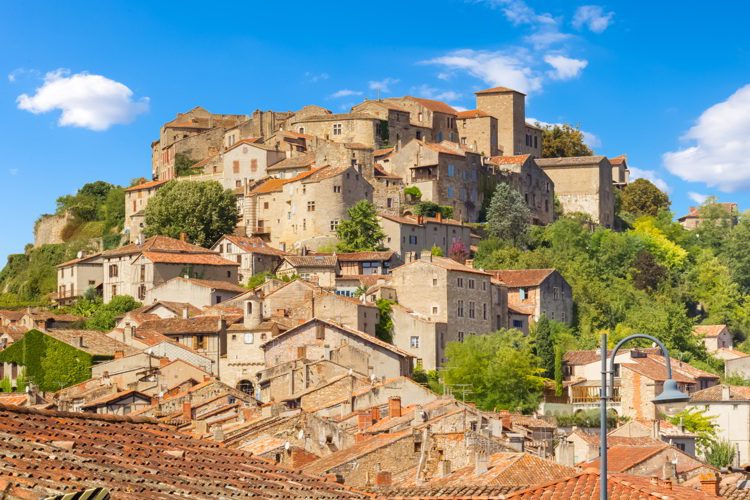 Located in the south of the country, Occitanie is France's second-largest region. Bordering the Mediterranean, the Pyrenées, Andorra, and Spain, Occitanie has a diverse landscape with lots of unique and beautiful scenery to enjoy.
Passing through Occitanie you will see acres upon acres of vineyard, as it is France's biggest wine region, producing a third of the country's wine. The different soil types make the area ideal for harvesting grapes. It´s one of the best destinations in the Mediterranean for wine lovers.
Occitanie has a pleasant Mediterranean climate and is one of the sunniest parts of France, boasting more than 2,000 hours of sunshine every year. Since it has such a varied landscape, temperature and weather conditions can vary significantly in different areas.
The cost of buying a property in Occitanie also varies, with prices decreasing as you move inland. The cost of living here is cheaper than in the U.S. and certain parts of Europe. You can eat delicious, healthy, seasonal food, and enjoy organic, local wine for a fraction of the price you would pay in the States.
The public transport in Occitanie is efficient and reliable. You can easily travel from city to city by either bus or train. However, if you choose to live in a more isolated location, you will need a car. Luckily insurance costs in France are very low, and there is no car tax.
Public health care in France is excellent. Register for your Carte Vitale as soon as possible, and you will be entitled to free health care and a 70% discount at the pharmacy for prescriptions. This significantly contributes to the cheap cost of living in Occitanie.
Start Your New Life Today, Overseas
A world full of fun, adventure, and profit awaits! Sign up for our free daily e-letter, Overseas Opportunity Letter, and we'll send you a FREE report on the 10 Best Places To Retire In Style Overseas Today
Slovenia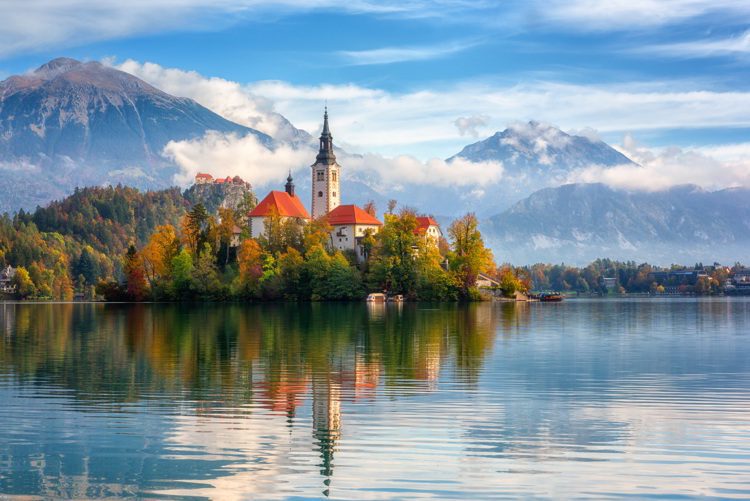 Although Slovenia is mainly known for winter sports, it also has pleasant summers. Few know, but it has some of the most beautiful beaches in the Mediterranean. It is, perhaps, the Mediterranean's best-kept secret.
Located to the east of Italy, Slovenia claims over 45 km of coastline along the Adriatic Sea. Despite this short stretch, the beauty of the towns and beaches dotting the coastline more than make up for it.
The cost of living in Slovenia is low, and on a modest budget, you can live in comfort. Buying a house is cheap by U.S. standards, and many have modern interiors, which is not always the case in the Mediterranean.
Slovenia is a go-to destination for adventure seekers, offering up lots of activities such as sailing, white water rafting, skiing, hiking, cycling, and kayaking. The country has one of the most impressive lakes in the world—the vivid blue, thermal-heated Lake Bled attracts thousands of people from around the world every year.
The Slovenian climate is continental, summers are warm with average temperatures of 79℉ in July. Winters do get cold, and you can expect it to snow throughout the winter, especially in the mountainous regions. If you are an active person, Slovenia gives you the best of both worlds, with seaside activities and hiking in the summer, and snow sports in the winter.
The health care system in Slovenia is of a high standard and funded by the public through taxes. Public transport is generally good but doesn't cover the more remote areas. The public schools in Slovenia are decent, and there are plenty of private schools, giving you an extensive choice of education options in Slovenia.
Split, Croatia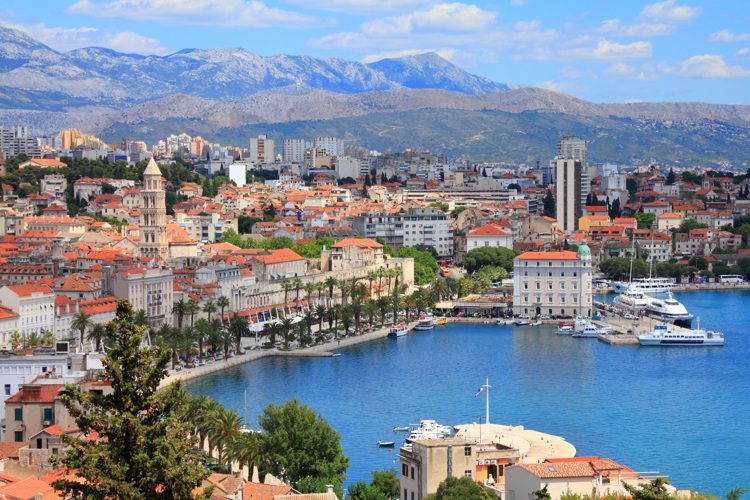 Croatia has almost 6,000 km of coastline between the mainland and its many islands. Split, in Dalmatia, claims the most beautiful part. What's more, Split sits between the sea and the hulking Mosor Mountain Range, resulting in a dramatic landscape and lots of outdoor activities to enjoy.
Split is a city with a long and diverse history that is little known by those outside of Croatia. This diversity is reflected in the city's architecture, which encompasses several different styles, owing to the various chapters of the city's history.
UNESCO World Heritage Sites are found all over Croatia, many within a two-hour drive of Split. Split is a brilliant base for history buffs as settling here gives you access to some of Europe's most fascinating historical sites.
Currently, house prices in Split are affordable, but prices have been on the rise in recent years and show no signs of slowing down. The cost of living in Croatia is higher than many of its Eastern European neighbors, but compared with Western Europe and the United States, prices here are still very cheap.
The public health care system in Croatia provides excellent care, although long wait times can be an issue. Opt for inexpensive health insurance and avoid this issue altogether. The public transport system in Split is brilliant. Many residents even choose to use buses for their daily commutes despite owning cars.
Split enjoys an average Mediterranean climate, with mild winters and hot summers. Plenty of sunny days await Split to enjoy the stunning crystal blue waters and white sand beaches Croatia is so famous for.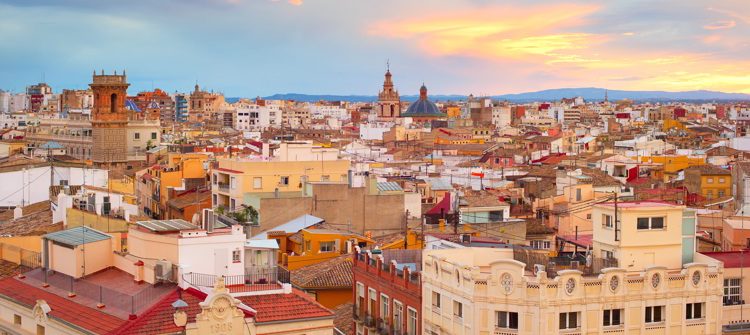 Often overlooked when it comes to Spanish cities, Valencia is going through a revival. Valencia is one of the best places to live in the Mediterranean because of its gorgeous weather, cheap cost of living, and beachy lifestyle.
The city of Valencia has one of the oldest historical centers in Europe, dating back to Roman times. Quaint architecture makes up the city center, filled with hip bars, restaurants, and specialty stores. Sitting on the Mediterranean, this beautiful city is blessed with a beach a quick 15-minute bus from the city center.
Property prices in Valencia are almost half of what you would expect to pay in its neighbor Barcelona. In the past, people would look to Barcelona as a place to visit and invest. However, the city's real estate prices have since skyrocketed, making Valencia an attractive alternative. Not only that, but many companies are also leaving Barcelona and relocating to Valencia.
Winters in Valencia are very mild, while the summers are long and hot. Sunny, pleasant weather prevails for about eight months of the year.
Health care and dental care in Spain are among the best in the world. Once you are a Spanish citizen, you will be entitled to free health care. Health insurance in Spain is inexpensive if you would prefer to go down the private route.
Public transport is reliable and cheap in Valencia. Buses and the modern EMT Metro system will get you around the city, while trains will get you to destinations further afield. Valencia is also a very cyclable city, with bike lanes everywhere, and even a city bike scheme where you can rent bikes from different locations all over the city.
Valencia has some of the best beaches in Spain. Its beaches have received many prestigious blue flag awards for their high standards. In Valencia, city living and beach life go hand in hand, making it one of the best places to live in the Mediterranean.