We have named Portugal's Algarve region as the world's best place to live or retire overseas for eight years running.
Have our editors grown too tired to research new locations?
Did I cut their travel budgets?
Are we simply stuck in a rut?
Or maybe we lack imagination?
Nah…
Those aren't the reasons Portugal continues to take top honors in every live- and retire-overseas survey we produce.
The truth is, we keep trying hard to identify somewhere in the world we like better than Portugal… but can't.
Portugal… and, specifically, its Algarve coast… checks every box on the would-be retiree's list.
The weather is the best in Europe. The health care is excellent and can be free if you establish legal residency.
Yes, you read that correctly. Health care that qualifies as among the best in the world can be available to you at no cost in this beautiful, welcoming country. Anyone ponying up for medical bills and health insurance premiums in the United States understands what a colossal benefit free health care amounts to.
Establishing legal residency in Portugal is straightforward and possible, if you intend to live in the country, by showing as little as 1,400 euros of income per month.
The Algarve coast boasts many of Europe's best beaches and golf courses. The food is fresh and local, with seafood a specialty. Thanks to a longstanding connection with the British, lots of English is spoken in this part of this country, which is generally safe, the local residents welcoming of foreigners.
The coastline is dramatically beautiful, the inland landscapes charming, and this is one of the most historic points in the world, the spot from which Henry the Navigator launched the Age of Discovery, bidding his men to "sail on… sail on"…
What more could you want?
As I said, we're having trouble finding an answer to that question, which is why we continue to rank the Algarve as the world's number-one place to live or retire overseas.
Of course, though, it's not the only sunny, sandy option in Europe.
Another—much better-known—choice is Spain's Costa del Sol, home to one of the world's biggest communities of expat retirees.
How do these two regions compare? Let's take a look…
The Costa del Sol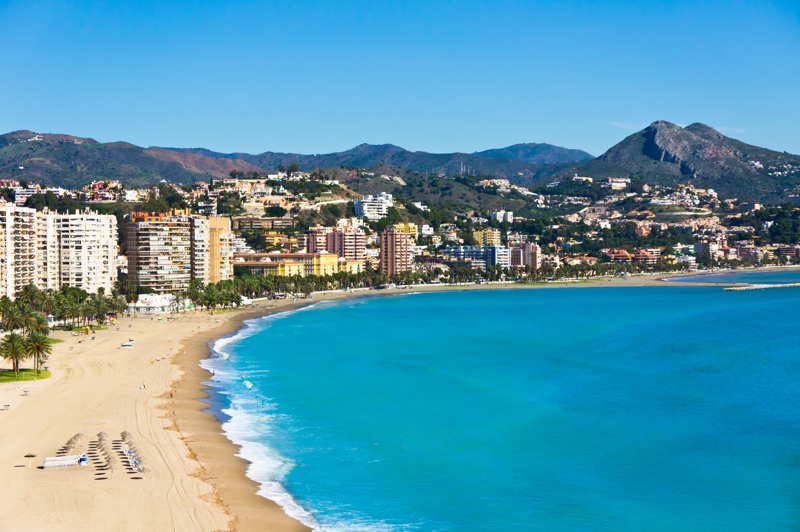 The Costa del Sol is the extremely popular southern coastal area of Spain's Andalucía region. It's bordered by the busy towns of Nerja and Marbella, with Málaga as its centerpiece and an easy, four-hour drive away from Portugal's Algarve.
The scenery on the Costa del Sol is stunning, with mountains rising dramatically out of the sea creating sheer drops to the sea far below. The coastal motorway through the region offers a drive without equal.
The trouble with this coast is that it became too popular too fast and, from the start, tourists, expats and property developers were allowed to flood into the region unchecked. Builders erected hundreds of thousands of poorly planned and sometimes illegal properties. The seizure (without compensation) over the past several years of many of these illegally titled properties has been big news in Europe's vacation market.
One could argue (and I would agree) that the rapid commercialization of this area has had big and negative effects. The last word I'd use to describe much of Spain's Costa del Sol would be "charming."
The Algarve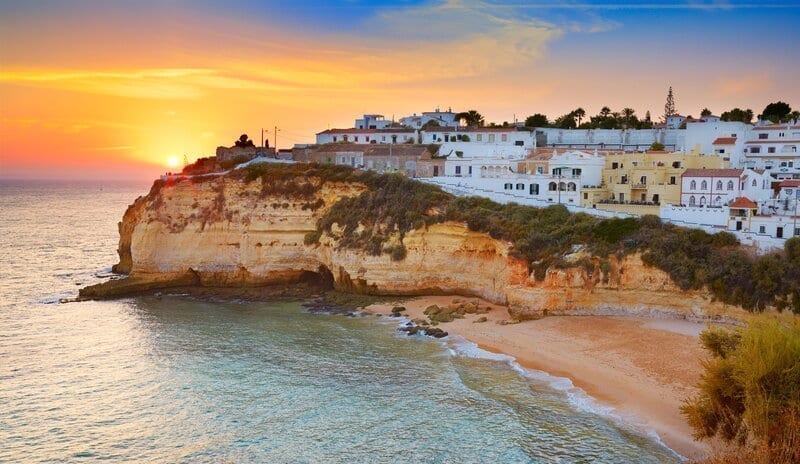 Compared to Costa del Sol, Portugal's southern coastal region—known as the Algarve—has changed little over the last two decades. The Portuguese people are polite, laid back, and in no particular hurry to fill the Algarve with apartment towers (though, as in every part of the world where man has made his mark, some poorly planned and overbuilt areas exist).
I would describe this coast as among the most charming I've known anywhere.
The culture that populates these rugged hills and coastal plains remains centered around village life. Each village with a mother church and communal well, orfonte. Modern conveniences are available in the larger towns, but, happily, this coast's more than 100 kilometers of sandy beaches and 39 golf courses have managed to avoid many of the trappings of the modern world.
Unlike some development in Costa del Sol, property construction in the Algarve is carefully controlled by a system of planning and permissions. Portugal has worked hard to avoid the problems experienced in Spain by imposing increasingly stringent planning systems. One consequence of this—both a positive and a negative, depending on your point of view—is an under-supply of new-built properties.
In addition—and speaking very generally—property prices are lower in the Algarve than in the Costa del Sol. Values have risen, in some cases dramatically, over the past eight years but now are softening and remain a bargain compared with pricing on Spain'scostas.
Sincerely,


Kathleen Peddicord
Founding Publisher,Overseas Opportunity Letter