Mazatlán offers the best beachfront lifestyle you'll find in Mexico… maybe the best you'll find anywhere.
This seaside city boasts over 10 miles of sandy beaches, which vary from bustling and energetic stretches conveniently near town to sections of isolated shoreline where you can get away from it all. The beaches are accessible and can be enjoyed from the wide, new boardwalk, which is 5 miles long.
But what sets this city apart is its Spanish-colonial historic center. Having a colonial city on the beach is what drew me to Mazatlán. Over the past 10 years, as it has been renovated, this historic center has become a major source of pride for those who live here.
Best of all, both the mix of beach and colonial lifestyles means countless options for fine dining, quiet coffee shops, energetic and friendly bars… as well as a dynamic and active real estate market.
Here Are A Few More Benefits Of My New Life In Mazatlán…
1. The Expats
A large and diverse expat community that will help you feel at home…
2. Property Prices
Properties are inexpensive compared with almost any beachfront market in the world. You'll spend less in Mazatlán for seaside properties than you'll spend in Cancún, Playa del Carmen, Puerto Vallarta, or even Tulum…
3. The Music Scene
An active live music scene, which is a great way to enjoy time with your friends and neighbors…
4. The Local Culture
Classical music, theater, and art are a part of the local culture, generating activities that are popular with and well-attended by expats…
5. You Can "Go Local"… Or Not
Resort areas aside, Mazatlán is a "real" city of almost a half-million people. You can choose to be part of the American and Canadian community, speak mostly English, and ease your way into Mazatlán, aided by people who've come before you. Or you can live in an authentic Mexican environment, speak mostly Spanish, enjoy a lower cost of living, and immerse yourself in Mexico's charming culture…
6. The Exchange Rate
From dining out to buying a property, you'll find prices are an amazing bargain at today's exchange rates. Whether it's food, clothing, or a night out on the town, you won't believe how little it costs to be here…
7. Easy Residency
Residency is easy for those who want to stick around long-term. I got my visa at the consulate in the States—using English documents—in less than 20 minutes…
I own a large, new condo of 228 square meters (2,450 square feet) on the waterfront at the edge of the historic center. My tax bill was US$104 for 2019…
9. Big Box Stores
The Home Depot, Sam's Club, Walmart, AutoZone… Mazatlán has an entire city full of local shops and Mexican supermarkets both large and small. But nothing beats a Walmart or The Home Depot for convenience…
10. Easy Access To The States And Canada
With frequent air service to the States and Canada and a safe highway all the way to the American border, it's easy and convenient to get here…
11. It Feels Like Mexico
Lots of places in Mexico have large, dominating expat communities that change the look and feel of the local environment. But in Mazatlán, you'll see far more Mexican families on the street and boardwalk than you will expats from the north. Expats have an influence, but it's still an overwhelmingly Mexican city…
Mazatlán flourished during the 1940s, 50s, and 60s as a sportfishing mecca. Actors such as John Wayne and Gary Cooper frequented the area while on break from filming in nearby Durango. Overall tourism in the city slumped in the 1970s but enjoyed a resurgence in the early 21st century, as the historic center saw a major restoration and once again became a popular tourism draw.
What Life In Mazatlán Looks Like Today For Expats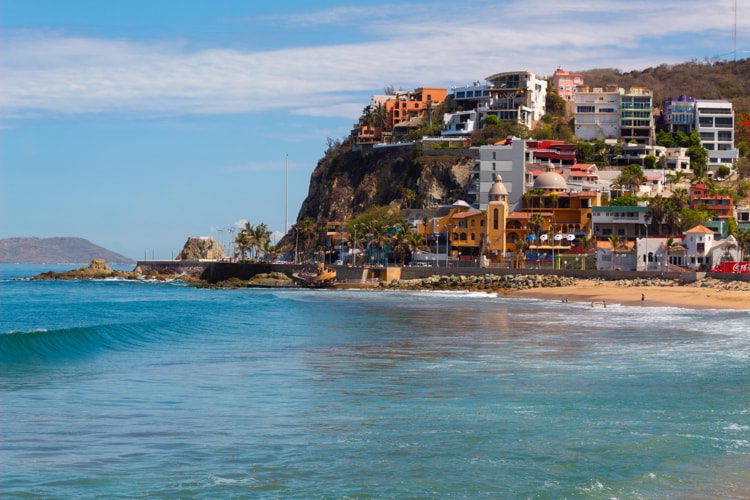 Today's Mazatlán depends heavily on tourism and expats… but, even without these, the town has a solid base, with the country's largest shrimping fleet, its biggest tuna industry, and smaller industries of beer-brewing and coffee-roasting, among others.
Spanish is the language of Mexico, and—unlike countries such as Chile or Argentina—it probably sounds like the version you learned in high school or in a language course. That said, there is more English spoken in Mazatlán than anywhere else I've lived in Latin America over the past 19 years. My notary speaks fluent English, as does the furniture supplier, my developer, and most of my neighbors, as well as the staff in most restaurants, cafés, and bars.
Many expats living in Mazatlán get by with only English or on little Spanish. But beware: When you have a problem with your electric bill… or the phone goes out… or the internet seems slow… or your property taxes are too high… the person you'll call most likely will not speak English. For example, no one at my bank speaks English.
If you don't speak any Spanish, you'll be confined to a circle of English-speaking friends, in a pseudo-Mexican environment. The more Spanish you learn, the better experience you'll have. If you don't speak any Spanish when you get here, I suggest signing up at a local language school after you arrive.
The property market in Mazatlán has changed during the five years I've been around. When I arrived during the 2014-2015 season, it was a buyer's market. Sellers were motivated, and prices were low.
Canadian sellers were offering the best bargains, often willing to just get their price back in Canadian dollars. This was great for buyers with U.S. dollars. Prices were well under normal for ocean properties compared with other seaside markets around the world. By the 2017-2018 high season, things had shifted. Properties that had been hanging around for years suddenly disappeared. And in fact, much of the inventory disappeared, as buyers came to town in large numbers.
These factors contributed to the turnaround:
The highway to Durango was in service, and the drive time was dramatically reduced. Annual visitors became weekend visitors and began looking for properties…
The cruise ship schedule continued to ramp up, bringing thousands of visitors to the city every year… many of whom fell in love with the city and began to look for properties…
The Great Recession was beginning to fade from memory, with Canadian and American buyers willing to dive into the second-home market once again. Today, I still wouldn't call it a seller's market. There's an adequate inventory and prices are still below what you'd spend in Puerto Vallarta or Playa del Carmen and a fraction of what you'd spend in Cancún. Mazatlán is still a good value. Properties here sell in Mexican pesos or U.S. dollars. If you see an odd amount in pesos (3,421,863 pesos, for example), then the property is probably priced in dollars, but the broker is marketing it in pesos… either to cater to Mexican buyers or to make American or Canadian buyers think they're getting a bargain…
The Cost Of Living In Mazatlán
One of the biggest benefits of living in Mazatlán is the low cost of living. At today's favorable exchange rates, prices all over Mexico are a tremendous bargain. Basic items for a couple in Mazatlán will cost you about 21,000 pesos (US$1,000 per month) if you own your own apartment and 27,000 pesos (about US$1,290) if you rent a house near the beach.
By "basic items," I mean housing, utilities, food, and entertainment. I am not including automotive or medical costs. You may also need to budget for occasional travel, trips to your home country, holiday gifts, and other odds and ends.
Basics aside, I'd allow about US$2,000 per month to enjoy the best of what Mazatlán has to offer if you own your residence and about US$2,400 if you don't. I'm spending about US$2,000 here for two people.
Dinner for two in the best of the city's fine dining establishments will cost about 1,200 pesos (US$57), including wine and the tip. A more casual restaurant on the water will run about 600 pesos (US$29) with drinks. An Uber trip across town (20 minutes) will cost under 125 pesos (US$6) during peak billing periods and 61 pesos (about US$3) in off-peak periods. Buses will get you from one end of the city to the other for under a buck. It's hard to make a case for owning a car here at these rates.
Plus, Mazatlán is walkable. I do have a car but rarely use it except for interstate travel.
Food prices can vary depending on the number of American and Canadian imported items you buy. Fortunately for expats, you can buy most anything in Mexico that you can in the States. This is nice if you have certain items that you can't live without. What's more, many "American" goods are made in Mexico, so you can get these items at a local price. Otherwise, imported items are more expensive. You'll save plenty by using local equivalents for American or Canadian brands.
If you want to be a pioneer or the only American in town, Mazatlán isn't the place for you. It was "discovered" before most of us were born. And if you'd like 12 months of springlike weather, again, Mazatlán won't fit the bill.
But if you think you'd enjoy brilliant weather for most of the year… a friendly, welcoming expat community… a beautifully restored Spanish-colonial center… miles of sandy beaches lined by one of the continent's longest boardwalks… all within an easy distance from the States and Canada…
Then life in Mazatlán could well be for you. I've found it to be a perfect fit.
Lee Harrison
Part-time Mexico Expat