Many Americans are attracted to Nicaragua because of the low cost of living.  Yet these same people are often drawn to touristy areas and wonder where all of the bargains are.
The truth is, you can live extremely cheaply in Nicaragua but don't expect to have all the same amenities you likely do today.
For instance, in the cheaper areas, utilities are spotty at best. And while you might get more of the services that you're used to stateside in a place like San Juan del Sur, prices are going to look a lot closer to what you're paying at home too.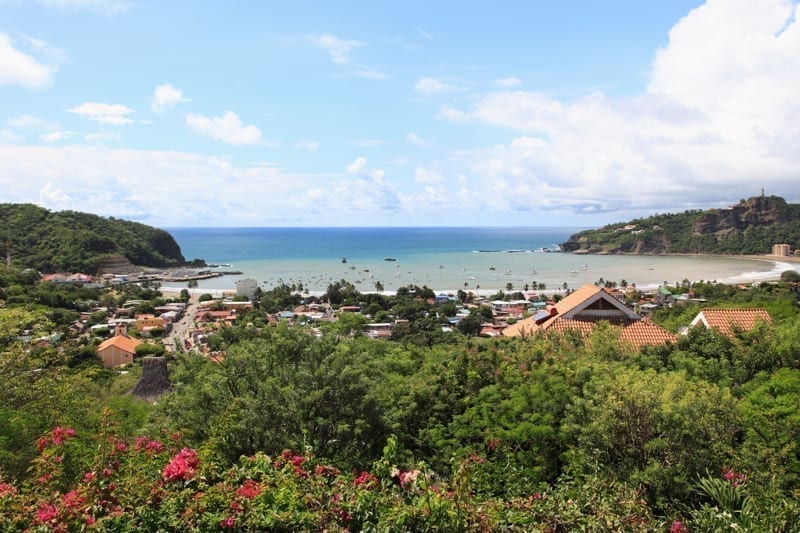 San Juan Del Sur
Below you'll find a chart of average prices across Nicaragua in US$ at the prevailing exchange rate (August 2016).
Highlighting some of the particulars…
You can get a decent meal for 1 at an inexpensive restaurant for US$7. A meal at McDonald's will set you back US$6. Local beer is less than a buck, as is a liter of milk. If you'd like to take a taxi to town, you'll pay about US$18 for 30 km (19 miles).  And if you'd like the taxi driver to wait for an hour while you shop, you'll pay just over US$6. Electricity should run you around US$60 and decent internet slightly over US$50. Rents vary depending on the area but you can easily find something for under US$500 a month.
Please take a look at the table below to get a better idea of the average cost of living in Nicaragua.
Eating Out
| | |
| --- | --- |
| Restaurants | Average Cost ($USD) |
| Meal, Inexpensive Restaurant |  $7.00 |
| Meal for 2 People, Mid-range Restaurant, Three-course |  $20.00 |
| McMeal at McDonalds (or Equivalent Combo Meal) |  $6.00 |
| Domestic Beer (0.5 liter draught) |  $1.00 |
| Imported Beer (0.33 liter bottle) |  $2.00 |
| Cappuccino (regular) |  $1.74 |
| Coke/Pepsi (0.33 liter bottle) |  $0.76 |
| Water (0.33 liter bottle) |  $0.57 |
Grocery Shopping
| | |
| --- | --- |
| Markets | Average Cost ($USD) |
| Milk (regular), (1 liter) |  $0.97 |
| Loaf of Fresh White Bread (500g) |  $1.61 |
| Rice (white), (1kg) |  $1.17 |
| Eggs (12) |  $1.89 |
| Local Cheese (1kg) |  $3.51 |
| Chicken Breasts (Boneless, Skinless), (1kg) |  $3.58 |
| Beef Round (1kg) (or Equivalent Back Leg Red Meat) |  $8.38 |
| Apples (1kg) |  $7.00 |
| Banana (1kg) |  $1.10 |
| Oranges (1kg) |  $1.18 |
| Tomato (1kg) |  $1.19 |
| Potato (1kg) |  $1.19 |
| Onion (1kg) |  $1.31 |
| Lettuce (1 head) |  $0.72 |
| Water (1.5 liter bottle) |  $0.90 |
| Bottle of Wine (Mid-Range) |  $8.00 |
| Domestic Beer (0.5 liter bottle) |  $0.93 |
| Imported Beer (0.33 liter bottle) |  $2.04 |
| Pack of Cigarettes (Marlboro) |  $2.00 |
Transportation Cost
| | |
| --- | --- |
| Transportation | Average Cost ($USD) |
| One-way Ticket (Local Transport) | $0.30 |
| Monthly Pass (Regular Price) | N/A |
| Taxi Start (Normal Tariff) |  $0.43 |
| Taxi 1km (Normal Tariff) | $0.60 |
| Taxi 1hour Waiting (Normal Tariff) |  $6.05 |
| Gasoline (1 liter) |  $1.05 |
| Volkswagen Golf 1.4 90 KW Trendline (Or Equivalent New Car) | $16,000 |
| Toyota Corolla 1.6l 97kW Comfort (Or Equivalent New Car) | $21,000 |
Cost Of Utilities
| | |
| --- | --- |
| Utilities (Monthly) | Average Cost ($USD) |
| Basic (Electricity, Heating, Water, Garbage) for 85m2 Apartment |  $64.17 |
| 1 min. of Prepaid Mobile Tariff Local (No Discounts or Plans) |  $0.47 |
| Internet (10 Mbps, Unlimited Data, Cable/ADSL) |  $53.17 |
Sports And Leisure
| | |
| --- | --- |
| Sports And Leisure | Average Cost ($USD) |
| Fitness Club, Monthly Fee for 1 Adult |  $40.00 |
| Tennis Court Rent (1 Hour on Weekend) |  $21.41 |
| Cinema, International Release, 1 Seat |  $4.50 |
Cost Of Clothing And Shoes
| | |
| --- | --- |
| Clothing And Shoes | Average Cost ($USD) |
| 1 Pair of Jeans (Levis 501 Or Similar) |  $39.57 |
| 1 Summer Dress in a Chain Store (Zara, H&M, …) |  $23.52 |
| 1 Pair of Nike Running Shoes (Mid-Range) |  $71.67 |
| 1 Pair of Men Leather Business Shoes |  $36.29 |
Rent In Nicaragua
| | |
| --- | --- |
| Rent Per Month | Average Cost ($USD) |
| Apartment (1 bedroom) in City Centre |  $305.67 |
| Apartment (1 bedroom) Outside of Centre |  $154.47 |
| Apartment (3 bedrooms) in City Centre |  $475.54 |
| Apartment (3 bedrooms) Outside of Centre |  $300.50 |
Purchasing Real Estate
| | |
| --- | --- |
| Buy Apartment Price | Average Cost ($USD) |
| Price per Square Meter to Buy Apartment in City Centre |  $350.00 |
| Price per Square Meter to Buy Apartment Outside of Centre |  $387.50 |